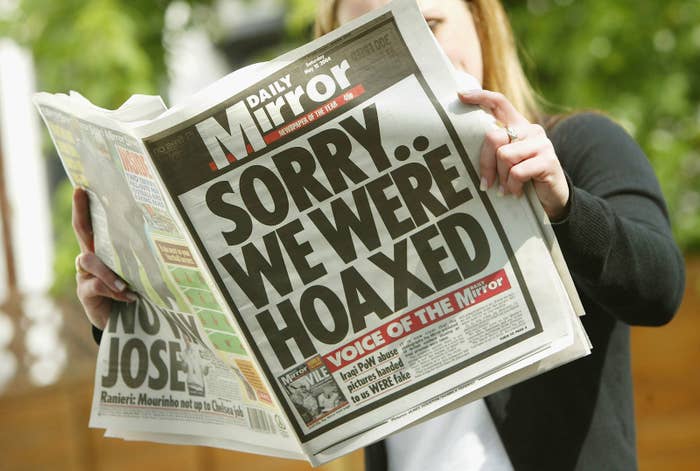 More than 60% of American adults say fake news has caused "a great deal" of confusion about the facts of current events, according to a Pew Research Center survey released Thursday.
But while a majority agree fake news has unleashed a sense of confusion, a high number of Americans also believe they're good at identifying misleading and false content when they see it. Thirty-nine percent of respondents said they are "very confident" about being able to spot misleading articles when they see them, and another 45% are "somewhat" confident.
However, research conducted by Ipsos Public Affairs for BuzzFeed News earlier this month found that 75% of American adults who were familiar with a fake news headline viewed the story as accurate.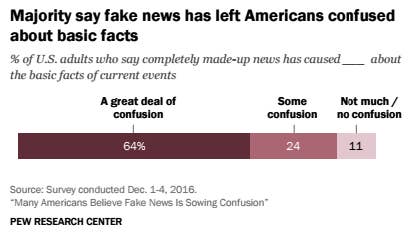 Jesse Holcomb, associate director of research at Pew, told BuzzFeed News that the data reflects people's views of the issue rather than their actual behavior, which may help explain the discrepancy with BuzzFeed News's survey. He said that, overall, fake news "makes it harder for any of us to have a shared view of the facts."

The Pew findings are based on a survey of 1,002 American adults conducted between Dec. 1 and 4.

The survey also asked American adults whether they have seen or shared fake news. Just over 30% say they often see "made-up political news" online, and 39% said they see it sometimes, suggesting that political misinformation is widespread online.
Sixteen percent of respondents said they have shared a story they later realized was fake. Perhaps surprisingly, 14% said they shared a story they knew was false. Holcomb said there could be a variety of reasons for why someone would do that.
"It's certainly possible that someone might share something they knew was false perhaps to call it out, to shame it, to try to police some of these stories. Or they might be having some fun with it," Holcomb said. "It's possible there could be malicious intent, we don't know."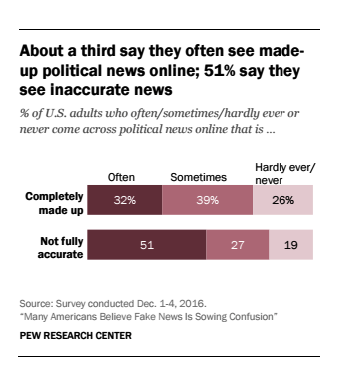 When it comes to their ability to spot fake news online, people of different political affiliations are all reasonably confident: "36% of Republicans, 41% of Democrats and 40% of independents said they are very confident in their ability to recognize news that is made up," according to Pew.

"Americans overall seem to be pretty comfortable that they can navigate this information environment, this hall of mirrors, if you will," Holcomb said.
Respondents said the public, the government, and social networking sites all bear roughly the same amount of responsibility for addressing the problem of fake news. Holcomb said the data suggests that the public is not "singling out one scapegoat" in terms of who needs to address fake news.
"This is not about who they blame for the problem," he said. "It's about who is responsible for addressing it."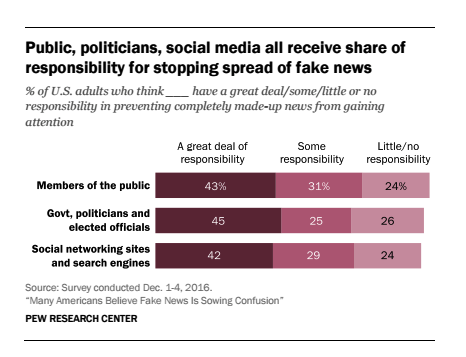 There was, however, a clear difference between age groups when it comes to seeing fake news as an issue for the government. Just over half of Americans who are 50 and over (53%) said lawmakers need to tackle fake news but only 38% of 18- to 49-year-olds said the same thing.