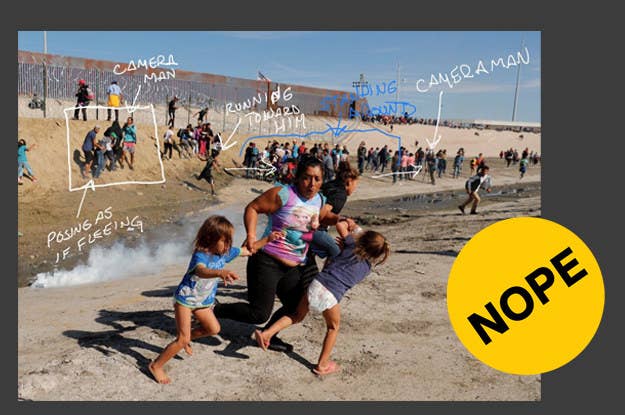 The iconic photo of a mother running away from tear gas with her twin daughters was immediately subverted online, where it was used by people who spread conspiracies and racist memes.
The photo, taken by Reuters photographer Kim Kyung-Hoon, shows Maria Meza from Honduras, who told BuzzFeed News in an interview that she wanted to protect her children.

"I felt sad, I was scared. I wanted to cry. That's when I grabbed my daughters and ran," she said. "I thought my kids were going to die with me because of the gas we inhaled."

But far-right media used the photo to spread divisive false claims of it being staged. The first claims came to mainstream view on Twitter, where a user posted the photo with some of the people in it circled. This includes two people with cameras who looked to be documenting the tear gas attack and another man running roughly in the direction of the camera.
"Posing as fleeing," says one caption on the photo with an arrow pointing to a group of people. The text and arrows on the tweeted photo don't address the tear gas in the picture.
It didn't take long for the conspiracies targeting asylum-seekers and journalists to make their way to far-right media. Without speaking to either the photographer or the subject, websites embedded conspiratorial tweets under an anger-inducing headline.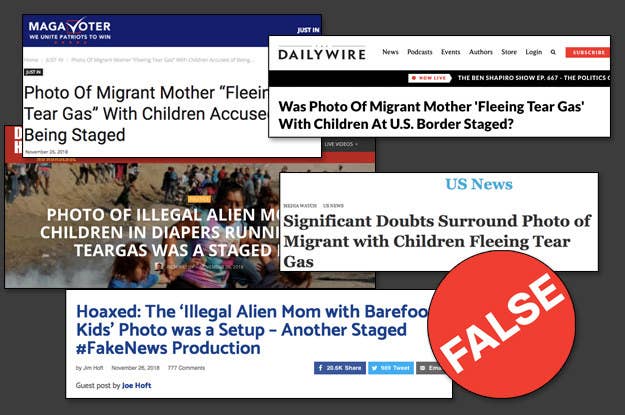 "Hoaxed: The 'Illegal Alien Mom with Barefoot Kids' Photo was a Setup – Another Staged #FakeNews Production," the Gateway Pundit headline stated. That post got over 7,000 engagements on Facebook and more than 11,000 on Twitter. It was also picked up by other publications, such as David Harris Jr.'s website, where it got over 16,000 Facebook engagements, and 100% Fed Up, where it got nearly 4,000.
The Daily Wire, an influential conservative site, also ran a story on the photo under the headline "Was Photo Of Migrant Mother 'Fleeing Tear Gas' With Children At U.S. Border Staged?" On the engagement, it blew the Gateway Pundit out of the water by getting more than 85,000 likes, shares, and comments on Facebook. Unlike the Gateway Pundit, the Daily Wire included an opinion of those online who think it would have taken too much effort for a photographer to stage that photo, but only at the end of the article.
Their story was also cited by other conservative blogs and publications, which racked up thousands of engagements online, according to social media monitoring app BuzzSumo.
Facebook did not immediately respond to BuzzFeed News' request for comment on why hoaxes about the photo are spreading on the platform even as they were debunked by Snopes, Facebook's fact-checking partner.
Yesterday, President Trump talked about the situation at the border during a roundtable discussion with law enforcement.
"They're called grabbers … because when they have a child they feel safer," he said. "I can tell you that, but I can say all over the border they have 'grabbers,' they grab children and you have no idea who the children are."
Hoaxes about the migrants have made their way to the president before, when he posted a video out of context and tweeted bizarre claims about "Middle Easterners" being in the caravan. Online falsehoods about migrants also played a significant role in the midterm elections to prop up bogus voter fraud conspiracies and make racist claims.