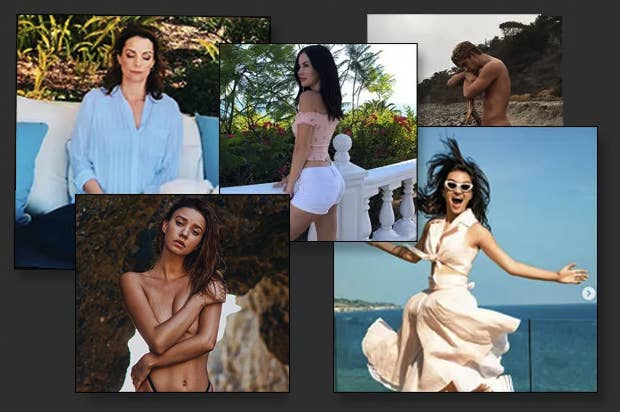 As the deadly California wildfires raged, Jeremy Kost looked for the right image for his Instagram account.

He settled on a shot of a man standing on a Malibu beach, in the nude, pensively looking at the ground as he leans on a large stick. Kost geotagged it for Malibu and shared it with his 87,000 followers with the caption, "#CurrentMood seeing all the unreal destruction in Malibu from the fire… it has always played such a central role in my work. I'm SO sad for those affected and for the world so be losing such majesty."
Kost, an artist who posts drag and nude photos, is one of many Instagram influencers and businesses who've been sharing Instagram posts using the location, hashtag, or keywords associated with the fires for personal or promotional content. The result is that anyone searching for hashtags related to the fires will encounter meditation shots, sales pitches, nudes, and a bevy of attractive photos of influencers alongside posts showing the depth of the devastation.
"Thinking of everyone in California stay safe. 20% of the proceeds of #caliyork will go to Red Cross for California #coasttocoastlove," read a post by a user with just short of half a million followers. The photo also used the hashtags #californiafires #lovecalifornia#californialove."

"Summer Loving in a linen cantaloupe Gingham @miguelinagambaccini ensemble captured by lovely @ellian.raffoul," said another post from an actor. "Sad to hear about the fires in Malibu and praying for safety and strength for the firefighters battling it out there. We never know what life brings us and every happy moment is a blessing in itself."
Tweets from a Funny or Die show about influencers called Like and Subscribe also pointed out that many people on Instagram posted images of themselves under the guise of supporting people affected by the California fires.
Soon after posting his image, Kost received an angry message from one of his followers, and he subsequently removed the geotag and caption. In a phone call with BuzzFeed News, Kost was apologetic and stressed he didn't mean to cause any harm.

"I wasn't seizing attention, I wasn't seeking any sort of validation, it was me sharing my work in a place I have a strong relationship to," he said, noting that he has worked in Malibu for 12 years and the image he shared was taken there.
"The images were shared with what I thought was a fairly sensitive caption," he said. "They weren't images of me jumping up and down in celebration, they were somber images."
Using words related to a breaking news event, politician, or celebrity for personal gain is what researcher Joan Donovan dubbed "keyword squatting." Donovan, who leads the media manipulation research project lead at Data and Society, said the idea is to boost popularity on the back of something that's happening in the moment.
"Keyword squatting in a sense is free marketing," Donovan said. "And if you're selling a product beyond just yourself, it could translate into cash."
She said Instagram is a unique social network because it has fewer search options than other places such as Facebook.

"Especially within Instagram, because there are so few ways to search, we see people who want to become influencers use breaking news events" to inject themselves into popular hashtags or locations, Donovan said.
Instagram is Kost's primary social media channel and a place where he shares the nude and drag artwork. He said he wasn't executing any kind of strategy and didn't think twice about using Malibu as a location on his post and in his caption.
"When you're sharing images every day for six or seven years, it's a subconscious thing," he said.
As environmental disasters grow in number and other breaking news events constantly demand our attention, the etiquette of what and when to share needs to be reconsidered by social media users, according to Donovan.

"We have to learn how to behave as a community in moments of crisis," she said.
CORRECTION
Funny or Die's show about influencers is called Like and Subscribe. A previous version of this post misstated its title.