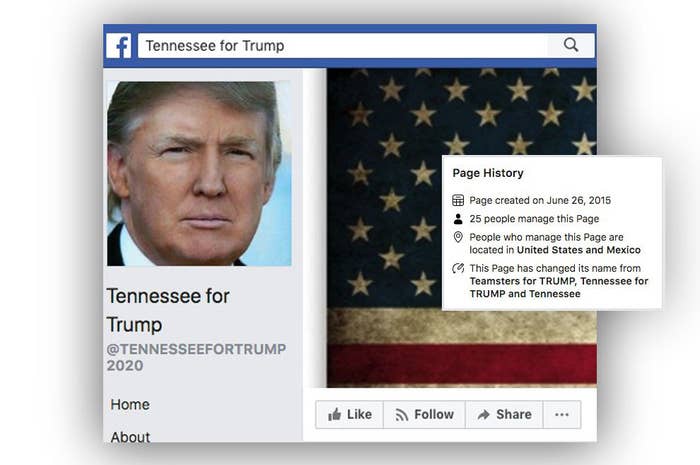 Facebook temporarily turned on a new feature that enabled users to see previously hidden information about a page, such as when it was created, how many people manage it, and where those people are based. This new information was briefly shown in a box called "Page History" that was part of the ad transparency product the company is currently testing in Canada ahead of a rollout in the US in advance of the 2018 midterm elections.
However, after being contacted about the Page History box by BuzzFeed News, Facebook turned off the entire "View Ads" product in Canada. It did not initially respond to questions about why the feature was turned off, but the company's VP of local, Alex Himel, tweeted after this story was published, "We mistakenly launched an early test to people in Canada and Ireland. We are still working on the product so have since rolled it back."
He said Page History will go live "in the coming weeks."
Rob Leathern, a director of product management in charge of ads, told BuzzFeed News that the early release of Page History led to the "rolling back ads transparency in those countries for a few hours, which will be back online shortly."
The short-lived rollout of Page History comes after the Facebook announced last month its intention to offer users "additional context about Pages to effectively assess their content."
Prior to Page History and the View Ads features being turned off, BuzzFeed News reporters in Canada examined the information for several pages in order to see where their managers are based, and whether the pages had changed names over time. The result is that BuzzFeed News was able to confirm that several pro-Trump pages are wholly or partially run by people in countries such as Macedonia, Mexico, Spain, Pakistan, and India.
The review of pages also found that someone in Switzerland is a manager of the InfoWars page, and that many large pages about Native Americans are operated by people in Vietnam and Kosovo. These findings follow previous BuzzFeed News reporting about pro-Trump pages run by spammers in Macedonia, as well as the slew of people in Kosovo and Vietnam running Native American pages.
The information gathered from Page History also reinforces the overall trend of information targeted at Americans being created or curated by people based overseas.
Facebook did not respond to questions asking how the location of managers is determined, but interviews with two page owners suggests the company is using IP addresses to determine the location information.
Here's a look at the pages reviewed by BuzzFeed News prior to Facebook turning off the feature.
The People's Voice has just over 800,000 likes and is operated by the team that runs Your News Wire, a site that frequently posts fake stories. Page History data revealed it has a manager in Qatar.
The Conservative Tribune, a partisan page with more than 4 million likes, has an manager in Malaysia.
Conspiracy website InfoWars, which has amassed more than 900,000 likes, has a manager in Switzerland.
The Donald Trump for President page has only 7,800 likes — but it's managed by six different people, of which at least one is based in Mongolia.
Tennessee for Trump has been around since 2015 and was at one point called Teamsters for TRUMP. It has more than 100,000 fans and at least one of the 25(!) people who manage it is based in Mexico.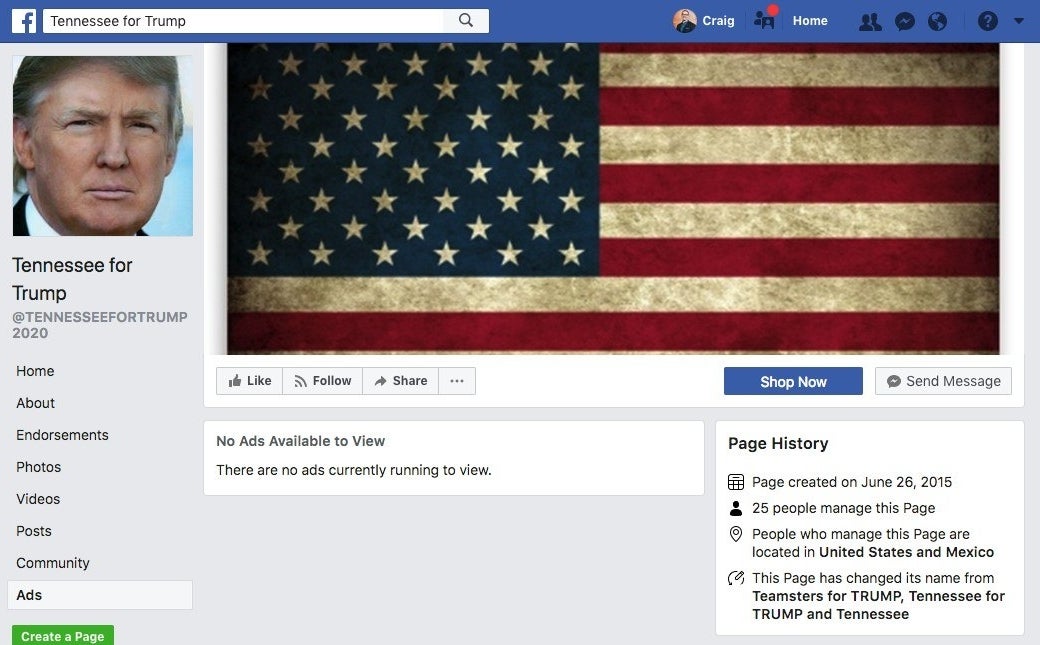 Unite for Trump has more than 300,000 likes and at least one of its managers is based in Pakistan.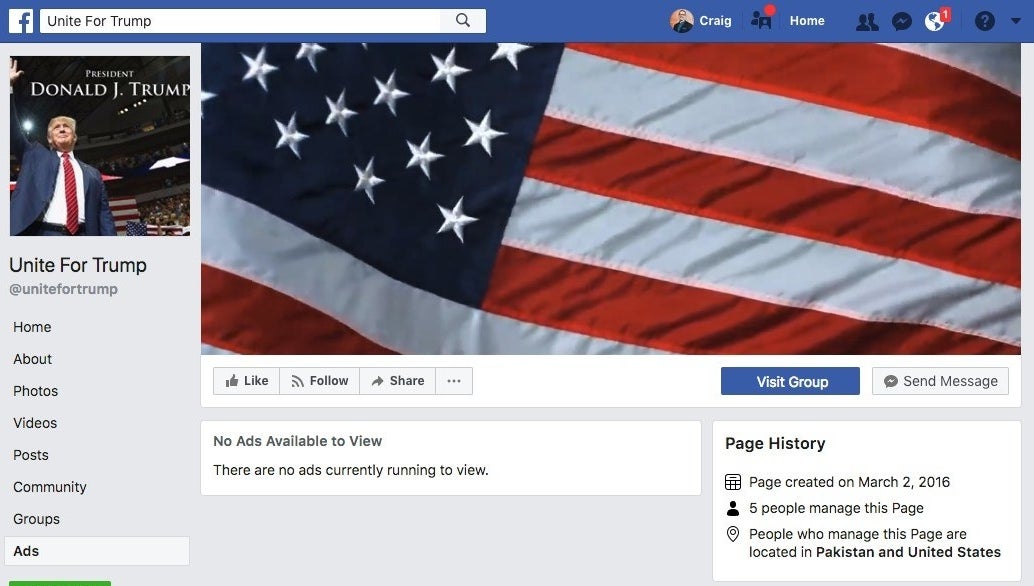 Trump Team Alaska also has a manager based in Pakistan. The page has just 5,000 likes but has been around since 2015 and at one point was called Truth=Trump 2016.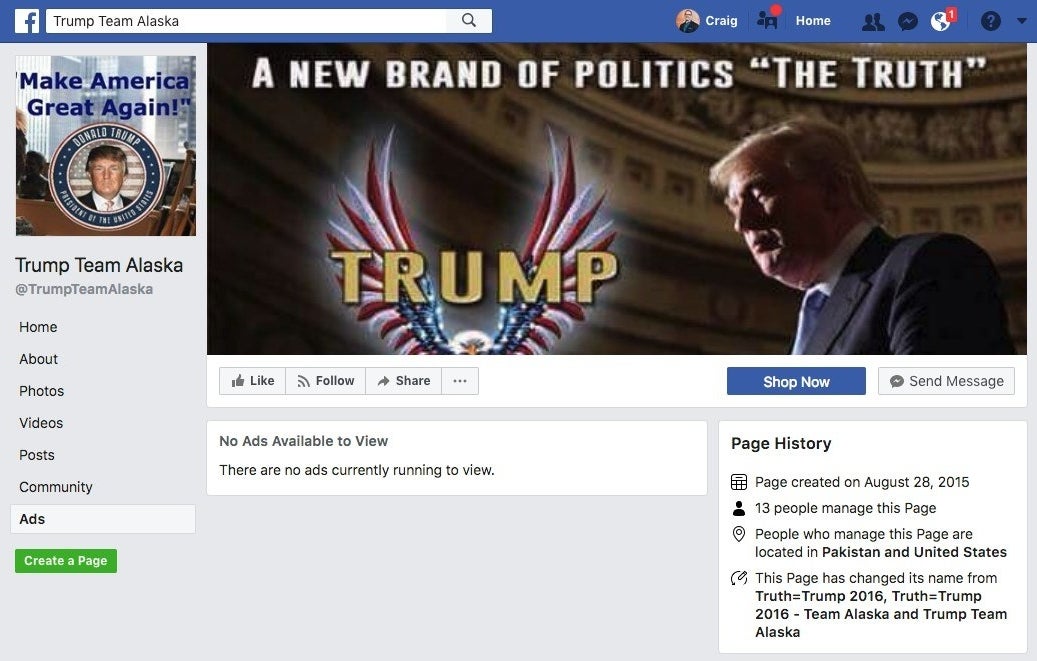 The Rise of American Patriots claims it's based out of Kansas and has more than 120,000 likes. But at least one of its 17 different managers is based in India.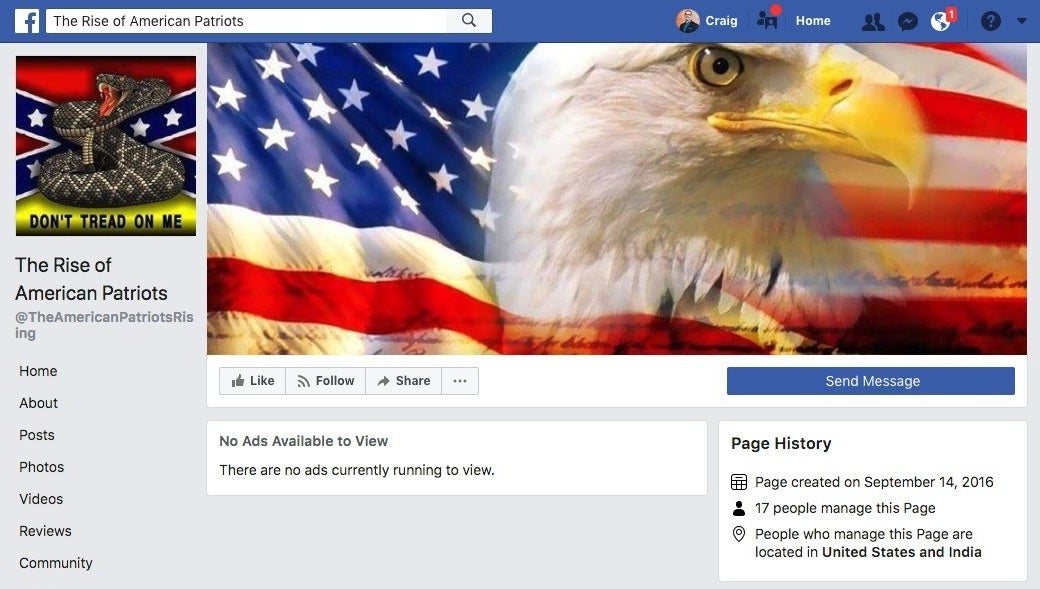 Conservative Fighters has almost 20,000 likes and also has 17 people managing the page. Those people are split between Macedonia and Germany.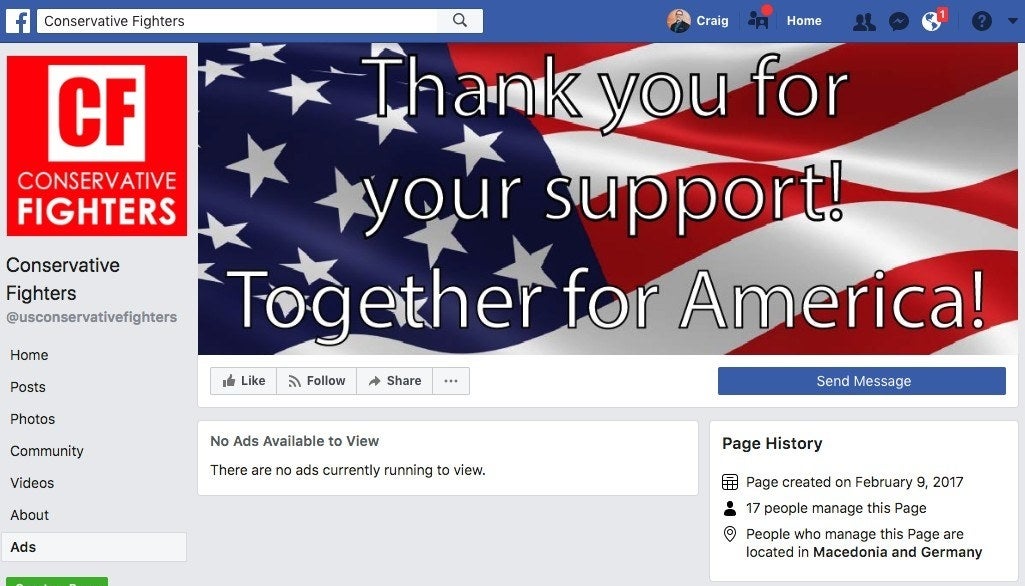 Political Site News, with 24,000 likes, is managed in part by someone in Macedonia. The other manager is based in the United States.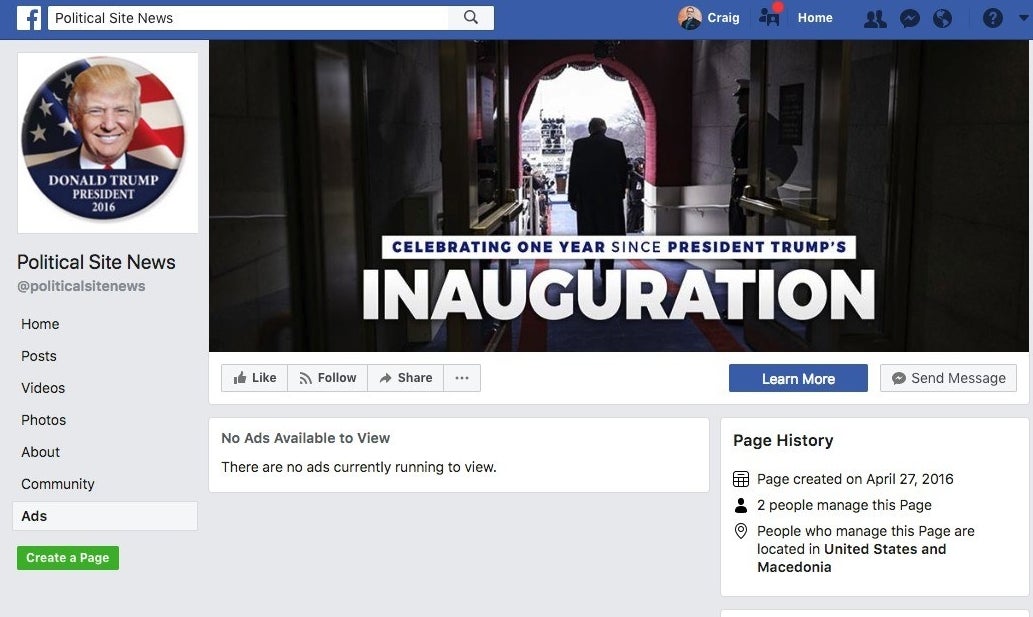 Another category of Facebook pages being run from overseas focuses on Native American content. This page has 125,000 likes, sells merchandise, and is run from Vietnam.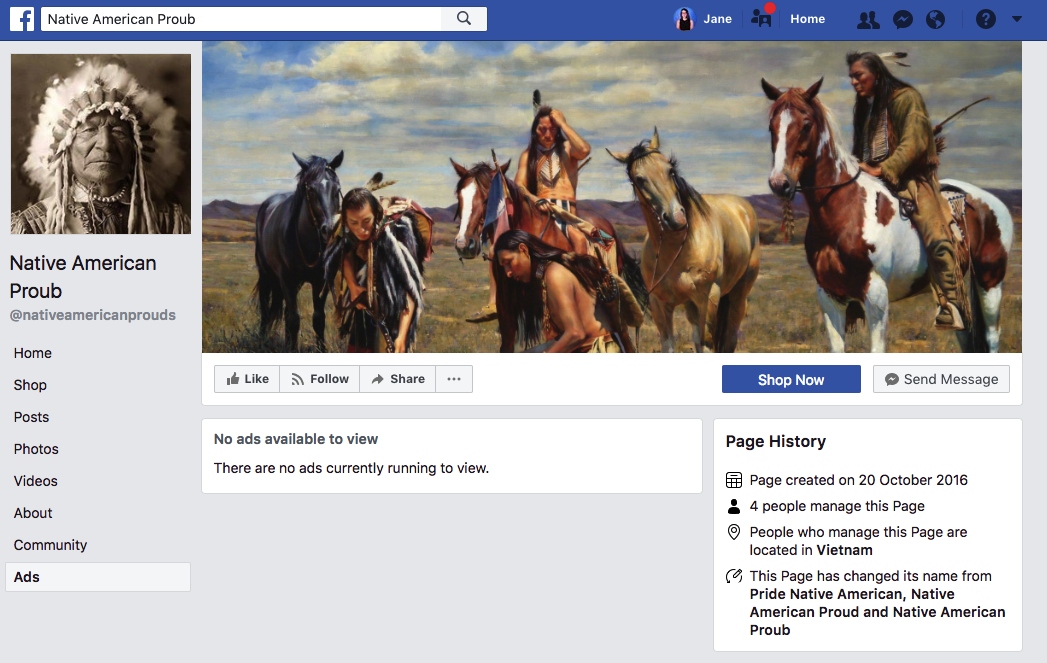 A smaller Native American page (6,500 likes) also sells T-shirts and is run out of the Philippines and Sweden.

Native American Beauty has more than 54,000 likes and a single manager who is located in the Netherlands.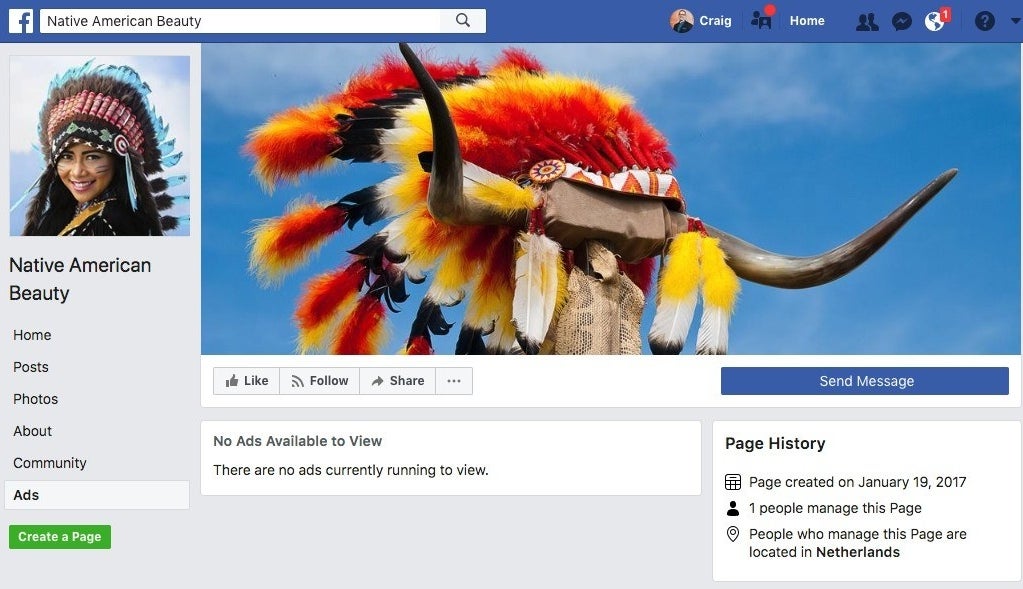 BuzzFeed News also looked at other types of pages and found more examples of cross-national teams. This small Black Lives Matter page (3,000 likes) sells T-shirts and has a manager based in the Philippines and United States.
A verified page called Health Digest has more than 11 million likes and has five managers based in the Philippines and United States.
Another verified page, Everyday Health, has over 1.5 million likes and boasts 21 managers based in India, the US, and the UK.
UPDATE
Added comments from Facebook executives about the removal of View Ads and Page History.
CORRECTION
The new feature shows Page managers. This story previously said it shows Page administrators, which is a higher permission level.