Ohio's Secretary Of State Says Voter Fraud Did Not Affect A Special Election For A Congressional Seat
Some older Ohioans were given placeholder birthdates on their voter registrations, which has led to suggestions of voter fraud.
Ohio's top elections official says that claims about widespread voter fraud in the state's recent special election are based on online misinformation.
Ohio Secretary of State Jon Husted has issued a detailed statement in the wake of a deeply misleading story published by Breitbart that suggested voter fraud had occurred in the state due to the fact that some registered voters in Ohio were listed as being "over 116 years old."
"To the bad actors out there who want chaos and to erode the people's confidence in our elections, enough is enough," Husted said.

More than 200,000 people cast ballots last week in a special election to fill a congressional seat in Ohio's 12th District. Republican Troy Balderson declared victory with results showing he had roughly 1,500 more votes than his Democratic opponent, Danny O'Connor. Some absentee and provisional ballots are still being counted, however, and results won't be final until Aug. 24.

Ohio's 12th congressional seat has been a Republican stronghold for decades, and the close outcome has been interpreted as a sign of trouble for the party heading into the midterm elections this fall.
"As I have always said, while voter fraud exists, it is rare and we hold those who commit it accountable," Husted said.
The misinformation started with a Breitbart report, written by Eric Eggers of the Government Accountability Institute, a conservative research organization. It cited the fact that 170 registered voters had birthdates that would make them more than 116 years old as evidence that "the Left" is trying to "create conditions favorable for voter fraud in Ohio."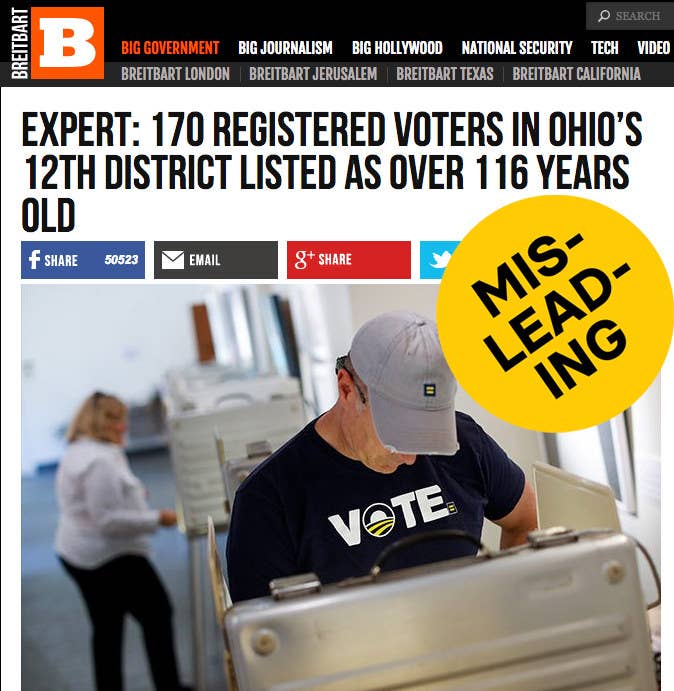 "That's 10 percent of Balderson's current margin of victory, pending provisional ballots. And 72 voters over the age of 116 who 'live' in Balderson's district cast ballots in the 2016 election," Breitbart reported. (The current oldest person alive is a 115-year-old woman in Japan.)

The story received more than 48,000 shares, likes, and comments on Facebook, making it the site's eighth biggest hit on Facebook so far this month. It then quickly spread to other conservative websites, such as the Daily Wire, the Western Journal, and 100% Fed Up, which has a history of sharing misleading and false information. Those articles, too, received tens of thousands of Facebook engagements, according to the social media tracking service BuzzSumo.
But according to Ohio officials, there's nothing fraudulent about the 170 registered voters with very old birth years. The reason is that, prior to the passage of a new law in 1974, Ohioans did not have to provide a date of birth when registering to vote.

As a result, local officials often used placeholder dates such as Jan. 1, 1900, or Jan. 1, 1800, when registering voters. Some older voters in Ohio, therefore, are still on the voter rolls with those placeholder birthdates.
"These individuals met the requirements at the time to become registered voters and remain legally qualified electors today," the Ohio secretary of state's office said Monday.

Ohio already has what's considered to be the most aggressive approach to purging voter rolls, a practice Republicans say is necessary to combat voter fraud. Voters in the state can have their voter registration canceled for failing to vote in a single presidential election. Democrats and voting rights groups say this system disproportionately impacts minority voters and amounts to voter suppression, and experts say there is no problem of widespread voter fraud in the United States.
The issue of Ohio's voter purges went all the way to the Supreme Court, where earlier this year the court's conservative majority ruled in a 5–4 decision that Ohio's system is lawful.
Husted said the state has removed more than 680,000 dead people from the voter rolls and reconciled 2 million duplicate registrations since 2011, when he took office as secretary of state.
Those who spread a "blatantly false narrative wholly detached from reality should find better ways to spend their time," Husted said Monday.