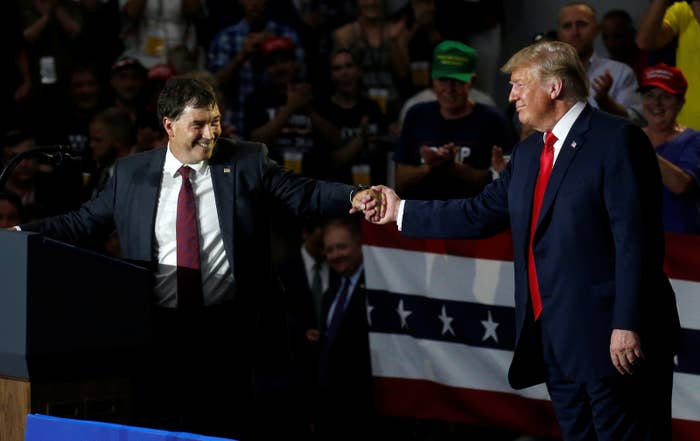 Republicans appear to have survived a special election scare, but a tight race for a House seat they've held for 35 years is the latest warning of trouble ahead in the November midterms.
Ohio's 12th Congressional District was drawn overwhelmingly in their favor. On Tuesday night, Troy Balderson barely overcame an aggressive challenge from Democrat Danny O'Connor to declare victory. (He's up by more than a thousand votes with 100% reporting; O'Connor has not yet conceded, however.)
Either way, if Republicans can no longer count on cakewalks in districts like this one, the party likely will have to play defense — and spend more money — in places they ordinarily wouldn't to keep control of the House. And though Tuesday's victory might bring momentary relief, it came at a cost: Outside groups spent millions of dollars to prop up Balderson, and President Donald Trump, who has fostered a treacherous political climate for his party, was called in to stage a rally intended to help pull the candidate across the finish line.
"While we won tonight, this remains a very tough political environment and moving forward, we cannot expect to win tough races when our candidate is being outraised," said Corry Bliss, executive director of the Congressional Leadership Fund, an outside spending group closely that is aligned with House Speaker Paul Ryan and invested heavily in Balderson. "Any Republican running for Congress getting vastly outraised by an opponent needs to start raising more money."

Democrats, meanwhile, walked away encouraged by their performance in a district that Trump carried by 11 points in 2016 and that Balderson's predecessor, Pat Tiberi, won by 36. They head toward the fall midterms more optimistic about their chances in dozens of other Republican-held districts that are even more favorable to them than the Ohio 12th.
"The fact that national Republicans have had to pull out every stop in a district this gerrymandered says it all," Ohio Democratic Party chair David Pepper told BuzzFeed News. "Our goal is of course to win. But a close race in this district is a big boost as we build towards November."
Republican operatives in and outside Ohio spent the final days grumbling about Balderson and fearing a loss. One strategist who works on House campaigns and, like others, requested anonymity to candidly assess the party's woes, countered that special elections "are not necessarily the best barometer of a national wave, but they're definitely an important data point."
"It's hard to draw momentum from a loss."
But other Republicans acknowledged that Democrats maintain an edge in momentum, making a race like the Ohio 12th a wakeup call nonetheless.
"It shouldn't have required a whole lot of effort," said one national Republican consultant, who added that the narrow win might be "the best scenario for Republicans" — as it doesn't totally destroy their confidence, but also doesn't "lull people into a false sense of security and complacency."
Balderson, a state senator, emerged from a crowded primary with Republican establishment backing in a district where the Republican establishment still has clout: Tiberi, whose retirement from Congress this year put the Ohio 12th in play, anointed Balderson as his preferred successor. And Gov. John Kasich, who held the seat for 18 years, starred in a supportive TV ad.
Trump, given his enthusiastic endorsement and rally on the final weekend of the campaign, quickly took credit for a victory.
Despite remaining popular among Republicans, Trump's recent overall approval ratings in the district, in Ohio, and nationally have averaged below 50%. But Balderson was eager to firm up support among voters who lean further right than Kasich and Tiberi. He welcomed Trump's help, even as it made things awkward for his allies. (At the rally, Trump lashed out at former state party chair Matt Borges. The night before, in a tweet many viewed as racist, he called Ohio native and former Cleveland Cavaliers superstar LeBron James dumb. And the day after, Kasich, a prominent Trump critic, said on national TV that Balderson told him he wasn't the one who invited the president.)

O'Connor, a 31-year-old elected officeholder in the Columbus-anchored Franklin County, presented a youthful contrast to the 56-year-old Balderson. He worried Republicans early on with an energetic campaign, robust fundraising, and aggressive TV advertising — all of which Balderson struggled to match. O'Connor also tried to lure independents and moderate Republicans away from Balderson by pledging not to support Nancy Pelosi for another term as the House Democratic leader and with his explicit attempts to woo Kasich voters.
The fight for the political center illustrated how districts like the Ohio 12th could emerge as battlegrounds this fall and in the future. The reliably Republican area takes in the northern suburbs of Columbus (O'Connor's turf) and reaches east into rural Appalachia and Zanesville (Balderson's base). The key portion is Delaware County, which hasn't backed a Democratic presidential candidate since Woodrow Wilson in 1916. But Democrats see opportunity in the affluent and college-educated suburban voters there who might be turned off by Trump: Hillary Clinton's campaign targeted the county in 2016 and narrowed the margins. O'Connor narrowed them a little more.
Polls tightened in O'Connor's favor in the closing days, and early voting data appeared to trend toward the Democrat. Key Ohio Republicans who had been cautiously optimistic about Balderson's chances grew increasingly nervous. Many view the Ohio 12th as a tipping point for other once-safe Republican seats, if not nationally then definitely in other Ohio districts such as Steve Chabot's in Cincinnati. The tensions were amplified last week when Trump tweeted (and minutes later deleted) an endorsement of Rep. Steve Stivers, who represents another Columbus-area district and leads the House Republicans' campaign arm— and who Trump mistakenly told his followers was up for election on Tuesday's ballot.
"Democrats have enthusiasm out the fucking wazoo right now," a Republican strategist in Ohio told BuzzFeed News last week. "If they win the Ohio 12th, it will only increase enthusiasm."
Republican National Committee co-chair Bob Paduchik, a veteran Ohio political operative who ran Trump's campaign in the state in 2016, took a particular interest in the race. Other Republican groups branded O'Connor as "Dishonest Danny" after he clumsily acknowledged on national TV that he could support Pelosi if she wins a House Democratic conference vote to advance as the party's candidate for speaker.
Meanwhile, Balderson also made mistakes that even his friends privately acknowledged before Tuesday's vote. Several vented about a low-energy campaign and a candidate who had to be cajoled into raising money. And when Balderson actually hit the campaign trail, he committed unforced errors. The audience at his event last week with Vice President Mike Pence had to correct him when he gave the wrong date for the special election. And Monday evening in Zanesville, Balderson took a shot at O'Connor that also disparaged voters in a key part of the district: "We don't want somebody from Franklin County representing us," he told the crowd.
These blunders had national Republicans — as they did in March after losing a House seat in a Pennsylvania special election — prepared to blame an Ohio 12th loss on a poor candidate.
"Lazy, just lazy," one strategist observed. "That's part of the problem. But you don't always have the pick of the litter."
O'Connor will have a second chance to win the seat. Tuesday's election was to fill the remainder of Tiberi's term. He and Balderson also will face off in November for a full two-year term. Operatives on both sides had been talking for weeks about scenarios in which one candidate could lose this week but come back and win the next round. Balderson's made-for-TV "Franklin County" gaffe didn't inspire confidence among his supporters.
"Bet that one comes back for the fall," one Balderson ally said ruefully.