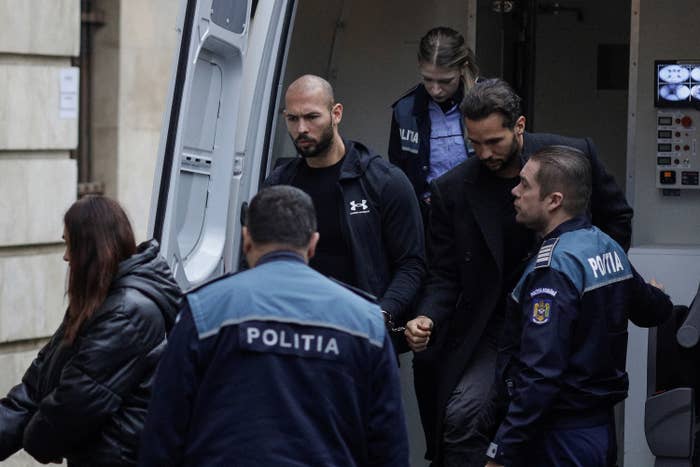 A judge in Romania has extended the detention of misogynist influencer Andrew Tate until the end of February.
On Friday, a court in Bucharest said that Tate, his brother Tristan Tate, and the two Romanian women who were arrested along with them will be held in pretrial detention for a further 30 days, the Associated Press reported. That means they will remain in detention until at least Feb. 27, while authorities investigate them over claims of human trafficking, rape, and organized crime.
They will be allowed to appeal the court's decision. The suspects made an appearance in court on Jan. 10 to appeal the initial 30-day pretrial detention, which was denied on the grounds that they could flee the country.
We want your help! If you have more information or a tip regarding Andrew Tate, contact ikran.dahir@buzzfeed.com, or reach us securely at tips.buzzfeed.com.
Tate has been held in detention for 22 days so far and could be there for a maximum of 180 days if deemed necessary.
A spokesperson for Romania's anti–organized crime agency told the AP that prosecutors requested a second 30-day extension to keep all four in detention while investigations continue.
In a tweet on Wednesday, Tate said he had filled out his visitation forms and claimed he added influencer Adin Ross. His lawyer told Gandul this could not be the case as only family members are allowed to visit.
Tate and his brother have denied the accusations against them.