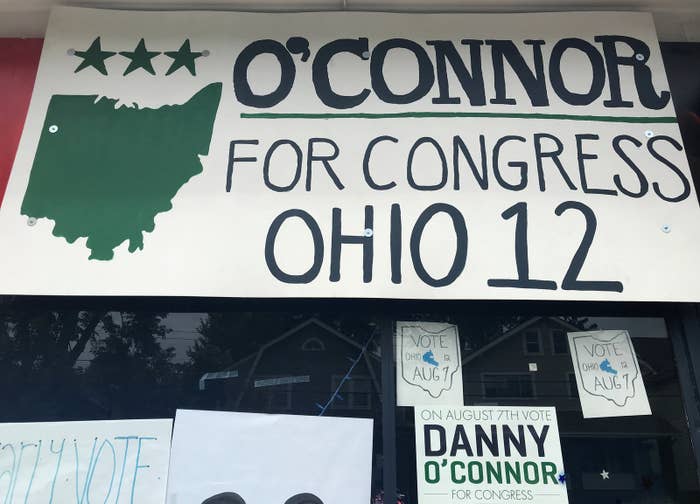 Next week, if Republicans lose Ohio's 12th Congressional District, a seat they've held since the early years of the Reagan administration, their nationwide prospects of maintaining control of the House will dim.
But a loss in that special election also would signal acute trouble for several Republican incumbents in Ohio, where the party has dominated the political landscape for much of the last 30 years.
How high are the stakes? State Sen. Troy Balderson, the party's nominee in the Ohio 12th, has enthusiastic endorsements from both President Donald Trump and Gov. John Kasich — political enemies who have few mutual allies. Vice President Mike Pence campaigned in the district this week, and Trump is expected to visit this weekend. National Republican groups are spending millions of dollars on the race. Meanwhile, Democrat Danny O'Connor, an elected county officeholder from the vote-rich Columbus area, has positioned himself as a moderate.
In interviews with more than a half-dozen Republican operatives, most of whom are cautiously optimistic that Balderson will win, three fears emerged: that a low-turnout election at the height of summer vacation season could tip the contest to O'Connor; that several other Ohio House districts drawn overwhelmingly in their favor could become more competitive; and that the Democrats' momentum could carry into an open governor's race that in recent weeks has trended in Democrats' direction.
"I think that there's an appropriate level of concern about what this means for the last 90-plus days for the election cycle," Matt Borges, a former Ohio Republican Party chair, told BuzzFeed News. "That's why you're seeing an all-in effort, the likes of which I don't think you've ever seen. Donald Trump is endorsing. John Kasich is endorsing. Mike Pence is in town."
The biggest concern among Republicans is the Ohio 1st, where Rep. Steve Chabot, a Republican mainstay in Cincinnati, is facing a tough challenge from Democrat Aftab Pureval. Chabot, 65, won reelection easily two years ago. But Pureval, 35, is a youthful campaigner and aggressive fundraiser. Nonpartisan observers sense an upset. Republicans are nervous, and some already are blaming Chabot.
"The most important question that needs to be answered in that race is whether Steve Chabot can be de-fossilized," said one national Republican strategist, who like others requested anonymity to speak candidly. "He has no business losing that race."
Chabot's campaign spokesperson, Cody Rizzuto, argued that the results of a special election without an incumbent will not be a bellwether anywhere else.
"Congressman Chabot has always taken every race seriously," Rizzuto said. "When the voters of the 1st District learn about Aftab Pureval's extremist views he will be soundly rejected."
One Ohio-based Republican strategist believes an O'Connor victory could help lift Democratic challengers in at least five other districts, making those House races too close for comfort.
"I'm looking at the map here," the strategist said. "If I'm Chabot, if I'm [Bill] Johnson, if I'm [Bob] Gibbs, if I'm [Mike] Turner, if I'm [Dave] Joyce, and if I'm [Steve] Stivers, you've got to run like your hair's on fucking fire. Democrats have enthusiasm out the fucking wazoo right now."
All incumbents in a midterm climate like this must "either run unopposed or run scared," regardless of what happens in the Ohio 12th, a senior aide to a member of Ohio's Republican congressional delegation said.
"If you're not running scared," the aide added, "you're a moron."
Every House Republican from Ohio won his 2016 campaign by a wide margin, though the Joyce and Turner seats often are viewed as enticing pickup opportunities, and Democrats are excited about the challengers they're fielding against Gibbs and Stivers. But the inclusion of Stivers in any doomsday scenario is significant: He leads the National Republican Congressional Committee — the campaign arm for House Republicans. While there's been occasional chatter about Stivers being vulnerable in the Ohio 15th, which borders the Ohio 12th, most who spoke to BuzzFeed News believe his seat is safe.
"Besides Chabot, everything else is a real reach," another national operative said.
Jai Chabria, a former adviser to Kasich and a Republican consultant who worked with J.D. Vance when the Hillbilly Elegy author considered a Senate run in Ohio this year, warned against overanalyzing special elections.
"They are strange and often produce strange outcomes," Chabria said. "We have a good candidate in a good district, and I expect Balderson to win. Regardless, every Republican running in close districts in November will have a tough race because of historical and current trends. But the map in Ohio favors the GOP."
Even if Balderson lost, he would have a second chance. The special election is to fill the unexpired term of Pat Tiberi, who left Congress earlier this year. Both Balderson and O'Connor are seeking a full term in the November general election.
But others point to 2006, a wave year for Democrats nationally that resulted in Ohio's only Democratic governor since 1990 and a Senate seat for Sherrod Brown, who is up for reelection this year and currently the only Democrat who holds statewide office. Republican operatives started sensing danger that summer, when Brown jumped out to a lead over incumbent Mike DeWine and momentum began to shift decisively toward the Democrats.
DeWine, now the state's attorney general, is on the ballot again this year — as a candidate for governor. The most recent polls show him in a close race with Democrat Richard Cordray, and some Republicans worry a Balderson loss would seed a narrative Cordray hopes will grow: that a Republican losing a Republican district, despite being endorsed by Trump and Kasich, shows the party is weak, and that a vote for Cordray is not a wasted one.
"The whole ticket," said one Ohio Republican operative, "needs to be worried about Troy Balderson on Tuesday."