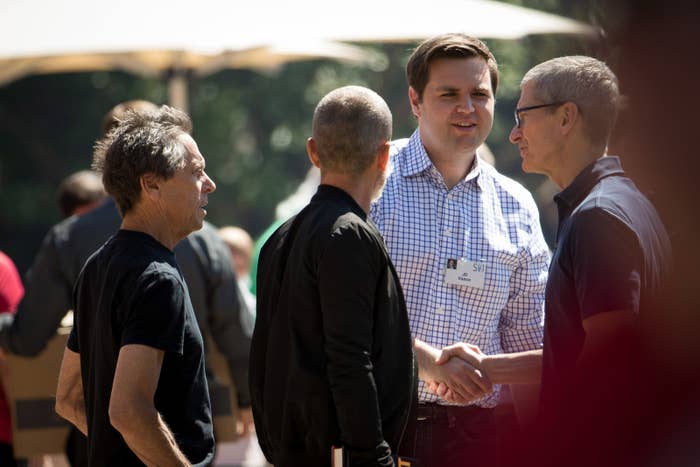 J.D. Vance is now seriously considering a US Senate campaign in Ohio and discussing the prospect with Republicans in Washington, following overtures from party donors and leaders who believe he would be their best candidate.
The author of the best-selling memoir Hillbilly Elegy previously had ruled out a bid. But Josh Mandel, who had been the frontrunner in the GOP primary, dropped out last week, citing a health issue involving his wife. His surprise decision has shaken up the race.
"The phone hasn't stopped ringing since Friday," said Jai Chabria, an adviser to Vance who joined him in Washington this week for meetings with those encouraging his candidacy.
"The amount of support for J.D. Vance is incredible," Chabria told BuzzFeed News. "People are starting to realize he has the best message to beat [Democratic incumbent] Sherrod Brown. J.D. is giving serious consideration toward this, because there are very serious people asking him to run."
Ohio Republicans are interested in Vance, too. Several close allies of Gov. John Kasich, who has ruled out a Senate bid, were urging him to run last year, before Vance initially announced he would not be a candidate. With Mandel now out of the picture, a Draft J.D. Vance website appeared Monday, not long after allies of Senate Majority Leader Mitch McConnell revealed that McConnell had spoken with Vance in recent days and was very high on his potential candidacy.
Another name in the mix is US Rep. Jim Renacci, who is running for governor but has received encouragement to move into the Senate race. Renacci, though, has made his Senate candidacy contingent on a blessing from President Donald Trump, who has yet to weigh in on the race.
"If the president would call, I would consider it, because I would need his help really at this late part of the game," Renacci said Tuesday during an interview with Cleveland radio station WTAM. "But again, my commitment is still to try and change the state of Ohio, and if I can do that in a Senate seat with the backing of the president because he wants me to do it, I would clearly consider it only at that time."
Sources familiar with the conversation told BuzzFeed News that Renacci had a Wednesday meeting at the White House to discuss the race. One of the sources, who requested anonymity to speak about private discussions, said the meeting went well and that Renacci will officially end his gubernatorial bid and become a Senate candidate Thursday.
Chabria said Renacci's plans will not affect Vance's decision on the race.
Meanwhile, self-funding investment banker Mike Gibbons, who had emerged as Mandel's strongest primary challenger, remains in the race and is working to convince GOP activists that he would be the party's best option against Brown in the fall. He has pledged another $5 million to his campaign, and on Wednesday he announced endorsements from a slate of conservative leaders, including two who had served as county chairs for Mandel's campaign.
Hillbilly Elegy was seen as key to understanding the Appalachian and white working-class voters who carried Trump to the White House. Vance recently returned to his native Ohio to promote a public policy agenda, fueling speculation about his political future.

Vance, who voted for independent Evan McMullin for president in 2016, has been critical of Trump at times — and that could make his GOP path tricky in a state Trump won.
"He used rhetoric that's not in the best interest of the party or country," Vance said in a 2016 interview with cleveland.com. "I happen to think that conservatism, when properly applied to the 21st Century, could actually help everybody. And the message of Trump's campaign was obviously not super-appealing to Latino Americans, black Americans and so forth. That really bothered me. "
Mike Biundo, a strategist for Gibbons, emphasized Vance's past criticism of Trump in a statement to BuzzFeed News.
"Mike Gibbons was a co-chair for President Trump in Ohio and never wavered in his support for the president," Biundo said. "J.D. Vance effectively voted for Hillary Clinton when he voted against President Trump. There's only one candidate in the race who would support the president: Mike Gibbons."