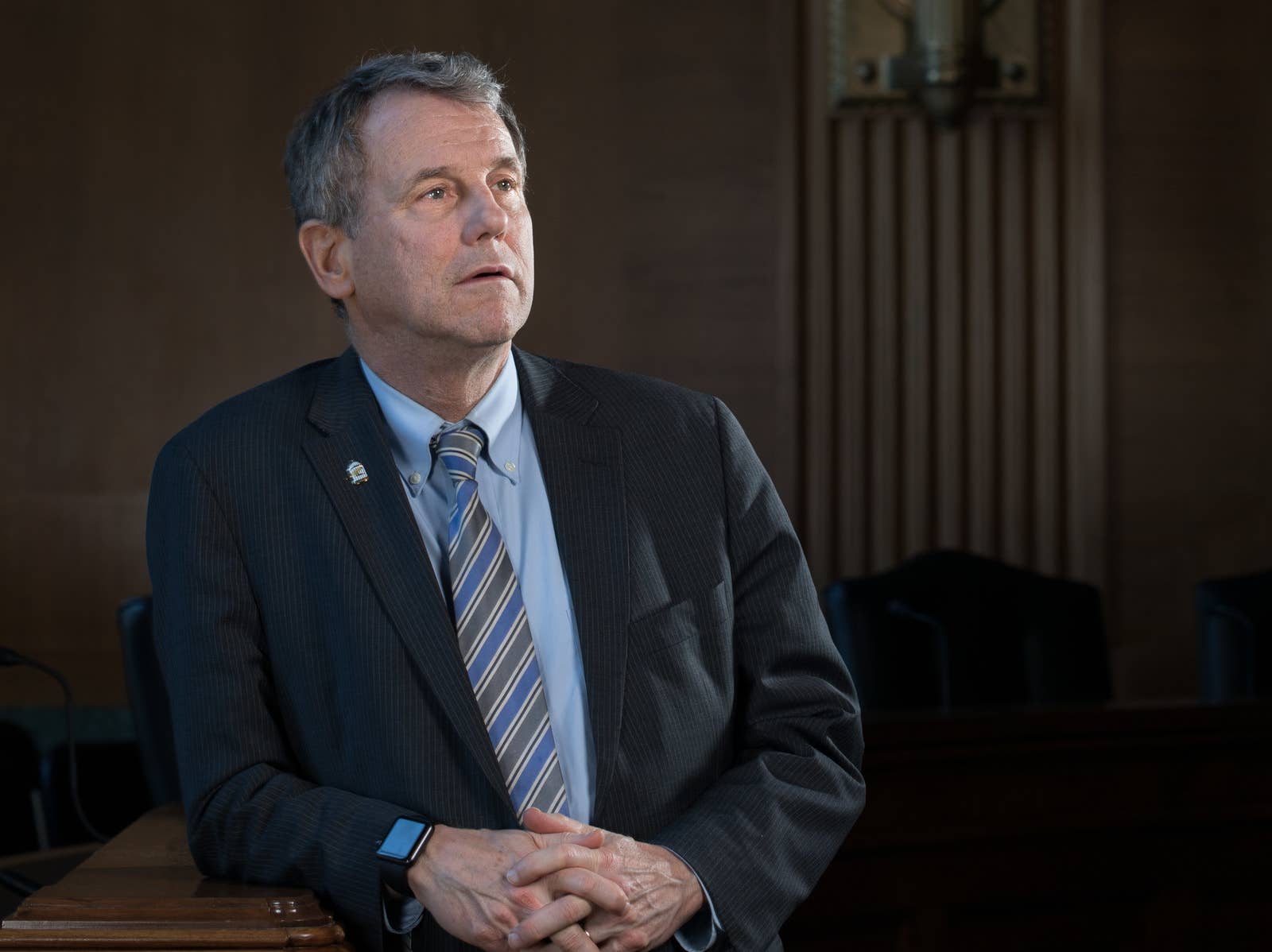 Sherrod Brown and Connie Schultz stared out into the crowd. Everything was perfect.
Voters had just given Brown a third term in the Senate. Sure, it was a lousy night for almost every other Democrat in Ohio. But even that worked in Brown's favor, suggesting that he is uniquely capable of winning tough Midwest battlegrounds in the next presidential election.
Brown and Schultz, the journalist he's been married to for 14 years, are proud of their reputations as progressive champions for the working class. In the months leading up to this moment, both of them — Brown in his reelection campaign, Schultz in her nationally syndicated column — had framed their cause around the "dignity of work."
Now those three words waved back at them, on fresh blue placards printed for this very occasion: a victory speech delivered explicitly as a blueprint for running against President Donald Trump in 2020. A few days later, Brown and Schultz confirmed they are thinking about a White House bid, in part because of overwhelming encouragement they said they had received since election night.
The only way Brown and Schultz could have planned it any better is if it didn't seem like they planned it at all. Schultz would later say they were surprised (but delighted, of course) to see dignity of work become Dignity of Work, each sign topped with the yellow caged canary that Brown wears on his lapel to highlight his support for labor rights.
Therein lies the secret of Sherrod Brown's success. He has been so consistent during his 44 years in public service that all of this comes off as natural. "You're drawn to Sherrod because of what his values are," said Dayton Mayor Nan Whaley, a longtime Brown ally in Ohio who co-chairs a newly formed organization promoting him as a presidential candidate. "He is not one of these shiny-object campaigners. And he's not one of these Johnny-come-latelies that everyone gets excited about."
Sherrod Brown is indeed authentic — but like any other successful figure in 2018, he makes sure you see certain parts of himself first. He cares a great deal about reminding you that he doesn't care about his appearance. His perpetually wrinkled suits and shaggy hair are such trademarks that, in his recent campaign, Brown, 66, aired an ad tying together the style and substance of his political identity: workers from an Ohio washing machine factory saying Brown looks just fine to them.
His brand — a reluctant, rumpled guy fighting for you — also demands that he not appear too eager to be president.
His brand — a reluctant, rumpled guy fighting for you — also demands that he not appear too eager to be president. Right now, though, there is no Democrat working harder to build a national profile. He's cooperated with several feature stories (including this one) and become a fixture on news shows, often with a self-deprecating line about how his only real ambition was to play center field for the Cleveland Indians. He is imprinting his slogan — his advisers prefer to call it a mantra or mission statement — onto the brains of anyone watching. On a good day, he can work "dignity of work" into an interview at least six times.
Schultz, 61, has her own devoted following, dating to her days as a feature writer and columnist at the Plain Dealer in Cleveland, where in 2005 she won the Pulitzer Prize for commentary. She was known in the newsroom for her exuberance and the "Well-Behaved Women Rarely Make History" bumper sticker she displayed at her desk. (She and I overlapped for several years at the newspaper and have a friendly relationship.) She hates being viewed as a political prop: See her memoir from Brown's first Senate race, titled … and His Lovely Wife. Friends apologetically tiptoe around words like "asset," a cliché typically reserved for women, when describing the value she adds as a principal in Brown's campaigns.
At their home last week in Cleveland, Schultz told me she thinks about how she could best help her husband if he runs for president. They likely would campaign separately, with Schultz confident she can connect with blue-collar voters like her late father, the lunch pail–carrying utility worker she has immortalized in her writing. She more than anyone is the most enthusiastic evangelist and protector of Brown's brand.
"We really weren't expecting this," Schultz said of the calls for Brown to run. "I love being married to a man who doesn't look in the mirror and see the next president of the United States. It's never been his aspiration." Still, she admits to having been disappointed when he wasn't chosen as Hillary Clinton's running mate in 2016. "And believe me," she added, "the idea of being second lady — even the title? Blech. But country first on this."
The decision to run for president is major, but not entirely unlike the one they made in 2006 when he first ran for Senate.
"We were talking about what got him in last time," Schultz told me. "Are we getting too comfortable? That's weighing on us a bit." They're really lucky, Schultz said. They love their house and neighborhood, their grandchildren, their jobs.
"But that's not enough. Perhaps that's what, more than anything else, will end up pushing us in."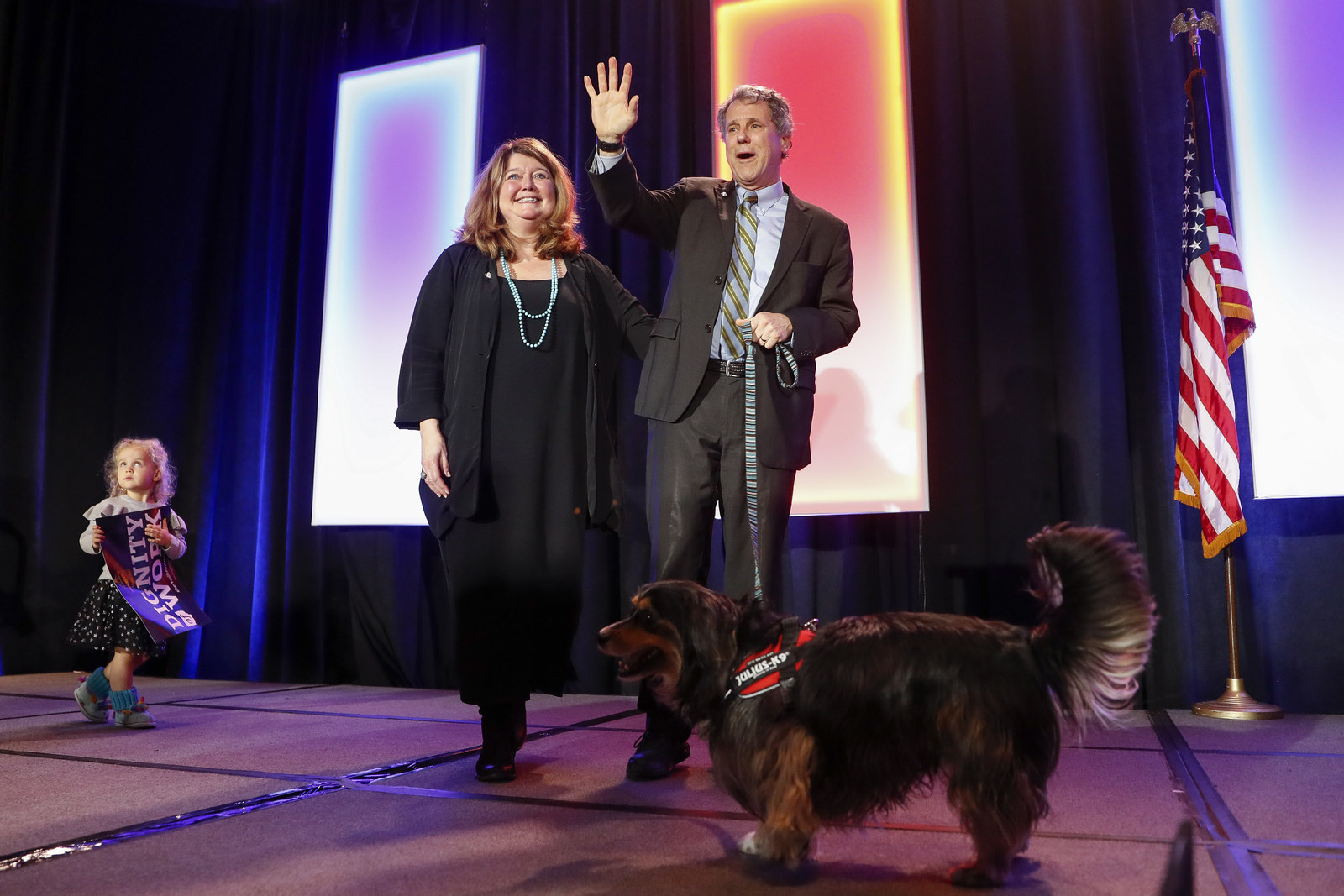 Home for Brown and Schultz is a compact colonial on Cleveland's southeast side, a newer development in a zip code ravaged by the foreclosure crisis. After they moved here five years ago from a suburb filled with McMansions and big-box stores, Schultz wrote about how excited they were to be a part of the city's revival.
She and Franklin, a rescue mutt named after Franklin D. Roosevelt, greeted me at the front door on a Tuesday afternoon. Schultz handed me a piece of cheese to buy Franklin's friendship. Inside, a leftover Dignity of Work placard hung near a side window. As Schultz prepared a rum cake for a dinner party, she talked about her upcoming first novel — about a working-class family from Ohio.
We spent most of the time in a reading room they added on to the back of the house, a nook filled with natural light and hundreds of books on shelves reaching high toward the ceiling. Titles included the gossipy 2008 campaign chronicle Game Change and Celeste Ng's Little Fires Everywhere, a recent novel set in nearby Shaker Heights. The cheese apparently had done the trick — Franklin spent part of the interview cuddled up next to me on a soft-cushioned couch.
Schultz grew up in Ashtabula, a blue-collar town east of Cleveland; graduated from Kent State University, where she now teaches several journalism courses; and eventually landed at the Plain Dealer, Ohio's largest newspaper. Her series on a man wrongfully imprisoned for rape compelled the real rapist to come forward and made her a Pulitzer finalist in 2003. Two years later, she won the prize outright "for her pungent columns that provided a voice for the underdog and underprivileged." Among her submissions: a column about tipping policies and etiquette, something that would become a rallying cause for her (and later adopted by her husband).
She and Brown, both divorced with two children each from their previous marriages, had an unusual courtship. It began with emails he sent her about her writing and progressed with a first date at a chain restaurant on New Year's Day 2003. "He showed up wearing four days' growth of facial hair because he was afraid of looking too eager," Schultz recalled in … and His Lovely Wife. He also brought two printed-out pages of his favorite quotes.
"He was very smart," Schultz told me. "He wrote well. Funny. Makes me laugh like no one else can."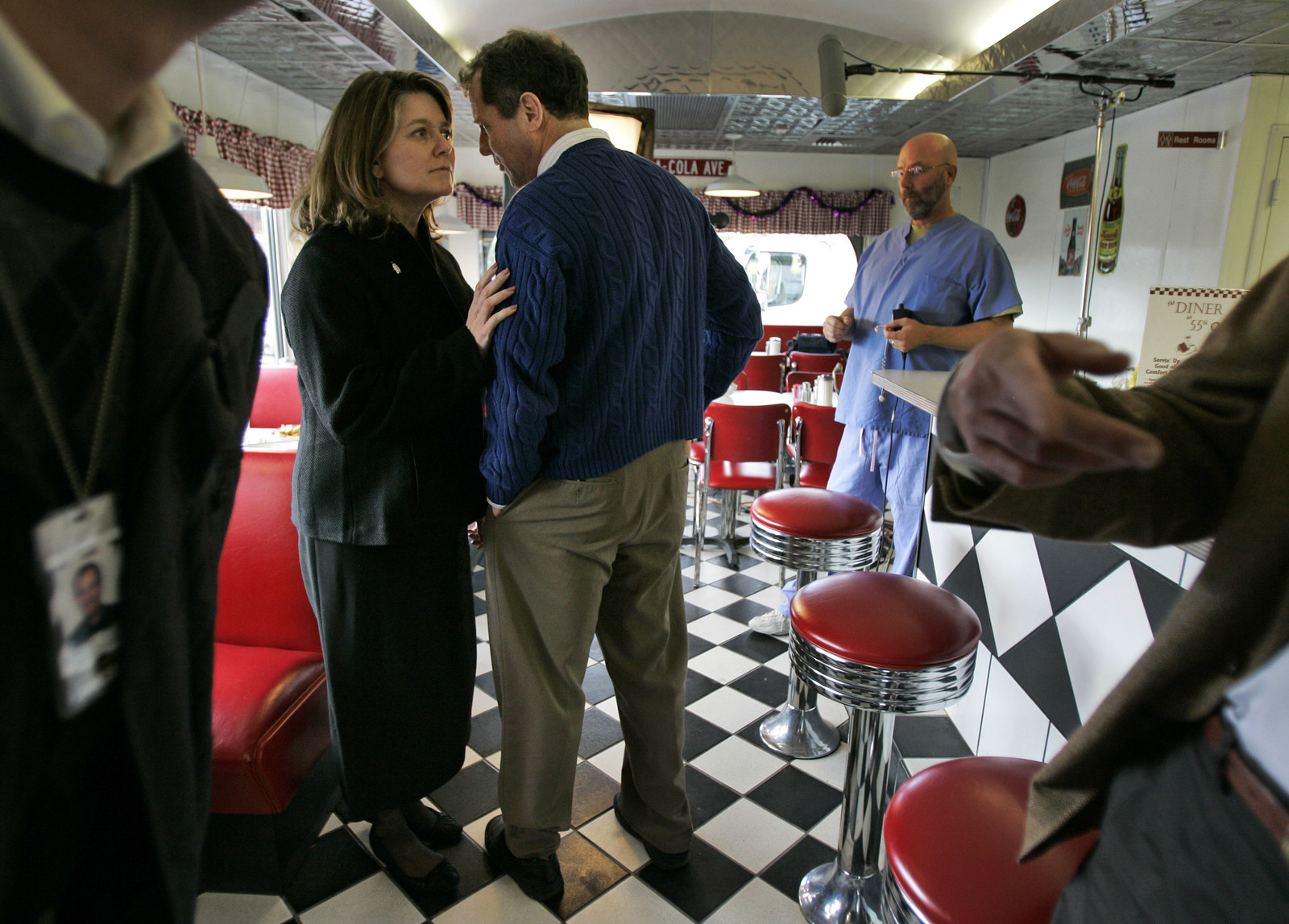 They married in April 2004. Brown was in the House at the time, and soon there was the prospect of the 2006 Senate race. Schultz, fresh off the Pulitzer and enjoying the honeymoon period, was a holdout. But she knew Brown wanted to run and psyched herself up for it by watching Season 2 of The West Wing. The episodes offered flashbacks to when the Democratic president, played by Martin Sheen, struggled with whether he really wanted to run.
"We joke about this now, but it really was true," Schultz said. "We had some concern that we were getting too comfortable when there was so much work to be done." A moment later, she added: "Of course it's so cool because now Martin Sheen is a dear friend. Bradley Whitford" — another actor from the show — "is a dear friend." Both have helped Brown raise money.
But 2006 and the aftermath were tough on Schultz. Her own newspaper was covering her husband, at times critically. People — mostly men, Schultz said — questioned how the wife of a senator could be objective and trusted not to advance her husband's agenda, never mind the fact that The Plain Dealer paid Schultz for her opinions, or that she had been a progressive well before marrying Brown.
Around that time, Steve Fought, one of Brown's former aides, sent a private note to the paper's top editor, complaining about Schultz's simultaneous duties as a columnist and political spouse. The note got back to Schultz, who shared it with Brown. Fought, who had gone on to work for Rep. Marcy Kaptur of Ohio, told me Brown angrily confronted Kaptur about it. ("It's possible," said Brown, who recalled the note but not a confrontation. "I don't remember that.")
Schultz ended up taking a leave from the newspaper during the 2006 campaign, and resigned in 2011. She had upset editors by writing a column about a tea party rally near their then-suburban home without mentioning that Brown's Republican rival had spoken there, or that she had filmed him as he did. (She later argued it was a fair-play effort to write about a populist conservative movement she had been criticized for ignoring and that she had pulled out her camera to protest the removal of Democratic operatives who had attempted to record the event.)
"They don't want me here," Schultz recalled thinking. "I got tired of being characterized as a problem."
Schultz remains a nationally syndicated columnist, and told me she often sides with fellow reporters when Brown has a complaint with them, though she has an exception. "I don't want him talking to anybody from Fox," she said. "What would be the point of that? There's no point. I don't think it's a real news organization."
Her Facebook page is a community unto itself. The posts — everything from Franklin photos to humanizing Sherrod stories to breaking news — provoke robust conversation. But recently she's begun to engage more on Twitter, sliding into the mentions of national political reporters. When Brown showed up on CNN this month with a closely cropped haircut, they noticed. Schultz, a noted fan of her husband's curls, set the record straight: Long story short, Brown likes his Cleveland barber, doesn't have time to visit him regularly, and sometimes a haircut needs to tide him over for a month or longer. The haircut thread segued into a tipping thread and prompted Schultz, long the champion of generous tipping, to tweet about her husband's push for the return of the tip jars in airport lounges. HuffPost produced a story about the effort.
One reporter observed that Schultz has become a "one-woman rapid-response team" for Brown. The tweet still amused her days later.
"I just don't want anyone to think, 'Oh, so you have a White House Christmas tree, so you guys are thinking about it."
"If you're going to trash-talk my husband, if you're going to say something that's not true, I might weigh in," she told me. "I try to be funny about it when I can." She knows how all this works.
After Schultz pulled the finished rum cake from the oven, she asked if I had noticed their two Christmas trees. I had not, but as it turned out, there's one off the tiny foyer and another in the living room. Brown, she explained, had for years been collecting White House Historical Association Christmas ornaments. When they married, she requested they be banished to a separate tree.
"We call it the White House Christmas tree," Schultz told me, before offering a preemptive defense of something she fears will be misinterpreted as presumptuous. "I said to Sherrod, 'I think this is the year to change that, so let's call it the public service tree.'"
"I just don't want anyone to think, 'Oh, so you have a White House Christmas tree, so you guys are thinking about it,'" she said. "It's so not that."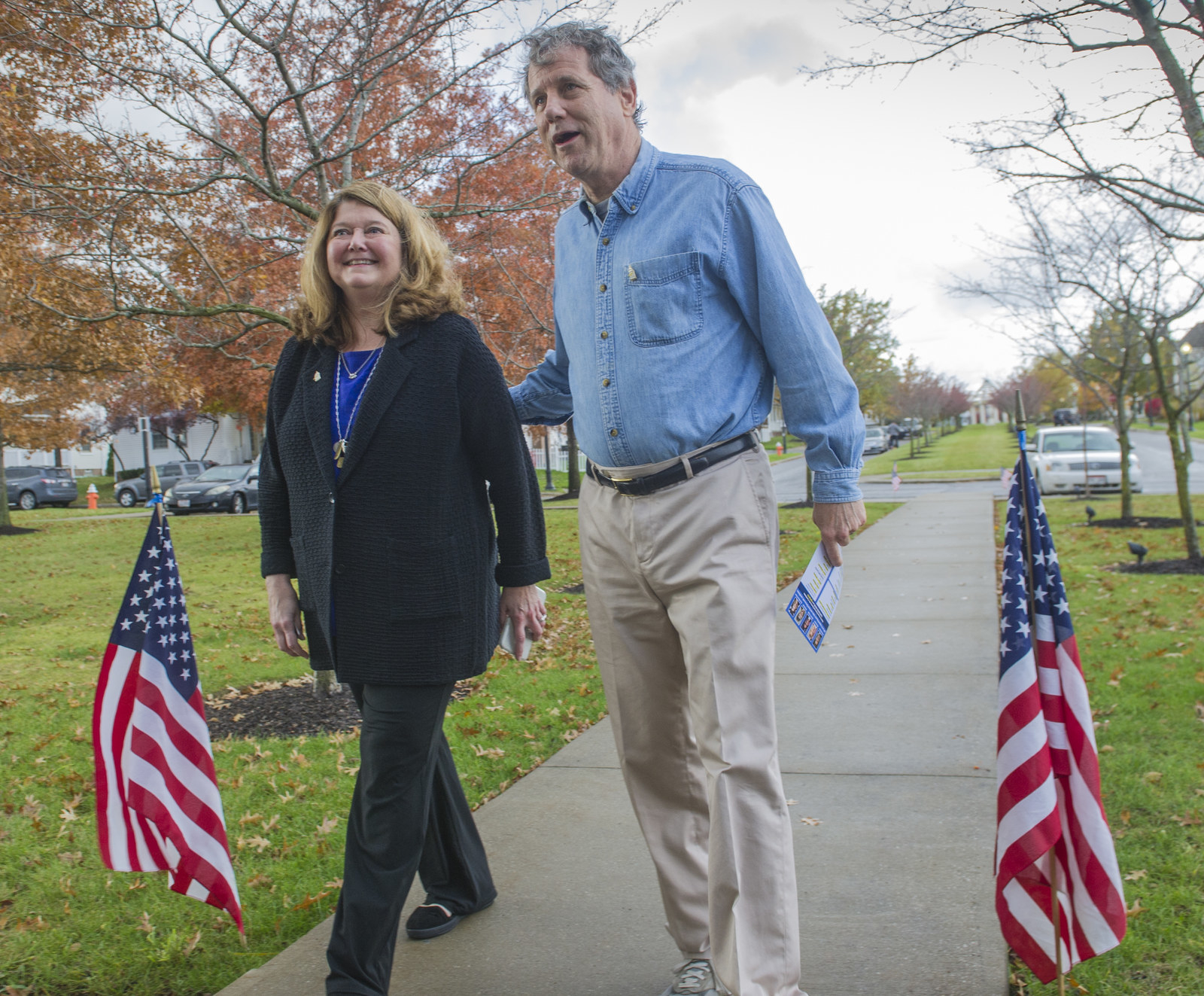 As he rushed to a Senate vote last week, Brown hopped into a Capitol elevator with Rhode Island Sen. Sheldon Whitehouse and found himself admiring his friend's sweater vest.
"You look good in it," said Brown, briefly interrupting our walk-and-talk.
Whitehouse summoned a wry response. "It's not presidential, though."
Brown, in on the joke, considered this briefly. "It's pretty presidential."
Despite any protests to the contrary, appearances matter to Brown. And despite every insistence that he's never aspired to be president, there was a time many believed he was well on his way.
Brown won his first statewide race in Ohio — secretary of state, as good a stepping stone as any to the governorship, which is as good a stepping stone as any to a presidential campaign — days before his 30th birthday in 1982. In 1988, he campaigned in Iowa for Bruce Babbitt's presidential effort. Later that year, he and older brother Charlie (yes, Charlie Brown, then the attorney general of West Virginia) threw a party for delegates at the Democratic National Convention in Atlanta.
Brown's trajectory stalled in 1990. Republican Bob Taft unseated Brown as secretary of state by turning his interest in taking time to study in Japan — Brown ultimately never made the trip — into a devastating "Sayonara, Sherrod" ad. He resurfaced in Congress two years later, survived the Republican revolution of 1994, and after winning the Senate seat in 2006 again asserted himself as the rare liberal who could win statewide consistently in an increasingly conservative state. "He's a strong campaigner and a strong fighter," said Taft, who later served two terms as governor and told me he welcomes Brown as a guest speaker in the political science classes he teaches at the University of Dayton. "He has probably grown in his ability to relate to people throughout the state. In Ohio, he has a strong political identity, a strong base of voters that support him, including some of the blue-collar, working-class voters" who backed Donald Trump.
Back at the Capitol, after a quick vote to open debate on restricting US involvement in Saudi Arabia's war in Yemen, Brown ducked into his hideaway Senate office to resume the interview.
On the wall hung photos of a younger Brown and his daughters Emily and Elizabeth; a framed copy of the telegram Schultz received notifying her that she had won the Pulitzer Prize for commentary; and at least one "thank you for saving my job" note.
"That's how I knew the definition of 'disheveled' as a 9-year-old. Some reporter came and described him as disheveled. I had to look it up."
"I don't put a lot of time into my appearance, and it kind of works out that way," Brown told me as we sat at a conference table. "Except," he quickly added, "for my union-made suits in Cleveland."
And on this day, like every other, the yellow canary dotted the lapel of his union-made suit. During a recent Facebook town hall, Schultz even pinned it to Brown's casual shirt as he spoke from his home. The canary — a very dignity-of-work-friendly tidbit — warrants a mention in nearly every profile written about Brown. Same with his gravelly voice, hoarse from decades of overuse. (Schultz, who does a killer impression of her husband's rasp, believes it's one reason why Brown sometimes comes across snippy.)
Friends and family told me the rumpled and sometimes sloppy look is no act. "Probably the least pretentious public figure I've ever been around," said Wayne West, who served as an assistant secretary of state under Brown and recalled him parading around the office in his socks.
Brown's daughter Elizabeth, a city council member in Columbus, Ohio, remembered an ugly pair of neon green sweatpants that her father refused to get rid of, even when she and her sister bought him a plush new pair. "I've never thought of my dad as anything but disheveled," she said. "That's how I knew the definition of 'disheveled' as a 9-year-old. Some reporter came and described him as disheveled. I had to look it up in the dictionary."
Brown also wants you to know that he drives not only American, but Ohio. He makes a big deal about his Jeep Cherokee, made in Toledo. When he walked away from a 2016 car accident with only minor injuries, he credited it to the American steel used by "union workers in Toledo."
"I looked at him and said, 'You're a fucking United States congressman, and you can't get into your car because it's so old.' I literally handed him the keys to my car."
Anthony Giardini, a Democratic leader who lives in the heart of Brown's old House district, told me how years ago he once witnessed Brown attempt to enter his aging Thunderbird through the passenger-side door. "I said, 'What are you doing, Sherrod?'" Giardini recalled. "'Oh, the driver's-side door doesn't open.' I looked at him and said, 'You're a fucking United States congressman, and you can't get into your car because it's so old.' I literally handed him the keys to my car."
Brown chuckled when I reminded him of the story. "I don't remember that exactly that way," he said, before explaining why he drove a car in such disrepair: "The car was made in Lorain."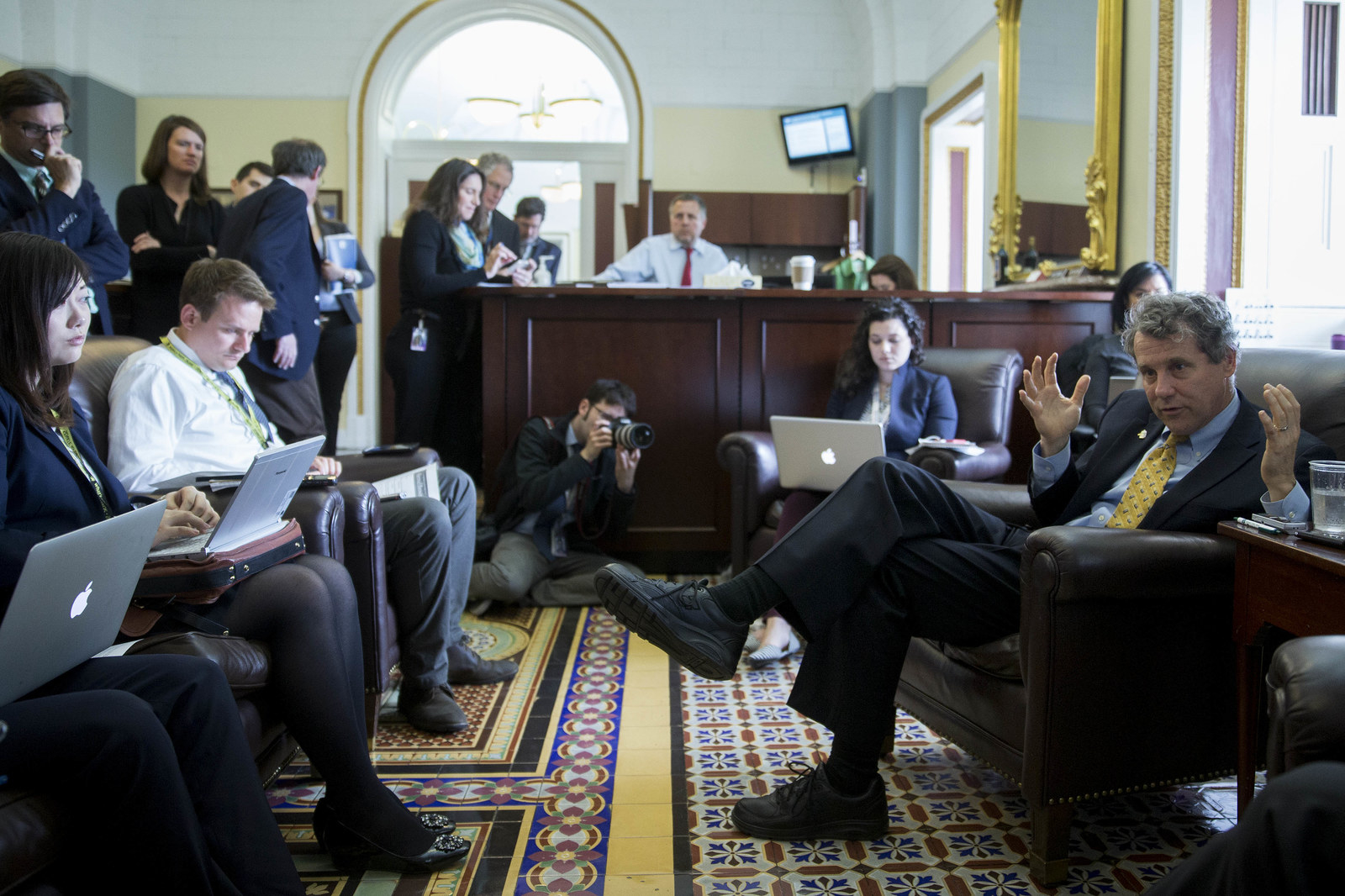 At times, Brown's image-control quirks achieve a more polished or wholesome look. During his 1994 House reelection campaign, long before Franklin came along, he borrowed a dog named Buttercup to pass off as his own in an ad. And during his 2006 bid for Senate, he launched a campaign to bring back the vegetable stir-fry at Bob Evans restaurants — an effort Schultz wrote about in her book. He ate there often on the trail and asked his wife and his aides to fill out comment cards requesting the return of his favorite dish. "One of my most distinct memories from the campaign," Ben LaBolt, Brown's press secretary that year, recalled.
Brown's homespun style is part of the package. It's his substance that helps him sell it.
As secretary of state, he put voter registration forms on the tray liners at McDonald's. For years he refused to accept congressional health insurance on principle and only enrolled in a federal plan after the Affordable Care Act expanded public health care coverage. And Brown and his allies emphasize how he was among only 67 House members who voted against the 1996 Defense of Marriage Act, which until it was overturned by the Supreme Court in 2013 defined marriage as being between a man and woman. They also don't mind you knowing that former vice president Joe Biden, at the time a senator and now a potential 2020 candidate who could compete for the same progressives and blue-collar voters Brown needs, voted for DOMA.
But it's NAFTA, the North American Free Trade Agreement, that is Brown's signature issue. He campaigned against it in his first House race in 1992, voted against it as a freshman lawmaker, and has never stopped railing against the deal. It's a rare issue where he and Trump align, though Brown doesn't care for the president's approach.
Brown ties his case against NAFTA to a visit early in his career to a Mexican auto plant — a plant that looked just like those in cities across Ohio. "The only difference," Brown told me, "is there were no parking lots in the Mexican auto plant, because the workers don't share in the wealth they create. That sort of turned the light on to me on trade agreements. The whole point of trade agreements should be to lift up workers in both countries."
That's why he won't do what he accuses Ross Perot (the preeminent populist anti-trade voice in the early 1990s) and Pat Buchanan (who followed Perot) and Donald Trump (who followed Buchanan) of doing. "I will never play off Mexican workers and American workers."
"I think it's a persona that he's crafted for himself successfully, but he's good at it. Politics is performance art."
Fought, the former Brown aide who complained about Schultz's Plain Dealer column, had a key role in Brown's anti-NAFTA messaging in the 1990s. He now has mixed opinions of his former boss and believes much of Brown's populist-everyman image has become calculated.
"I think it's a persona that he's crafted for himself successfully, but he's good at it," Fought told me. "Politics is performance art. Is Donald Trump authentic? Yeah, I guess. But I don't know that whether it's genuine is important."
Brown and his loyalists are confident that it's genuine, and that if Brown has a good story to tell, it's not a strike against his authenticity. The way they see it, Trump is the one who comes by his populism dishonestly, a rich man who's never been in the working-class trenches like Brown has been. "His message is something that resonates with all hardworking Americans and families," Rep. Joyce Beatty, an Ohio Democrat, said of Brown. "When you think about his transparency, when you think about what he stands for, he does it with his conviction. And yet there's something about him that's real, touchable, and personal."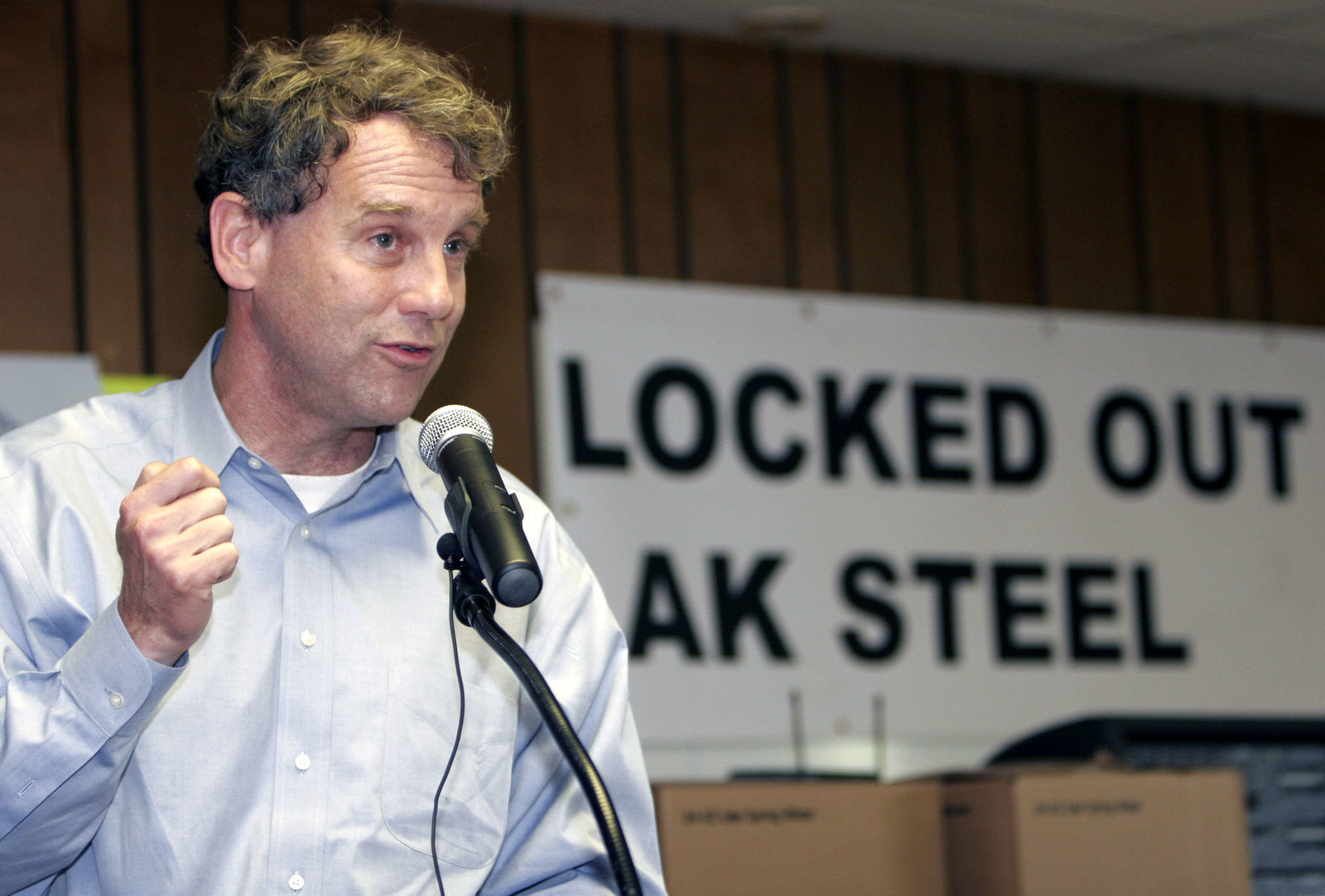 Brown's Dignity of Work message has origins in a speech Dr. Martin Luther King Jr. gave in support of striking Memphis sanitation workers 50 years ago, less than a month before he was assassinated. The main idea, embraced by Brown and Schultz as a celebration of every class of worker, is that a garbage collector is worth no less than a doctor.
"Worker is a broad term," Brown told me in November at a United Automobile Workers union hall in Lordstown, Ohio, one week after he announced he was considering a run for president. "It can be a barber. It can be an orderly in a hospital. It can be a realtor. It can be a government worker. It can be a letter carrier."
Brown was in Lordstown for a rally with the UAW, local chamber of commerce officials, and other area politicians, including several Republicans. Brown moved easily among the laborers, commiserating about the Cleveland Browns as a high school band played an arrangement of Van Halen's "Jump." When it was his turn to speak, Brown made sure to offer "thanks to the women of the UAW," none of whom were on the stage. "When you love your country," he told the audience, "you fight for the people who make it work."
This ideal tableau soon gave way to the nightmare many people in the room had been expecting.
The next week, General Motors announced plans to idle the nearby Chevrolet Cruze plant, an indispensable economic engine for the region. Brown and Trump soon were in a Twitter fight, with Brown blaming GM's decreased US production on the president's tax policies. He again asked Trump to support Brown's American Cars, American Jobs Act, which aims to eliminate incentives for automakers that ship jobs across borders and overseas. "I'm glad the president said the right things tonight, but now he needs to follow it up with action," Brown said in a statement following a Nov. 28 call he requested with Trump.
Brown grew up privileged in working-class Mansfield, Ohio. His father was a respected family doctor in town, his mother a civic activist who, as a local YWCA official, was known for focusing on racial justice issues. In 1974, while Brown was finishing his senior year at Yale, the local Democratic boss back home recruited him to run for the state legislature. (Brown's father thought he was too young, but his mother threw herself into the winning campaign.) Brown knew he quickly had to reach out beyond his upper-class comfort zone. So he began hanging out with autoworkers and steelworkers, eager to hear their stories and learn their issues.
"'Think about what we could do together,' Bernie said to Sherrod, night after night."
"He spent a lot of time at our union hall," said Ron Davis, a former steelworkers local president who had graduated a year ahead of Brown in high school but didn't get to know him until he was in politics. "He was just your ordinary Joe, you know what I mean?"
The 2006 Senate campaign reinforced Brown's reputation on working-class and social-justice issues. Bernie Sanders, the similarly styled future Democratic presidential candidate who at the time was plotting his own jump from the House to the Senate, encouraged Brown to run. "'Think about what we could do together,' he said to Sherrod, night after night," Schultz recalled in her book.
And when it came time to hire a campaign manager, Brown turned to John Ryan, then the head of the Cleveland-area AFL-CIO. Ryan had some campaign management experience in local races, but never on this level. "I was not expecting that call," said Ryan, who now serves as the state director for Brown's Senate office. I asked him why Brown might have wanted an organized labor leader in the role. "He's phrased it more recently about the dignity of work," he told me. "But that's what he's been about all along."
The 2016 presidential race brought issues encompassing the dignity of work, if not the precise phrase itself, to the fore. Sanders, a democratic socialist, ran to Hillary Clinton's left with a message of economic populism, but without the explicit nationalism or racial undertones of Trump. And when Clinton introduced Virginia Sen. Tim Kaine as her running mate — after passing on Brown — she mentioned Kaine's and her own respect for "the dignity of work."
"Did she say that? I didn't know that," Brown told me, intrigued. "If I mentioned it more because she did, or she mentioned it more because I did, I don't want to go there."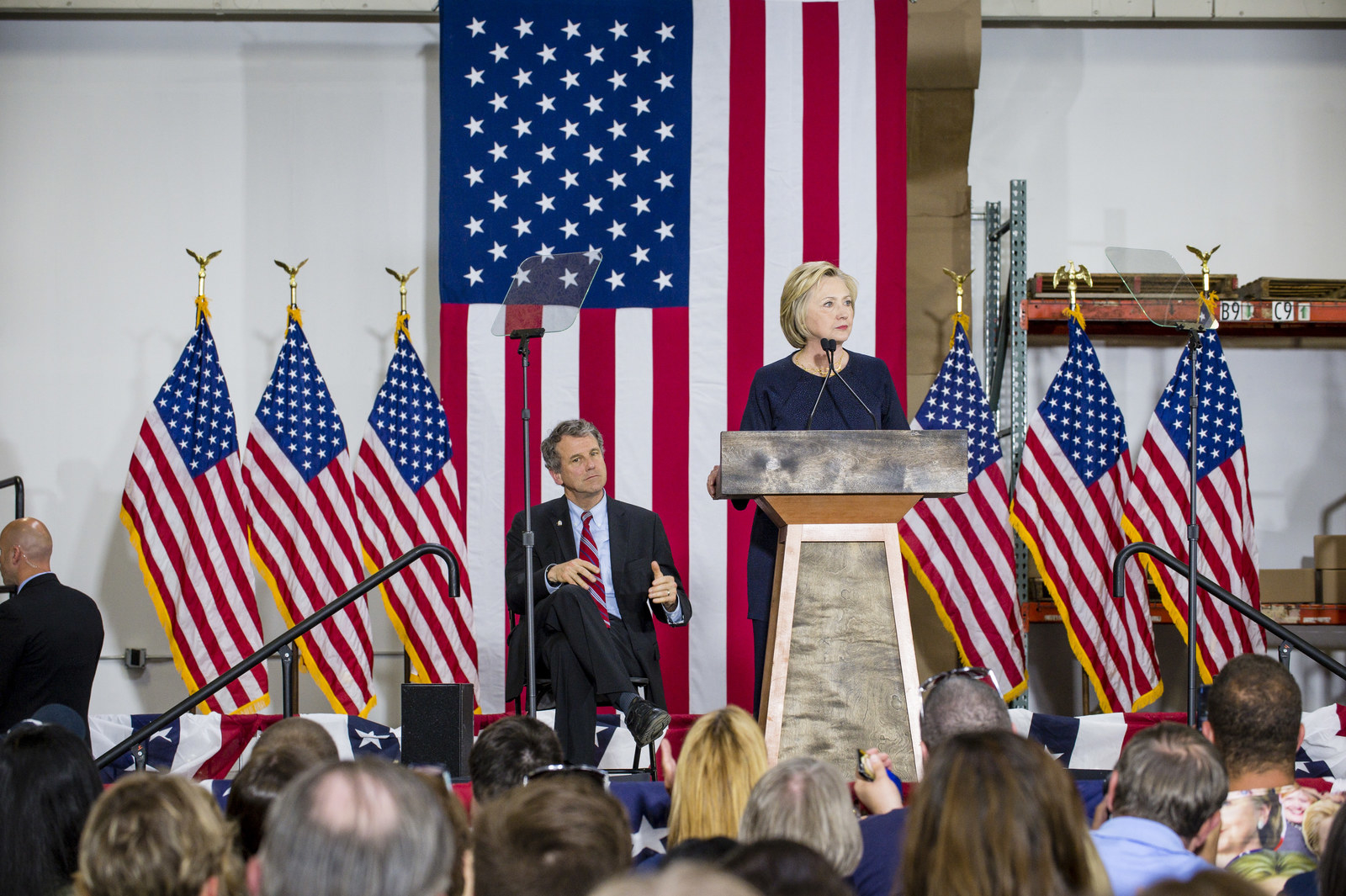 Actually, Brown mentioned it more, at least in public, after the Kaine pick. When he rallied with Ohio coal miners that September, he issued a statement honoring "hard, backbreaking work, but work that had dignity." Soon after Clinton lost to Trump, he authored a New York Times op-ed under the headline "When Work Loses Its Dignity." The following March brought a 77-page white paper from his Senate office lamenting that "the dignity of work is disappearing." April 2018 brought a column from Schultz, timed to the 50th anniversary of MLK's assassination.
Pushing dignity of work was a no-brainer when Brown was tapped this year to deliver the weekly Democratic address just before Labor Day. A few days later, Schultz wrote another column invoking the mantra, this one in defense of actor Geoffrey Owens when he was publicly humiliated by several news outlets after being spotted working at a Trader Joe's.
Republicans have found use for the phrase, too. Trump mentioned in passing "the dignity of a hard day's work" in his State of the Union address this year. (Let the record show that Brown was skeptical of Trump's sincerity.) And this month, Florida Sen. Marco Rubio published an op-ed for the Atlantic under the headline "America Needs to Restore Dignity of Work."
When I asked Schultz how it had emerged as a slogan for them, she asked if Brown had told me about the book "that Kamala gave him" — Kamala being California Sen. Kamala Harris, another potential Democratic primary rival in 2020. She then retrieved one of their several copies of All Labor Has Dignity, a collection of MLK speeches that Harris gave Brown last year, their first as Senate colleagues. Schultz lit up as she talked about the gift, which her husband appreciated and which she allowed might have "helped him clarify that message a bit."
Can that message work in a presidential primary or general election? LaBolt, the press secretary on Brown's 2006 campaign who went on to work for Barack Obama, told me he doesn't see any other Democrat prepared to run with it the way Brown is.
"I think what dignity of work means is that work has to be a rung up a ladder," said Bill Burges, a veteran Cleveland-area media consultant who worked on Brown's House campaigns. "I think if you can make that mean that 'I respect you,' you're going to get somewhere with that. It's a message that goes beyond the upper Midwest."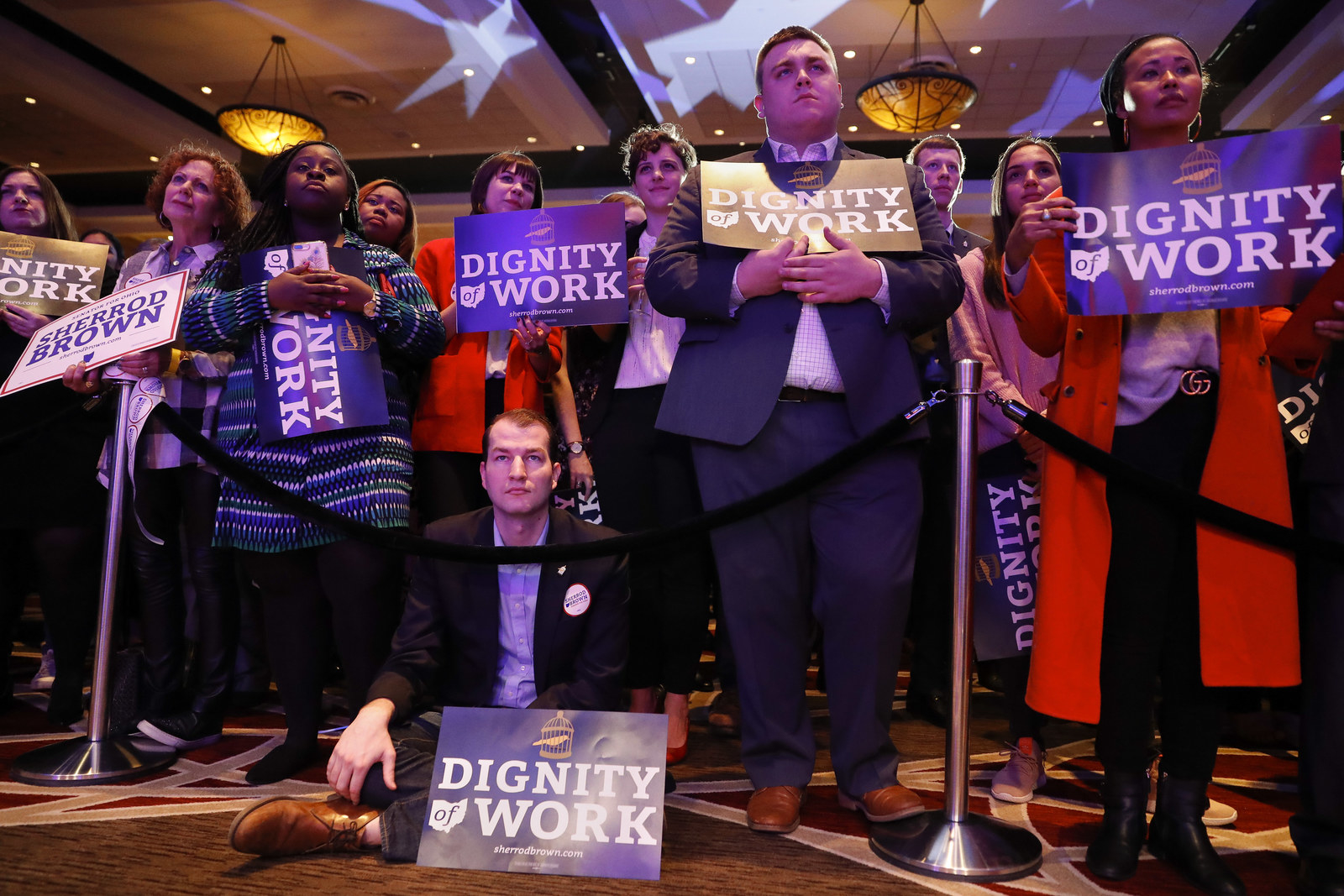 Brown's friends were surprised when he agreed to be vetted by Clinton's team in 2016, and by how disappointed he was when she didn't choose him. To them, his repeated insistence that he wasn't interested in being president or vice president always sounded sincere.
"Hillary vetting him — it was like, yeah, he could be president," Whaley, the Dayton mayor, told me. "It was a change for him, too."
"I almost didn't say yes to being vetted, and by the end of the process, I really wanted it."
Brown acknowledged disappointment. "At the beginning of the process," he said in his hideaway office, "I almost didn't say yes to being vetted, and by the end of the process, I really wanted it, which I think is human nature. ... Once you're in it, you kind of think, oh, I really want this."
Schultz, with the benefit of hindsight, described not being picked as a blessing in disguise. "He's really glad he wasn't. Not just because she lost, but because they would not have done what he thought. … He would have wanted to go to Wisconsin and Michigan and Pennsylvania."
Now he could have that opportunity. Brown told me he "will not run for president if [Schultz] is not enthusiastic and if I'm not enthusiastic, and we're not exactly there now." But Schultz sounded like she was almost there. Or at least she's not the holdout she was in 2006. The concerns she had then — testing a new marriage, putting her own prominent job at risk — no longer exist, she said. She is happy with her syndicated column, though she would put it on hold to campaign. She has her classes at Kent State. She has the novel.
Part of their decision-making process is assessing the competition, from Biden and his eons-ago DOMA vote to the clear and present threat of Beto O'Rourke, who lost a Senate race in Texas but in doing so became a progressive star. "I was teasing him last night," Schultz said of Brown. "He said, 'I keep hearing about how these Democrats, they've got to fall in love with their candidates.'" She didn't mention O'Rourke by name, but the notion is one that applies largely to him as the Democratic field develops. "I said, 'You know what? I've been voting since I was 18, and the only candidate I ever needed to fall in love with was you.'"
Brown and Schultz also are thinking about how they can complement each other on the campaign trail. A divide-and-conquer strategy — Brown and Schultz splitting up the map and rarely appearing together — could make the best use of Schultz's public speaking skills and her ability to connect with both intellectual liberals and blue-collar independents.
"Whether she's on a high-level panel or on a campaign stage, she has this ability to relate to an audience, deliver a message of strength and opinion, but do it in a way with such empathy," Joanna Kuebler, Brown's former communications director, told me. "I call her a true steel magnolia."
Then there are the family considerations. Brown and Schultz are fresh off a campaign in which the Republican emphasized Brown's 1986 divorce from his first wife. At the time, Larke Recchie had accused Brown of pushing her and said she was "definitely afraid of my husband," according to reports over the years from the Ohio newspapers that have covered the case in the context of Brown's political career. Recchie, though, has since supported Brown's campaigns, hosted fundraisers for him, and appeared with Schultz in an unaired ad Brown's campaign had chambered in his 2006 Senate campaign in case his opponent made an issue of the divorce. She has not publicly recanted specifics — the divorce "led only to angry words," she has said — but has criticized efforts to use their divorce as a political weapon.
"Yeah, they'll use it," Brown said of future rivals before addressing what he described as a larger concern. "I know these campaigns are not fun. Family issues overall are a consideration. If you win, there are security people at my grandchildren's school throughout their grade school, junior high, and high school years, if I win and get reelected. So I think of all that. My children are OK with that. My grandchildren have no idea what it means."
Brown and Schultz aren't likely to make a decision before the end of the year. In the meantime, Schultz has the perfect gift to place under the White House Christmas tree they don't want to call the White House Christmas tree: the slogan they don't want to call a slogan. In a gesture straight out of a West Wing episode — in which a campaign slogan scrawled onto a cocktail napkin was framed and given as a Christmas present — Schultz had a Dignity of Work placard framed for her husband.
After our interview, I emailed her to ask if I would ruin the surprise by writing about it before Christmas. It shouldn't be a problem, Schultz promptly replied.
"I'm pretty sure he has an idea it's coming." ●