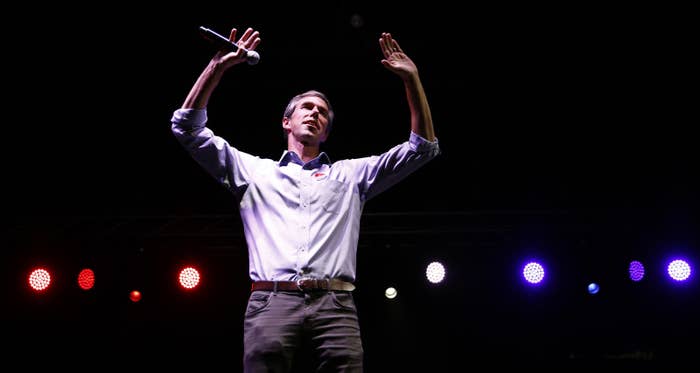 Progressive activists linked to Sen. Bernie Sanders have an early 2020 message for the Democratic establishment: Don't rush to coronate Beto O'Rourke as the presidential nominee-in-waiting.
Progressives, some frustrated with O'Rourke's policy stances and what they see as an alarming rush to coalesce support for O'Rourke from establishment Democrats, have voiced those concerns over the last several days on Twitter, including under a #NeverBeto hashtag. This has picked up as O'Rourke has reportedly privately met with former president Barack Obama, and as a former Obama bundler said he'd fundraise for O'Rourke's campaign if he decides to run. Dan Pfeiffer, a former Obama aide and a cohost of Pod Save America, recently laid out "The Case for Beto O'Rourke" on Crooked Media.
"It's everything in the news. Beto's meeting with Obama, all those people saying that he's the next one. All those stories are coming out at the same time," Melissa Byrne, a Sanders campaign alumnus, told BuzzFeed News.
As progressives scrutinize his record, some Democrats have accused them of attacking O'Rourke in a concerted effort to damage his possible campaign and elevate Sanders, who is also weighing a presidential campaign. "Oh look. A supporter of Bernie Sanders attacking a Democrat," Neera Tanden, the president of Center for American Progress, tweeted.
Byrne and others laughed off the idea of a coordinated effort to attack O'Rourke, and Sanders himself has not criticized him.
"People are seeing this on their own. People seem to think that there's some sort of group DM, group chat, or daily talking points being sent around to critique Beto," Byrne told BuzzFeed News. "All we're saying is, can we pause? Can we have a primary? Or can we look under the hood a little bit before saying he's the choice?"

Momentum for a possible O'Rourke presidential campaign has been building after his surprisingly close loss to Republican Sen. Ted Cruz. But progressive activists, including some who donated to O'Rourke's Senate bid, have turned a critical eye toward the representative's record in the House on progressive policy goals like Medicare for All and his noncommitment to issues like the "Green New Deal," and have criticized donations his campaign received from employees of fossil fuel companies.
"He paints this picture of being open and bold but then he doesn't support free college, which pushes his policy years behind some moderates," Byrne said of O'Rourke.
Progressives on Twitter are pointing to O'Rourke's shift in language on the campaign trail around health care policy and his decision to not sponsor bills regarding Medicare for All and free college, and his membership in the centrist New Democrat Coalition, as building a progressive case against a potential presidential campaign.