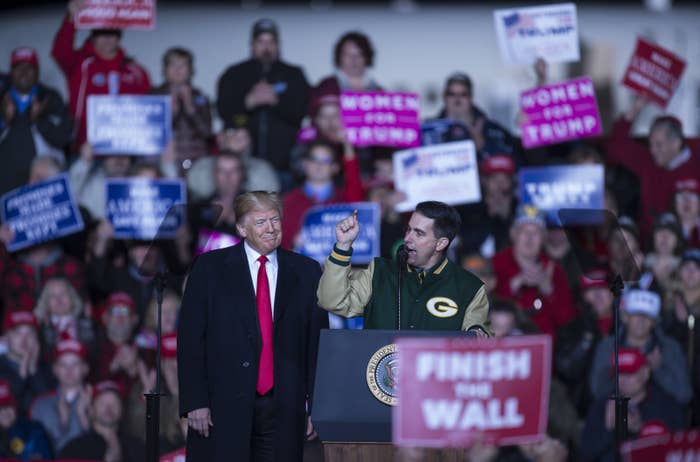 PEWAUKEE, Wisconsin — Wisconsin voters on Tuesday denied Gov. Scott Walker a third term, at the very least pausing a political career that not so long ago seemed to represent the future of the Republican Party and the conservative movement.
Democrat Tony Evers, the state's schools superintendent, unseated Walker in a race with high stakes — regionally and nationally — for both parties.
For Democrats, it was a chance to reclaim the governorship in a once-bluish purple state that was trending red and to put a dent in any lingering White House ambitions Walker might have. For Republicans, it was a scramble to keep momentum going after Donald Trump became the party's first presidential candidate since 1984 to win Wisconsin's electoral votes, and to preserve a foothold for Trump in the Midwest.

Supporters who gathered at Walker's watch party Tuesday — held at a hotel here in the Republican stronghold of Waukesha County — went silent as a local TV station broke in to report that Evers had won a commanding share of late-arriving ballots from Milwaukee. Someone quickly muted the television, and within minutes, Lt. Gov. Rebecca Kleefisch took the stage to send everyone home without conceding.
"I am here this morning to tell you that the fight is not over," Walker's running mate told the deflated crowd early Wednesday morning. "As many of you have seen all night long, this race is a dead heat. It is truly too close to call. We are used to tough races here in Wisconsin, aren't we, ladies and gentlemen?"
The Associated Press called the race for Evers soon after. Walker at first held off on conceding, with an adviser suggesting that there were too many ballots left to be counted. But the governor sent a statement to supporters Wednesday afternoon announcing that his race was over.
"It has been my honor to serve as your Governor for nearly eight years," he said. "We've come a long way together and it is my sincere hope that the progress we've made during our time in office will continue and that we can keep Wisconsin working for generations to come."
Until now, Walker had a knack for survival with Wisconsinites. First elected in 2010, among a class of conservative governors that thrived on the energy of the tea party, he weathered a recall vote just two years later after a bitter fight over his move to limit the collective bargaining power of the state's public-employee unions. After clinching a second term in 2014, he quickly began assembling a presidential campaign.

But after two terms in which Walker was often a nationally polarizing figure, his allies and his adversaries knew there could be a strong streak of Walker fatigue.
Walker saw the loss coming. He spent most of 2018 warning about a "blue wave" that could wipe out him and other Republicans, and tried to convince his supporters that they should believe the polls that showed him trailing Evers and work harder to propel his campaign across the finish line. Polls in the final weeks before Tuesday's vote showed Walker had improved his standing, pulling into a dead heat with Evers, but the incumbent governor never enjoyed a comfortable lead.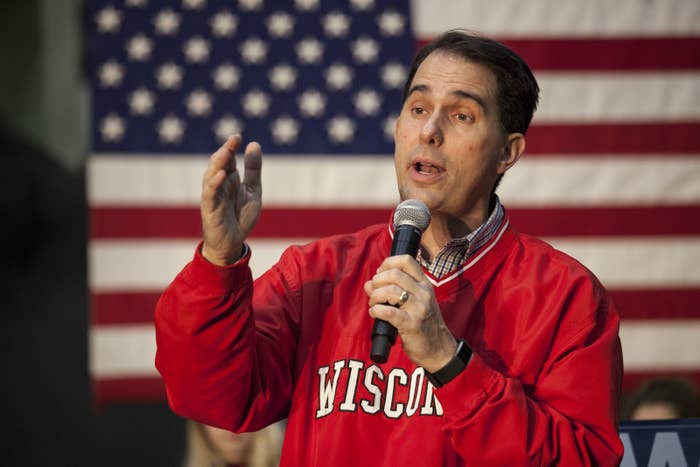 His defeat ends an era of in-state dominance and national prominence for Wisconsin Republicans. Walker was one-third of a triumvirate that had included House Speaker Paul Ryan, of Janesville, and former Republican National Committee chair Reince Priebus, of Kenosha. Ryan, the party's vice presidential nominee in 2012, chose not to seek reelection this year. Priebus, who went on to become Trump's first White House chief of staff, didn't last long in that role.
Trump and Walker were not a great match at first, either. After ending his presidential bid in 2016, Walker urged other Republican candidates to drop out of the primary as well, "so that the voters can focus on a limited number of candidates who can offer a positive, conservative alternative to the current frontrunner." The frontrunner, of course, was Trump.
But they repaired their relationship after Trump was elected, and the president had campaigned for Walker in the final days of this year's race. "He's become a great friend of mine," Trump said of Walker during a stop in Mosinee at the end of October.
"He's a warrior," Trump added. "Didn't he win, like, three elections last time?"
Walker's defeat is especially significant given the inroads Republicans had made in the industrial Midwest, largely thanks to Trump's appeal among white working-class voters there. The warning signs in Wisconsin this year mirrored those in other states across the region ahead of Tuesday's vote. Two of the country's other most competitive gubernatorial races were also in Midwest states Trump won in 2016: Iowa and Ohio, both of which remained under the GOP's control at the end of the night.
There were hints that Walker, 51, was interested in another run for president — not necessarily in 2020, when Trump is up for reelection, but perhaps in 2024. A stint last year as head of the Republican Governors Association allowed him to tend to his national brand and cultivate allies in key early caucus and primary states.
But trouble was brewing back home. Democrats were hammering away at Walker's policies, which were suddenly not as popular or politically tenable as they had once been. Wisconsin, for example, joined other states in suing to stop implementation of the Affordable Care Act soon after Walker took office. Eight years later, protection for preexisting medical conditions — a provision of Obamacare that would be jeopardized if congressional Republicans ever succeed in repealing the law — became a central issue in gubernatorial races across the country, including Walker's.
Evers argued that Walker's strident opposition to the health care law had made him untrustworthy on the issue. Walker nevertheless spent the final days of the campaign vowing to preserve such coverage at the state level if necessary.
"Gov. Scott Walker has promised me and he has promised you that as long as he's governor of Wisconsin, people with preexisting conditions will always be protected," Kleefisch, Walker's running mate, told supporters while introducing the governor Monday night at an election eve rally in Waukesha.
When Walker took the stage, in the middle of a welding factory floor, he said he believed the health care issue was what had made his race such a toss-up. He accused Evers and Democrats of distorting his position on preexisting conditions.
"This election is that close," Walker said, referring to polling last week from Marquette University Law School. "It's that close: 47–47. Can't get any closer. We're the closest gubernatorial election in the country. Yet that same poll showed that by a wide margin, people believe that the state of Wisconsin is headed forward. We need to remind them that it didn't happen by accident, and it can all go away like that tomorrow night if voters make the wrong choice."