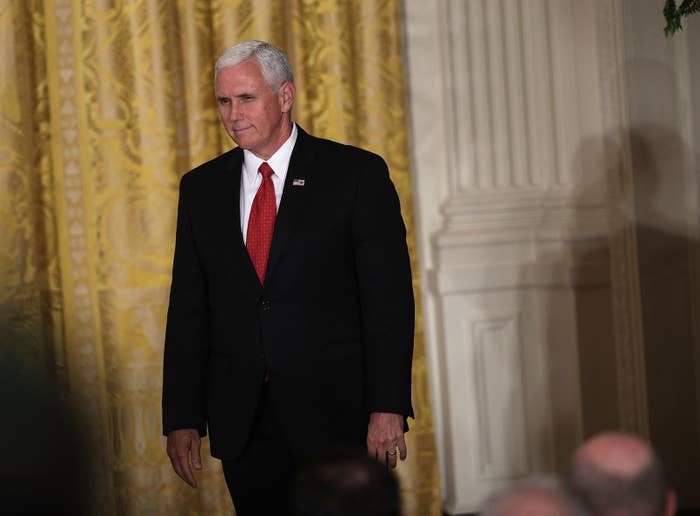 Vice President Mike Pence will skip a prime politicking opportunity this month in Michigan.
Sarah Anderson, a spokesperson for the Michigan Republican Party, told BuzzFeed News that Pence is not attending the Mackinac Republican Leadership Conference — a huge gathering of top battleground state activists and power brokers that Pence had shown interest in joining.
"Unfortunately, the vice president has another commitment and will not be able to join us on the Island," Anderson wrote in an email. She added that Pence never confirmed he would attend.
In the past, the biennial event at Mackinac Island's historic Grand Hotel — set this year for Sept. 22–24 — has functioned as an audition stage for presidential hopefuls. The possibility of a Pence appearance surfaced this summer, around the time of a New York Times report that emphasized the vice president's full schedule of political events in the context of a future White House bid, perhaps as soon as 2020. ("We hope he comes, but we don't have anything confirmed yet," Anderson told the Detroit News in early August.)
Other Republicans, including Ohio Gov. John Kasich, Arkansas Sen. Tom Cotton, and Nebraska Sen. Ben Sasse, were mentioned in the Times piece. But the focus on Pence's activity raised eyebrows, given that President Donald Trump is up for reelection in 2020. Pence later forcefully denied that he was working to undermine Trump in any way.
"Just too much to do back in Washington," a Pence adviser told BuzzFeed News when asked Tuesday about the Mackinac trip. "Particularly with disaster relief, debt ceiling, budget, tax reform, etc. … We look forward to helping the Michigan GOP and their gubernatorial and Senate nominees as we approach the 2018 elections."
Among those who will speak at the conference: Education Secretary (and Michigander) Betsy DeVos, Missouri Gov. Eric Greitens, and former Rep. Jason Chaffetz of Utah.