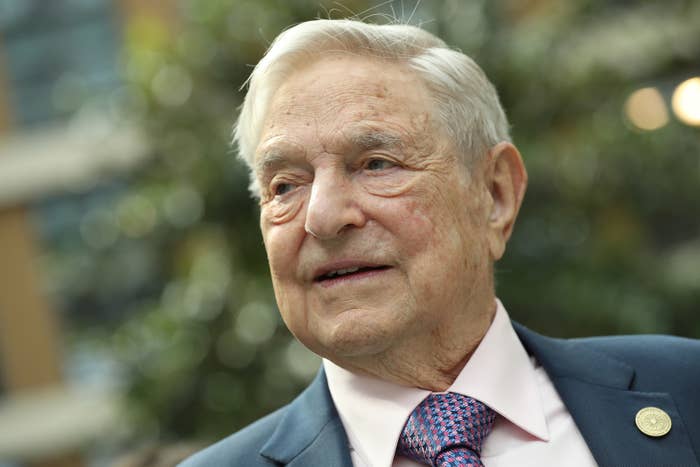 George Soros's Open Society group is blaming "hateful rhetoric" after an explosive device was found in the mailbox of the New York home of the billionaire philanthropist and liberal megadonor.
"The hateful rhetoric that dominates politics in the United States and so many countries around the world breeds extremism and violence," read an Open Society statement posted to Facebook. "In this climate of fear, falsehoods, and rising authoritarianism, just voicing your views can draw death threats."
Reports emerged Monday night in media outlets, including the New York Times, that an explosive package had been found in a mailbox outside the hedge fund manager's home in Westchester County.

When asked by BuzzFeed News about reports of a device at Soros's home, the Bedford Police Department said in a statement that it had received a phone call from an address in the area at around 3:45 p.m. regarding "a suspicious package found in the mailbox."
"An employee of the residence opened the package, revealing what appeared to be an explosive device. The employee placed the package in a wooded area and called the Bedford police," the statement read.

"An extensive investigation commenced involving the Bedford Police Department, the Westchester County Police Department, the ATF and FBI," it added.
An unnamed law enforcement official told the Associated Press on Tuesday morning that the device had the components of an actual explosive.

"The components were there for an explosive device," the official told the AP. "It was not a hoax device."
The case is being dealt with by the FBI's Joint Terrorism Task Force Division. In a tweet, the FBI said that it is "conducting an investigation at and around a residence in Bedford, NY."
"There is no threat to public safety, and we have no further comment at this time," the tweet said.
The AP reported the device was safely detonated.
Unnamed officials told the New York Times that they believe the device was left in the mailbox and not sent via the postal service.
Soros has been a favorite target of conservative conspiracy theorists for years. Most recently, he has been accused without evidence of funding a caravan of migrants in Central America who are trying to reach the United States.
Trump lawyer Rudy Giuliani this month retweeted a post calling Soros, a Hungarian Jew who survived the Holocaust, of being the anti-Christ.
President Trump also said, without evidence, that Soros was personally paying people to protest against the nomination of Brett Kavanaugh to the Supreme Court.‏