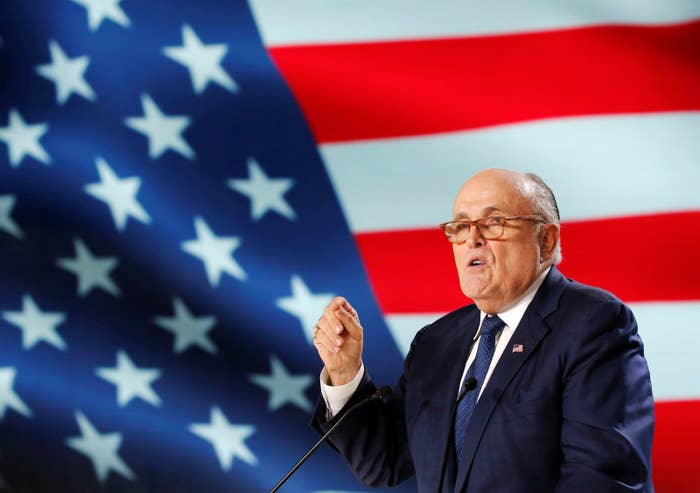 Donald Trump's personal lawyer, Rudy Giuliani, retweeted a conspiracy-filled tweet that called George Soros "the anti-Christ" and suggested the billionaire was paying the people protesting Brett Kavanaugh.

"I think Soros is the anti-Christ! He must go! Freeze his assets & I bet the protests stop," tweeted someone with the username @genesis35711.
Scores of people have gathered in Washington, DC, this week to protest the nomination of Brett Kavanaugh as a Supreme Court justice.
Soros, a hedge fund manager and longtime donor to the Democrats and other liberal causes, is often the target of a right-wing conspiracy theory that claims he controls global politics.

The use of the term "anti-Christ" is specifically loaded as Soros, who is Jewish, is often the target of anti-Semitic attacks. In some Christian teachings, the Antichrist is the enemy of Christ and the church, who appears before the end of the world.

Soros has been a frequent target of Republicans during the Kavanaugh debate. Senate Judiciary Chair Chuck Grassley, asked by Fox Business on Friday if Soros was funding the protests, said, "I tend to believe it."
The person who wrote the "anti-Christ" tweet had not been replying to Giuliani, but instead to Tom Fitton, the head of a conservative organization called Judicial Watch, who posted a video titled "Leftist Efforts to Destroy Kavanaugh."
On Saturday Trump continued claiming that people protesting Kavanaugh are "paid professional protesters who are handed expensive signs."
It was a claim he'd first made on Friday, when Trump also tweeted in support of the unfounded conspiracy theory that Soros was paying people to protest against Kavanaugh.

"Also, look at all of the professionally made identical signs. Paid for by Soros and others. These are not signs made in the basement from love! #Troublemakers," tweeted Trump.

There is zero evidence that protesters were paid to attend.
Kavanaugh is expected to be confirmed in a Senate vote on Saturday afternoon, with protests likely to erupt.