Iran Won't Be Able To Trade In US Dollars As Of Midnight On Tuesday
As of Tuesday, Iran will be blocked from using US dollars in international trade. Bans on Iranian goods and selling Iran airplane parts are also being put back into place.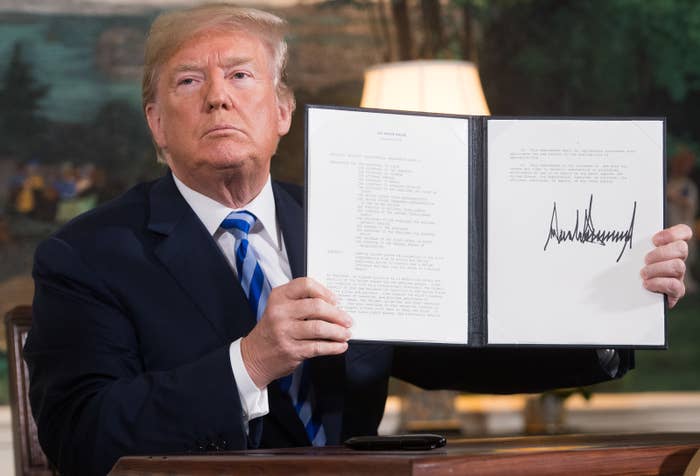 The US announced Monday that as of 12:01 a.m. ET Tuesday, some of the toughest sanctions on Iran waived under the Obama administration will be put back into place.

Iran will no longer be able to engage in trade using US dollars, a cornerstone of international business for the country. The country will also, according to Trump administration officials, be blocked from trade in gold and other precious metals, the import of graphite, aluminum, steel, coal, and software used for industrial purposes, and participation in the automobile market.
"None of this needs to happen," one senior administrative official said in a Monday morning background briefing with reporters. "We'll meet with Iran at any time."
The sanctions have been looming since President Donald Trump announced in May that the United States was pulling out of a landmark deal between Iran, the US, and five other major work powers over Iran's nuclear program. Under the terms of the deal, Iran would severely curtail its research into nuclear energy and accept inspections from the International Atomic Energy Agency in exchange for relief from the international sanctions that had crippled its economy.

Trump and many of his closest national security advisers — including Secretary of State Mike Pompeo and National Security Adviser John Bolton — have long been open about their belief that the 2015 deal was inadequate to stop Iran from developing a nuclear weapon. They also faulted it for focusing only on Iran's nuclear program and not its ballistic missile program.
The senior administrative officials denied that they were calling for regime change but did say that they share the concerns of those protesting corruption in Iran and stand with those protesters and the Iranian people. (Under Trump's travel ban, those same Iranians cannot come to the United States unless they get a waiver.)

Instead, the officials insisted, the goal of the renewed sanctions push was to get Iran back to the table so that Trump, who has called the deal among the "worst in history," can renegotiate it. Last week, Trump insisted that he'd meet with Iranian President Hassan Rouhani without preconditions, only to be rebuffed by Iranian foreign minister Javad Zarif. On Monday, Zarif was quoted by Iranian state television as saying that Trump and his regional allies, including Israel and Saudi Arabia, have become "isolated" over their policy toward Tehran.

Rouhani, in an interview with state-run television, said that Iran is "always ready to negotiate. But [the US needs] to return to JCPOA. And they need to be honest. You can't negotiate while putting sanctions on Iran, sanctions on Iranian children."
In scrapping the deal, the US ignored the pleas of European governments who urged the US to adhere to its terms. But on Monday they pledged to continue to work to keep the deal alive, even without the US.
"The JCPOA is working and delivering on its goal, namely to ensure that the Iranian programme remains exclusively peaceful," a joint statement from the foreign ministers of the United Kingdom, Germany, France, and EU declared on Monday, using the formal initialism for the Iran deal. "We expect Iran to continue to fully implement all its nuclear commitments under the JCPOA."
The European Union earlier this year passed a blocking statute, which will enter into force on Tuesday, that will protect EU companies doing business with Iran from the effect of US sanctions.
"Preserving the nuclear deal with Iran is a matter of respecting international agreements and a matter of international security," the European statement concluded.
While the sanctions are sure to be troubling to Iran, even harsher sanctions are on deck to come into effect in November. Those will target Iran's oil exports as well as transactions between foreign banks and the Central Bank of Iran.

A senior administrative official reiterated that the US goal is to get imports of Iranian crude to zero and that the US is not looking to give exemptions or waivers when those sanctions hit. That's in keeping with what another administrative member said on a previous call but in contrast to a later statement by Mike Pompeo, who said the United States would "consider it."

Without the support of the Europeans, China, and Russia, who all signed off on several rounds of sanctions in the lead-up to the 2015 deal, it's unclear how much the US can do with its go-it-alone policy.
"What is interesting to me is the question of how effective these sanctions, imposed unilaterally by the administration, can be," Jonathan Schanzer, vice president of research at the Foundation for the Defense of Democracy, told BuzzFeed News in an email. "Officials from the Obama administration asserted that unilateral sanctions were not sustainable. The Trump Administration is going to put this hypothesis to the test. So far, it seems these sanctions, thanks to the power and size of the U.S. financial system, will have a significant impact on the Islamic Republic."
What is clear, though, is that the White House will likely find little opposition from Congress on the new sanctions, given the overwhelming margin of support for the legislation putting them into place.
"I have little hope that the current Congress will act," Jamal Abdi, head of the National Iranian American Council (NIAC), told BuzzFeed News in an email. "We have urged lawmakers to introduce legislation that would stop the President from sanctioning Europe and other parties who are merely upholding the agreement and complying with their own laws."
CORRECTION
Jamal Abdi's name was misspelled in an earlier version of this post.