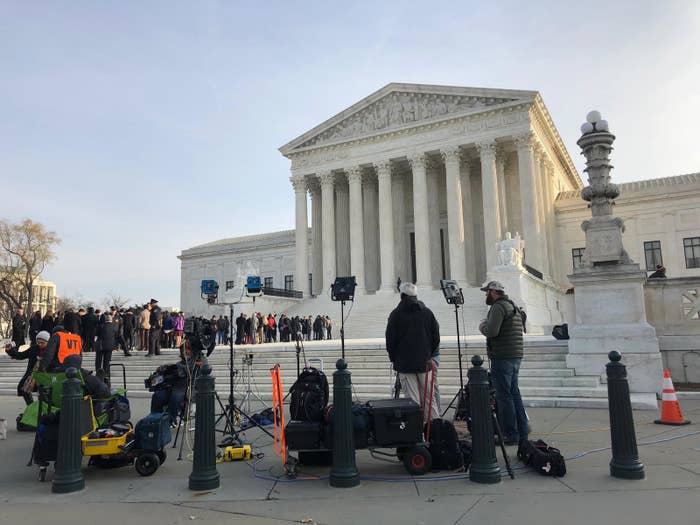 The Supreme Court on Monday issued an order allowing President Trump's third travel ban to fully go into effect for now.
The court's move puts two lower court rulings on hold that had halted parts of the September travel ban proclamation from taking effect. It means the Trump administration can fully implement the travel ban order — which includes Chad, Iran, Libya, North Korea, Somalia, Syria, Venezuela, and Yemen — while the appeals of those lower court rulings are heard later this week.
The justices noted, however, that "we expect that the Court of Appeals will render its decision with appropriate dispatch" — suggesting a desire for the appeals courts to move quickly.
Justices Ruth Bader Ginsburg and Sonia Sotomayor noted that they would have denied the Justice Department's requests.
The September proclamation followed two earlier executive orders by Trump to put a travel ban in place. Both — the first was signed in January and the second in March — faced significant opposition from the courts, leading to a review over the summer that the Trump administration asserts is the basis for the September proclamation.
Trump signed the administration's third attempt at a travel ban on Sept. 24. It imposed broad travel restrictions on five majority-Muslim countries that had been included under previous travel ban executive orders — Iran, Libya, Somalia, Syria and Yemen — as well as three new countries, Chad, Venezuela and North Korea. The restrictions on Venezuela were limited to certain government officials and their families. Unlike Trump's earlier orders, the September proclamation date has no expiration date; Trump has the power to decide whether to lift or add restrictions.

Neither North Korea nor Venezuela had been included in the lower court injunctions putting the proclamation on hold, so those bans already had been in effect before Monday's order.

Zoe Tillman contributed to this report.