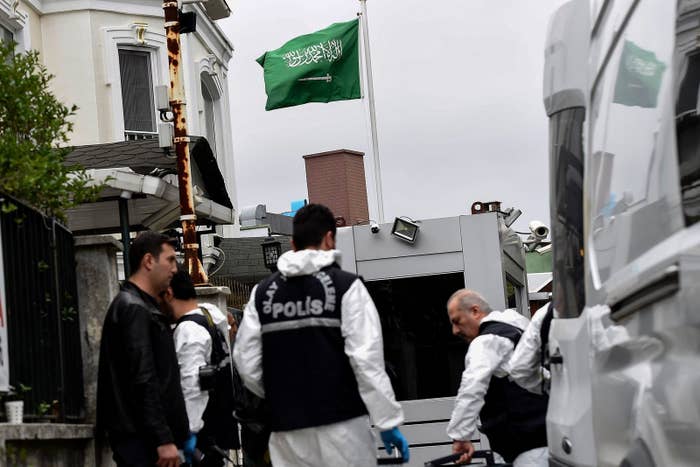 A new report published on Wednesday in the Turkish press said that the dismemberment of missing journalist Jamal Khashoggi began while he was still alive.
That claim, which a Turkish official verified to the New York Times, is the latest gruesome detail to be leaked in the investigation of the whereabouts of Khashoggi, 59, who vanished more than two weeks ago after entering the Saudi Consulate in Istanbul.
"After he was shown into the office of the Saudi consul, Mohammad al-Otaibi, the agents seized Mr. Khashoggi almost immediately and began to beat and torture him, eventually cutting off his fingers," the Times cites the Turkish official as saying. Both the official and the pro-government Turkish newspaper Yeni Safak base their accounts on audio recordings that Turkish intelligence is said to have taken during the alleged murder.
Turkey has yet to provide copies of the audio to the United States, according to President Donald Trump, who said that the US has asked that they be turned over "if they exist."
"I don't have anything to say about that," Secretary of State Mike Pompeo said about the alleged audio when asked during a visit to Turkey on Wednesday.
"Do this outside. You will put me in trouble," al-Otaibi can be heard telling the team who'd assembled in his office, according to the reports. Turkish police searched the consul's house on Wednesday.

While the Turkish government has remained officially circumspect about the details, a flood of information has been provided to the press since police began investigating what happened to Khashoggi. A writer with the Washington Post and US resident for the past year, Khashoggi was in Istanbul to obtain documents needed to marry his fiancé. Saudi officials have said that Khashoggi left soon after his appointment on Oct. 2 but have provided no evidence to back this claim.
Before his stop in Turkey, Pompeo visited Saudi Arabia on Tuesday to speak with Saudi leadership about the case. But he provided few details on their discussions to reporters after the meeting.
The situation has placed the United States' relationship with Saudi Arabia in a precarious position, as the US has been depending on Riyadh's support in keeping oil prices low when new sanctions against its regional rival Iran kick in next month.

"I do think it's important that everyone keep in their mind that we have lots of important relationships — financial relationships between US and Saudi companies, governmental relationships, things we work on together all across the world," including pushback against Iran, Pompeo said to reporters on his way back from Riyadh.

Trump, for his part, has taken to backing Saudi Arabia, the first foreign country he visited after taking office last year. In an interview with the Associated Press on Tuesday, Trump compared the situation to that of Supreme Court Justice Brett Kavanaugh, who was accused of sexual misconduct during his confirmation hearings.
Trump has also said he took Saudi King Salman's word that the kingdom's rulers had nothing to do with Khashoggi's disappearance. The president has also stated that "rogue killers" may be to blame, despite numerous reports that the men alleged to have carried out the killing have close ties to Crown Prince Mohammed bin Salman, the country's de facto ruler.
But on Wednesday, Trump said he just wanted to get to the bottom of the disappearance. "I'm not giving cover at all," Trump insisted.