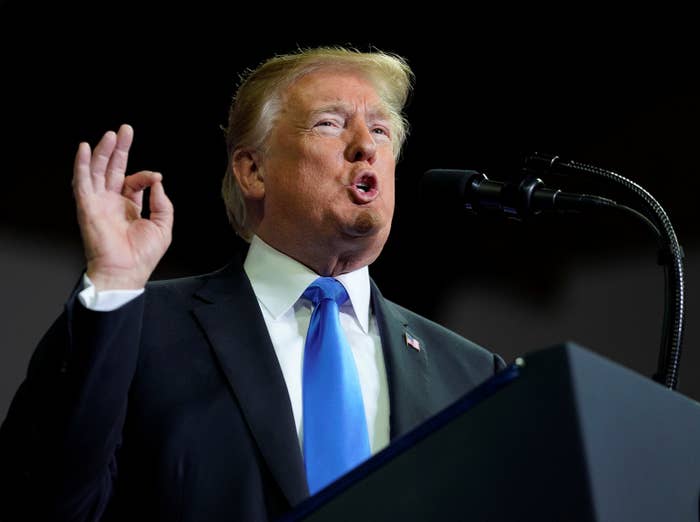 President Donald Trump has compared allegations that the Saudi Arabian government killed a journalist who has been missing for two weeks to the sexual allegations made against his new Supreme Court justice, Brett Kavanaugh.
In a wide-ranging interview with the Associated Press Tuesday, Trump criticized what he characterized as a rush to blame Saudi Arabia as officials investigate allegations that the Saudi journalist Jamal Khashoggi was killed by his own government.
"I think we have to find out what happened first," Trump said. "Here we go again with, you know, you're guilty until proven innocent. I don't like that. We just went through that with Justice Kavanaugh and he was innocent all the way as far as I'm concerned."
Kavanaugh was recently sworn in as a justice to the country's highest court after a contentious confirmation fight that examined sexual assault allegations raised against him by multiple women.
Khashoggi, 59, who writes for the Washington Post, disappeared Oct. 2 after entering the Saudi Consulate in Istanbul to obtain documents he needed to marry to his Turkish fiancé, Hatice Cengiz.

The journalist, a former insider with the Saudi royal family, had been living in the United States for the last year in what he described as self-imposed exile, and had written pieces critical of the Saudi government, including Crown Prince Mohammed bin Salman, for the Post's opinion section. Turkish officials and police have told reporters that they believe Khashoggi was killed inside the consulate by a team of assassins sanctioned by the crown prince.

Saudi leadership has strongly denied any role in Khashoggi's disappearance, and claims that he left the consulate the same day he entered, though they have provided no evidence that he departed the building.

Trump wouldn't say whether he found the crown prince and his father trustworthy, but told the AP that "they were very strong in their denial about themselves knowing."
Earlier on Tuesday, Fred Ryan, the Post's publisher and CEO, said in a statement that the Saudi government owes Khashoggi's family and the world "a full and honest explanation of everything that happened to him."
"The Saudi government can no longer remain silent, and it is essential that our own government and others push harder for the truth," Ryan said. "Until we have a full account and full accountability, it cannot be business as usual with the Saudi Government."
Since hearing the news of the allegations, Trump has appeared to give Saudi Arabia's rulers the benefit of the doubt, even as US allies and lawmakers — including several Republican senators — have condemned the kingdom and demanded harsh retaliation for Khashoggi's disappearance.
Secretary of State Mike Pompeo, who traveled to Saudi Arabia Monday at Trump's request, said both King Salman and Prince Mohammed persuaded him that "there is serious commitment to determine all the facts and ensure accountability, including accountability for Saudi Arabia's senior leaders or senior officials."