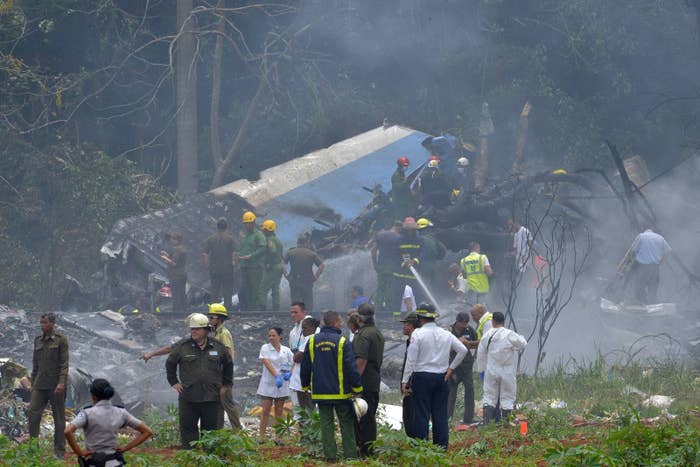 More than 100 people died Friday when a Boeing 737 airliner crashed shortly after takeoff from Havana's international airport.
The flight was scheduled to fly from José Martí International Airport to the city of Holguín, according to state-run newspaper Prensa Latina. There were 104 passengers on the flight, along with nine crew members.
Cuba's transportation minister confirmed Saturday that 110 people died in the crash, including one person who was pulled from the wreckage and died en route to the hospital. Three others survived the crash, officials said, but remain in critical condition.
Carlos Alberto Martinez, the director of the Calixto Garcia Hospital, told CubaTV that one woman was admitted to the hospital with a traumatic brain injury, pelvis fracture, and exposed tibia fracture. Another survivor has severe traumatic brain damage, tibia fractures in both legs, and had a tracheotomy performed before arriving at the hospital. The last survivor has a traumatic brain injury and multiple fractures.

Maite Quesada, a member of the Cuban Council of Churches, said Saturday that 20 evangelical pastors were among those killed in the crash.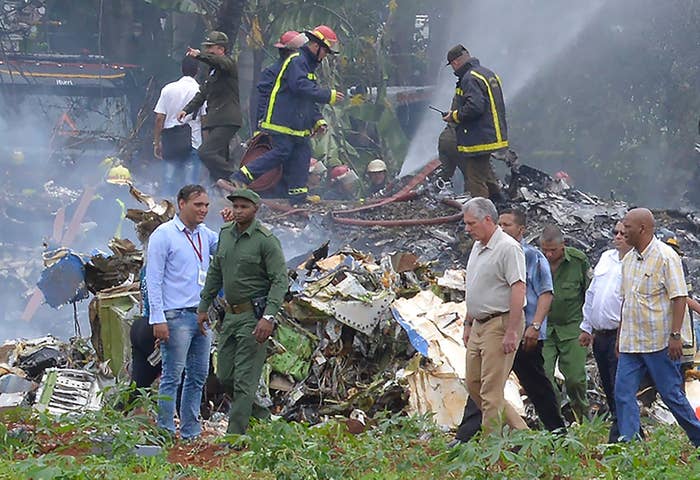 Cuban President Miguel Díaz-Canel, who visited the scene, said soon after the crash that "the news is not very promising; it seems that there is a high number of victims." It is the first major crisis that Díaz-Canel has faced since his inauguration just a few weeks ago.
Granma, the official newspaper of the Cuban Communist Party, eventually "confirmed that the majority of passengers are Cuban, except for five foreigners and the six crew." An employee at the Cuban Embassy in Mexico, who asked not to be named as they were not authorized to speak with the press, had previously told BuzzFeed News all passengers onboard the flight were foreigners.
Granma also reported that the flight that crashed was operated by Cubana de Aviación. The plane in question "had been leased by state airline Cubana de Aviación from the Mexican company Damojh," the BBC said, citing Cuba's director of air transport.

Cuban transportation minister Adel Yzquierdo Rodriguez said Saturday that a flight recorder from the plane had been located.
A former Cubana de Aviación executive told BuzzFeed News in Mexico that the company has been losing its fleet because the planes are already "very old." He added that Cubana de Aviación regularly rents planes in Europe, especially from the company Blue Panorama, and that it is common for Mexicans to be hired as crew because it is much more profitable.

The Associated Press reported Saturday that Damojh, the Mexican charter company, has been the subject of two serious complaints in the last 10 years, citing authorities in Guyana and a retired pilot for Cubana de Aviación.
Guyanese Civil Aviation Director Capt. Egbert Field told the news outlet that a plane with the same tail number as the one that crashed Friday was barred from Guyanese airspace in 2017 after authorities discovered that the crew had been overloading of luggage on flights to Cuba.
A plume of smoke could be seen from the airport in the first pictures and videos posted after the crash.
Shortly after news of the crash broke, several images from older plane crashes also began to circulate on Twitter, claiming to be from Friday's disaster.
"First there was a loud roar and then the smoke began to be seen and after a while the fire trucks and ambulances were passing by, the streets around here are closed and you can still see a column of smoke," Odalys González, a resident near the airport, told BBC World.

In 2010 or 2011, a plane rented from Damojh by Cubana dropped off the radar while flying over Cuba, triggering a response from Cuban aviation officials, a former Cubana pilot, Ovidio Martinez Lopez, wrote on Facebook. According to Martinez, a veteran pilot who is now retired, the pilot and copilot were suspended after the incident, and Cuba's Aviation Security Authority recommended that Cubana stop renting planes from Damojh.
BuzzFeed News has not independently confirmed Martinez's account.
Many flight attendants and security personnel "had refused to fly with this airline" following the incident, Martinez wrote. But, he said, "on this occasion, the recommendation was overlooked and they rented from them again.
According to the AP, Mexico's National Civil Aviation Authority will carry out an operational audit of Damojh Airlines to determine if the airline continues to meet regulations and to collect information to aid in the investigation into Friday's crash in Cuba.
Maurizio Montes de Oca and Karla Zabludovsky contributed additional reporting from Mexico City. Grace Wyler contributed reporting from Los Angeles.