An American Grad Student Will Be Allowed To Study In Israel After Spending Weeks In Detention
Lara Alqasem was detained on Oct. 2 upon landing in Israel, despite obtaining a visa to study at Hebrew University.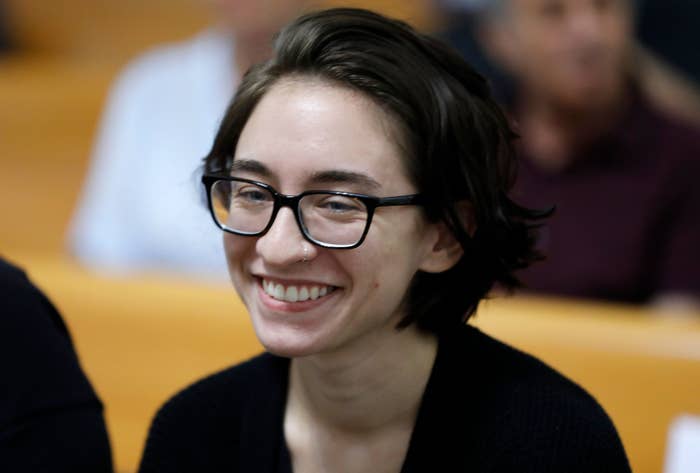 A US grad student will be allowed to study in Israel after the country's Supreme Court overturned the government's previous decision, granting her permission to enter the country.
Lara Alqasem, 22, was stopped upon landing at Ben-Gurion International Airport on Oct. 2 and detained, despite having obtained a visa to study at Hebrew University in Jerusalem. Israel's Ministry of Strategic Affairs had deemed her ineligible to enter the country based on a law passed last year that barred entry by leaders of the boycott, divestment, and sanctions movement.
Alqasem had been chapter president of the national group Students for Justice in Palestine while studying as an undergrad at the University of Florida. That was enough for the government to attempt to deport her. Alqasem, whose grandparents are Palestinian, refused to return to the United States and was instead held at the airport for weeks.
A lower court had previously denied her appeal, sending the case to the Supreme Court, which was not impressed by the arguments presented to remove Alqasem from the country.
"Since the appellant's actions do not raise satisfactory cause to bar her to entry to Israel, the inevitable impression is that invalidating the visa given to her was due to the political opinions she holds," the court declared in the verdict, according to Haaretz.
"If this is truly the case, then we are talking about an extreme and dangerous step, which could lead to the crumbling of the pillars upon which democracy in Israel stands," the decision continued.

Hebrew University, which backed Alqasem throughout the process, issued a statement "welcoming our newest student, Lara Alqasem, as she begins her M.A. in Human Rights & Transitional Justice at our law school next week."

In contrast, Israel's tourism minister said the decision was "shameful" and that the Supreme Court's members "were continuing to act against Israeli democracy and the clear lawmaking of the Knesset." The Jerusalem Post quoted Strategic Affairs Minister Gilad Erdan, whose office was responsible for the decision to block Alqasem's entry, as saying "the court unfortunately granted a big victory to BDS."
BDS's supporters say the movement is a nonviolent way to end apartheid-like conditions for Palestinians inside Israel. But members of the Israeli government view the movement as primarily anti-Semitic and a threat to the state's existence.

Meanwhile, Israel's Knesset, its legislative body, will soon discuss a bill that would exceed the current law, according to Haaretz, by "subject[ing] activists convicted of promoting a boycott of Israel to prison terms of up to seven years."