An appeals court on Friday denied a Palestinian American graduate student's attempt to prevent her deportation from Israel, due to her previous membership in a group that supports a boycott of Israeli products.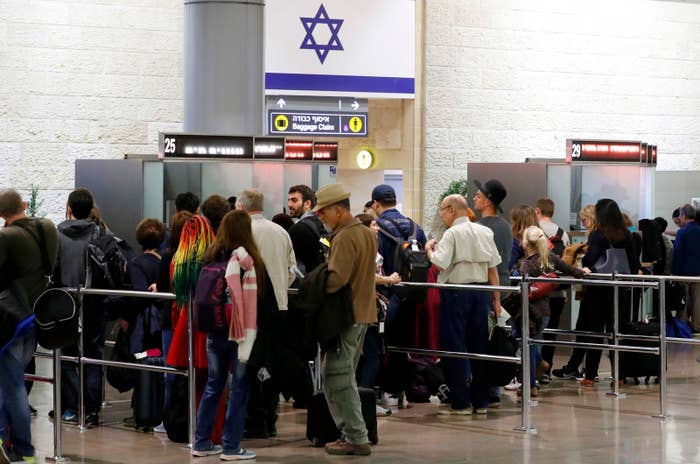 Lara Alqasem flew into Israel's Ben Gurion International Airport on Oct. 2, intending to begin her studies at the Hebrew University of Jerusalem, according to reports in local media and the Associated Press. She'd received a valid visa from the Israeli consulate in Miami, intending to get a master's degree in human rights. But when Alqasem — whose grandparents are Palestinian — landed, she was detained and ordered deported, based on a law passed last year that banned prominent supporters of the boycott, divest, and sanctions (BDS) movement from entering the country.
She's spent the last week detained at the airport, fighting her expulsion.
Supporters of BDS say the movement is a nonviolent way to change what they see as apartheid-like policies towards Palestinians. Members of the Israeli government, on the other hand, see BDS as anti-Semitic at its core and a threat to the state.
Alqasem, according to reports, had been flagged in a database run by Israel's Ministry of Strategic Affairs to help enforce the anti-BDS law.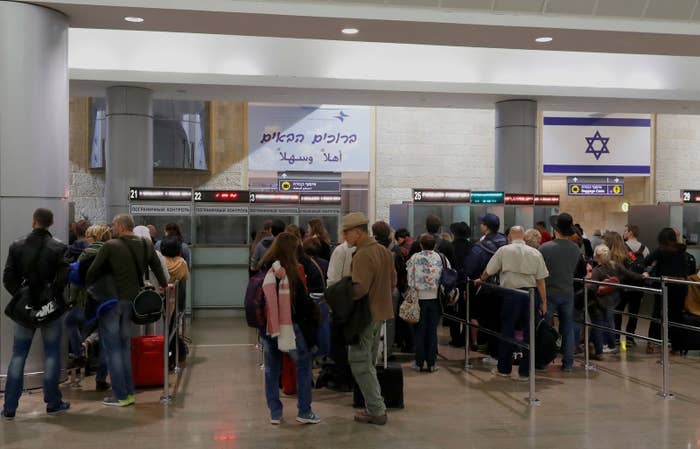 That database, according to Israeli newspaper Haaretz, is mostly compiled from Google searches and other open-source material, including a site known as the Canary Mission. The latter, which includes Alqasem in its profiles of pro-Palestinian activists, has been under scrutiny lately for its opaque funding methods and its role in Alqasem's detention.
At the core of the Israeli case against her: Alqasem's membership in the Students for Justice in Palestine while at the University of Florida. As part of its mission, SJP called for a boycott of Sabra hummus, which is owned by an Israeli company.
"Lara served as president of a chapter of one of the most extreme and hate-filled anti-Israel BDS groups in the US," Strategic Affairs Minister Gilad Erdan said. "Israel will not allow entry to those who work to harm the country, whatever their excuse."
Alqasem, however, has said that her school's chapter of SJP was relatively small — only about five members — and that she was not "senior" in the national BDS movement, a key condition for barring entry under the Israeli law. She also said, according to Haaretz, that she left SJP in 2017 and no longer supports BDS.
Her teachers — both those at the University of Florida, including her former Hebrew professor, and the administration at the Hebrew University — have stuck by her as well as she's appealed her deportation. The Hebrew University went so far as to declare on Monday that it would join Alqasem in her appeal.
With Friday's denial, it's unclear if Alqasem will leave for the United States — which was always an option — or appeal to Israel's High Court.
Erdan put forward a possible compromise on Tuesday, saying if Alqasem would "tomorrow in her own voice, not through all kinds of lawyers or statements that can be misconstrued, say that support for BDS is not legitimate and she regrets what she did, we will certainly reconsider our position."
The case has begun to draw major attention in the United States, where support for Israel has become more politicized and partisan over the last decade.
Conservative New York Times columnists Bret Stephens and Bari Weiss on Wednesday wrote in support of Alqasem, urging Israel to free her.
"Societies that shun or expel their critics aren't protecting themselves. They are advertising their weakness," they wrote. "Does the Jewish state, which prides itself on ingenuity, innovation and adaptability, really have so much to fear from a 22-year-old graduate student from Florida?"
The US Embassy in Jerusalem has reportedly visited Alqasem to ensure she is being provided food and water, but is legally unable to advocate on her behalf.