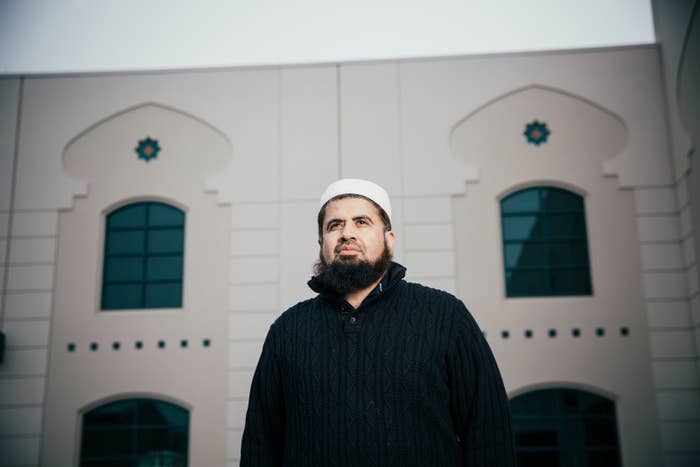 A Muslim cleric who was ousted from at least two mosques amid claims of sexual misconduct with young women he'd mentored now works at a Texas mosque that's standing by him despite a former employer's warning and a civil lawsuit.
The Grand Prairie Islamic Center in a Dallas suburb threw a welcome dinner upon hiring Imam Zia Ul-Haq Sheikh in August and encouraged mosque members to bring their families. The celebration came months after a mosque in nearby Irving issued an unprecedented alert to Muslim leaders across the country warning that Sheikh was asked to resign after a young woman "reported that the imam had engaged in sexual misconduct with her."
The woman, a teenager he'd counseled since she was 13, filed a lawsuit in July alleging that Sheikh coerced her into sex with him at a Texas motel after years of "grooming," including lewd requests via video chat. Her claims were at the center of an investigation by FACE, a new Texas-based nonprofit led by Muslim women advocating for victims' rights in misconduct cases in Islamic settings. The FACE findings, first reported by BuzzFeed News in October, came from witness accounts that wove a pattern: Sheikh would arrive at a mosque as a welcomed imam, then leave abruptly amid accusations of impropriety.
Now BuzzFeed News has confirmed that two decades before Sheikh arrived in Texas, he was dismissed from a mosque in Richmond, Virginia, in the midst of a polygamy scandal involving a young woman convert. A community member involved in Sheikh's exit corroborated the allegations, first detailed in the FACE report, to BuzzFeed News.
The warning. The lawsuit. The yearlong investigation that dug up previous claims. The headlines. None of it has persuaded the Grand Prairie mosque to sever ties with Sheikh, who remains a part-time employee. None of it swayed other Dallas-area Muslim leaders to demand his ouster. The muted response, said FACE cofounder Alia Salem, is a reminder of the work it takes to change the culture of silence in many US Muslim institutions when it comes to #MeToo-style accusations.
BuzzFeed News has confirmed that two decades before Sheikh arrived in Texas, he was dismissed from a mosque in Richmond, Virginia, in the midst of a polygamy scandal.
"It's an indication of the uphill battle that we have," Salem said. "It's a seed we're planting and we know it's going to take a really long time. Maybe even 10, 20 years before we start seeing significant, meaningful change."
Sheikh's attorney, Hershel Chapin, didn't respond to an email seeking comment. Earlier, he said he wouldn't be commenting on claims connected to Sheikh's previous mosques. As for the pending lawsuit, Chapin said, Sheikh "is confident that the evidence will establish that the lawsuit against him lacks merit."
The Grand Prairie mosque deferred questions to its attorney, Charles Swift, director of the Constitutional Law Center for Muslims in America. Swift said the mosque board has decided to keep Sheikh on staff barring substantiation of the claims in a court of law. Swift said the Grand Prairie mosque ran a thorough background check and was not aware of any misconduct allegations against Sheikh when it hired him in August, even though eight months earlier the Irving mosque had released a letter detailing the circumstances of Sheikh's forced resignation from there. Swift wouldn't say whether the mosque had seen the letter, but he said the board later learned of the lawsuit involving the misconduct claims.
When asked whether mosque leaders had a duty to inform families of the claims against an imam, Swift said the board had received no complaints during Sheikh's time in Grand Prairie and would wait for the outcome of the lawsuit before considering further action.
"They take precautions very seriously, and they also take due process very seriously," Swift said.
The FACE report came about because of the claims by the Texas woman, known only as Jane Doe in court papers. Salem traveled to mosques around the country for the investigation, following tips that led her to uncover similar claims that preceded Sheikh's departures from earlier jobs. BuzzFeed News independently corroborated the circumstances of Sheikh's removal from Irving and Richmond.
Since the initial BuzzFeed News report, a longtime member of the Muslim community in Richmond confirmed the local mosque's removal of Sheikh, who'd come from England to serve as imam there in the 1990s. The community member was among those who confronted Sheikh and asked him to leave after mosque officials learned that he'd secretly married a second wife — a young convert the imam had been teaching. He spoke on condition of anonymity because the matter remains taboo to discuss even two decades later.
"The idea was: Just leave. And take a month's pay, two month's pay, whatever it was. That was my only play, that was the end of the story," the community member recalled. "We talked, and he agreed to go."
The scandal would've been devastating for a group of Muslim immigrants trying to plant roots in Richmond, the community member said. And, he added, even though the woman involved was an adult, people were uncomfortable with how religious guidance allegedly had turned into a secret, polygamist romance. Still, mosque officials didn't feel the breach was serious enough to warn other Islamic centers after they asked Sheikh to resign. There was no real mechanism to, anyway — this was around 1996, just as the internet was beginning to connect the nation's fanned-out Muslim communities.
Today, activists say, the old excuses for failing to report don't fly. FACE is among a handful of new Muslim-focused campaigns demanding more transparency in misconduct claims; another, In Shaykh's Clothing, says it's looked into more than 20 reports of secret marriages and sexual misconduct in the past four years. All these efforts are wrestling with how to bring accountability while respecting Islamic traditions of handling problems without making a spectacle.
Salem conceded frustration with the aftermath of the Sheikh report. Still, she said, it's only been a couple months since FACE published its findings, and nobody expected change overnight. Her focus now is on FACE's four active investigations, and three others in early stages. Since its launch in May 2017, Salem said, FACE has received a total of 30 reports of misconduct that staff members are looking into.