VICTORIA, Texas — The Muslims watching from across the street saw the mosque disappear slowly, the flames creeping over the roof and licking the copper domes before turning the heart of their community into ash.
Abed Ajrami, 50, a longtime member of the mosque, stood with friends behind the firefighters' cordon as a light rain began to fall, mixing with their tears. He took a photo of the blaze and posted it on Facebook.
"We will rebuild, with LOVE!" Ajrami wrote as the caption.
That message at that moment — early Jan. 28, hours after President Donald Trump signed a travel ban targeting Muslims — made the news of a suspicious fire in a small Texas town go viral, attracting more attention than the 35 or so other incidents of threats, vandalism, and arson at US mosques since January. The mosque was still smoldering when a GoFundMe appeal went up, eventually drawing more than $1 million in a week, from 23,000 donors in 90 countries.
The fire devastated this tiny community in ways not even a million dollars can fix.
Leaders of the Victoria Islamic Center, as the mosque officially is known, decided to keep politics out of their public statements while investigators worked. No arson talk. No Trump. Besides, several Muslims said, saying such things aloud made real the awful idea that a stranger could hate Muslims enough to destroy a house of God.
For all these reasons, the news from Victoria spread across social media with an almost rosy tinge, portrayed less as a tragedy and more as an uplifting symbol of unity after a divisive election. Local Jews offered the Muslims space in their synagogue. Classes were delayed at the Catholic high school so students could march to the site in solidarity. Townsfolk, some with pro-Trump bumper stickers on their trucks, showed up for a prayer service that grew so big police had to close the road.
Four months later, however, interviews with Muslims in Victoria make it clear that the donations and interfaith support tell only half the story. In truth, the fire devastated this tiny community in ways not even a million dollars can fix.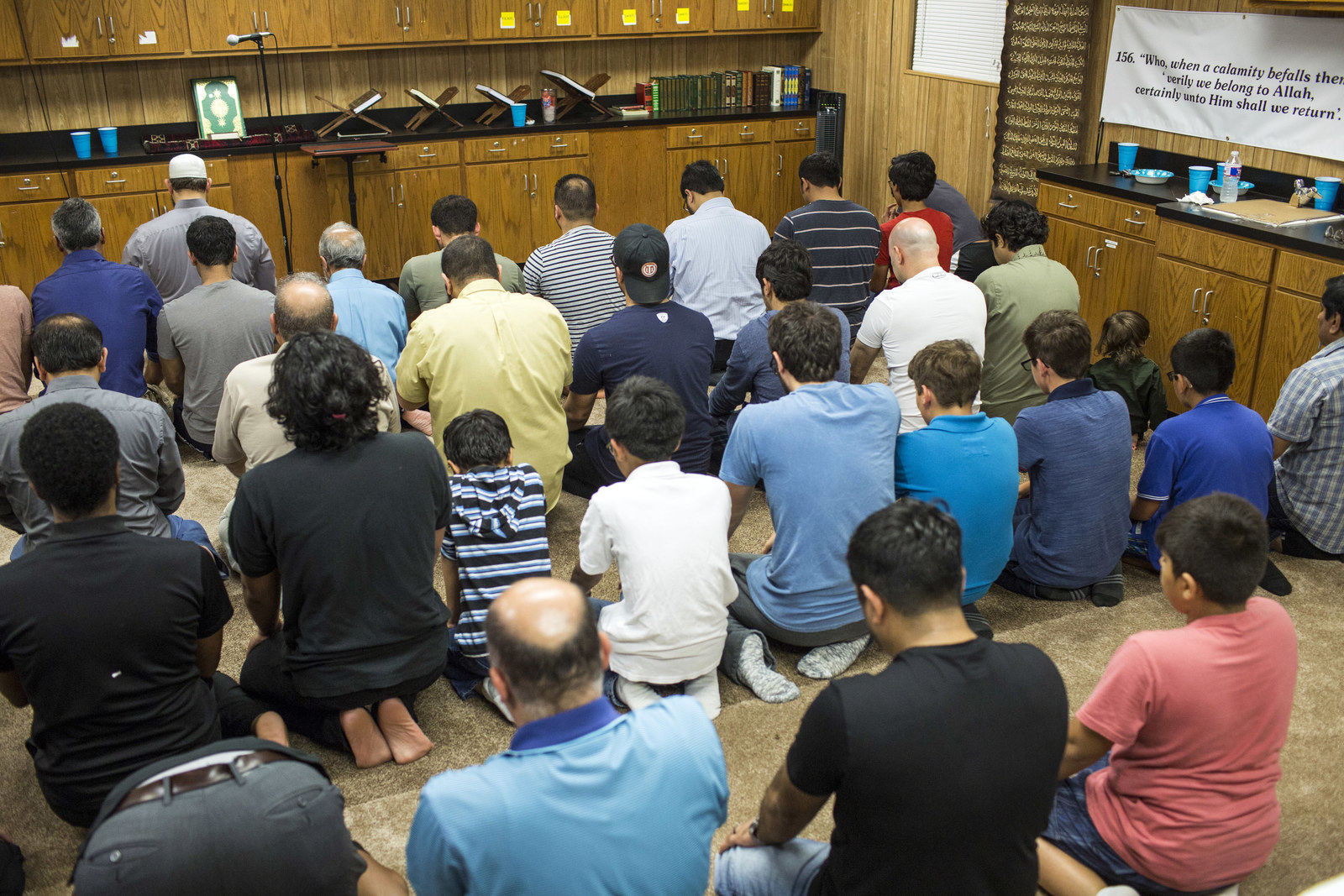 This Ramadan, the Islamic holy month that began May 27, Muslims here are worshipping in stuffy double-wide trailers with an armed guard outside on busy days — and still some families are too scared to return. Their sense of security is gone, and their sense of belonging is shaken as they struggle to reconcile how the neighbors who turned up to pray with them after the fire are the same who voted for a president whose anti-Muslim talk, they believe, helped to fuel it.
Within a year or so, a new mosque is expected to stand at the site, but rebuilding is not the same as recovering, said Shahid Hashmi, 70, who co-founded the Islamic Center in 2000.
"Having witnessed something like that, which we couldn't even imagine? That it could happen right here?" he said. "I think that sadness, that sorrow, will stay with us forever."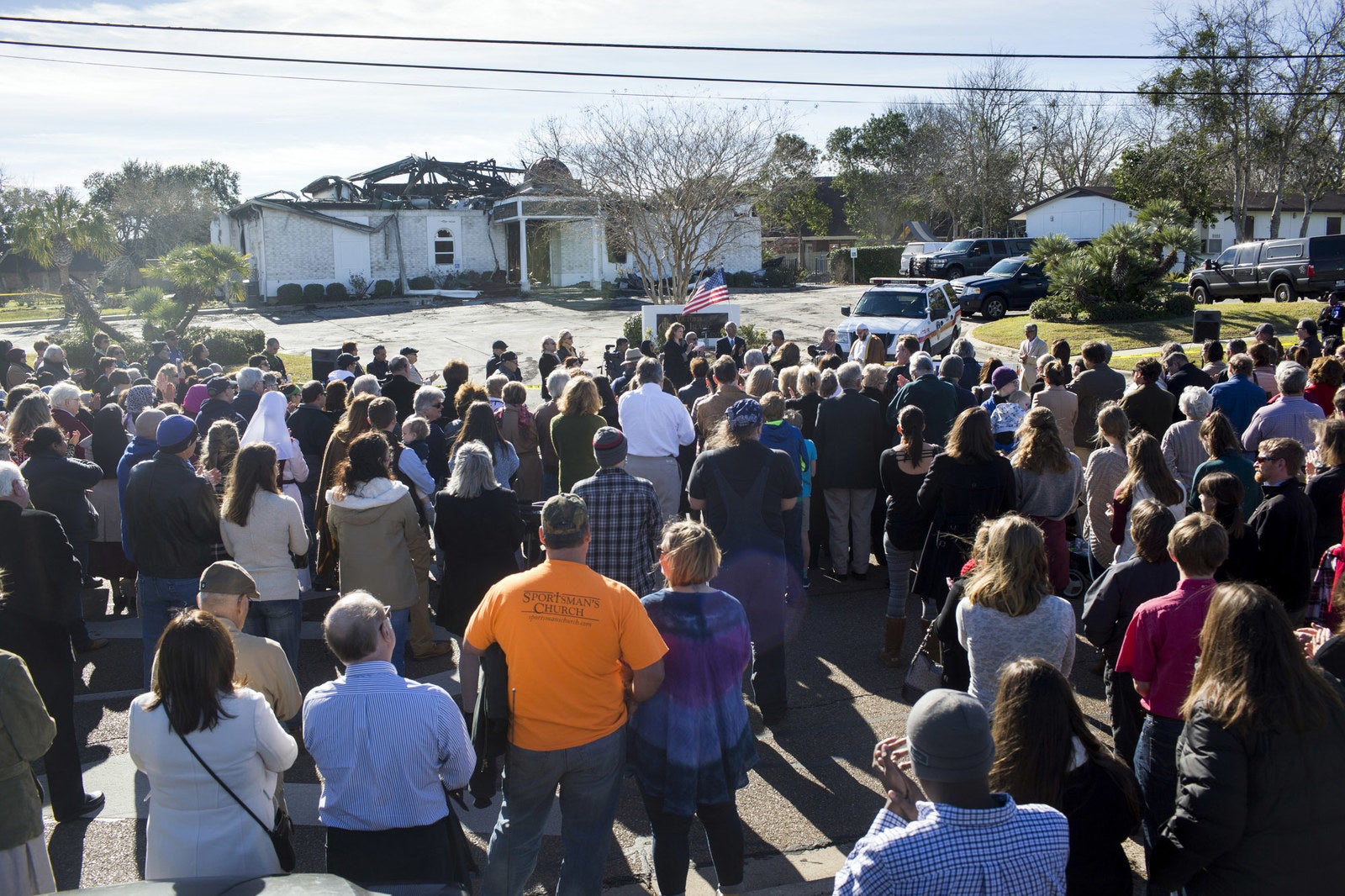 The two-hour drive southeast from San Antonio to Victoria offers views of the best and the bleakest of the American heartland: acres and acres of tranquil, cow-dotted pastures, then stretches of shuttered mom-and-pop stores, run-down trailer parks, and gun shops. Trump–Pence campaign signs reflect the ruby-red politics of the area.

On a map of South Texas, Victoria floats in the middle of a triangle made up of three much bigger cities: Houston, San Antonio, and Corpus Christi. It was founded in 1824 under Mexican rule and named in honor of Guadalupe Victoria, the first president of independent Mexico. It's withstood revolution, Native American raids, a cholera outbreak, hurricanes, and countless other tests in the nearly two centuries since.
Today, Victoria has a population of about 70,000 and relies on the plastic and chemical plants on the outskirts of the city for jobs. The oil boom that peaked in 2012 is long gone, according to locals who wistfully recall a heyday when hotel rooms went for $350 a night.
In 1984, Hashmi, a surgeon, moved to Victoria from an even smaller town, nearby Beeville. Hashmi, his wife, Rakshi, and their three children say they were the second Muslim family here at the time; an Egyptian neurologist had arrived earlier.
As more Muslims came, mainly for jobs in medicine or at the local branch of the University of Houston, they began praying together on Fridays. By the late 1990s, another wave of families had landed in Victoria, and the community outgrew the donated house they were using for prayers and Qur'an study.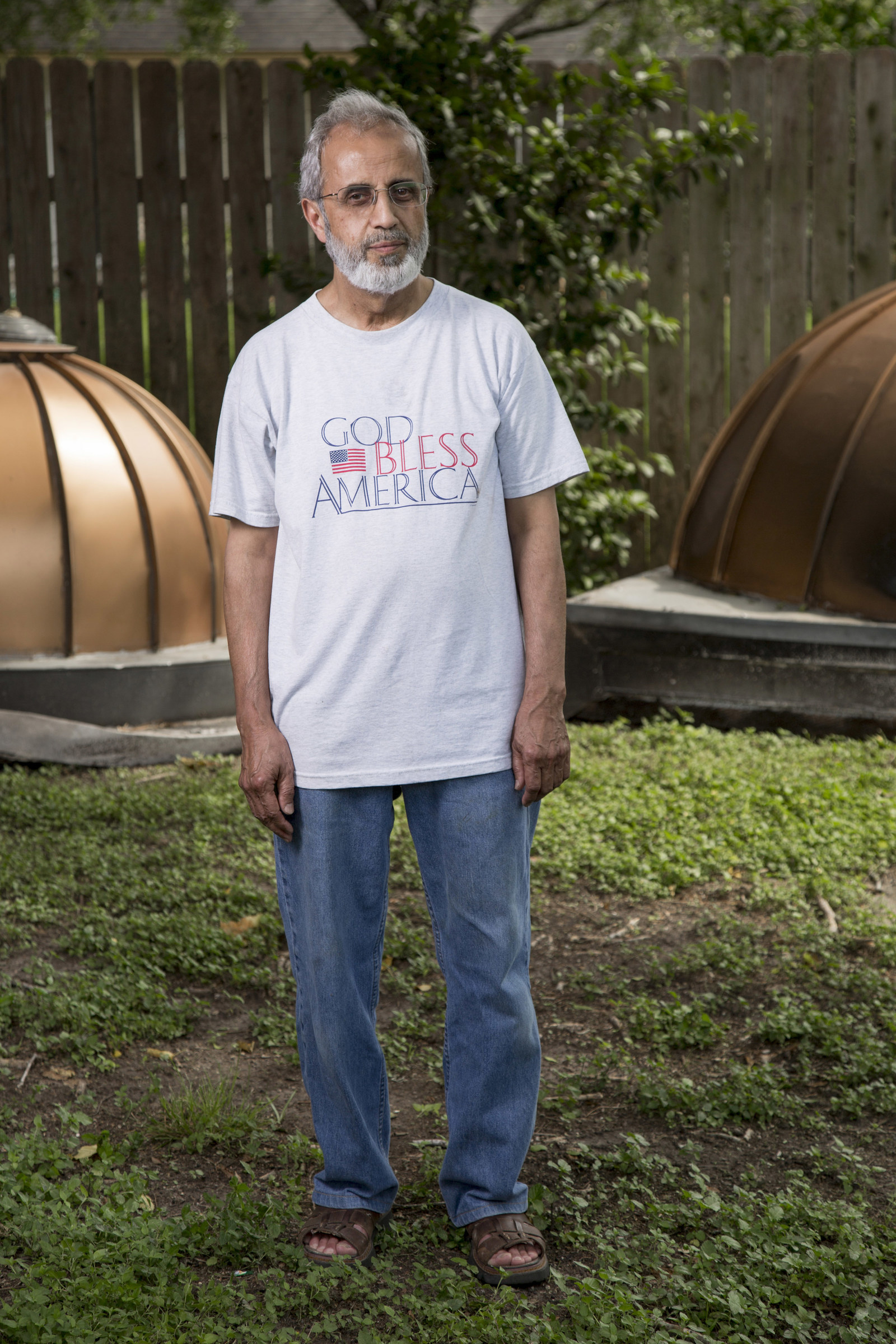 "We started dreaming about having our own good building, a masjid," Hashmi said, using the Arabic word for mosque.
Mosque members paid about $45,000 for the 2-acre plot near the railroad tracks, but it took several more years before the community had collected another $400,000 to build on it. In 2000, the grand opening of the Islamic Center was a big affair — Houston Rockets legend Hakeem Olajuwon and Yusuf Islam, the singer once known as Cat Stevens, showed up. The main event was an open house for the public, a gesture to show the mosque's intention of serving as a visible, active pillar of Victoria.
"And then here came 9/11," Hashmi said.
After the 2001 attacks, a bag of pork was left on the mosque's doorstep, and the building was egged on another occasion. Hashmi said the incidents struck him as anomalies in a place where "we've been involved with the community and the community's been involved with us."
Most of the prejudice the Muslims recounted happened more recently and outside the mosque — a stranger demanding to know whether a scarf-wearing woman was "a bad Muslim or a good Muslim," or a Lebanese immigrant whose Texan friend of 20 years wrote on Facebook that he should leave the United States.
The most troubling incident before the fire, Hashmi said, had seemed more like a teen prank than an act of bigotry. In July 2013, vandals scrawled "H8" on the wall of the mosque. Hashmi said the two boys who did it were busted and performed community service at the mosque as punishment. The parents were even tougher, Hashmi said, hauling the boys in during Friday prayers to apologize in person.
"They stood in front of the people and said, 'I'm sorry we did this,'" he recalled.
"We've been involved with the community and the community's been involved with us."
This closeness with the broader community was forged through years of Muslim civic participation: Rotary Club, Habitat for Humanity, Christ's Kitchen, Relay for Life. The wave of attention Victoria received right after the fire came in part because the relationship defied all kinds of stereotypes: a Trump-voting Texas town rallying around its respected Muslim community.
"My patients walk into my office and after I've examined them, done whatever I needed to do, they hand me a check," Hashmi said, describing the grassroots effort to rebuild the mosque. "It's just beyond our dreams, that kind of support."
But no matter how ingrained they are in Victoria society, several Muslims said, a segment of the population insists on viewing them as suspicious outsiders, potential terrorists. And that segment, they fear, is becoming bigger and more aggressive in large part because the Trump administration gives it political cover.
They don't like discussing it much publicly, but several mosque attendees said they see a straight line from Trump's anti-Muslim speeches to the fire that erupted only hours after the travel ban took effect.
Muslims instantly suspected arson, Hashmi said, but the thought was too much to bear as they wept together that morning in January. They prayed that it had been an accident, maybe an electrical mishap, though they knew better. They recited a verse from the Qur'an about good things waiting on the other side of a calamity.
Four months later, every Muslim who gave an account of the fire still choked up while describing the moment they saw the mosque, their hard-earned patch of Victoria, vanishing.
"We were just praying," Hashmi said. "Walking around and watching it burn down."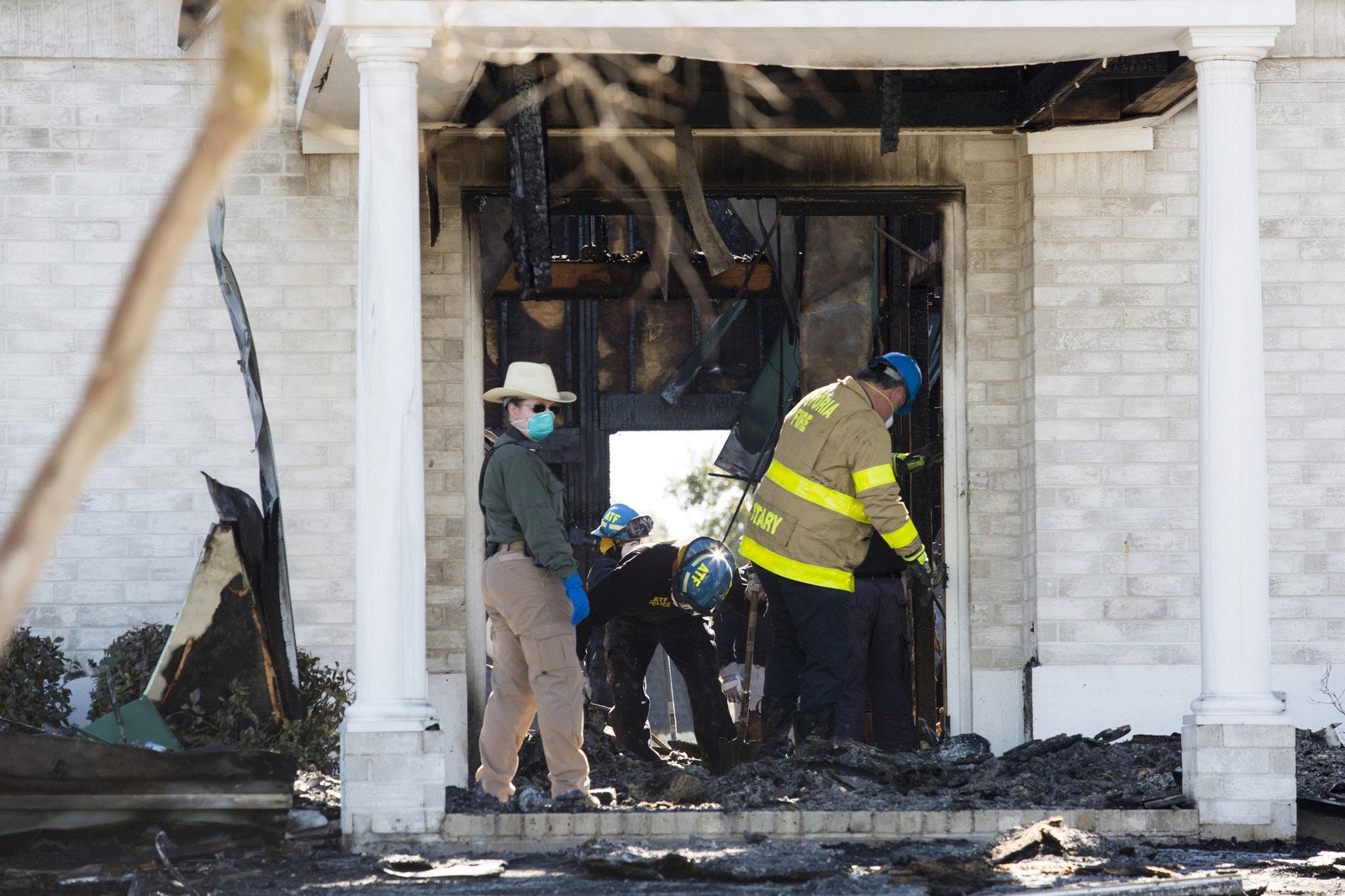 Investigators quickly concluded the fire had been intentionally set, but there was no suspect for more than a month, which seemed like an eternity to Muslims who lived in terror at the thought of what the attacker might do next.
One mother made her children sleep in her bed to better protect them in case an intruder broke into the home. A grandmother began to have nightmares of being engulfed in flames. A recent immigrant grew nervous about wearing a headscarf to her job at Walmart. A father of three got so spooked while leaving the mosque site one night that he held his flashlight as if it were a gun, to scare off anyone who might've been watching him.
Counselors came to talk to the children, who couldn't understand where their mosque had gone or why their parents had become so anxious.
"Your safety is violated. The innocence of the community is violated. I think that's what upset me most."
Marinea, a 28-year-old mother who asked that her last name be withheld, said she was glad her infant son was too young to know about the fire, and she had no plans to tell him.
"Nothing happened," she said, tears welling in her eyes. "We got hurt and we fell, but we stood up and we will walk again. He doesn't need to know more than that."
Many of the 40 or so families who regularly attend the Islamic Center installed home security systems. At the site of the fire, interconnected trailers that were intended to house a free clinic for low-income residents instead became prayer space, with cameras and sophisticated alarms added for protection. Qur'an recitations are interrupted from time to time by a robotic voice from the alarm system announcing that a door is open. Their "new normal," as some mosque members put it.
While the families are excited about blueprints for the rebuilding, there's one feature that makes their hearts sink: a fence.
"Your safety is violated. The innocence of the community is violated. I think that's what upset me most," said Zohaib Qadri, 27, who grew up playing basketball at the mosque well into the night, free from the fear that now hangs over the compound.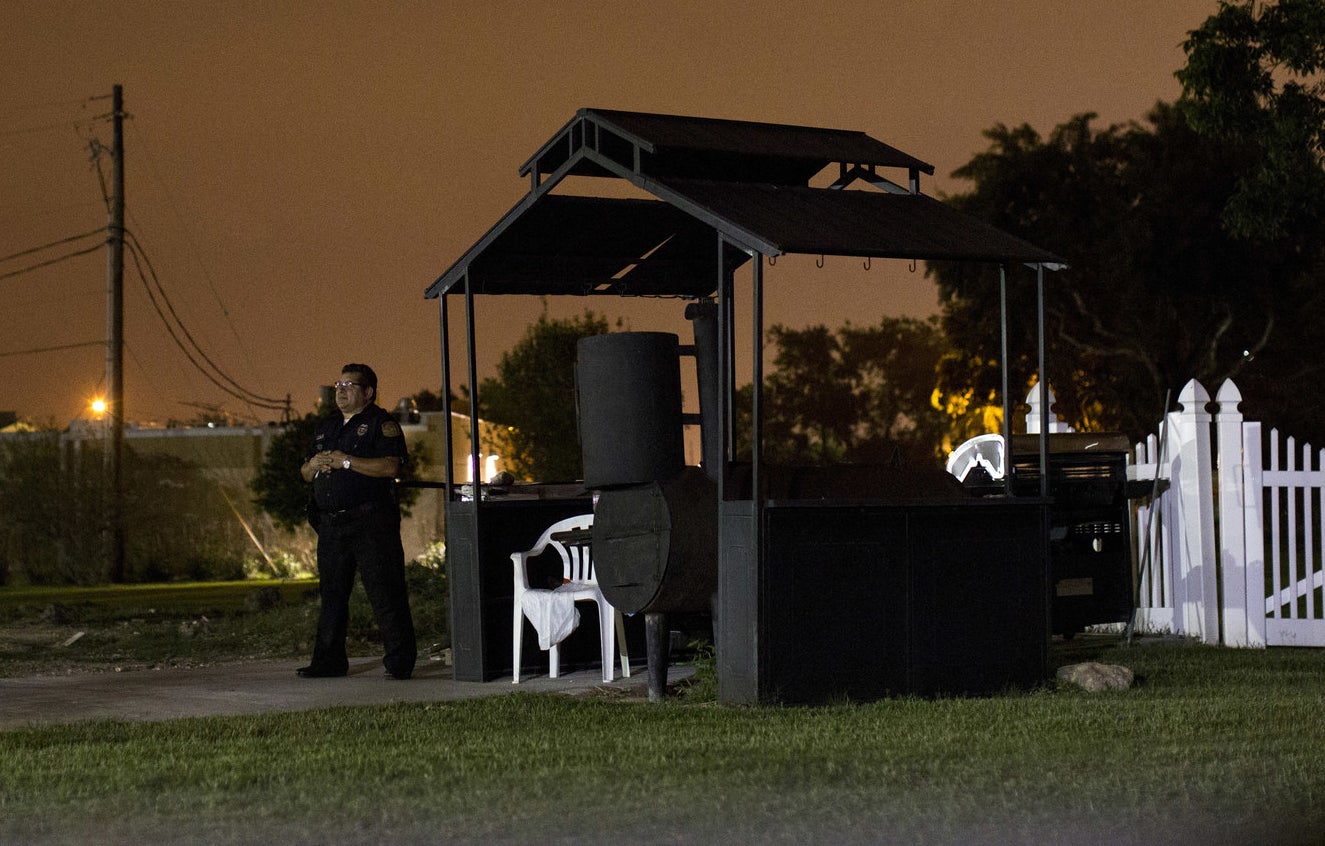 In March, the anxiety eased with the arrest of Marq Vincent Perez, 25, who was picked up on an unrelated charge and tied to the mosque attack by a confidential informant, social media messages, two laptops, and other evidence presented to a federal judge in Corpus Christi.
Perez is deeply suspicious of Muslims and plotted a vigilante operation in the name of protecting the city, according to a federal agent whose court testimony was posted online by the local newspaper, the Victoria Advocate. The special agent, Rick Miller of the Bureau of Alcohol, Tobacco, Firearms and Explosives, testified that Perez's social media messages suggested he monitored the mosque, whose members Perez believed were hiding weapons.
Miller testified that a confidential informant said Perez chose that target because "he hated Muslims and he believed that people in the mosque were related to ISIS or terrorists."
Perez told the same informant, Miller said, "that if they rebuild the mosque, he will burn it down again."
Perez has yet to be charged in connection with the arson — or his alleged involvement in a break-in at the mosque the week before the fire — but the judge ordered him held without bond on the separate charge, citing evidence of his involvement in a "hate crime."
Perez's attorney has told local new outlets that most of the allegations are based upon "hearsay statements" of an informant and would be challenged in court.
"If they rebuild the mosque, he will burn it down again."
Perez's father, Mario Longoria Perez, also testified at the hearing, according to the audio released by the Advocate. The elder Perez's descriptions of his son portrayed a different person from the one who allegedly wrote anti-Muslim Facebook messages and who was described as a "pyro" by associates who told the newspaper he had a history of using fire to intimidate.
In the father's telling, Perez was a homegrown Victorian who attended Christian schools and then joined his father working as an electrician. Perez, the father said, pulled up to 60 hours a week. He has two young children – one who's almost 2, and an infant who was born just 24 hours before the fire at the mosque. He has no criminal record.
When the elder Perez was asked whether he'd heard his son make disparaging comments about Muslims, the father replied, "Not to my knowledge."
Agent Miller, however, testified that an informant said Perez referred to Muslims as "rag heads" or "towel heads," and believed that Muslims marry children. Perez, according to the testimony, messaged a friend saying that "only us soldiers" are "armed and ready" to defend Victoria.
Perez decided to act right after inauguration because he worried that the Muslims might "go underground" and become more difficult to watch with Trump in office, he allegedly wrote in a Facebook thread read by Miller in court.
"Hard to track them and know what they'll do since Trump is claiming to send them all packing," Perez allegedly wrote.
At one point, Perez inadvertently offered a testament to the Muslim community's place in Victoria, alluding in a message to the uphill battle he faced in convincing others to see the Muslims as terrorists.
The hardest part, Perez allegedly wrote, was "getting the town to believe the evidence."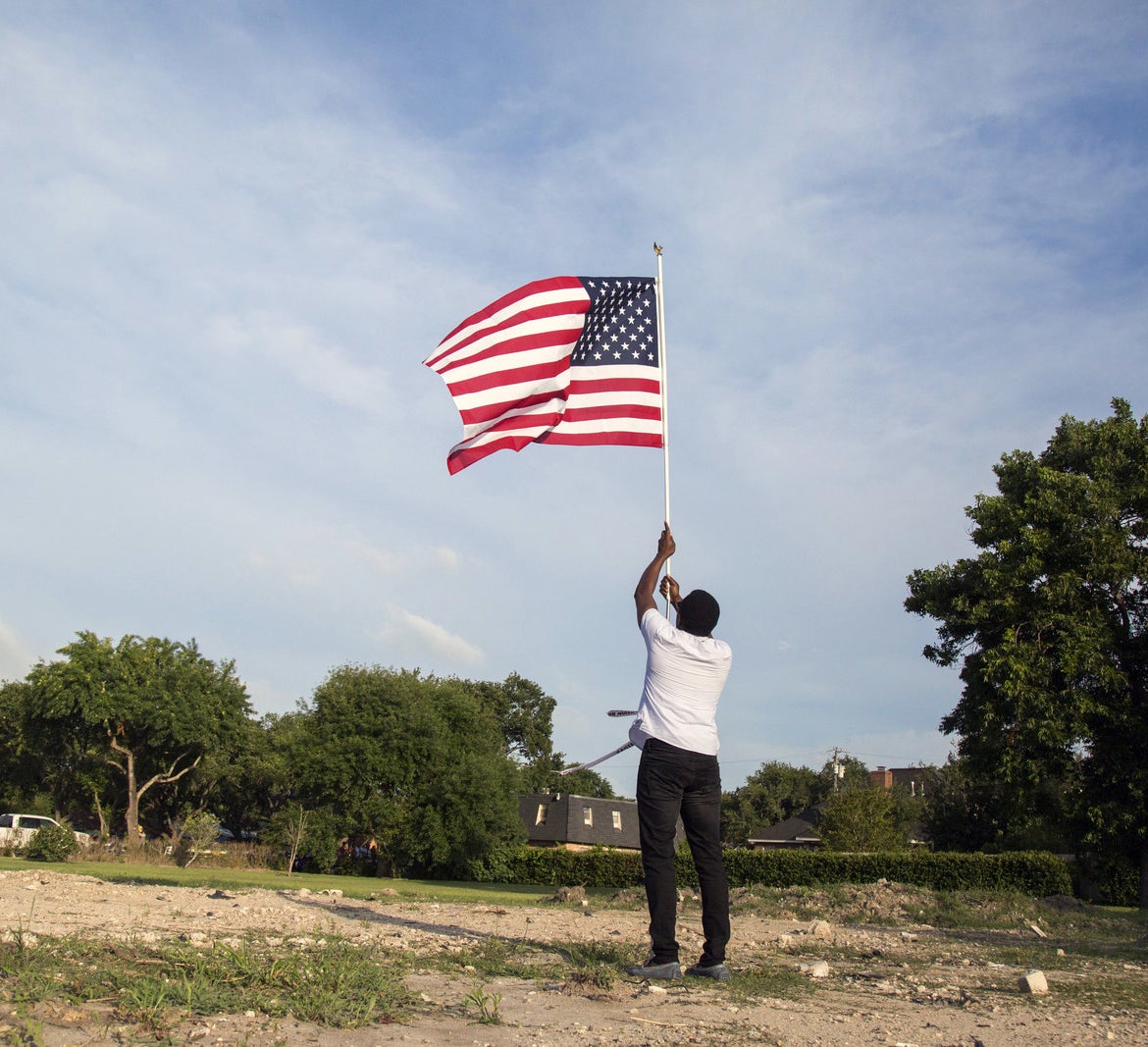 Over Memorial Day weekend, which coincided with the beginning of Ramadan, mosque leaders held a symbolic groundbreaking where they displayed a rendering of the new mosque, an elegant sand-colored building with two tall minarets. Victoria Muslims hope three domes salvaged from the old mosque will be worked into the design.

For now, the copper domes, dented and dusted with soot, sit on the grass in a shady corner behind the playground, which also survived the fire. The acrid smell of burning garbage wafted through the air from two metal bins full of charred Qur'ans and Arabic workbooks.
It's taboo to throw the Qur'an in the trash, so Hashmi will burn these last few items. He said guys from a local crematory had come earlier and hauled off 20 other bags of damaged Qur'ans and mosque records, incinerating them for free.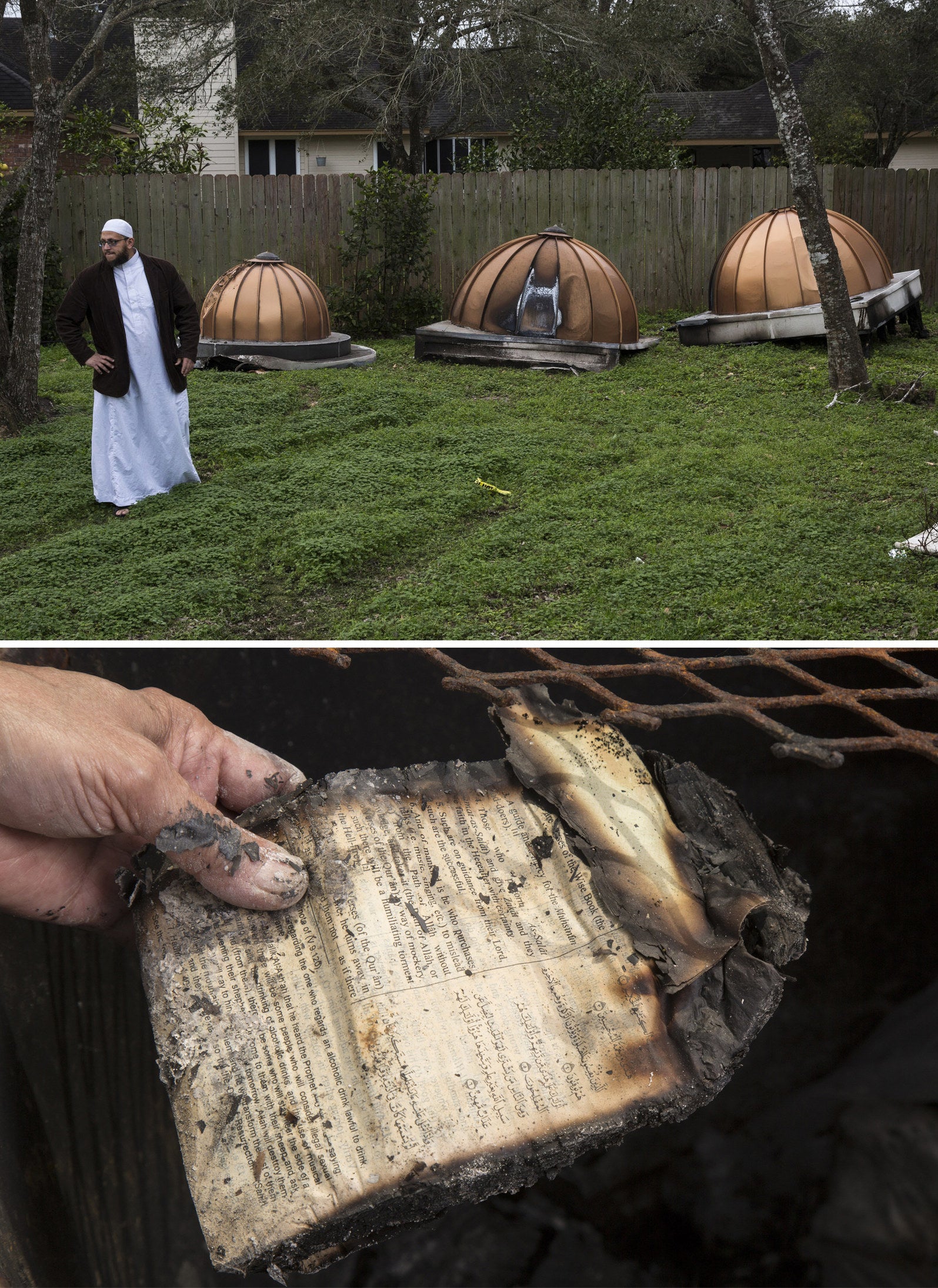 As the groundbreaking time neared, volunteers planted a row of American flags out front. They set up an easel to display the plans for the new mosque. They didn't have a microphone, which became a problem when the imam's invocation was drowned out by Mexican accordion music blasting from a cookout on the adjacent lot.
"May you protect us from any evil or harm," Imam Osama Hassan prayed over a norteño song.
It was easy to envision the old building there in apparition, a ghost mosque.
Because the rest of the compound hummed with activity — kids on the trampoline, women with trays of food — the void where the 4,000-square-foot mosque once stood was especially conspicuous. It was easy to envision the old building there in apparition, a ghost mosque. Whether out of habit or reverence, nobody parked blocking the entrance, or at least where the entrance used to be.
Nuns from the nearby convent showed up and embraced the Muslim women. A couple dozen other visitors trickled in: teachers who have students from the mosque, clergymen in stiff collars, a former city councilmember coming straight from a Tejano festival, the architect in a summer suit and straw hat. A security guard stood watch from a distance.
Heidi Ajrami, 48, an English professor whose husband posted the first Facebook message about the fire, was happily surprised to see in the crowd a friend whose family hadn't been back since the attack. She described the woman as vivacious and popular, "the life of the mosque." Her return would lift the spirits of the congregation, Ajrami said, another milestone on the path to healing.
"That, to me, is a sign," she said, "that people are finally starting to feel comfortable." ●