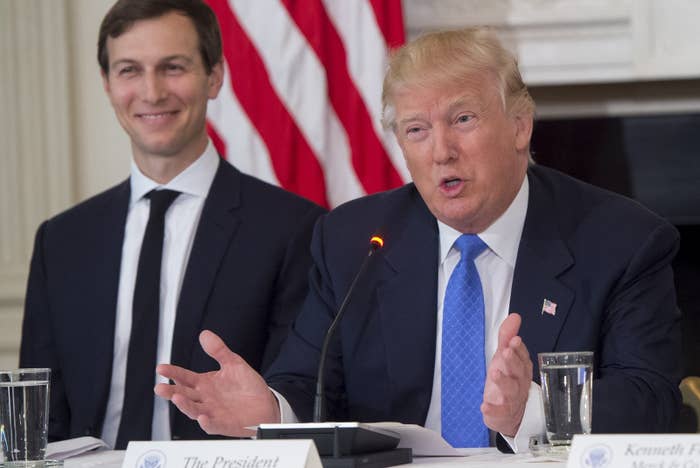 On a January day just before inauguration, a handful of Muslim activists and businessmen gathered in New York for a confidential meeting with Jared Kushner, the son-in-law and close adviser of President Donald Trump.
Though the transition team was based in Trump Tower, this meeting took place off site, away from the cameras. The goal was a candid talk about what kind of relationship the new administration might forge with American Muslims — a minefield of a topic given Trump's anti-Muslim remarks during the campaign.
The meeting, which has not been previously reported, went smoothly, but any optimism Muslims left with that day vanished within a couple of weeks as Trump took office and immediately set about turning his anti-Muslim rhetoric into policy.
And so fizzled one of the few attempts at dialogue between Muslim representatives and Trump's inner circle. Neither side has ever spoken publicly about the talks. This account comes from interviews with six people who have direct knowledge of the meeting and who spoke on condition of anonymity because of the sensitivities involved.
The Muslims in the room included a prominent imam, a civil rights attorney, the director of a nonprofit that studies violent extremism, and two venture capitalists — one of whom is a partner at Thrive Capital, the firm run by Kushner's brother, Joshua. The shock of Trump's win hadn't worn off and some were skeptical about taking part, ultimately deciding it was worth it for the chance to argue against a Muslim registry or travel ban.
Kushner set a friendly tone, soliciting ideas for how to improve Trump's relations with Muslims, urging them to think big and boldly. He assured them that American Muslims weren't going to be in the crosshairs: The threat was overseas, he said, with "the cancer" of radical Islam. Then Kushner surprised the delegates by asking them to recommend candidates for jobs in the administration, including the White House liaison to Muslim communities, a post many had assumed would be scrapped.
The White House didn't respond to requests for comment about the meeting. Just one of the Muslim groups involved — Muslim Advocates, a legal advocacy nonprofit — confirmed participating, but would not divulge any details.
"We thought discussing our nation's founding values and freedom for Americans of all faiths was the responsible thing to do before Mr. Trump came to power," Muslim Advocates Executive Director Farhana Khera, who was in the meeting, wrote in response to a BuzzFeed News query. "It soon became clear, however, that unless Trump makes drastic changes and shows he's committed to being a president for all Americans, engagement is not an effective tool at this stage."
The secrecy surrounding that day shows just how toxic relations have become between the White House and American Muslims. Simply acknowledging a meeting now risks political fallout from both directions: Trump's anti-Muslim supporters don't want to see him cozying up to Muslims, and many Muslims would reject any Islamic group that's willing to deal with Trump.
"As far as I'm concerned, if that's the kind of engagement happening, there's no engagement. It doesn't count."
As a result, Muslims' access to the White House is severely restricted, apparently now reduced to a back channel run by the president's son-in-law, at a time when Islam is the faith singled out in Trump's inaugural address, attacked by White House officials, targeted in travel bans, and subject to intense surveillance.
"As far as I'm concerned, if that's the kind of engagement happening, there's no engagement. It doesn't count," said Wa'el Alzayat, executive director of EmergeUSA, a nonprofit that encourages Muslim political participation.
Alzayat, who had not known about the Kushner meeting, said that shrouding talks in secrecy is "giving the wrong signal that there's something wrong or sinister and it has to be done that way."
By comparison, who didn't have to use the back door for a recent White House visit? Brigitte Gabriel, ACT for America founder and among the nation's most vocal Muslim bashers. On March 21, Gabriel tweeted a photo of herself at the White House with Paul Teller, an adviser to Trump on legislative issues. Extremism trackers classify Gabriel's organization as a hate group.
Making time for Gabriel, who's said "every practicing Muslim is a radical Muslim," is the latest of many signals that the Trump administration is moving in the opposite direction of the goodwill described in that first meeting with Kushner. Although there's been no follow-up and Kushner's portfolio has since swelled to include many other high-profile issues, there was a feeling among participants that he'd been genuinely interested in finding common ground.
"From what I understand, it was a sincere meeting and those were the requests and they were made in good faith. Since then, I haven't heard of any real engagement or follow-up. That doesn't mean it hasn't occurred, but I haven't heard of it," said a longtime Muslim Republican activist who did not attend the meeting but who spoke to participants before and after.
With relations so soured between American Muslims and the government, advocacy groups face a dilemma: Should they build ties with White House officials in hopes of softening its policies or keep far away from an administration that seems bent on curtailing their rights?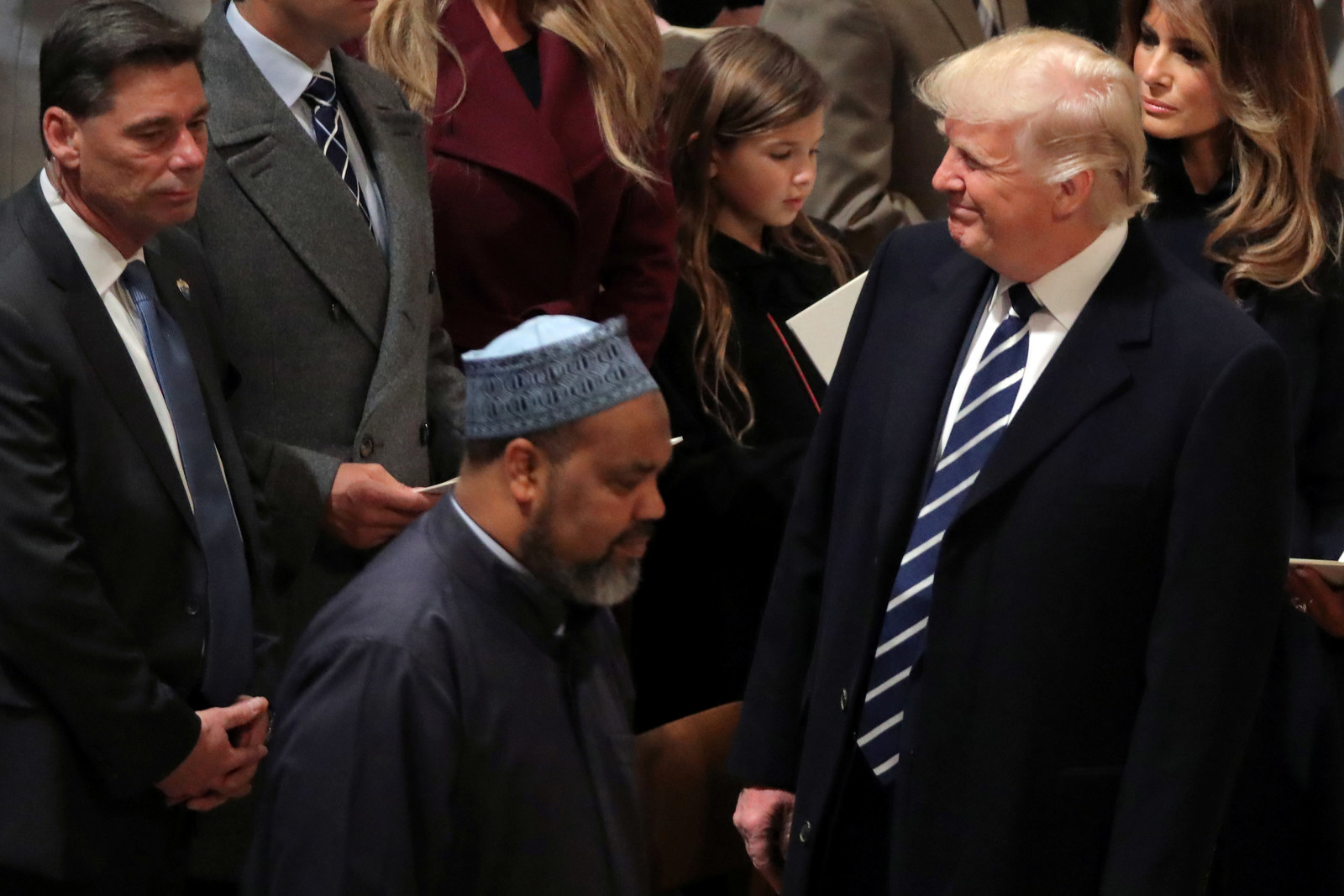 "It's tough," the Muslim Republican said, describing the no-win situation of Muslim activists navigating today's political fault lines. "It's an art, not a science."
Muslims who meet with Trump or his aides typically receive a swift backlash, which is why nobody wanted to speak openly about their conversations with Kushner.
Alzayat, of EmergeUSA, said Muslims should be able to ask officials directly whether their community's rights will be protected without resorting to clandestine meetings for fear of being branded sellouts. At least give engagement a try, he said, with the option of cutting off contact if the administration fails to follow through.
"These are our elected officials, this is our government," Alzayat said. "If we don't meet with them, who will?"
Muslims who attended the January meeting with Kushner were:
Khera, the Muslim Advocates director and former counsel to the Senate Judiciary Committee's subcommittee on civil rights and constitutional issues. She facilitated the first meeting between Muslim activists and President Barack Obama and organized the first congressional hearing on racial profiling. She acknowledges meeting with Kushner, but declined to offer details.
Nabil Mallick, a partner at Thrive Capital, a venture capital firm founded by Joshua Kushner, a Democrat, who helped arrange the meeting and also was present. When BuzzFeed News asked about the talks, a spokesman for the firm said there would be no comment.

Mamoon Hamid, a founding partner at Social Capital, a Silicon Valley venture capital firm specializing in tech startup, who's advised companies such as Yelp and Slack. He couldn't be reached for comment. Hamid's Twitter posts clearly show his opposition to Trump's policies such as the travel ban.

Humera Khan, executive director of Muflehun, a think tank focused on preventing radicalization. Her bio shows a long record of advising the FBI, State Department, and other government agencies on countering violent extremism. Khan did not return messages seeking comment.

Mohamed Magid, former president of the Islamic Society of North America and imam of the All Dulles Area Muslim Society (ADAMS) Center in Sterling, Virginia. He'd later catch flak from other Muslim activists for participating in an interfaith prayer service for Trump's inauguration. In a phone interview, Magid said he didn't recall discussing policy with Kushner and wouldn't be pinned down on the specifics of the meeting. "If it was confidential, why are people talking about it?"

Speaking generally, Magid said, he's an unapologetic believer in what he calls "dignified engagement," bringing Muslims' concerns to those in power in a way that asserts their rights and doesn't leave them feeling complicit in the administration's decisions. That's why he agreed to attend the prayer service for Trump, he said, even though it brought a painful backlash from some Muslims who view the administration as irredeemable.
Magid argues that Muslims shouldn't close the door to talks "even if someone says the most horrible things about you." Rejecting engagement with the White House means that someone else will speak for them, he said, reducing Muslims to onlookers in policymaking that could change their lives and threaten their place in the nation.
"It's not about who you meet — it's what you say when you meet," Magid said. "Muslims cannot be the untouchables. They are part of the American social fabric."
Outside Your Bubble is a BuzzFeed News effort to bring you a diversity of thought and opinion from around the internet. If you don't see your viewpoint represented, contact the curator at bubble@buzzfeed.com. Click here for more on Outside Your Bubble.