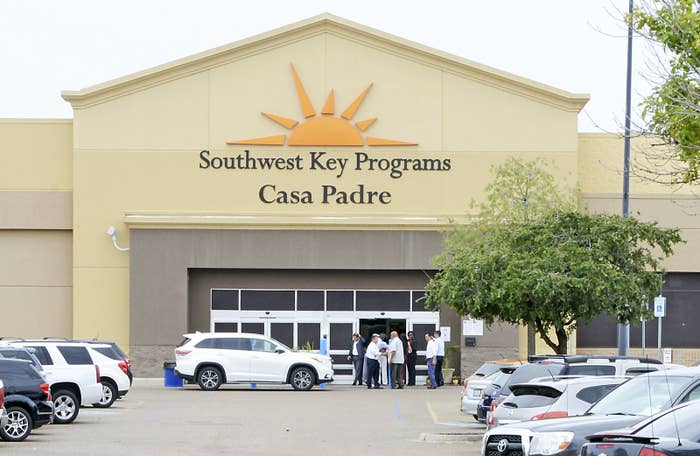 A 16-year-old unaccompanied Guatemalan boy died in government custody in Texas on Tuesday, officials said.
Juan de León Gutiérrez is the third child to die in government custody since December, when a 7-year-old girl died hours after being taken into Border Patrol custody.
In recent months, the Trump administration has lamented the increase of migrant families and unaccompanied children crossing the border. In early April, the government division responsible for unaccompanied migrant children, the Office of Refugee Resettlement (ORR), said it was on track to detaining the most youth in history. As of late March, around 32,000 unaccompanied children had been referred to the ORR for custody.
The government contracts with private and nonprofit shelters to hold unaccompanied migrant children until a family member can pick them up. In this case, on April 20, Immigration and Customs Enforcement (ICE) officials brought Gutiérrez to the ORR shelter in Brownsville, Texas, Southwest Key Casa Padre. The migrant youth shelter, run out of a former Walmart, houses about 1,200 boys and girls.
US Customs and Border Protection clinicians did not notice any health concerns and Gutiérrez did not mention any when brought to the shelter, said Evelyn Stauffer, a Health and Human Services spokesperson. The next morning, however, Gutiérrez became "noticeably ill," including having a fever, chills and a headache, she added.
Workers at Southwest Key Casa Padre brought Gutiérrez to a hospital that morning on April 21, where he was treated and released that day and brought back to the shelter, Stauffer said.
"The minor's health did not improve after being transferred back to the shelter so on the morning of April 22, 2019, the minor was taken to another hospital emergency department via ambulance," she said. "Later that day, the minor was transferred to a children's hospital in Texas and was treated for several days in the hospital's intensive care unit. Following several days of intensive care, the minor passed away at the hospital on April 30, 2019."
The cause of death has yet to be determined as the ORR investigates the case. A person with knowledge of the 16-year-old's case said Gutiérrez made the journey, at least in part, because he wanted to seek medical treatment related to headaches. The unaccompanied minor was sent to the hospital after going through an initial screening at Casa Padre.
The Guatemalan consulate said Gutiérrez was admitted with a severe infection in his frontal lobe at a children's hospital in Corpus Christi, Texas. After a surgery to stabilize the pressure in his head, the minor was put in intensive care before he died April 30.
Gutiérrez crossed the border near El Paso, Texas on April 19 and was taken into custody by Border Patrol agents who transferred him to an ORR shelter in Brownsville, Texas. He was from Camotán a municipality in the eastern area of the Guatemalan state of Chiquimula.
Gutiérrez's brother and officials from the Guatemalan consulate visited him while he was in the hospital. Family members in Guatemala were also kept updated. Guatemalan consulate officials in McAllen, Texas, said they tried to get humanitarian visas for the parents to visit their son, but they couldn't travel because of their age.
Sen. Jeff Merkley, a Democrat from Oregon, told BuzzFeed News that he was heartbroken of "yet another" death of a child in US custody.
"This boy deserved better," he said in an email. "This should never have happened and there must be a full investigation into the circumstances of this young man's death, followed by immediate action to ensure other children do not suffer the same fate."
Merkley added that every child should have a "substantial medical exam by a medical professional" within an hour of coming into US custody, followed by another more extensive one at shelter facilities.
"I'm not at all satisfied that rigorous protocols are in place," he said. "We must do much better."
Advocacy groups, like Voto Latino, also called for an immediate review of Gutiérrez's death.
"We demand a COMPLETE and THOROUGH investigation as well as JUSTICE for this child!" the group tweeted.
Southwest Key, the largest network of shelters for migrant kids, secured $626 million in federal grants in 2018. So far in 2019, that number is at $86 million. The Casa Padre shelter has had at least four sexual abuse allegations going back to 2017, according to documents from HHS.