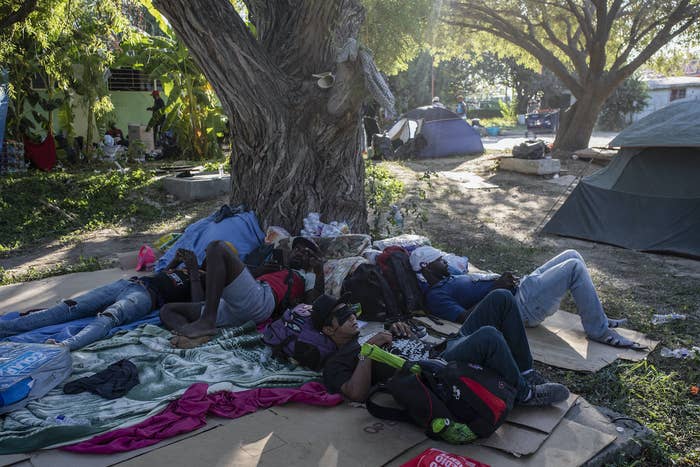 A 6-year-old Honduran girl described as having "crippled" legs. An 11-year-old boy with severe epilepsy and convulsions that prompted vomiting and memory loss. A Honduran woman who cannot hear or speak. Separated members of families. A woman with a serious precancerous disease causing bleeding and pain.
These were among the people forced into a controversial Trump administration program that aimed to stop the flow of asylum-seekers from crossing into the US via the southern border, according to a January internal government report obtained by BuzzFeed News that was addressed to senior leaders at the Department of Homeland Security. Some were later able to get out of the program and enter the US while others were not.
The report offers a rare window into the behind-the-scenes dysfunction and confusion surrounding the Migration Protection Protocols (MPP) — also known as "Remain in Mexico" — which have long been criticized by immigrant advocates as a cruel and illegal way to keep asylum-seekers from entering the US. It documents how investigators believed that border officials, at times, appeared to not comply with the agency's "guiding principles."
From 2019 to 2021, the government forced tens of thousands of asylum-seekers to stay in Mexico as they waited for their day in a US court. The immigrants were often left with nowhere to go but squalid camps in Mexican border towns, and human rights advocates reported cases of immigrants being kidnapped, raped, and tortured while waiting there.
The document's existence, revealed by BuzzFeed News, comes at a particularly important time: The Biden administration is on the verge of restarting the Remain in Mexico policy after a federal court judge ordered officials to do so this summer. While advocates have pushed the administration to ignore the order, the DHS has said it is ready to implement it by mid-November if Mexico agrees.
In sum, the document highlights a series of problems the Biden administration could face as it seeks to revive the program: inconsistent policies, incomplete training, and confusing guidelines. The discoveries made by the investigators show how vague policy guidelines can lead to life-altering decisions for those seeking to enter the US.
"The information contained in the memo is incredibly concerning and demonstrates why restoring a humane approach to migration is so critical," a spokesperson for the DHS said. "The administration is currently under a court order requiring it to reimplement MPP in good faith, which it will abide by even as it vigorously contests the ruling. Pursuant to that order, the department is working to re-implement MPP in a way that protects vulnerable individuals, including but not limited to, those with known physical and mental conditions and others that might be at risk — something the Government of Mexico also identified as a key concern. As stated previously, the Department will soon be issuing a new memo explaining and reaffirming its decision to terminate MPP."
The Trump administration implemented the controversial program in early 2019 amid a surge of families crossing the border and seeking asylum. In the early days of the policy, which was one of multiple efforts to restrict asylum, the US was seeing upward of 100,000 border crossings a month. Despite legal challenges, the program was maintained throughout the Trump administration.

The report, written by officials from the DHS Civil Rights and Civil Liberties (CRCL) Office, documents a dozen findings during the course of a 2019 investigation of the policy and analyzes whether agency officials followed "guiding principles" issued in January 2019 that described who could and could not be placed into MPP. The CRCL investigators pored over emails and documents from the various agencies involved, including US Citizenship and Immigration Services and Customs and Border Protection.
CBP officials said they could not comment on leaked documents. DHS did not immediately respond to a request for comment.
CRCL officials found that, although those with "known physical/mental health issues" were prohibited from being placed into MPP, this was not well explained to border agents. Indeed, the investigators explained that border officials created a standard of whether an immigrant was "medically cleared" for travel to determine whether they could be returned to Mexico.
They also said CBP officials were not complying with the language of the principles set out by DHS for people who, despite their medical issues, were cleared for travel.
"With regard to the application of that amenability guideline, it is unclear to CRCL how circumstances such as cognitive disability, glaucoma, epilepsy, cervical metaplasia, uterine cancer, heart conditions, 'crippled' legs, chicken pox, AIDS, and diabetes, do not qualify as 'known physical/mental health issues,' yet CBP emails and records confirm that individuals with these conditions, known to CBP, have been returned to Mexico under MPP," the report states.
In one case, investigators looked into an allegation that a 6-year-old girl from Honduras was returned to Mexico despite having advanced cerebral palsy. The CBP records the investigators reviewed indicated that she, her parents, and her brother were placed into MPP on May 20, 2019. A DHS form the investigators reviewed indicated "CRIPPLED LEG, LEFT" and "CRIPPLED LEG, RIGHT" under a section reserved for "scars, marks, and tattoos."
There were no other records relating to her health.
"The note by CBP that she had two crippled leg[s] indicates that CBP was aware that the child had a disability at the time it placed [the girl] into MPP and returned her to Mexico. Although the records do not substantiate the allegations of advanced cerebral palsy, CRCL has concerns that CBP violated the MPP Guiding Principles by making amenable to MPP a 6-year-old identified as having two 'crippled leg[s],'" the report states.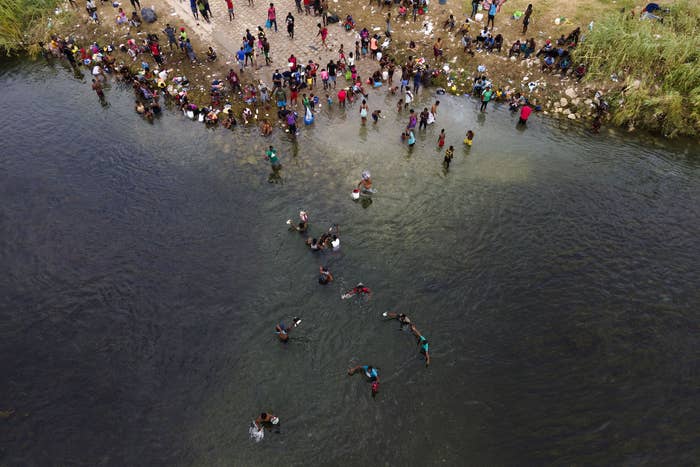 Asylum officers periodically raised concerns about why certain people with medical issues were placed into the program as well, according to the report.
"In one October 2019 email exchange, asylum office staff alerted CBP that interview testimony indicated that an 11-year-old boy in MPP had severe epilepsy, with convulsions leading to loss of memory and vomiting," the report states. "The response from CBP indicated that CBP was aware of the child's condition and that he had gone through two prior medical screenings while remaining in the MPP program."
In an email referring a family to asylum officers for an assessment on their fears of remaining in Mexico, CBP officials told USCIS staff about a 4-year-old child in MPP, who had been found to have chickenpox, and his young sister, who had been sexually assaulted. Elsewhere, an asylum officer told border officials that a woman with uterine cancer who had been separated from her husband had been placed into MPP.
In November, the Texas Civil Rights Project sued the Trump administration, claiming that DHS had sent back asylum-seekers with disabilities.
The group located several plaintiffs who had been pushed into MPP despite their health conditions, including a 34-year-old woman who had a pituitary tumor that pressed against her brain, a 13-year-old child with only one functioning lung, and an 8-year-old boy who had a urethral malformation that required surgery.
"The 'Remain in Mexico' policy is inherently unfit and violent for any asylum seeker, but it is particularly dangerous, and unlawful, for those living with disabilities," said Erin Thorn Vela, senior attorney with the Texas Civil Rights Project, at the time of the filing.
It's unclear how medical conditions and disabilities would be handled under a new version of MPP, but a court filing this month indicated that Mexican officials had wanted improvements to the program. Blas Nuñez-Neto, a senior DHS official appointed by President Biden, said Mexican officials had told the administration that they had concerns about "particularly vulnerable" individuals being turned back to Mexico.
"In particular, the GOM [government of Mexico] raised concerns about certain populations being enrolled in MPP, including particularly elderly or sick individuals, as well as other populations, such as LGBTQI individuals. GOM made clear that it expects the reimplementation of MPP to address these concerns," Nuñez-Neto wrote in a court filing.
In December, CBP issued additional guidance explaining that immigrants who are medically cleared for travel, including those who have preexisting conditions or have a significant disability but are with family, can be forced to remain in Mexico. The additional guidance seemed to clear the way for individuals with medical conditions to be turned back at the border. The investigators wrote in their report that such a standard was insufficient.
In the internal report obtained by BuzzFeed News, investigators also substantiated allegations that families had been separated during the MPP process.
"In emails provided to CRCL by CBP, CBP personnel state that it is USBP procedure to separate one parent from the rest of the family and only maintain family unity for the other parent and children," the report states.
CRCL officials wrote that "married couples and children with their parents or legal guardians should be processed together and scheduled for the same hearing in immigration court. Failing to do so may not only impact the family's safety and well-being while waiting for their immigration court hearing but may also impact any claims for relief filed by the family."
In one case, a Guatemalan man who spoke an Indigenous language and limited Spanish had said that he was separated from his son when he was forced into MPP despite the fact that he had a birth certificate. DHS records reviewed by the investigators showed that there was no mention that he was accompanied by his son, but an "addendum" in the database indicated that he was later released in the US to be "re-united with his child." There was no explanation for the separation in the records.
Unaccompanied immigrant children, according to the report, were also subject to the policy, despite agency guidelines prohibiting such a decision. "Documents provided to CRCL by ICE [Enforcement and Removal Operations] indicate that CBP has at times placed [unaccompanied immigrant children] into the MPP program, in violation of the MPP Guiding Principles," the report states.
Elsewhere, investigators found that medical screenings were not consistently documented, and DHS lacked a centralized system to track cases of individuals forced to remain in Mexico.
Earlier this year, the Biden administration rescinded the policy and began to allow thousands of people caught up in Remain in Mexico to come to the US. Now the administration is faced with the prospect of restoring the program to its original form, as ordered by US District Judge Matthew Kacsmaryk and held up by the Supreme Court. DHS officials told staffers in August that the agency was taking steps to reimplement and enforce MPP in good faith. It also said the agency was working with the State Department and the Mexican government to ensure the "expeditious reimplementation" of Remain in Mexico.
The potential reimplementation of the plan has been met with criticism by immigrant advocates. On Saturday, a group of advocates left a virtual meeting with Biden administration officials over the future of the program. They said they would not have conversations with the Biden administration due to the continuance of policies enacted under Trump.
Then, this week, a group of immigration attorneys and advocates sent a letter to lead Biden officials saying they wanted no part in helping start the program back up. This comes as the administration works to improve access to attorneys for those stuck in Mexico in anticipation of reinitiating the program.
"We refuse to be complicit in a program that facilitates the rape, torture, death, and family separations of people seeking protection by committing to provide legal services," the letter read.
Some of the issues found by CRCL, including those surrounding language access, echo those discussed in a separate DHS report released internally and obtained by BuzzFeed News in 2019.