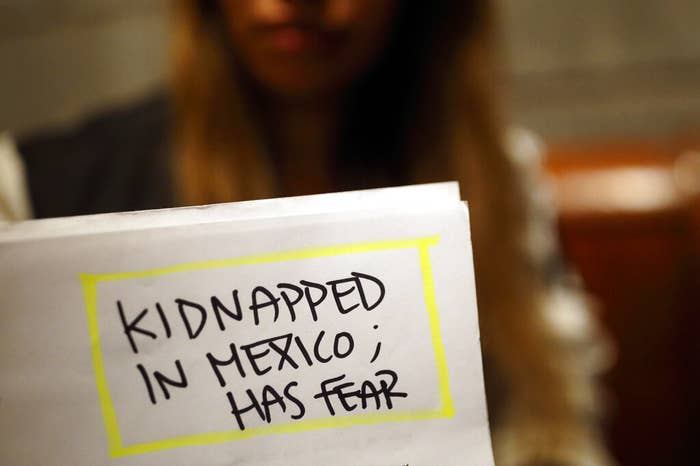 On the day of her first immigration court hearing, Veronica had two choices: miss her family's chance at getting asylum in the US, or return to the border city where the cartel had threatened to kill them.
Veronica, an asylum-seeker from El Salvador who asked to be identified only by her first name out of fear for her safety, chose to miss her court hearing and stay put in Mexico City. The 24-year-old said she tried calling the court to explain why she and her family couldn't make it, but no one ever picked up. In February 2020, a judge ordered them deported for not showing up.
"It was a horrifying feeling," Veronica told BuzzFeed News. "I cried a lot because we came here with such high hopes that someone would help us."
Nearly 28,000 immigrants like Veronica and her family were ordered deported without them being present at their last hearing. In addition to conditions being too dangerous to travel to the border, some immigrants missed their hearings because they were kidnapped by cartels, some were denied entry because they were pregnant, and others were too sick. Whatever the reason, it didn't matter and the judges overseeing their cases ordered them deported in absentia.
The Biden administration has started to undo the Migrant Protection Protocols (MPP) policy that sent more than 71,000 immigrants and asylum-seekers to wait in Mexico while a US judge ruled in their case. So far, the administration has mostly only allowed those with open cases to enter the US, leaving those with removal orders like Veronica waiting in Mexico with the hopes that one day it will be her turn.
In recent weeks, Homeland Security officials have agreed that those ordered deported in absentia should have their cases reopened, according to government documents obtained by BuzzFeed News. The move would clear the way for them to be allowed back into the US and pursue their asylum cases, but it's unclear when this next phase of the rollback would be implemented.
"It's like seeking refuge in Canada and being sent to wait in Afghanistan where you might be killed," Dante, a 26-year-old asylum-seeker from Cuba, told BuzzFeed News. "But if you don't show up to your hearing, you get ordered deported. One way or another, you get screwed."
Dante, who asked to be identified only by his first name fearing retaliation in Mexico and Cuba, and his girlfriend missed their asylum hearing in October 2019, a month after nearly being kidnapped in a Mexican border town. A judge also ordered them deported in absentia.
The process to reopen the cases can be particularly time intensive, and DHS officials have been concerned that forcing government attorneys to file thousands of reopening motions could overwhelm staff.
A DHS spokesperson said the system to process people with active cases is the "first phase" of a program to "restore safe and orderly processing at the Southwest border."
"The US is currently prioritizing individuals with active MPP cases, generally based on their MPP enrollment date, while also considering prioritized access for certain highly vulnerable individuals," the spokesperson said, adding that, at this time, "we do not have any new announcements regarding populations who do not have active MPP cases."
"The Biden administration has made it clear that our borders are not open, people should not make the dangerous journey, and individuals and families are subject to border restrictions, including expulsion," the spokesperson said.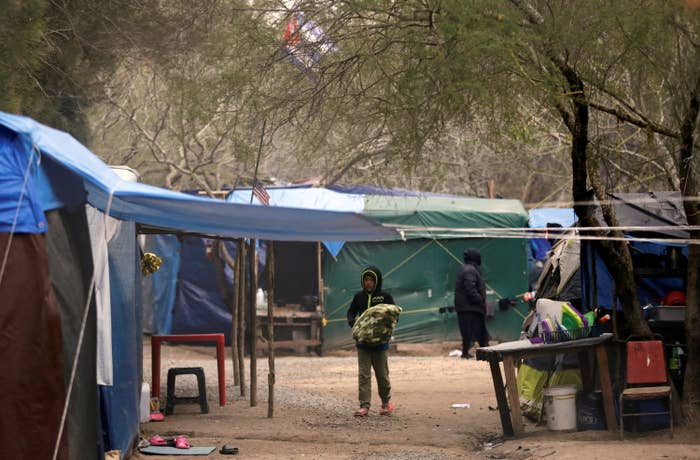 So far, nearly 8,400 immigrants who had been forced to remain in Mexico under MPP have been able to enter the US under a process started by the Biden administration, according to an analysis from the Transactional Records Access Clearinghouse (TRAC) at Syracuse University. For the most part, only those with active cases have been able to apply to be allowed into the US, and according to the analysis, as of the end of April, 18,087 people still remained in Mexico with open cases who in theory could register to be allowed into the United States.
Attorneys and advocates who worked with immigrants in MPP said the Trump administration's policy effectively weaponized geography to make it nearly impossible for people to win their asylum cases. In addition to having little access to attorneys or legal guidance, asylum-seekers were expected to wait months, if not years, in Mexican cities known for the kidnapping, rape, and killing of immigrants.
On Monday night, an asylum-seeker who was forced to wait in Mexico under MPP was fatally shot in Ciudad Juárez just a few days before he was to be allowed into the US by the Biden administration.
Human Rights First has counted at least 1,544 public reports of murder, rape, and other attacks committed against people in MPP. But in only about 2% of cases decided by a judge were immigrants able to get some type of relief like asylum.
The uncertainty of if or when Veronica and her family will be able to pursue their asylum case within the US weighs on her, particularly because of the dangers immigrants face in Mexico. She didn't want to miss her court hearing, Veronica said, but the family also didn't want to risk their lives. Moments after Veronica, her husband, and her then–2-year-old daughter were sent back to the Mexican border city of Nuevo Laredo in November 2019, they were kidnapped by the local cartel. After days of threats and abuse, they were released, but warned that if they ever returned to any part of the border, they would be killed. Their kidnappers had taken photos of them and their personal information.
Veronica and her family eventually moved from Mexico City to Mexicali, another border city, with the hopes of getting help from a legal advocacy organization, but their case is still closed. Now, they're waiting to see if the Biden administration will reopen cases and allow them into the US.
"It's very difficult to live with the fear that the cartel, which has our information, will grab us again," Veronica said. "My hope is the US will give us a chance, just like they did with the people who had open cases, because we are not safe here in Mexico."