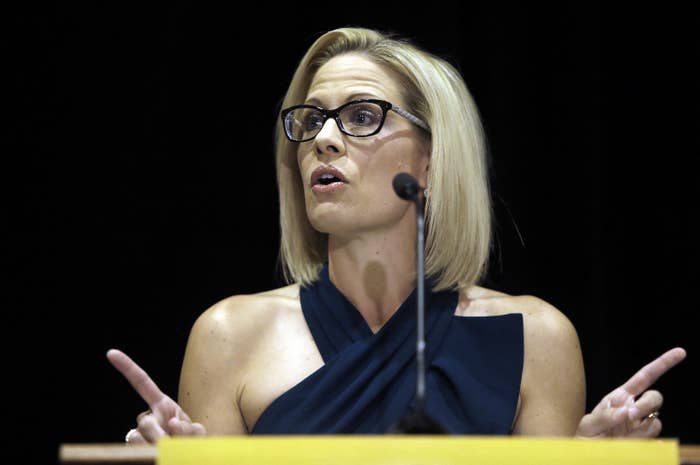 Democrat Kyrsten Sinema, the first openly bisexual person elected to Congress, has defeated Republican Martha McSally to win a US Senate race in Arizona, narrowly flipping a seat long held by Republicans in a come-from-behind victory one week after Election Day.
Despite trailing McSally in early vote returns on election night Tuesday, Sinema steadily gained an advantage over her Republican opponent as votes continued to be counted in subsequent days. By Monday night, the Arizona secretary of state's official vote count showed her leading McSally with 49% of the vote, and an advantage of 38,000 votes that would be virtually impossible for the GOP contender to overcome.
It marks the first time Arizona has elected a woman to the Senate in the state's 106-year history.
In a video posted to Twitter after the race was called Monday, McSally, seated next to her dog, conceded the race and congratulated Sinema on "becoming Arizona's first female senator after a hard-fought battle."

Jeff Flake's retirement had posed a key opportunity for Democrats seeking to flip a seat in the Senate, and the race became one of the most widely watched contests of the 2018 midterms. Voters were faced with a decision between Trump-aligned McSally, a former fighter pilot, and Sinema's centrist approach.

In remarks to reporters Monday night, the Democrat struck a bipartisan tone, citing the example of Arizona's late Republican senator John McCain in promising that she would "put country over party."
"Arizona proved that there is a better way forward," Sinema said. "We can work with people who are different than us, we can be friends with people who are different than us, we can love and care about people who are different than us, we can keep people who are different than us safe. We can be good people who care deeply about each other even when we disagree."
Though Sinema cast herself as a moderate in the Senate race, the contest was seen as a national proxy for the fight between Trump Republicans and the Democratic "resistance" to his presidency.
And as votes continued to be counted, Trump himself waded into the fray, suggesting in a tweet Friday that the election might need to be redone because of alleged "electoral corruption."
Trump had traveled to Arizona to campaign for McSally, who was the first woman to fly a fighter jet in combat as well as the first woman to lead a fighter squadron. After retiring from the US Air Force, McSally was elected to Congress in 2013 and has advocated for increased military spending and border security measures.
The president's tweet appeared to be a reference to a lawsuit filed by the Arizona GOP over how the state verifies mail-in ballots, arguing that the process used by Arizona's two largest counties — Maricopa and Pima — should be used statewide. The suit, which sought an injunction to omit ballots verified after Election Day from the final vote count — and which did not claim any "electoral corruption" — was rejected by a judge Thursday night.
In her concession remarks posted Monday, McSally seemed to implicitly reject Trump's call for "new election" as she acknowledged Sinema's win in the Senate race.
"As I traveled around this state, I was so inspired by the many people that I met," McSally said. "I am convinced that Arizona is the best state in the country, and our best days are still yet to come."
A former social worker and Green Party spokesperson, Sinema served in Arizona's state legislature as a Democrat before being elected to the US House of Representatives in 2012. She's a member of the centrist Democrat Blue Dog Coalition and has touted her independent, bipartisan approach to her work in Washington. She's also the first openly bisexual person elected to Congress.
With Sinema's win, Democrats have flipped two seats previously held by the GOP, following Democratic Rep. Jacky Rosen's victory over incumbent Republican Sen. Dean Heller in Nevada last week.