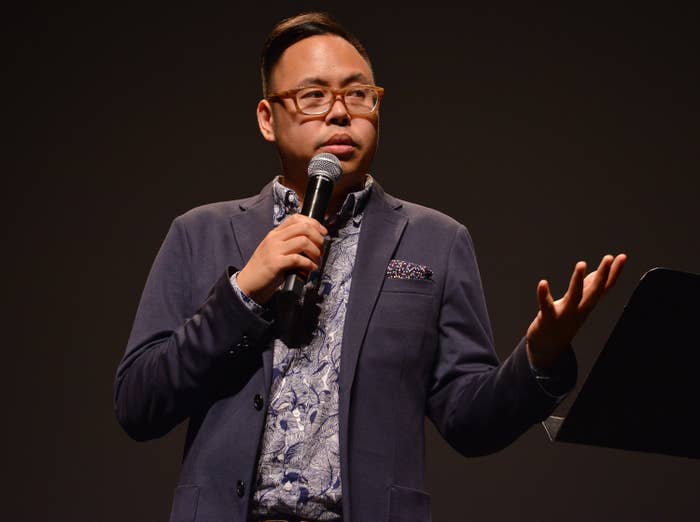 The journalists at BuzzFeed News are proud to bring you trustworthy and relevant reporting about the coronavirus. To help keep this news free, become a member and sign up for our newsletter, Outbreak Today.

The coronavirus has struck at the heart of the family of Nico Santos, best known for playing Oliver in Crazy Rich Asians and starring in NBC's Superstore.

In late March, the actor posted an update on Instagram about the death of his stepdad, Sonny.
"He was a kind, caring man," wrote Santos. "Friendly to a fault. He always greeted strangers walking past him with a chipper 'Good Morning!' and a big smile. He had a great laugh that filled the room with joy."
On Friday, Santos opened up about grieving his stepdad in an interview with BuzzFeed News' Twitter show AM to DM.
"It's up and down," the actor said. "It's sort of a really surreal time to be going through the grieving process just because the world is so crazy right now.

"We are dealing with it as best we can as a family and just taking it — at this point, it's not really day by day, it is hour by hour, to maintain your sanity."
Like so many people who have experienced loss during this pandemic, Santos's family has had to grieve in isolation.
"The loss of my stepfather is devastating but what has gutted me is that this pandemic has kept my family apart," he wrote on Instagram. "We were unable to be with him during his last days. I can't hold my mother as she mourns her husband. I can't hug my brother as he contemplates a world without his father. I can't wipe away the tears from my nephews' eyes."
Some of the celebrities who offered condolences to him on Instagram included This Is Us star Chrissy Metz, D'Arcy Carden from The Good Place, and his Crazy Rich Asians costar Ken Jeong. "Sending all our love," wrote Jeong.
In his interview with AM to DM, Santos spoke about the outpouring of love he has received since that post and how it has helped him get through this difficult time.
"I just want to basically just thank everybody," said Santos. "I received so many messages of just love and support when my family was going through this tragedy and I just want to echo that back to everybody else."
"As cheesy as it sounds, we're all in this together, but we really are, you know, this is the time where we can't let our differences get to us, we have to stick together to get through this," added the actor.
In his Instagram post, Santos also mentioned that his mother was also fighting the disease, but he had some good news on that front.
"Thankfully my mom has recovered from the virus," he told AM to DM. "We have to celebrate any victory that we get these days."