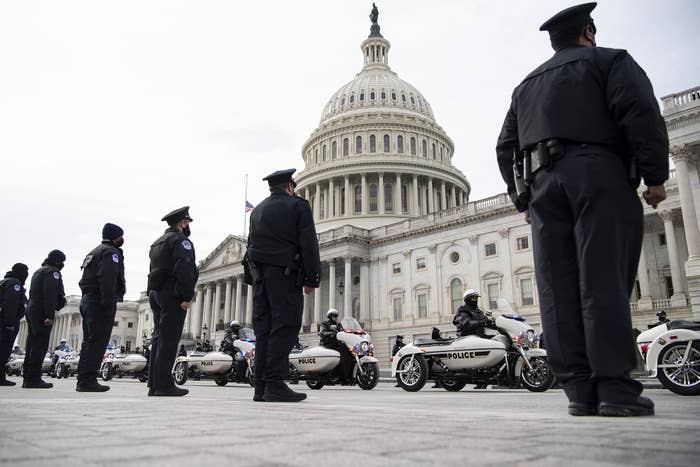 Members of Congress have been falling over themselves to praise the bravery of the Capitol Police since the attack on Jan. 6.
But behind the scenes, Capitol Police have been casting ballots in a vote of no confidence in their management. Both Democrats and Republicans have lauded officers for the quick thinking that saved a number of members of Congress and then–vice president Mike Pence from the rioters, but officers are angry precisely because they were forced to improvise after their managers failed to plan for the attack.
BuzzFeed News has been speaking to Black Capitol Police officers in the wake of the attack on the Capitol. They want more than just to be called heroes. They want Capitol Police leadership and Congress, which directly oversees the department, to radically change its culture, which they said, directly led to the catastrophic failure to prepare for the Capitol riot. The officers said they believe the first step to overhauling the agency would be introducing transparency and accountability. As part of the legislative branch, the agency isn't subject to Freedom of Information requests. What little was known about the department before Jan. 6 largely came from lawsuits alleging discrimination filed by women and minority officers against the agency.
Officers are casting their no-confidence ballots during a 24-hour period that started at 3 p.m. on Thursday. The ballot asks officers to vote on six chiefs, who together represent nearly all of the department's high command. The vote is nonbinding and cannot by itself remove top brass. But for one veteran officer, the vote is key to moving the conversation from what he described as "political theater" to real accountability that would force department leadership and Congress to address officers' concerns.
On Thursday morning, shortly before the no-confidence vote started, House Speaker Nancy Pelosi announced that officers who were on duty on the day of the attack would receive the Congressional Gold Medal, the highest honor bestowed by Congress.
For one veteran officer, who spoke to BuzzFeed News last month and whose story was highlighted by Rep. Jamie Raskin in the Democrats' opening statement during the impeachment hearing, news that he and his colleagues would be receiving the Congressional Gold Medal was "like a shot of adrenaline in the arm" after an emotional roller coaster of a week.
But for another, the medal felt like a distraction to officers' efforts to use the no-confidence vote to call for substantive change within the department.
"We are paid to do a job. We don't much want or need the recognition," said the veteran with nearly two decades on the force. "If they wanted to show their appreciation, there are a myriad of other ways to do that."
The officers are still dealing with the physical and emotional aftermath of the attack, which saw a colleague, Brian Sicknick, killed in the line of duty.
"Everyone would trade any of this in for Sicknick back, as well as everyone who is out with their various injuries. Political theater is part of the game; it just feels slimy and disingenuous," he said.
The officer also said he felt conflicted during the memorial service for officer Sicknick last week. "We were being utilized as props. They had us in the plaza and they're taking pictures and all this stuff," he said. "I have nothing but respect for him and only want to honor his memory, but it just didn't sit right with me or a lot of officers I spoke to."
"We had a lot of brass that was out there front and center, but where were you at on the 6th?" he said. "Where were you at when people needed you to make decisions?"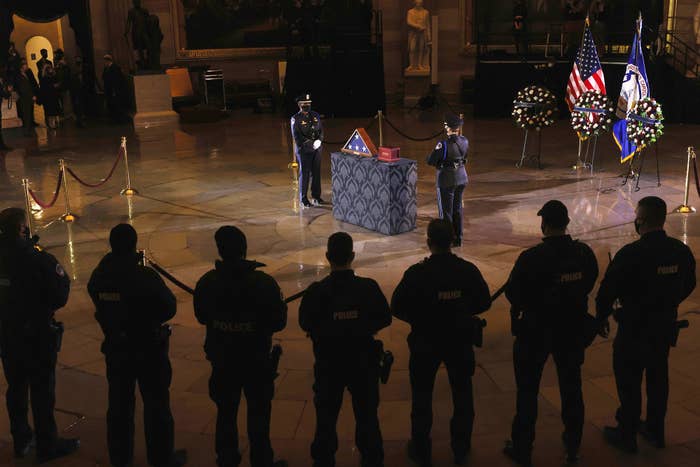 On the ballot this week is acting Chief Yogananda Pittman, Assistant Chief Chad Thomas, acting Assistant Chief Sean Gallagher, Deputy Chief Jeffrey Pickett, Deputy Chief Eric Waldow, and Deputy Chief Timothy Bowen. In a memo to rank-and-file officers, the union's executive board explained why they were targeting those chiefs: "we cannot begin to address the systemic failures of the Department without new leadership," the memo said. "We have leaders in this Department. Leaders that we trust and who will work with the union to make the changes we need to make. These leaders exist, but not at the Chief, Assistant Chief and Deputy Chief level."
The veteran officer, who has been with the department for nearly two decades, plans to vote "no confidence" for all six of the chiefs on the ballot this week. "Yesterday we had a chief come to the roll call. I've never seen this man in my life," he said. "These people sit in a glass tower, you never see them, and now this happened, we can't keep them away. It just seems so disingenuous and blatantly screams of 'I'm just trying to protect myself from whatever's coming down the pipeline.'"
The officers who spoke to BuzzFeed News were split on who needed to go.
One officer said he backed the new acting chief, Yogananda Pittman, but would be voting "no confidence" for three chiefs who he said were "nowhere to be found" on Jan. 6. But he isn't confident that even removing those chiefs would be enough to change a culture in which he said they're treated like glorified TSA agents by members of Congress who bristle at them doing even basic police work, often demanding that officers wave them and their visitors through security checkpoints. For the culture to change, he said, members of Congress would have to start respecting officers.
Another officer, who has been with the department for about a decade, said the only thing he knew for sure was he'd be casting a vote of no confidence in one of the deputy chiefs, whom the officer also said he didn't hear from or see on Jan. 6.
"He's been a chief for years, and no one knows who he is; he's never spoken to anyone," he said of Thomas. "If he didn't have a uniform on, no one would even know who he was."
In a memo sent to rank-and-file officers on the eve of the vote, acting Chief Yogananda Pittman said she understood officers' "anger and frustration." And she added that while the vote was nonbinding, "it does speak to the sentiment and concerns of some of our officers."
In response to BuzzFeed News' questions, a department spokesperson pointed to the chief's statement. BuzzFeed News separately reached out to the six chiefs on the ballot but none responded to questions about the vote.
But for some of the officers, Pittman's words rang hollow. Before being promoted to acting chief after the departure of former chief Steven Sund, who was forced to resign because of the department's flat-footed response to the insurrection, Pittman was head of its intelligence operation.
In a closed-door briefing with the House Appropriations Committee in late January, Pittman conceded that her department had failed to adequately prepare for the attack on the Capitol.
"By January 4th, the Department knew that the January 6th event would not be like any of the previous protests held in 2020," read Pittman's testimony. "We knew that militia groups and white supremacists organizations would be attending. We also knew that some of these participants were intending to bring firearms and other weapons to the event. We knew that there was a strong potential for violence and that Congress was the target."
For one veteran officer of nearly two decades, that admission alone should result in all of management's removal. "They had information and refused to disseminate it, and they put countless officers' lives at risk … This is what the chief admitted to the committee."
In her note to officers this week, Pittman promised they'd receive the tools and resources they need to prevent another failure like Jan. 6. But for the veteran officer who is planning to cast votes of no confidence in all six chiefs, more training and resources isn't the issue.
"They're just going to throw a bunch of money at some things and we'll do a bunch of training and they'll hire some outside agency to give us this new tool or whatever the hottest training of the year is and they'll charge the department an exorbitant amount of money to do it," the officer said.
For this officer, the only way to move the department forward is to get rid of its current leadership.
"I do not think that's a panacea," he said, but "there's no way we can move forward with the people that were in charge when [the attack] took place."
He said he and his colleagues have been struggling with moving on. He himself didn't realize just how angry he was until last weekend, when he saw his mother for the first time and they started talking about what happened on Jan. 6. He said he could see the pain and horror on her face.
"It just hit me in a whole new way. I'm normally a very positive, jovial person, but I've been in a rage since that day," he said. "It's not a good situation to be in a workplace and to not trust the people who are making decisions that can determine if I go home or my coworkers go home."
"It's a terrible place to work right now, and that's not what you want to have with people that carry guns for a living."