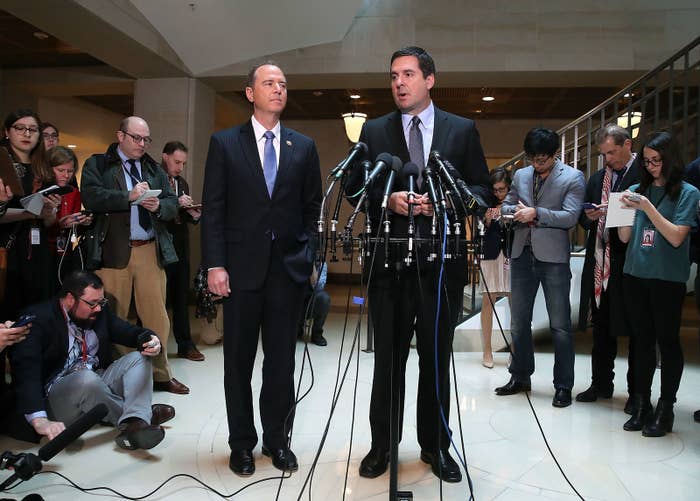 Once known as one of the last vestiges of bipartisanship on Capitol Hill, the Russia investigation has brought the House Intelligence Committee to the brink, with Republicans and Democrats openly feuding and accusing each other of leaking sensitive information to the press. But even as Republicans on the committee bring the controversial probe to a close, members disagree on the way forward, with some worried the panel's credibility is permanently damaged.
It's a shocking, and some say worrisome, fall for a committee that typically conducts quiet, bipartisan oversight of the country's secretive intelligence agencies, authorizing both spending and surveillance laws, and keeping tabs on national security issues far beyond the threat posed by Russia. As President Donald Trump plans a sit-down with North Korea and the threat of Russian interference looms over the 2018 midterm elections in November, members say they're worried about the committee's ability to continue providing needed oversight given the infighting that has engulfed them.
"It used to be a prized committee that people fought to get appointed on and I know I was honored to be chosen to get on it," Alabama Rep. Terri Sewell, a Democrat on the committee, said this week. "I'll tell you, the first couple years were very nonpartisan, as you would expect. But this whole Russia investigation has, to me, made the committee reach a whole new low."
"I don't know," Sewell said dejectedly when asked how committee members might repair their relationships. "I've always been one who's been pretty quiet publicly, but quietly working behind the scenes in a bipartisan manner, and, you know, I would like to think that this won't cause irreparable harm, but I think it has to the trust factor."
On Monday night, Texas Rep. Mike Conaway, the Republican who has led the committee's investigation into Russian interference in the 2016 election, announced that Republicans were wrapping up the troubled probe and that they had found no evidence of collusion between the Trump campaign and the Russian government. The move infuriated and surprised Democrats, who accused their GOP colleagues of cutting the investigation short to protect Trump, whose campaign has been under investigation by congressional committees and special counsel Robert Mueller since last year.
"While the Majority members of our committee have indicated for some time that they have been under great pressure to end the investigation, it is nonetheless another tragic milestone for this Congress, and represents yet another capitulation to the executive branch," Schiff said in a statement Monday. "By ending its oversight role in the only authorized investigation in the House, the Majority has placed the interests of protecting the President over protecting the country, and history will judge its actions harshly."
On Tuesday, Schiff told reporters that he "can certainly say with confidence that there is significant evidence of collusion between the campaign and Russia." Schiff, however, noted that the question of whether that alleged collusion amounted to a criminal act will be left to Mueller, who has already indicted Trump's former campaign chair, national security adviser, and campaign foreign policy adviser, among others, as well as more than a dozen Russian nationals.
It was the latest in a series of public disputes that have rocked the committee and, some members say, undermined the credibility of a panel charged with overseeing a host of issues, from the nuclear threat posed by North Korea to US drone strikes in Yemen. One of only two congressional committees tasked with oversight of the broader intelligence community, the 22-member panel has jurisdiction over the activities of the CIA, NSA, FBI, and more, including several lesser-known intelligence agencies. Soon, the committee will take up the yearly Intelligence Authorization Act, which sets limits on how the intelligence agencies can spend their funding.
"Now we're basically a political forum for people to leak information to drive the day's news."
Florida Rep. Tom Rooney, a Republican member of the committee who appeared on CNN on Monday after Conaway's announcement, said he has supported ending the investigation for some time because the committee has "lost all credibility."

"We have gone completely off the rails, and now we're basically a political forum for people to leak information to drive the day's news," said Rooney, who announced his plans to retire from Congress last month.
At the center of the maelstrom is committee chair Devin Nunes, a California Republican and Trump ally who said he would step aside from the high-profile probe in April amid an ethics investigation into whether he had leaked classified information. The investigation, which ultimately cleared Nunes, followed an apparent attempt to defend Trump after the president tweeted that former president Barack Obama had had his "wires tapped" in Trump Tower before the election. Though other congressional Republicans distanced themselves from Trump's claim, Nunes, citing unknown sources, held a press conference to declare that members of Trump's campaign were legally surveilled and that it was "possible" the president's communications were picked up through incidental collection. The source was later revealed to be someone at the White House, prompting Schiff to call for Nunes' recusal from the investigation.
Nunes remained involved in the investigation, however, surprising Democrats on the panel with what promised to be an explosive memo in January alleging FBI abuse of spying laws during its Russia investigation. Trump allowed Republicans to release the classified memo, despite vocal objections from the Department of Justice and FBI. Then Democrats followed up with their own, partially redacted memo that attempted to rebut Republicans' allegations.
Republicans on the committee have defended Nunes and argued that Democrats have acted inappropriately. "As far as I know, all the leaking, at least 95% of it, is coming from the Democrats, not from us. It's really disgraceful," New York Rep. Peter King said last week. "As far the committee, yeah, this is a rough time, it's a rough investigation. Hopefully when it's over we can come back together again."
Most recently, Democrats blasted Nunes for allegedly leaking text messages belonging to Sen. Mark Warner, the vice chair of the Senate Intelligence Committee, to Fox News. The texts showed him attempting to secure an interview with Christopher Steele, the author of a dossier that alleged years of Trump-Kremlin links. The dossier was first published by BuzzFeed News last January after security officials had briefed then-president Barack Obama and Trump about it.
The leaders of the Senate Intelligence Committee, which is conducting the last truly bipartisan Russia investigation on the Hill, reportedly concluded that Republicans on the House Intelligence Committee were behind the leak, and spoke with House Speaker Paul Ryan about their concerns about the panel.
Schiff appeared to agree with the conclusion, but stopped short of calling for Nunes' removal as chair of the committee, instead urging him to fully recuse himself. "It's been a continuing problem for our committee since the 'midnight run' to the White House, the memo business was just a continuation of that, and Mr. Conaway and I have been able to work together very well," Schiff said. "I think we could continue this investigation in a bipartisan way if we are allowed to do so, but the chairman never really stepped aside or recused himself."
Other Democrats have directly called for Nunes' ouster, however. "I think Devin Nunes should have stepped down from the chairmanship a long time ago," said Texas Rep. Joaquin Castro. And House Minority Leader Nancy Pelosi urged Ryan to replace Nunes after Democrats on the committee accused Republicans of secretly changing their memo before sending it to the White House for review.

Ryan's office did not answer questions about the leadership of the committee. "After more than a year investigating Russia's actions in the 2016 election, we are well into the primary season for the 2018 elections and experts are warning that we need to safe guard against further interference," wrote AshLee Strong, a spokesperson for Ryan. "That's what this next phase is about and we hope Democrats will join us in seeing this through."
"There's important bipartisan work to be done including the Intel reauthorization and we're confident the committee will see to it," Strong said.
Nunes' office did not respond to a request for comment.
Utah Rep. Chris Stewart said Nunes "has done an incredible job under very divisive circumstances."
"I think he's threaded that needle just right and he's the perfect leader for our committee," Stewart said, adding that the accusation that Republicans leaked Warner's texts was "B.S."
Some Republicans have also accused Schiff and other Democrats on the committee of using frequent television appearances to advance their careers. Schiff has brushed off those criticisms, telling Politico, "There's a great public hunger for information about the investigation." Schiff, unlike Warner, often fights with the president on Twitter as well.
The bickering between members isn't limited to the public sphere, though. Interview transcripts the committee has released show that the arguing continues in private.

"Would the gentleman like to question the stenographer again?" Nunes asked Schiff at the end of a closed-door meeting in early February, referencing Schiff's demand at a previous meeting that a transcript be released the next day.
"I have every confidence in the stenographer," Schiff replied. "She is not the one I'm worried about in this room."
Moreover, Republicans on the committee are reportedly hoping to build an actual wall between GOP and Democratic staff members in the committee's office space. "I swear to God I didn't know that," Rooney told CBS at the time. "The level of trust and the level of everything down there is — it's poison. It's absolute poison down there."
One of the only times Republicans and Democrats worked together in the investigation was in January when the committee decided to subpoena former top White House strategist Steve Bannon. Members decided to subpoena Bannon on the spot after he refused to answer questions about the transition period and his time in the administration, citing the president's right to executive privilege. Bannon did the same thing during a second interview and the committee appeared poised to initiate contempt proceedings against him. "He's done the impossible; he's brought our committee together," Schiff said at the time.
But the committee hasn't moved forward on Bannon and now, with the investigation winding down, they appear to have abandoned the move to force him to comply.
Next, the committee will wrangle with writing final reports, declassified versions of which it will eventually release to the public. Though members on both sides had initially hoped to release a sole, bipartisan report, that prospect likely vanished Monday night with Republicans' announcement that they were ending the investigation and had already written more than 150 pages of a draft report with more than 40 "initial findings." And there appears to be disagreement even among Republicans about those findings. The committee is scheduled to vote to adopt the report Thursday.
Democrats say they will draft their own report, and released a 22-page status report Tuesday. Schiff said Democrats would continue the investigation as best they could without Republicans onboard, citing a number of witnesses who have agreed to cooperate voluntarily. The Democratic report, Schiff said, will include findings from the investigation, but also point out the ways in which they feel the Republican-led probe failed to go beyond the surface. Schiff has pointed to Republicans' unwillingness to request or subpoena financial and other documents from key witnesses, and to pursue certain investigative leads, such as money laundering.
But once the committee finishes those reports and the investigation, members say they will need to start working together again to conduct vital oversight — and regain both each other's trust and that of the intelligence agencies.
"The partisanship of the Russia investigation was, I think, driven by the involvement of the White House and the chairman's unfortunate decision to sort of work for the White House," Connecticut Rep. Jim Himes, a Democrat, said this week. "We'd always operated well until then. So it's going to take a little time, but I think we can reestablish trust because the oversight is so important. Now, the chairman has obviously been attacking the FBI, the Department of Justice, the NSA, so [...] I think he's probably got a lot of work to do to reestablish trust."
Conaway, who has led the investigation, declined to comment on how Schiff and Nunes might heal their relationship, but was optimistic about the committee's ability to move forward. "The path forward is we're all professionals," Conaway said. "We all understand that we'll have sometimes deep differences of opinion on circumstances. We're old enough and mature enough to get past that. Once we get a report done and get this behind us, I think those schisms will heal up and we'll get to focus on the stuff that I hope is far less partisan."
Conaway, however, did not rule out having any interest in becoming chair of the committee should Nunes exit, saying only that he is already chair of the House Agriculture Committee and focused on his work there.
Sewell expressed support for the allowing the Senate Intelligence Committee and Mueller "to go on in order to really get to the bottom of this."
But she mostly drew a blank when asked for the solution to her committee's woes. "I think that," she said, pausing, "hope springs eternal."