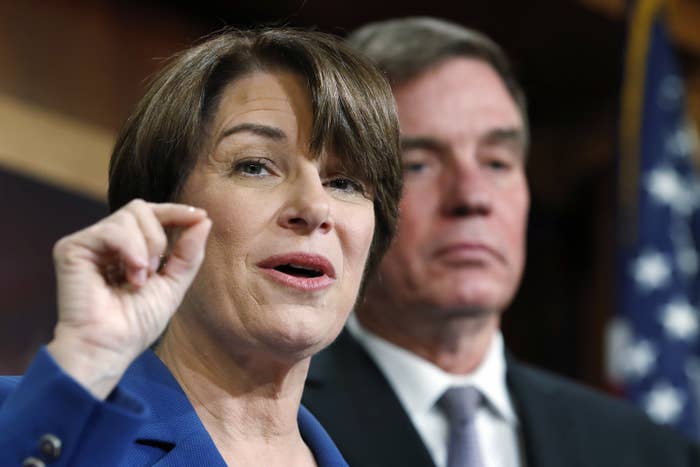 Three senators introduced a bipartisan bill on Thursday that would force social media companies and other websites to reveal more information about political advertising on their platforms, following revelations that a Russian troll operation used ads in an attempt to interfere in the 2016 elections.

The bill, announced by Democratic Sens. Amy Klobuchar and Mark Warner, the vice chair of the Senate Intelligence Committee — which is investigating Russian interference — would apply the same rules to online ads as those for political ads on television and radio and in newspapers. If the bill passes, the rules would take effect beginning on Jan. 1, 2018.
"Russia attacked our elections, and they and other foreign powers and interests will continue to divide our country if we don't act now," Klobuchar said at a press conference announcing the legislation Thursday afternoon, adding: "We understand that election security is national security."

Dubbed the Honest Ads Act, the bill also requires online platforms to maintain a record of any person or entity that spends more than $500 on political advertisements in a single year and contact information. The record also must include a digital copy of the ad, a description of the audience at which it was targeted, the number of views the ad received, and how long it was posted.
The bill also requires online platforms to make that record public, so that people can see information about the online ads they are viewing and who paid for them, Klobuchar said.
The bill also has the support of Republican Sen. John McCain, whose name is already affixed to a major piece of campaign reform legislation — the Bipartisan Campaign Reform Act, or "McCain-Feingold," as it's more commonly known — that passed in 2002. Among other things, the BCRA requires ad makers to identify themselves in radio and television advertising.
"I've been fighting for free and open and full disclosure for the past 25 years," McCain said Wednesday. "This is part of that effort."
McCain said he's not sure whether the bill can garner enough support to pass, but noted, "every time you turn around, there's a new revelation [about Russian interference]."
Facebook revealed in early September that fake accounts and pages linked to Russian entities spent approximately $100,000 on political ads during the 2016 presidential race. Facebook has since turned over more than 3,000 Russian-linked ads to congressional committees investigating interference in the 2016 campaign. The House Intelligence Committee has said it plans on publicly releasing the ads, but has not said when it will do so.
It is illegal for foreign entities to make contributions in US elections, but a lack of rules around online political advertising means the Russian ad activity could go mostly undetected. And Warner said Thursday that the ads he has seen from Russia-linked entities were focused on trying to "sow division" in the US, but were not necessarily promoting a candidate.
Other platforms, such as Twitter, have also come under increased scrutiny recently for Kremlin-linked activity on their sites during the election. Representatives from Facebook, Twitter, and Google are scheduled to appear before the Senate Intelligence Committee on Nov. 1 in an open hearing.
Although the ad cost figure is relatively low, Warner explained earlier in the week that the ads and fake accounts "work in tandem to generate higher placement." He explained that the ads can push users to certain pages or groups, while fake accounts also attempt to direct users to those pages or groups to get them trending, which then attracts more attention.
Warner, who previously blasted Twitter for failing to take the issue seriously enough, told BuzzFeed News on Wednesday that he hopes the bill will attract enough Republican support. But, he said, "a number of people are wanting to wait until the platform companies come in and have their day of testimony."
One of those people is Sen. John Cornyn, the number-two Republican in the Senate and a member of the Intelligence Committee. He cast doubt on the legislation on Wednesday but said he wants to hear what the social media companies have to say before making a decision.
McCain, for his part, says he won't be lobbying fellow Republicans to join him in supporting the bill. "That's not the way I operate," he said. "I operate on what I believe in, and if people agree, then they agree."