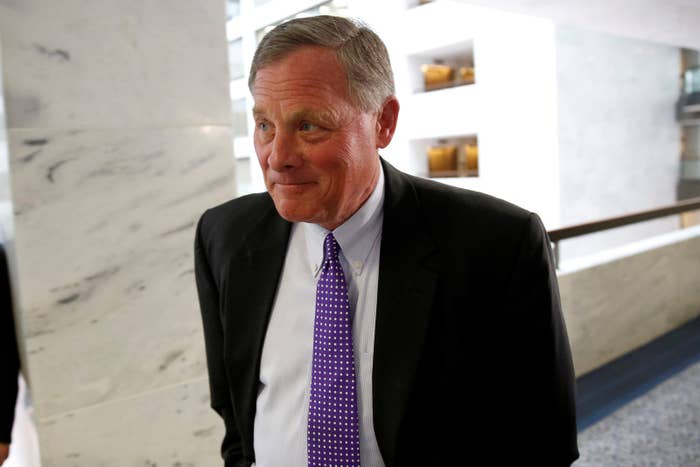 The head of the top congressional committee investigating Russian election interference says that the panel has been in "weekly" contact with lawyers for former British spy Christopher Steele, the author of a dossier alleging years of links between President Donald Trump and the Kremlin.
"We're still in conversation weekly," North Carolina Sen. Richard Burr, chair of the US Senate Select Committee on Intelligence, told BuzzFeed News. Asked if Steele had provided any information to the committee, Burr said: "That continues to be the topic weekly."
Burr said in October that the committee had "hit a wall" in its attempts to investigate the dossier's explosive claims and that efforts to interview Steele had been unsuccessful. BuzzFeed News first published the dossier in January 2017 after security officials had briefed Trump and then-president Barack Obama about it.
Virginia Sen. Mark Warner, the committee's vice chair, said that he was unsure whether the committee was in weekly contact with Steele's attorneys. "I know that we are in communications and we obviously would like to get that hearing," he told BuzzFeed News.
Warner said that interviewing the former MI6 agent has been a priority for the committee, which started its investigation in early 2017. "We've had that goal obviously from the outset," he said.
It's unclear why the interview has failed to take place. Burr simply cited Steele's "cooperation" as the reason. Warner, asked what is preventing the interview from happening, said: "It's a good question, since there were indications earlier on at least through intermediaries that he was willing to have an interview."
Indeed, NBC News reported in October that Steele had expressed a willingness to speak with the committee and that special counsel Robert Mueller had already interviewed the former British spy.
Lawyers for Steele did not return a request for comment.
Burr said that despite failing to secure an interview with him, the committee has learned more about Steele and his firm, Orbis Business Intelligence. "I think that we know a lot more about not just him but his company and the array of clients that they had and how they operate," he said. "I think this is much more comprehensive than anybody would think to begin with."
Steele's name has become a political flashpoint in Washington as lawmakers debate and probe into the dossier's claims. Orbis reportedly has an array of clients, including a firm representing Russian oligarch Oleg Deripaska — which some Republican lawmakers have seized upon to question Steele's work. Two GOP senators, Lindsey Graham and Chuck Grassley, have asked the Department of Justice and FBI to investigate Steele for allegedly making false statements.
But Steele has also counted the FBI among his clients on several occasions. He notably helped the bureau take down high-ranking FIFA officials accused of corruption.

The dossier, composed of intelligence reports Steele — a Russia expert — compiled in the summer and fall of 2016, alleged that the Russians had been "cultivating, supporting and assisting" Trump for years. The dossier also alleged that the Russian government had compromising information on Trump. The dossier was funded in part by the Democratic National Committee and Hillary Clinton's presidential campaign.
At a rare press conference in October, Burr said, "Though we have been incredibly enlightened at our ability to rebuild backwards the Steele dossier up to a certain date, getting past that point has been somewhat impossible." Burr said that he and Warner had offered to meet Steele privately or with the committee.
"The committee cannot really decide the credibility of the dossier without understanding things like who paid for it, who were your sources and sub-sources?" Burr said at the time. He also warned that the committee could "compel" key witnesses to testify if they refused to do so voluntarily.
But Burr acknowledged that the committee would have difficulty forcing Steele to be interviewed. "How do you do that?" Burr told BuzzFeed News. "[He's] not a US citizen, doesn't live here. We're going to whatever lengths we can to get him [to testify]."