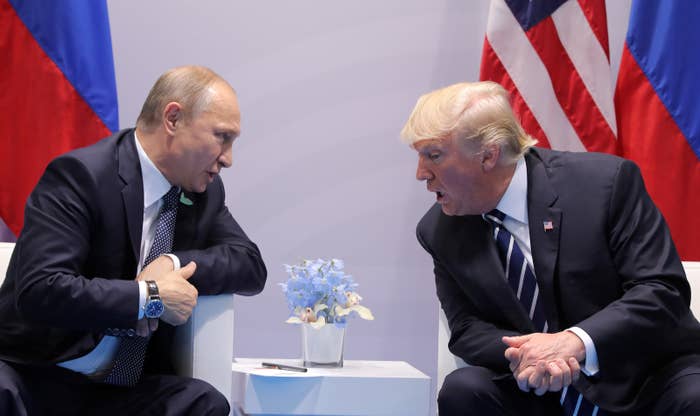 As lawmakers return from their summer break next week, the focus will again return to high-profile congressional investigations into Russian interference during the last year's presidential election — and the role the Trump campaign may have played.

For the Senate Intelligence Committee, which has taken the lead on the investigation, that means continuing work that began earlier this summer and hasn't stopped since: sorting through thousands of documents, sending letters to gather information from people of interest, and interviewing key witnesses behind closed doors throughout September. Those witnesses will include Donald Trump Jr., who has agreed to be interviewed by committee staff, according to a congressional source close to the committee.
A lawyer for Trump Jr. did not immediately return a request for comment.
The president's son has been embroiled in controversy since preemptively revealing in emails he released in early July that he took a June 2016 meeting with a Kremlin-linked lawyer after being promised compromising material about Democratic candidate Hillary Clinton, and being told in an email that it was part of Russia's support for his father. "Seems we have some time and if it's what you say I love it especially later in the summer," Trump Jr. replied in one of the emails. Senate investigators have said they want to speak with all those who attended the meeting.
"In September, I think what you will start to see is, there will be more [committee] staff[-led] interviews, but some of them will be with our more high-profile witnesses — so senior campaign people, Don Jr., that sort of orbit," the source said. Staff from the Senate and House Intelligence committees have already spoken with White House senior adviser and Trump son-in-law Jared Kushner.
Public testimony from certain witnesses will follow, likely beginning in October, but it's unclear at this point what will be made public, the source said. A spokesperson for Sen. Richard Burr, chair of the Senate Intelligence Committee, declined to comment on the investigation.
Trump Jr. has also agreed to a transcribed interview with staff on the Senate Judiciary Committee in their own probe into the Russia matter. A date for that interview has been set, according to the committee, but not announced. The committee has said it wants to eventually hear from Trump Jr. in an open setting too.
Trump Jr. is but one figure in a sprawling web of investigations, news stories, and US intelligence reports about Russian election meddling that began to emerge nearly a year ago. The ongoing investigations in Congress and by special counsel Robert Mueller have since expanded to examine potential collusion between Russia and the Trump campaign, and, reportedly, possible obstruction of justice as well.
In October 2016, a month before voters went to the polls, US intelligence agencies revealed they were confident that "Russia's senior-most officials" were behind cyberattacks on the Democratic National Committee and Clinton campaign chairman John Podesta, and damaging leaks of the stolen data. Then, in early January, two weeks before President Donald Trump's inauguration, intelligence agencies published a declassified version of a report concluding with "high confidence" that Russian President Vladimir Putin himself had "ordered an influence campaign in 2016 aimed at the US presidential election."
According to the analysis from the FBI, the CIA, the NSA, and the director of national intelligence, Russia sought "to undermine public faith in the US democratic process, denigrate Secretary Clinton, and harm her electability and potential presidency." Moreover, the agencies found that the Russians had "developed a clear preference for" Trump.
A few days after the release of the bombshell assessment from the intelligence community, BuzzFeed News published an unverified dossier that had circulated within the upper echelons of the US government alleging that the Russians had been "cultivating, supporting and assisting" Trump. Fusion GPS, the firm that commissioned former MI6 officer Christopher Steele to compile the dossier, is now being questioned by the Senate Judiciary Committee as part of its Russia investigation.
That month, the House and Senate Intelligence committees launched investigations into Kremlin-backed election meddling. In March, then–FBI director James Comey testified to the House Intelligence Committee that the FBI had also in July 2016 opened a counterintelligence investigation into election interference that was also looking at whether the Trump campaign had colluded with the Russians.
Since then, the web has further enlarged and complicated. The FBI investigation is now being led by special counsel Robert Mueller, who was appointed by the Department of Justice following Trump's stunning firing of Comey in May. Now, Mueller is reportedly looking into whether the president engaged in obstruction of justice with regards to Comey's firing.
Though multiple congressional committees are making inquiries into Russian election interference, it's the Senate Intelligence Committee that has made significant progress in its probe. Burr, a Republican from North Carolina, has said his the investigation could wrap up by the end of the year, but admitted that timeline was aspirational. Meanwhile, he and committee vice-chairman Mark Warner, a Democrat from Virginia, have worked on a bipartisan basis and attempted to insulate the inquiry from partisan politics — an issue that has all-but-derailed the House committee's efforts.
Comey emerged a month after his firing to break his silence to the Senate Intelligence Committee in a blockbuster event viewed by more than 19 million people across the globe. Among other things, Comey told the committee that Trump had asked him, alone in the Oval Office, to "let this go," in reference to former national security adviser Michael Flynn, who had been ousted just 24 days into the presidency for misleading Vice President Mike Pence about contacts with the Russian ambassador.
Attorney General Jeff Sessions, who served as a Trump campaign surrogate, was also grilled by the committee in June about his contacts with Russian officials.
And over the course of multiple public hearings with high-ranking US intelligence and law enforcement officials in the spring and early summer, the committee heard, among other things, that Russian hackers targeted at least 21 states last year.
The Senate Intelligence Committee source said there have been discussions about holding more public hearings with witnesses from academia or government on issues related to the probe, but cautioned that nothing is confirmed yet, and added that the committee is likely mostly through with that phase of the investigation.
Before the August recess, Senate Intelligence Committee staff — who have been reviewing, behind the scenes, thousands of documents from everyone from the Trump campaign to the Treasury Department — began interviewing key players from the Trump campaign who have been linked to Russia in the press, including Kushner. He spent nearly two hours before Senate investigators after providing a public statement listing and explaining contacts with Kremlin-connected figures, and asserting that he had not colluded with Russia, nor did he know of anyone in the campaign who had.
But the summer break has not been devoid of Russia-related headlines. The Wall Street Journal reported earlier this month that the FBI raided the home of Paul Manafort, Trump's former campaign chairman. The New York Times reported this week that a Trump business associate, Felix Sater, had written to Trump's longtime lawyer saying he would enlist the help of Vladimir Putin to build a Trump Tower in Moscow. "I will get Putin on this program and we will get Donald elected," Sater said in an email to Trump lawyer Michael Cohen, according to the Times. The project was later abandoned.
On Thursday it was reported that Cohen, through his lawyer, had written to Congress to deny allegations concerning him in the Steele dossier, which alleged that he had met with Russian officials. Cohen's attorney also said in the letter that congressional committees should not call on Cohen to testify until they can independently corroborate the report and that they believe evidence to support the dossier's claims about Cohen does not exist.
Also on Thursday, NBC News reported that Manafort's notes from the June 2016 meeting with a Kremlin-connected lawyer made references to both the Republican National Committee and political contributions near one another.
When they return to the Capitol next week, lawmakers will almost certainly be asked about the latest news revelations and how they'll figure in congressional Russia investigations, which continue to steam ahead, even as the president has repeatedly branded the probe a "witch hunt."