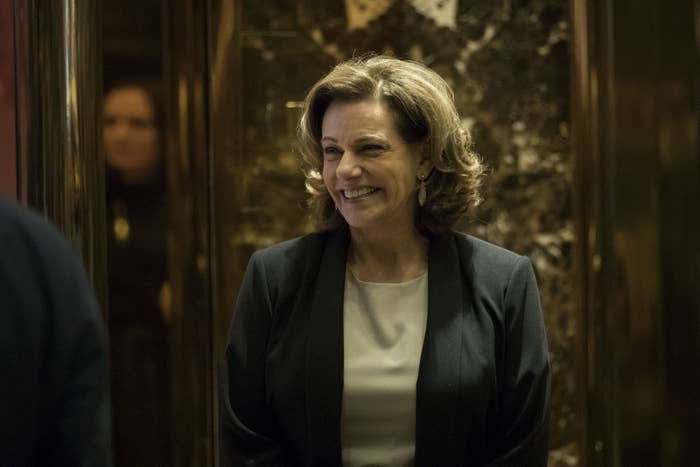 The ambassadorial nomination of a former top national security adviser to President Donald Trump has stalled in the Senate, following a report that she may have misled lawmakers about contacts with the Russians.

The Senate Foreign Relations Committee approved the nomination of KT McFarland, who previously served as deputy to embattled former White House national security adviser Michael Flynn, to be ambassador to Singapore in September. GOP leadership would have to bring her nomination to the Senate floor for a final confirmation vote, but that appears increasingly unlikely to happen anytime soon after a recent report from the New York Times raised questions about whether McFarland was forthcoming in her testimony to the committee this summer.
"I would say it's on pause," said Sen. Bob Corker, the committee chairman, on Tuesday. Earlier in the day, Corker said the nomination was "frozen."
A spokesperson for Senate Majority Leader Mitch McConnell confirmed there are no immediate plans to bring McFarland's nomination to the floor, noting that McFarland's nomination was among dozens awaiting confirmation due to opposition from Democrats. But Corker, a powerful Tennessee Republican, is now among those casting doubt on the nomination.

On Friday, Flynn — whom Trump ousted 24 days into his presidency, nominally because he mislead the vice president about his communications with Russia — pleaded guilty to lying to the FBI about those contacts. Later the same day, the New York Times reported that emails from McFarland show she was among a handful of Trump transition team officials who were aware of Flynn's communications with Russian Ambassador Sergey Kislyak about new US sanctions at the time.
McFarland's reported emails appear to contradict what she wrote in response to a question that New Jersey Sen. Cory Booker submitted following her July confirmation hearing. The question read, "Did you ever discuss any of General Flynn's contacts with Russian Ambassador Sergey Kislyak directly with General Flynn?"
"I am not aware of any of the issues or events as described above," read McFarland's response, which was first reported by the New York Times and obtained by BuzzFeed News.
"Recent developments suggest that Ms. McFarland gave false testimony to the United States Senate on a matter as significant as communications between the Russian government and the Trump transition team," Booker said in a statement this week.
Maryland Sen. Ben Cardin, the top Democrat on the Foreign Relations Committee, said Tuesday that he wants McFarland to "clarify some of the information that she made available to our committee." Cardin said his office had spoken with Corker's staff about seeking an explanation from McFarland.
"We're concerned that there hasn't been a full explanation of the response she gave our committee in regards to contacts with Russians," Cardin said.
Corker declined to say whether he also wants McFarland to clarify her testimony. "You know, to be honest, I haven't even looked back at her testimony," he told reporters on Capitol Hill. "I realize that what's happened over the last couple days is an issue and I would imagine she believes it's an issue, and you know, right now it's— the ambassador to Singapore is not the biggest issue we're focused on right now, not to show any disrespect to Singapore."
Virginia Sen. Mark Warner, the vice chair of the Senate Intelligence Committee, said Tuesday that he wants to hear from McFarland as part of the committee's investigation of Russian election interference as well. Warner specifically cited what "appears to be contradictions in her story and obviously some of those comments she's made in emails that have been released."
North Carolina Sen. Richard Burr, the chairman of the Intelligence Committee, declined to comment on the committee's interview plans but said McFarland "probably falls into [the] category" of "people that we think might be tied to something that's of interest and in our lane."
McFarland's nomination had already hit a roadblock in the Senate due to opposition from some Democrats, which had thus far prevented the full Senate from confirming McFarland by unanimous consent — something the chamber has done in recent months for noncontroversial nominees.
"A number of Democratic members had concerns," Corker said of McFarland specifically. "And so obviously this will raise additional concerns, and we'll either have to deal with it or it won't happen."
In September, before the Foreign Relations Committee voted 12–9 to advance McFarland's nomination, Cardin said he had concerns about "her past record" and would be voting against her nomination. Connecticut Sen. Chris Murphy was the only Democrat to vote in favor at the time.
"I appreciate the nominee's efforts before the committee to explain her substantial record of inflammatory statements," Cardin said, according to a meeting transcript. "This includes stating that Vladimir Putin is the one who really deserves the Nobel Peace Prize for his work in Syria; saying that waterboarding, even if it is torture, it is probably worth doing; or saying of Saudi Arabia, 'They are Arabs. They are not going to say to your face something that they know is going to upset you.'"
Cardin also said he had "concerns regarding the nominee's involvement as deputy to General Flynn during the transition process," but did not elaborate at the time.
The White House did not immediately respond to a request for comment.