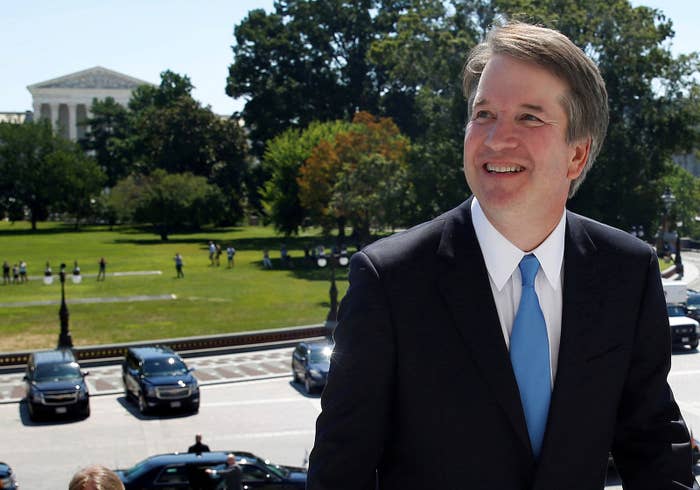 An October court case deciding whether an undocumented teenager in US custody should be allowed to have an abortion could have implications for the Senate confirmation of President Donald Trump's nominee for the US Supreme Court, Judge Brett Kavanaugh.

Kavanaugh's late 2017 dissent to a US Court of Appeals for the DC Circuit ruling drew criticism from both anti-abortion and pro-abortion rights advocates, who, on the one hand, accused Kavanaugh of overcompromising and undermining the Trump administration and, on the other, of undermining Supreme Court precedent protecting the right to an abortion.
The future of Roe v. Wade, the 1973 case legalizing abortion throughout the US, has been the central issue on advocates' minds on both sides of the abortion debate since Justice Anthony Kennedy announced his retirement. It is key to the debate over Kavanaugh's nomination and could be pivotal to his confirmation.
In the past, Kavanaugh has refused to give his personal opinion on whether Roe v. Wade was rightly decided, saying only in his 2006 DC circuit confirmation hearing that he would follow its precedent "faithfully and fully" if he were confirmed. Republican Sens. Lisa Murkowski and Susan Collins, two key swing votes, have expressed support for Roe v. Wade, and their votes hang in the balance for his confirmation.
The October 2016 case that's gaining so much attention in the hours after Kavanaugh was nominated, Garza v. Hargan, was a high-profile lawsuit brought late last year by the American Civil Liberties Union against the Trump administration. The case centered on the Office of Refugee Resettlement — which shelters undocumented minors — blocking pregnant teenagers in custody from obtaining abortions.
The majority of the judges on the case ruled to let the teenager obtain an abortion, and she did the following day, but Kavanaugh wrote a dissenting opinion. In the dissenting opinion, Kavanaugh said his colleagues had "badly erred" in their ruling and called it "a radical extension of the Supreme Court's abortion jurisprudence" that created a "new right for unlawful immigrant minors in U.S. government detention to obtain abortion on demand."
Also in his dissent, Kavanaugh noted that the government has an interest in "favoring fetal life, protecting the best interests of a minor, and refraining from facilitating abortion."
That has abortion rights advocates arguing that he would rule to overturn Roe v. Wade, or to otherwise chip away at abortion rights as cases on the topic reach the Supreme Court.
Democratic Sen. Patty Murray told BuzzFeed News Tuesday that she found Kavanaugh's dissent in the Garza case "extreme" and "frightening."
"He made it clear in his court case that he thinks someone else should make those [health] decisions for you," she said. "If he is confirmed, five men on this court will be empowered to overturn Roe v. Wade and take us back to the days when women didn't have access to safe and legal abortions."
But some anti-abortion advocacy groups and conservative critics of Kavanaugh say they too are concerned about his dissent in Garza, arguing that it was overcompromising and even detrimental to the Trump administration's arguments in the case.
The Justice Department's lawyers avoided saying whether they believed undocumented immigrants have a right to protection under the constitution, including abortion rights. But throughout the case, Kavanaugh wrote in his dissent that administration "assumed" that an undocumented teen in federal custody has a right to an abortion.
That's a sticking point for anti-abortion rights groups, many of whom point to Karen Henderson — a fellow judge on the case — who wrote in her own dissent that undocumented minors do not have a constitutional "right to an elective abortion."
On Tuesday night Phillip Jauregui, president of the conservative organization Judicial Action Group (JAG), came out strongly against Kavanaugh, calling him "Kennedy 2.0" in an impassioned press release and posting this phrase on the homepage of the group's website: "We Believe it is a Bad Risk for Pro-Life Conservative Senators to give Kavanaugh a Lifetime Position on the Supreme Court."
This is not unexpected. In a June memo JAG criticized Kavanaugh's decision on the Garza case, writing that he "went too far" in his dissent and that he "encouraged the government to assume — as he himself assumed — that the minor did have a constitutional right to an abortion."
The memo called his dissent less "principled … on the issue of life" and less "constitutionally principled" than Henderson's.
Tom McClusky, vice president of government affairs of the anti-abortion group March for Life told BuzzFeed News Tuesday that his group has not joined other major advocacy organizations like Susan B. Anthony List and Family Research Council in endorsing Kavanaugh in part because of the Garza case.
"I think at the time that undermined the case that the government was trying to bring," McClusky said of Kavanaugh's dissent.
"Other groups sent out endorsements the second the news hit, but we're sitting back and talking to senators who are going to ask him about this case and the reasoning behind that ruling," McClusky said.
Penny Young Nance, the president of the conservative, anti-abortion group Concerned Women For America told BuzzFeed News in a text message that she agreed with Kavanaugh's "final analysis" on the Garza case, "but not how he got there," later adding that she does not believe the undocumented minor has a right to an abortion.
The firmly anti-abortion group American Family Association came out against Kavanaugh as well on Monday night. In a press release the organization cited his opinion on Garza, as well as other opinions on "religious liberty, Obamacare, and issues of life," telling their supporters to ask their Senators to vote against him in his confirmation.
But Nance added that despite this she believes that Kavanaugh will "judge cases as based on the text of the Constitution and informed by history, tradition and precedent."
Meanwhile, abortion rights advocates are continuing to raise alarm bells about Kavanaugh, arguing that his dissent in Garza shows a disregard for major Supreme Court precedent on abortion access in general. In addition to Roe v. Wade, they also point to a 2015 Supreme Court ruling — decided by Kennedy, the justice Kavanaugh is nominated to replace — emphasizing that an "undue burden" cannot be placed on a woman's access to abortion.
Planned Parenthood Vice President of Public Policy, Litigation, and Law Helene Krasnoff said in a statement that Kavanaugh's dissent in Garza "sheds a disturbing light on Kavanaugh's views of women's rights to make decisions about our own bodies," adding that it demonstrates Kavanaugh has "already used the courts to block women from accessing ... safe, legal abortion."
UPDATE
On Wednesday afternoon the American Family Association released a statement saying that after "hearing the passionate defense of Judge Kavanaugh by many we consider to be friends in the pro-life movement," AFA changed their minds about opposing his nomination.
"We have no plans to fight President Trump on this nomination," the short statement read. "We hope that our concerns prove to be unfounded."