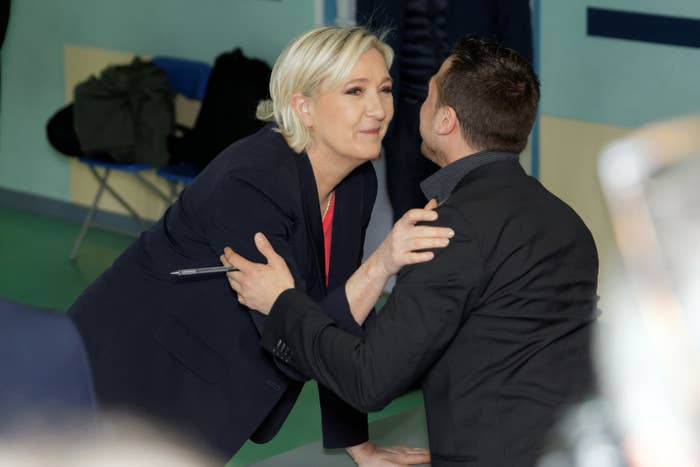 BuzzFeed News and nearly a dozen other news outlets were barred from attending the election night event of France's far-right political party — the National Front, or FN — hours before its candidate was defeated.
BuzzFeed received credentials to attend the FN's party for the first round of France's elections last month. But this time around, a spokesperson for the party told BuzzFeed News over text that there was "very limited space."

Between the two rounds of elections, BuzzFeed published multiple interviews and investigations into writings of FN candidates, exposing racist, homophobic, and anti-Semitic views.

Later on Sunday, the centrist Emmanuel Macron defeated FN candidate Marine Le Pen in a landslide.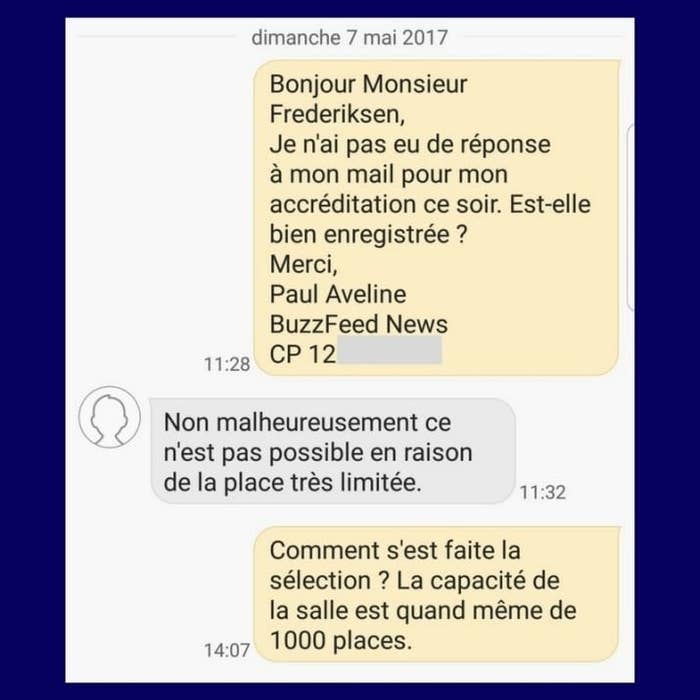 Other media outlets — including Politico, Charlie Hebdo, and Mediapart, among many others — were also denied credentials and told that there was no space for them.
The website for the party's event space says the room has a capacity for 1,000 people. Shortly after BuzzFeed France published a French-language article about being banned from the party, the venue's website was not running. The venue did not immediately respond to BuzzFeed News' request for comment.

Alain Vizier, the FN's communication director, told Le Monde that the FN had to refuse half of the requests for media credentials it received.
Later in the day the credential denials escalated, resulting a number of journalists actually being kicked out or forcibly removed from events by FN security. One photojournalist for the French magazine Society was photographed being pushed out of the event, and said that FN security guards kicked him in the knees. His colleague, who was writing up the event, said he was kicked out shortly after his photographer.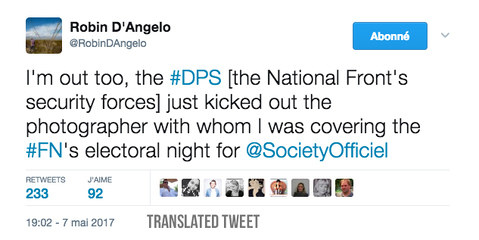 Between the first round of elections and Sunday's final elections, BuzzFeed News published multiple investigations into the racist, homophobic, and anti-Semitic behavior of multiple FN affiliates, including the racism of FN candidate Bernard Sironneau, and former FN President Jean-François Jalkh denying the Holocaust.
Following an interview with BuzzFeed News, FN candidate Catherine Blein was suspended by her party and local French elected officials pressed charges against her for hate speech.


A number of French media outlets decided to boycott the event in solidarity — or fraternité — with the banned outlets.