After breaking world records for longest solo flight and longest non-stop flight, André Borschberg safely landed a single-seat, solar-powered plane in Hawaii after a five-day journey from Japan, the AP reported.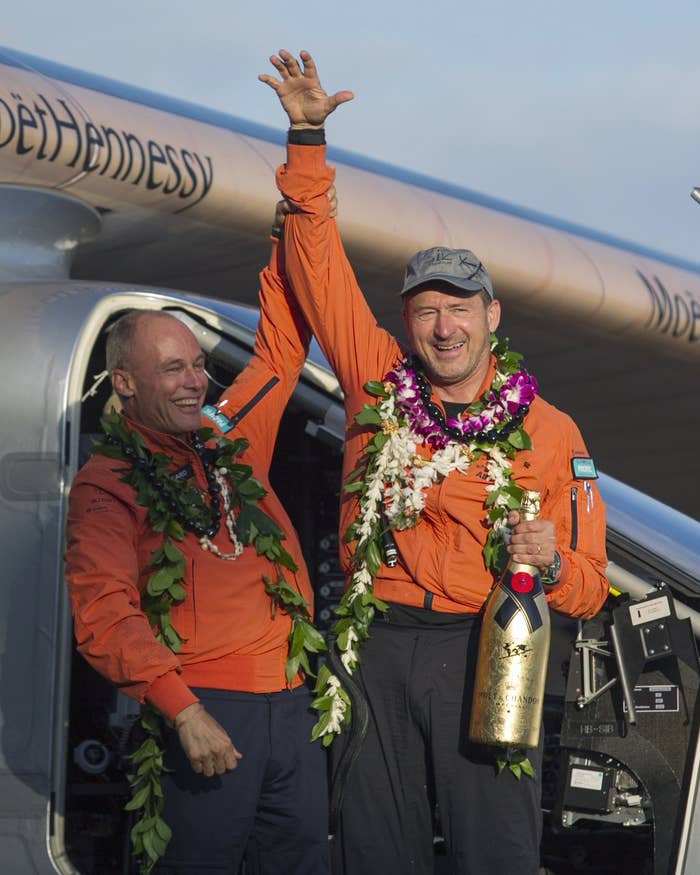 Borschberg landed at a small airport in Kalaeloa, just outside Honolulu, clocking a total of 120 hours in flight from Nayoga, Japan.
The plane, called the Solar Impulse 2, is expected fly from Hawaii to Phoenix, Arizona, and from there to New York.
"Nobody now can say that renewable energies cannot do the impossible," Borschberg told the AP.
The Solar Impulse 2 first took off from Abu Dhabi in March with the goal of taking the first solar-powered trip around the entire world.
The Japan to Hawaii trip is the eighth leg of a 13-legged journey across six continents. The two pilots, Borschberg, 62, and Bertrand Piccard, 57, switch off piloting each leg by themselves.
The leg that is expected to be completed on Friday was the longest and most dangerous part of the journey yet. When BuzzFeed News interviewed the pilots back in May, Borschberg talked about the risky flight.
"This is the exciting part, this is the proof," said Borshberg. "This is the unknown."
The plane runs entirely on solar power, which simultaneously keeps the plane running and charges a battery for night-flying. If there was not enough sun at some point in the cross-ocean journey, the plane would have stopped functioning in mid-air.
"But we have a life raft," Borschberg said calmly.
Because of this danger, the plane was delayed in Japan for nearly a month behind schedule before finally taking off last week.
"The great advantage of a plane with no fuel is that you never need to land for refueling," Piccard told BuzzFeed News. "But of course, it's not good if you are on a schedule," he joked.
After the plane arrives in Hawaii, Piccard will take over and fly it the nearly 3,000 miles to Pheonix, Arizona.
Until Thursday, the record for longest solo flight was held by Steve Fossett who flew 76 consecutive hours in 2006.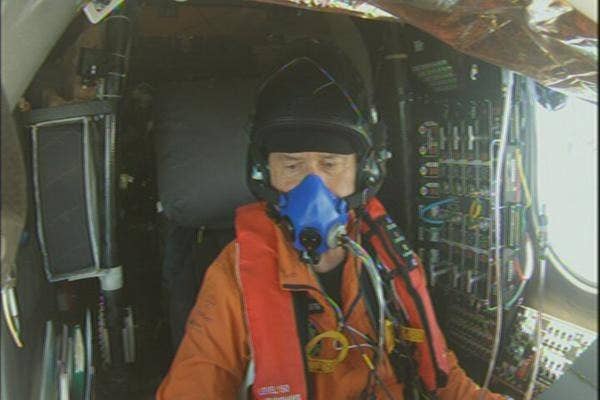 In order to fly for an extended amount of time, both pilots have trained themselves to sleep only in increments of 20 minutes.
The plane has built-in Google Hangout capability, and both pilots spend much of their day video chatting with family, friends, and trained yoga instructors who help them stay fit inside the cockpit.
The pilots intend to prove that solar power can accomplish much more than people imagine.
"It's true we're flying at a slow speed and at the whims of the weather," Piccard told BuzzFeed News in May. "But when the Wright brothers first flew, they couldn't transport 200 passengers across the world either. ... This tech has more potential than people realize."