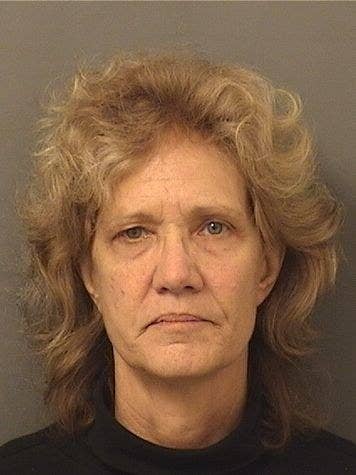 The mother of a child who went missing more than 30 years ago has been charged with his murder after investigators took another look at the evidence in the decades-old missing person's case.
After 3-year-old Francillon Pierre was reported missing in North Las Vegas on Aug. 2, 1986, his mother, Amy Elizabeth Fleming, and the boy's stepfather, Lee Luster, told authorities the child had wandered away at a swap meet, according to court documents.
North Las Vegas Police Chief Pamela Ojeda said investigators at the time suspected Fleming was involved in Francillon's disappearance and that he may have been killed, but they didn't have enough evidence to file charges.
Detectives decided to take another look at the case in 2017 after they were notified that an unknown person filed an application for a birth certificate in Pierre's name in an identity fraud attempt.
Ojeda said the application did not lead to the boy, but it prompted detectives to take another look at the evidence and conduct additional interviews.
"They figured out what they needed to do, who they needed to reinterview, and what other evidence that they needed to go through with a fine-tooth comb to actually bring this case through to full prosecution," Ojeda said during a news conference Monday.

Fleming, now 60, was arrested Jan. 29 in Florida on a fugitive warrant from Nevada for felony murder, according to Palm Beach County booking and court records.

The Palm Beach Post, the outlet that broke the story on Saturday, reported that Fleming was taken into custody by US marshals and is currently being extradited to Nevada.
"Today is an example of justice delayed is not justice denied," Clark County District Attorney Steven Wolfson told reporters. "Sometimes you reach a point where you can't follow up on any more leads, but then something happens ... which brings life back to a case."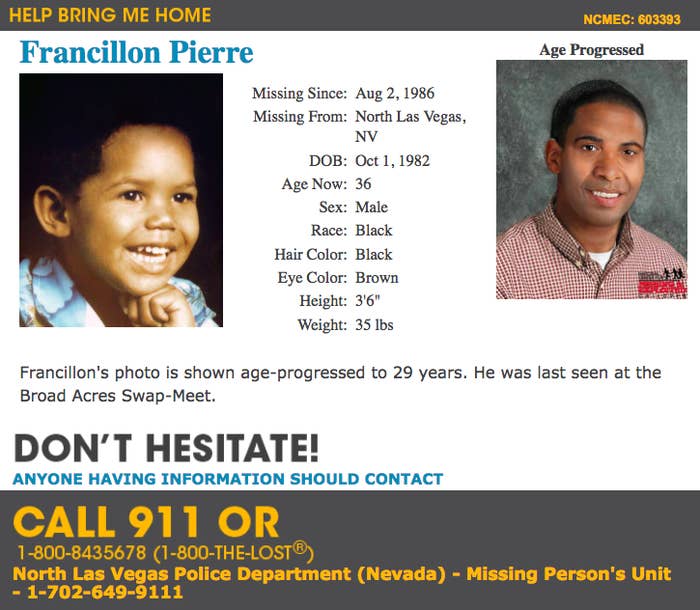 Fleming and Luster had reportedly been charged with felony child abuse in December 1985 over a beating that allegedly left 30 to 40 welts on Francillon's body, and were waiting to stand trial when the boy disappeared.

''We have never been able to put together any evidence to clear them,'' North Las Vegas Lt. Dorin Goudreau told the Orlando Sentinel in 1987. "However, there is no proof they did anything wrong."

Police initially suspected the father, Jean Pierre, Fleming's former boyfriend who lived in Haiti, for the disappearance, but no trace of the boy was found in his home, and Pierre passed a lie detector test.
More than 30 years later, police still don't know how Francillon died or where his body is. According to an affidavit for Fleming's arrest, a polygraph examiner who completed tests for Fleming and Luster in the 1980s told investigators last August that the two "were so deceptive" and that he believed they had killed the boy and dumped his body in Lake Mead.
As part of their investigation, detectives reviewed letters the couple exchanged while they served time in prison for obstruction charges. They had pleaded guilty to lying to investigators throughout their original investigation into Francillon's disappearance.
They rarely mentioned Francillon or his disappearance in their letters, according to the affidavit, but Fleming wrote in one that "what happened was totally unintentional, I'm sorry, you know that."
"I would love to tell you that we have a smoking gun or we'd love to have the body of Francillon or DNA that proves something — that's not what this case is," Detective Steven Wiese told reporters. "This is a the case of a lot of little things that put together gives us the knowledge that Amy Fleming was involved in the homicide of her child."

Police wouldn't say whether Luster will also face charges in Francillon's death. Ojeda said the investigation is ongoing.

"Though we are saddened that we could not bring you good news that we found [Francillon] Pierre alive and well, we are fortunate we can bring some closure to those affected by this 32-year-old cold case," she said.