The U.S. Ambassador To The U.K. Just Made A Bet With The Belgian Ambassador On Twitter
American pancakes and Belgian waffles are involved.
In anticipation of Tuesday's World Cup match, U.S. ambassador to the U.K. Matthew Barzun issued a challenge on Twitter to his counterpart from Belgium. (He also posted a larger version of the letter on Tumblr.)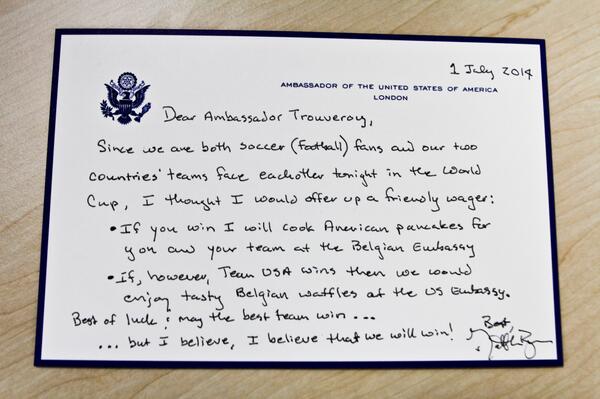 The handwritten note reads:
Dear Ambassador Trouveroy,
Since we are both soccer (football) fans and our two countries' teams face each other tonight in the World Cup, I thought I would offer up a friendly wager:
If you win I will cook American pancakes for you and your team at the Belgian Embassy.
If, however, Team USA wins then we would enjoy tasty Belgian waffles at the US Embassy.
Best of luck: may the best team win...
... but I believe, I believe that we will win!
Best,
Matthew Barzan
Belgium's ambassador to the U.K., Guy Trouveroy, has yet to respond.