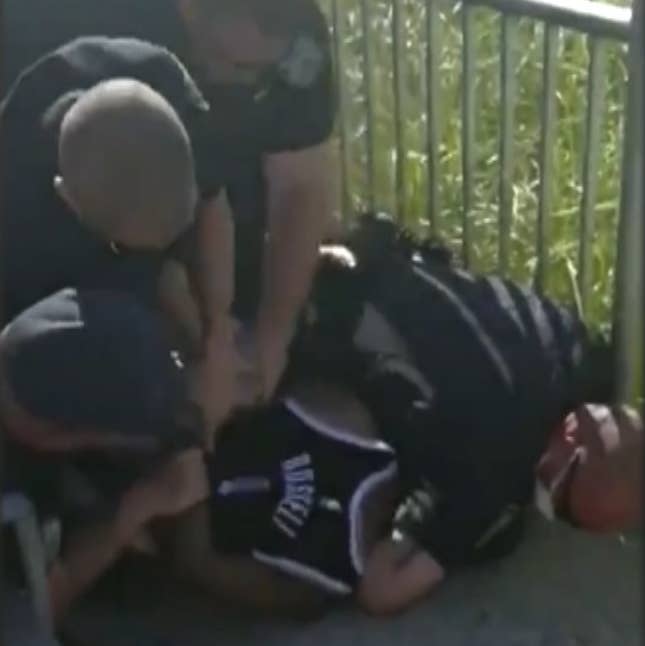 An NYPD officer who was filmed choking a Black man days after New York state legislators passed a law banning authorities from using chokeholds has been arrested and will face felony charges.
Officer David Afanador, 39, turned himself in to law enforcement Thursday morning and was charged with second-degree strangulation and first-degree attempted strangulation, the NYPD said. If convicted, he could face up to seven years in prison.
The incident occurred in the 100th Precinct in Queens at about 8:45 a.m. on Sunday. Four police officers were dispatched to Rockaway Beach in response to a call that a man was screaming and yelling at people. When the officers arrived, Ricky Bellevue, 35, and two other people began taunting and heckling them.
At some point, according to a statement from the Queens district attorney's office, Bellevue made a move toward a trash can, which the officers interpreted as him reaching for a weapon. The move prompted the four officers to force Bellevue to the ground, where Afanador wrapped his arm around the man's neck.
On June 12, New York Gov. Andrew Cuomo signed a law that criminalizes the use of a chokehold or a similar restraint by police as a Class C felony, punishable by up to 15 years in prison. The bill was named for Eric Garner, a Black man who died as a result of being held in a chokehold by the NYPD.

The witness video was shared on Facebook and quickly reposted to other social media platforms as viewers demanded that the officer be held responsible for his actions.
In a departure from the NYPD's past handlings of police brutality accusations, the department was quick to launch an investigation into Afanador's conduct. On Sunday night, police commissioner Dermot Shea released body camera footage of the incident and announced that Afanador had been suspended without pay.
In a tweet Sunday, New York Mayor Bill DeBlasio praised the police department for its swift action.
"Today was the fastest I have EVER seen the NYPD act to discipline an officer," he said. "Within hours: Immediate suspension, body camera footage released, discipline process initiated. This is how it needs to be."
It took five years for the officer responsible for Garner's death to be suspended.
"The ink from the pen Gov. Cuomo used to sign this legislation was barely dry before this officer allegedly employed the very tactic the new law was designed to prohibit," Queens District Attorney Melinda Katz said in a statement announcing the charges against Afanador on Thursday. "Police officers are entrusted to serve and protect — and the conduct alleged here cannot be tolerated. This police officer is now a defendant and is accused of using a chokehold, a maneuver we know has been lethal. This office has zero tolerance for police misconduct."
Katz acknowledged that the officers had been heckled and cursed at, "however, police officers find themselves in circumstances that require them to exercise restraint and are charged with de-escalating potentially volatile conflicts."
"Even under the most difficult of circumstances, this maneuver, this kind of action, is exactly the kind of police conduct that the NYPD has banned and our state legislature criminalized," she added.