A Facebook post and video of a white woman — dubbed "Golfcart Gail" — calling the cops on a black father at a children's soccer game in Florida has gone viral over the past week, with many identifying it as yet another example of a white person calling police on people of color for just going about their lives.
The father, Gerald Jones, ended up having a discussion with law enforcement while the woman hovered — in her golf cart — nearby. He eventually left on his own, exasperated at the situation, after a police officer gave him the go-ahead to do so.
The 911 call, provided to BuzzFeed News by the St. Johns County Sheriff's Office, shows that the incident began when the woman — a field marshal for the Ponte Vedra Palm Valley Athletic Association — called the emergency line for assistance in dealing with Jones and another person, a white woman.
Both of their children were playing at Davis Park in St. Johns County, Florida, on the afternoon of Oct. 14.
Tempers in the stands seemed heated during the game, and the associations' staff seemed ready to adjudicate it all. The field marshal had ejected a father from the park earlier in the game for being verbally abusive toward the high school student–age referees.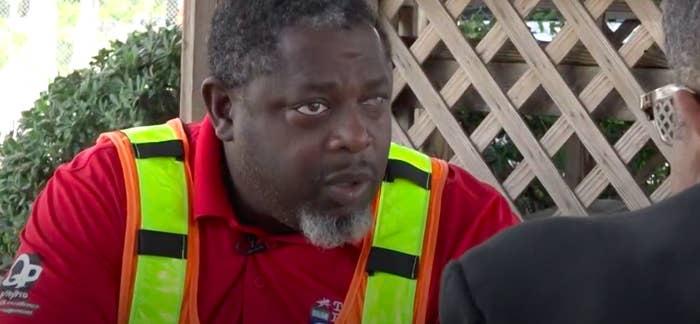 Gary Easom, president of the Ponte Vedra Athletic Association, told First Coast News in Jacksonville that the field marshal also issued a formal warning to a mother who shouted profane language while watching the game.
"This happens more times than I would like," he said, adding that the field marshal reported both of these events to the association as they happened and that police normally do not need to be called.
At some point, police said, Jones approached the field and yelled at his son, setting off a chain of events. Both Jones and the field marshal didn't return requests for comment.
Jones told police that he was telling his son to respect a call the referee made, even though he thought it was a bad one.
"They had a bad call with my son, and I told him, 'Hey, the ref is right. The ref is always right,'" he said. "[The field marshal] thought I was yelling at the ref, so she came over. And I'm like, 'Ma'am, I was talking to my son.'"
The soccer club Parent Code of Conduct, which parents are required to sign and agree to when their children join the association, forbids unsportsmanlike conduct and strives to "remove verbal and physical abuse from youth sports." Parents are also forbidden from "sideline coaching."
Amy "Ginger Galore" Williams — who later shot the video that went viral on Facebook — said she witnessed the incident and said the field marshal "would not let this go."
"He yelled 'The ref is right!' when he saw his kid out there getting frustrated after a call," she wrote. "This woman, lets call her Golfcart Gail, decided to spring into action and rapidly approach this parent and remind him that harassment would not be tolerated. He informed her that he was only speaking to his son. For whatever reason, Golfcart Gail just would not let this go. She continued to harass and beleaguer this parent."
After the exchange with the field marshal, Jones gathered his belongings and began to leave the park.
"The gentleman offered to leave in order to avoid a situation," Williams wrote in her viral post. "As he began to pack up his things Golfcart Gail informed him that she was calling the police because she no longer felt safe with his threatening behavior."
Then, another mother, Maria Walther — whose son is on Jones' team — started to record the field marshal on her phone and captured her making the 911 call.
As the clip begins — and before the 911 call starts — Jones, carrying a cooler and a chair, is seen making his case to the field marshal in her golf cart.
"I wasn't talking to you," he said as she picks up her cellphone and begins to dial. "You say don't talk to the refs. I don't talk to them, I talk to my son and I still get this from you?" Jones walks away at this point but can be heard saying "This is stupid" a few seconds later.
As Jones addresses her and walks away, the field marshal raised her phone to talk to 911.
After this, Walther begins to narrate. "He was standing next to me, talking to his son, and this lady decides to butt in somehow and is now calling the cops because he was talking to his son."
At this, the field marshal addresses Walther, "Ma'am, you can leave too. Videotape yourself as you're walking out."
"You're going to have to move me, the cops are going to have to move me," Walther tells her, before turning the camera on the phone around to record herself and the field marshal in the same frame.
In the recording of the 911 call, the field marshal asks for deputies and says, "I've got issues with parents on the soccer field."
"I have parents that are out of control and need to be removed from a youth soccer game," she tells the dispatcher.
"And it's two parents?" the dispatcher asks.
"Yup," the field marshal replies.
"Male and female?"
"The male is leaving, the female refuses to go, so I need the sheriff's department to come and escort her out," the field marshal says, in an apparent reference to Walther.
Later in the call, the field marshal says that she cannot see the type of car Jones is driving because she is standing with a woman — presumably Walther — who refuses to leave and states she doesn't want to leave the field "because [she's] afraid there [are] going to be issues."
She then sees Jones returning to the field — he would later tell police he was arranging transportation for his child and the child of the other parent who had been ejected from the game — and tells the dispatcher, "Oh, now, now the dad's coming back. I need somebody here now."
Before ending the call at the arrival of the deputies, the field marshal tells the dispatcher that another woman just took a picture of her.
"I have no idea," the field marshal says when asked who took the photo. "This mom just walked up and took a picture of me."
"Another mother or that mother?" the dispatcher asks.
"Another mother — I need the sheriff's department now," the field marshal says.
Then the sheriff's deputies arrive and the field marshal hangs up the 911 call. Williams started recording when Jones was talking to police.
"I just want to make sure this man is safe. Period. This situation — from this entire situation," Williams tells the officer, who says he and his colleague aren't going to do anything to Jones.
"Great! Great! I don't understand why this woman felt the need to call the police on this man," she replies.
"Anybody can call the police at any time for any reason. We'll respond. We'll talk to them," the officer says, adding later, "I've been called to help referee the disturbance. And I'm going to do that."
"I felt that this woman sat there on her cart and was a very intimidating presence," Williams says. "And to sit and follow this man out when he said, 'Hey, I'm going to leave, I don't want an issue.' So why she felt it was necessary when he voluntarily left of his own accord to avoid an issue, she felt, 'I'm still going to call the cops on him.'"
"She can do that. She's allowed," the officer says.
After a moment, the officer says that both Jones and the field marshal can leave. Williams, still recording, asks Jones if she can walk him to his car, which he accepts. As they walk away from the officers, Jones turns to Williams and says, "This is too much, man. This is too much."
The field marshal and her place of employment have received death threats since the "Golfcart Gail" post went viral, police told BuzzFeed News.
In interviews on Thursday, Jones said that he is owed an apology.
Jones said that he believed he was racially profiled, and he got emotional when talking about his 15-year-old son to First Coast News.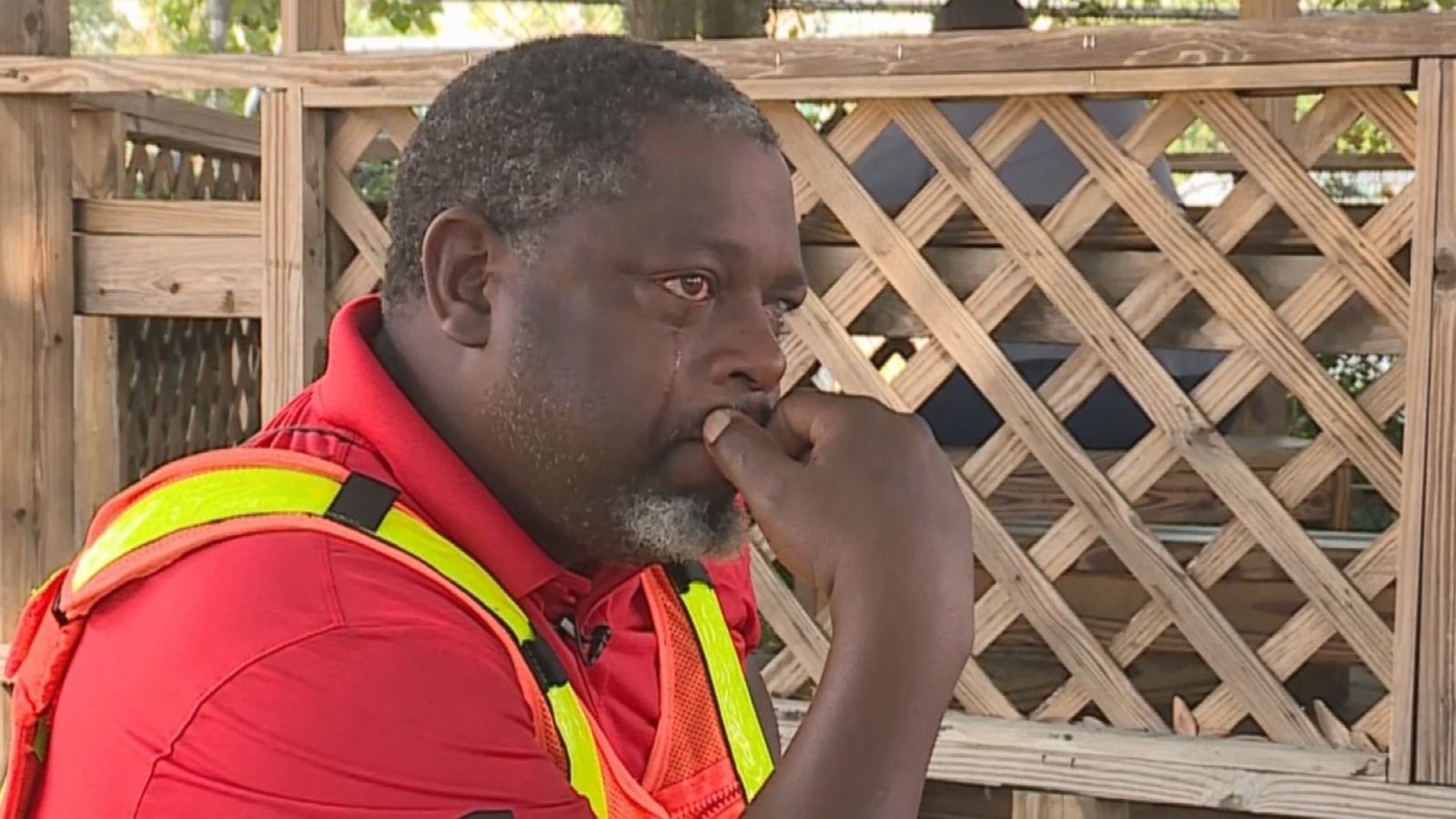 "I spoke with my son," said Jones. "He is biracial. What is he supposed to mark? White or black? It is too much — when will it end?"
He also said he was praying for the field marshal when he was told that she is being harassed and receiving death threats as a result of calling 911 on him.
"Nobody should have things like that," he said. "Period."
Police told BuzzFeed News that nobody involved in the incident violated the law.
St. Johns County police spokesperson Chuck Mulligan described the situation to BuzzFeed News on Thursday as "an argument over rules of an organization [that the police doesn't] enforce."
"There was nothing criminal involved," he said. "No one touched anyone. No one did anything."
Mulligan said that the field marshal told officers she called 911 out of a "concern that all the arguing is going on in front of the children, [saying,] 'It's getting more out of hand. Can you please come keep things from becoming a fistfight?'"
He told BuzzFeed News that the St. Johns County Sheriff's Office has been receiving calls asking why the field marshal has not been arrested for calling 911, or for filing a false report. "The standard for that is very high," he said. "The [911 call] was that there was a disagreement and that was not in contest."
"People call us all the time for things that aren't crimes. We get 550 to 650 calls a day," Mulligan said.
"We were able to get there and quell the situation so that it didn't ignite and get bigger. That's what law enforcement does."
In multiple statements this week, the athletic association insisted race was not a factor.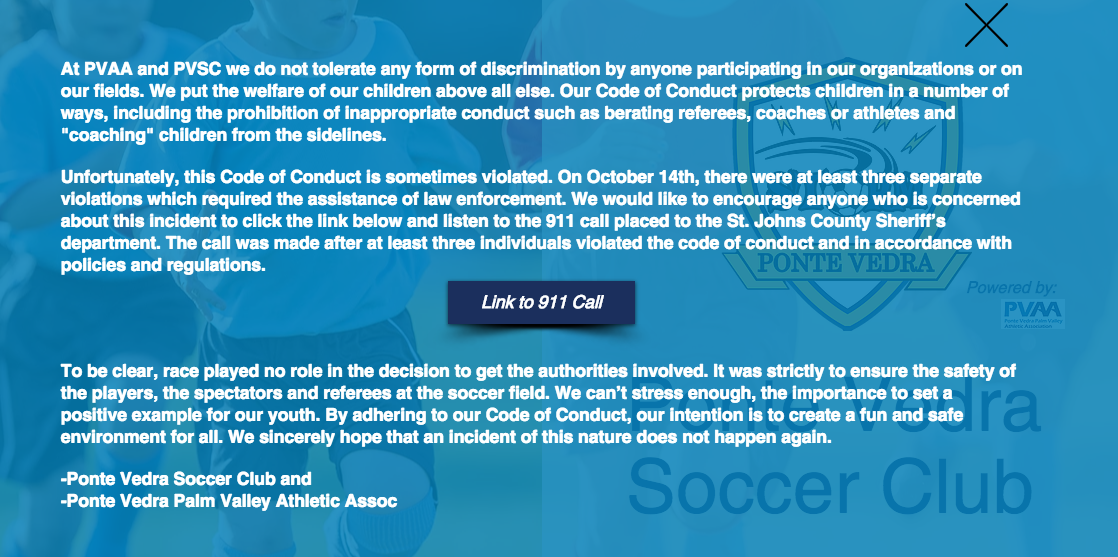 In its initial statement, the Ponte Vedra Athletic Association's president, Gary Easom, said Jones was ejected from the grounds because he violated the parental code of conduct by "coaching" his son from the field, not because of his race.
"The PVAA Code of Conduct protects children in a number of ways, including the prohibition of inappropriate conduct such as berating referees, coaches or athletes, and 'coaching' children from the sidelines. Unfortunately, parents sometimes violate the conduct code while watching games. When such violations occur, our staff addresses the violator or violators and ask that they behave appropriately. If, after warnings, the violators continue to behave badly, staff is left with no choice but to call law enforcement," the group said.
"That is an extreme circumstance which seldom occurs, but that is exactly what happened in this situation. The authorities were not called solely for this particular incident" — referring to Jones — "but as a result of a culmination of several immediate prior incidents."