The Florida City Commissioner Who Fatally Shot A Man He Thought Was Shoplifting Has Been Charged With Murder
The Lakeland, Florida, commissioner also resigned from his position after turning himself in.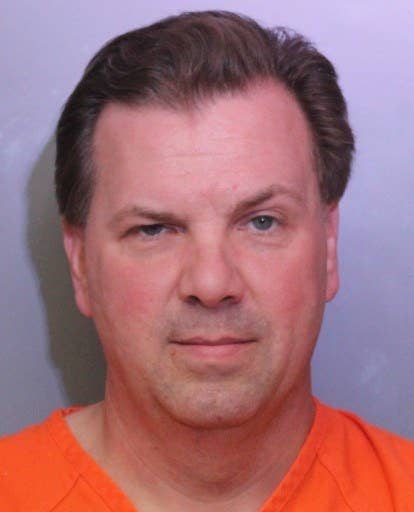 The Florida city commissioner who fatally shot a man he suspected of shoplifting has been charged with second-degree murder and resigned from his position.

Michael Dunn, 47, was charged and taken into police custody Friday and held without bond over the weekend. He has pleaded not guilty.

Dunn shot and killed Cristobal Lopez, 50, outside the Vets Army & Navy Surplus store in Lakeland, Florida, on Oct. 3, according to a statement from the Lakeland Police Department.

The shooting gained national attention last week after Lakeland Police released surveillance footage from the store that appeared to show Dunn pursuing Lopez as he tried to flee out the front door.

Dunn was charged by a grand jury following a two-week investigation into whether his shooting of Lopez was protected under Florida's controversial "stand your ground" statute, which protects those who use deadly force to protect themselves.

"Let me be clear, it is the policy of my office to comply with and abide by the 'stand your ground' law," state attorney Brian Haas said at a press conference. "However, I have determined that this case, and the actions of Mr. Dunn fall outside of the protection of the 'stand your ground' law."
Court documents released following the grand jury's decision show that the police officers who reviewed the surveillance tapes did not see any evidence that Lopez attempted to attack Dunn, and that he was holding the blade of the hatchet in his palm at the time he was fatally shot.

In one affidavit, a Lakeland detective said that Dunn told him during interviews on the day of the shooting that he shot Lopez because he was trying to steal from the store.

"The suspect stated that he was in fear, but when he was asked what would have happened if he let go of the victim, the suspect replied, 'It might be fair to say, that if I just stepped back and let somebody come in and take what they want, there would be no issue.' Further, the suspect made no attempt to render aid to the victim," the affidavit stated. "Given the above, the suspect (Michael Dunn) shot and killed the victim (Christobal [sic] Lopez), without legal justification."
In a statement, a Lakeland city spokesperson said Dunn resigned from his position as commissioner Monday.

"It is with a heavy heart that I submit this letter to you," Dunn wrote in the memo, dated Oct. 20, which was obtained by local news station WSTP. "Being born and raised in Lakeland, this city means a great deal to me and always will. Thank you to the residents of Lakeland for having given me the opportunity to serve."

Dunn's profile on the city of Lakeland's official website was removed as of Tuesday afternoon.