Disturbing Video Shows Florida City Commissioner Fatally Shooting A Man He Thought Was Shoplifting
Officials released the video as they investigate whether Michael Dunn, 47, should be charged for the shooting death or if he's protected by "stand your ground" laws.
Florida police released surveillance video Monday of a city commissioner fatally shooting a homeless man he claims was trying to shoplift a hatchet from his military surplus store.

Michael Dunn, 47, shot and killed Cristobal Lopez, 50, outside the Vets Army & Navy Surplus store in Lakeland, Florida, on Oct. 3, according to a statement from the Lakeland Police Department.
Dunn, a co-owner of the business, told officials he witnessed Lopez attempt to shoplift a hatchet and that Lopez threatened him with the hatchet when he was confronted. According to police, "a confrontation ensued" and "Dunn then fired his weapon, striking Lopez who was still in possession of the hatchet."

Since the shooting, police and the state attorney's office have been investigating whether Dunn should be charged for the killing, which he claims was in self-defense. The state's controversial "stand your ground" statute protects those who use deadly force to protect themselves.
On Monday, the Lakeland Police Department posted security footage from the store at the time of Lopez's death to their official Facebook page, including a graphic clip from the front-door camera, which appears to show Dunn fatally shooting the man as he attempts to flee the store.

"In the interest of transparency, although the criminal investigation continues to be active, we at the Lakeland Police Department have requested and received the approval of the State Attorney's Office to release all the videos which show the shooting that occurred on October 3rd," the department said in the post's description.

"Though citizens may have strong feelings about what is depicted, we ask you to remain patient as our department continues to work with the State Attorney's Office to investigate."

In the clip from the Vets Army & Navy Surplus store security feed, Dunn is shown holding a gun in his right hand and attempting to stop Lopez from opening the store's front door with his left hand. Lopez pushes the door open, prompting Dunn to grab his left shoulder.

As Lopez raises his left arm in what appears to be an attempt to shake him off, Dunn fires his weapon. Lopez is shown falling to the ground outside the store, where he begins convulsing as Dunn continues to train the weapon on him.

In the clip, Lopez appears to be holding an unidentified object in his right hand, but it's hard to make out whether it is a hatchet.

According to the Tampa Bay Times, which obtained the raw footage of the surveillance video, during the three minutes after the shooting, "Lopez lies face down on the ground as Dunn walks in and out of the frame. No one is seen attempting to render first aid."
According to local media reports, Lopez and his father were living on and off at a nearby homeless shelter.

Dunn was elected Lakeland Southwest District commissioner in December and took office in January.
In an Oct. 4 interview with local television station WFLA, Dunn's attorney, Rusty Franklin, said his client acted "responsibly and legally."

"I mean there was a person who is shoplifting, who has a weapon," he said. "[Dunn] has a business, and he has to protect his business. It's a place where weapons, firearms, are lawfully sold."

State Attorney Brian Haas said in a statement that he expects the investigation into the shooting to conclude by the end of the week.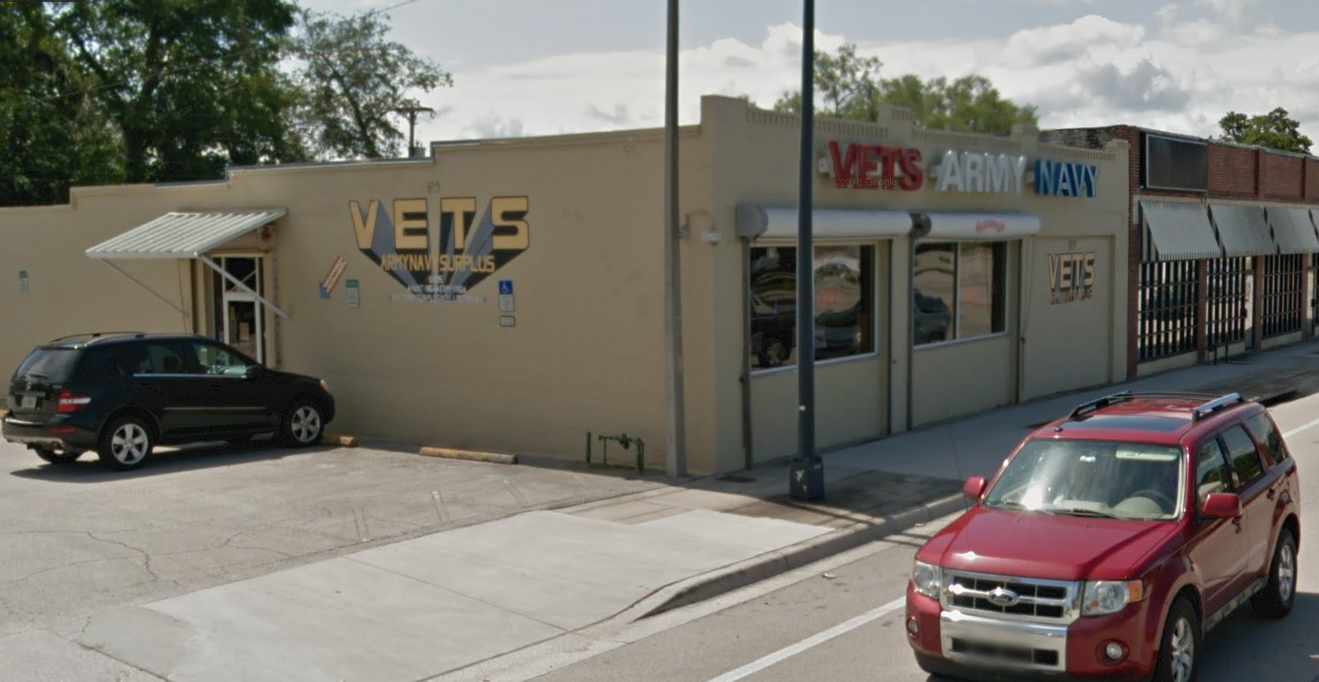 CORRECTION
Cristobal Lopez's name was misspelled in an earlier version of this post.