Amtrak Train That Derailed Off Highway Overpass Was Going 80 MPH In A 30 MPH Zone
At least three people died, and more than 70 were taken to hospitals, after passenger train cars plunged onto traffic below on an interstate in Washington.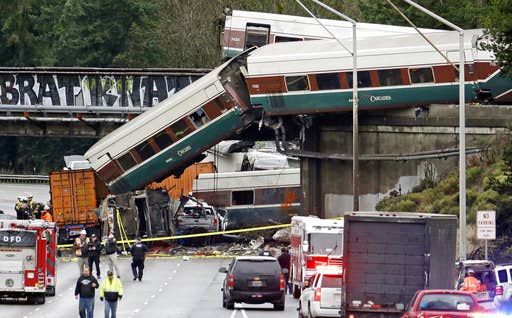 At least three people were killed and dozens of others were injured Monday morning when an Amtrak train on its inaugural run derailed over an interstate near Tacoma, Washington.
Federal investigators said that the train had been traveling 80 mph in a 30 mph section of the track, according to initial information retrieved from a data recorder on the train Monday night.
As to why the train had been traveling at that speed, a National Transportation Safety Board member said it was "too early too tell." She said investigators had not yet determined what caused the train to derail.
Officials said 72 people were taken to hospitals, including train passengers and crew, as well as drivers who were struck as the train cars plunged onto the busy lanes of Interstate 5 around 7:30 a.m.
Local firefighters and state troopers confirmed that three people had been killed at the scene. Earlier in the day, the AP, citing an anonymous official, said six people were killed. The AP said the source could not explain the discrepancy.
"We've had a lot of reports of more fatalities earlier in the day, but I do want to let you know there are three confirmed," Washington State Trooper Chase Van Cleave said Monday night.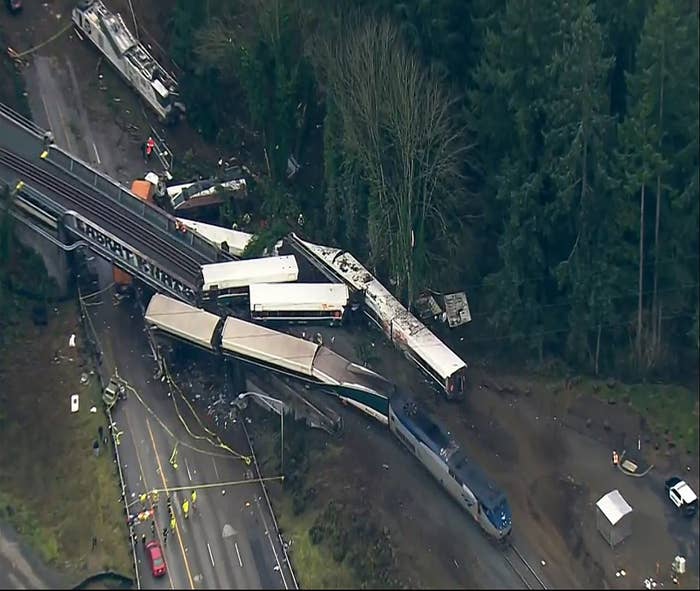 An Amtrak statement said 80 passengers and five crew members were on board the train at the time of the derailment. Services south of Seattle were suspended, and highway detours were also in effect as authorities worked to stabilize the dangling wreckage.
"We don't know if there's anybody still on board," Washington State Patrol Trooper Brooke Bova told reporters Monday afternoon. "We still need to stabilize those cars so we can do a secondary search."

The Washington State Patrol said five vehicles and two semi trucks were struck when the 12-car, two-engine train derailed. Multiple drivers were injured.
By Monday night, search of the trains was complete, though wreckage remained at the scene. Southbound lanes of I-5 were expected to be closed through Tuesday morning.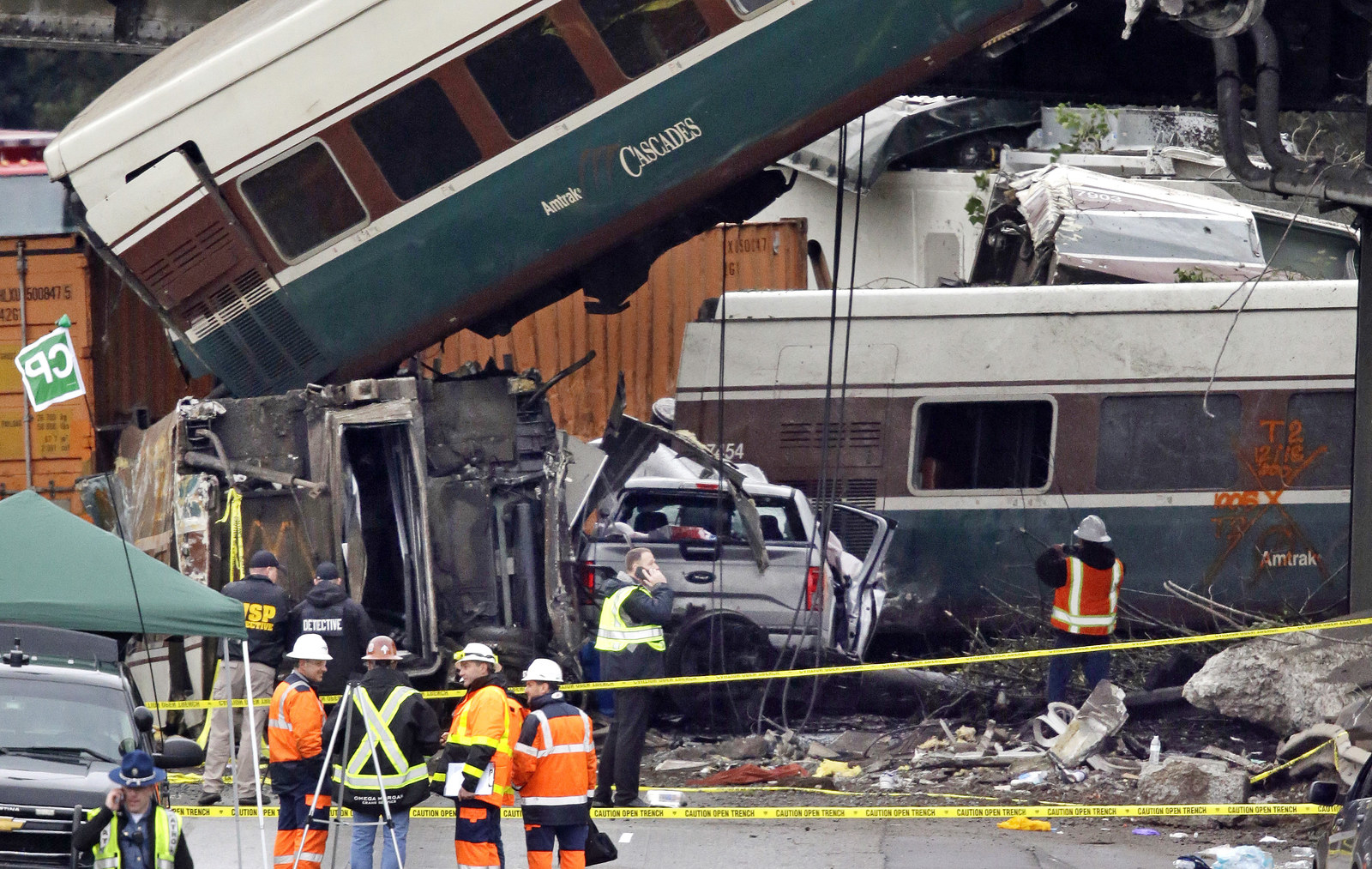 Around 100 people were taken from the scene to hospitals across the region, with several in critical condition, officials said. About a dozen were seriously injured.
Three people at St. Peter's Hospital in Olympia needed surgery, said hospital spokesman Chris Thomas. Madigan Army Medical Center in Tacoma said it was caring for 20 people, nine of whom are still in serious but stable condition. MultiCare Health System, which manages multiple hospitals in the area, said 22 patients were currently in their care, three of them with serious injuries.

It was the inaugural trip for the new, faster Amtrak Cascades train route from Seattle to Portland. The new route featured a bypass along the I-5 and track upgrades that allowed it to run at speeds up to 79 mph.

Earlier this month, local officials said they had safety concerns about the speeds of the new train route, though it's unclear if speed was the cause of Monday's derailment. In 2013, the city of Lakewood sued to stop construction, fearing the number of track crossings could lead to a collision involving cars or pedestrians. The suit was dismissed in 2014.
Amtrak President Richard Anderson told CNN that positive train control, a system designed to automatically stop a speeding train, was not activated at the time of derailment.
The company did not say Monday what it believed led to the crash, citing the ongoing investigation.
"At this time, we will not speculate about the cause, and we encourage others not to speculate as well," an Amtrak statement said.
Washington Gov. Jay Inslee declared a state of emergency in Pierce and Thurston counties as a result of the derailment.

Chris Karnes, chairman of the Pierce Transit advisory board, was one of the passengers on board the train. The 32-year-old had been excited to experience the inaugural run of the new route, he told the News Tribune. The train, he said, seemed to be running somewhere close to 79 mph because it was moving faster than highway traffic.
"At a certain point, the train wobbled for a second, and the next thing we knew we were being sort of catapulted into the seats in front of us," he told the News Tribune. "There were crashing and crunching noises, the lights went out. There was glass shattering, everyone's personal belongings flew to the front of the car and people were screaming."
Daniel Konzelman, who was driving on the I-5 at the time of the crash, told the Seattle Times he was among the first people who responded to the crash. Some passengers had managed to break a window to escape, he said. He and a responding officer then broke into another car to help others, many of whom had cuts, had broken bones, and were suffering from shock, he told the Times. Some were pinned, he said.
"There's not a lot you can do with somebody pinned beneath the train. I talked to them and tried to to calm them down and comfort them," he told the Times. "I just told him, 'Man, you're looking so good … you're doing great, just relax. You might be here for a little while. Make yourself comfortable.' … I rubbed his back and held his hand. I asked him what his kids' names were and what his wife's name was."
In his first response to the incident, President Trump bemoaned the state of the country's roads and railways and called for a quick approval of the "soon to be submitted infrastructure plan" — even though Monday's wreck involved a new train line.
He later added that his "thoughts and prayers" were with those involved in the accident.
The National Transportation Safety Board said it had a launched a "go team" of experts to start investigating the accident. At a press conference, an NTSB official could not provide any details about the derailment, but said an investigator was en route to the scene of the accident.

Officials from the Federal Railroad Authority were also heading to the scene.
Pictures and videos from the scene show one train car smashed into the ground while another is dangling off the overpass: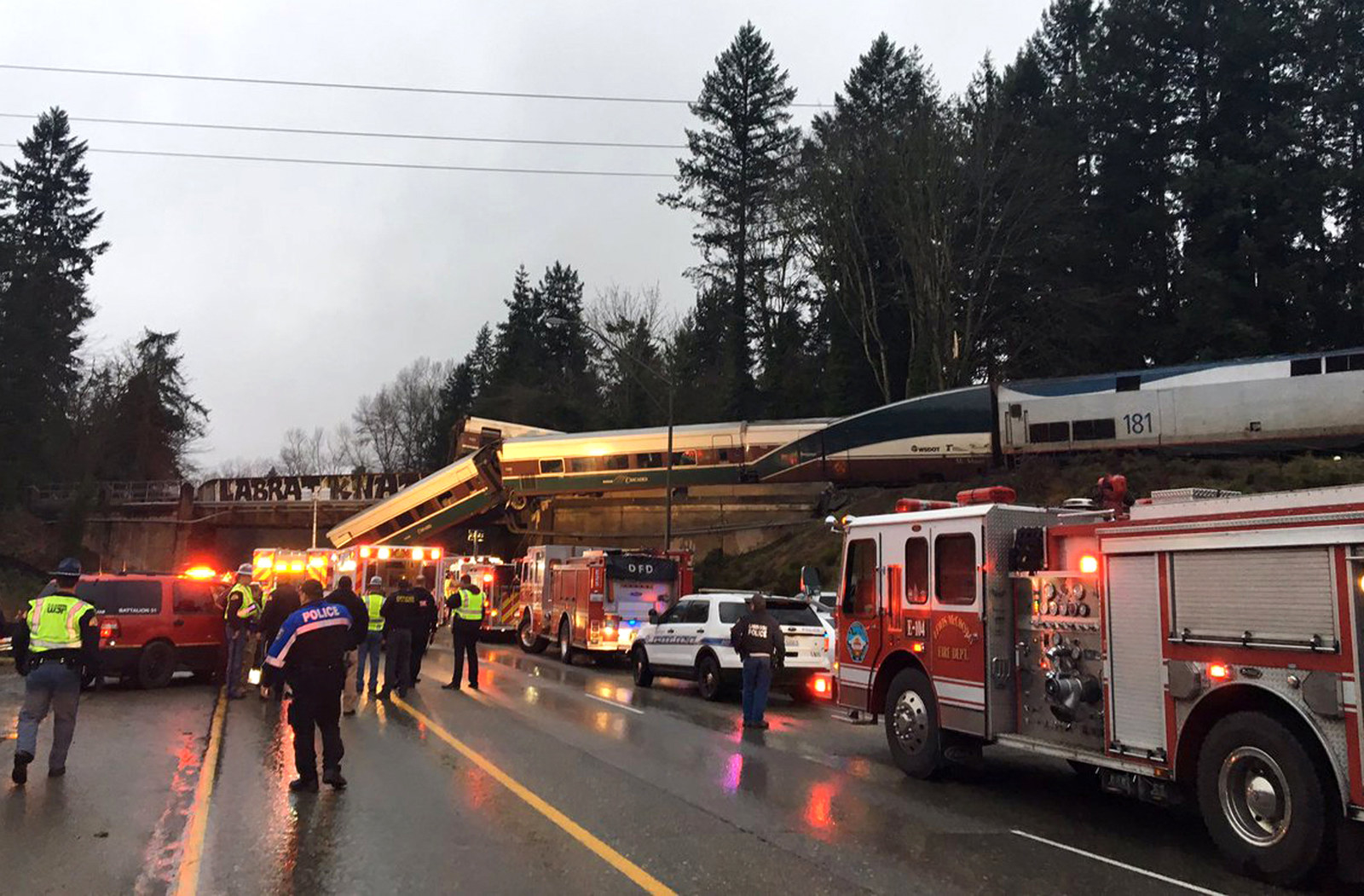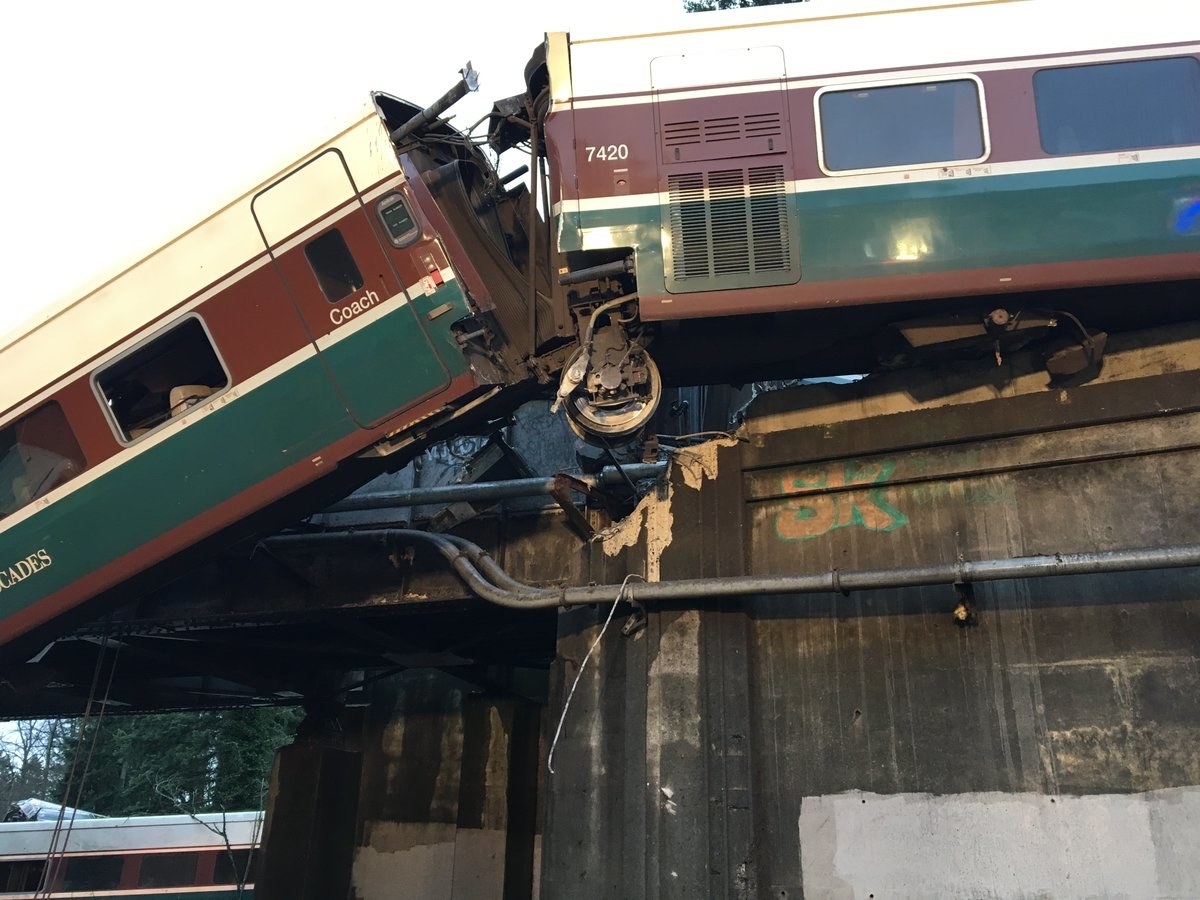 CORRECTION
The current official death count in the Amtrak crash is at least three people. An earlier version of this article — relying on the Associated Press citing an an anonymous official — said that six people died. BuzzFeed News will update as more information becomes available.