Kim Kardashian is currently in New York City promoting her brand-new skincare line, SKKN by Kim. And to spice things up a little, the mom of four decided to enlist the company of two of her littlest helpers, sons Saint and Psalm West, who tagged along for the ride.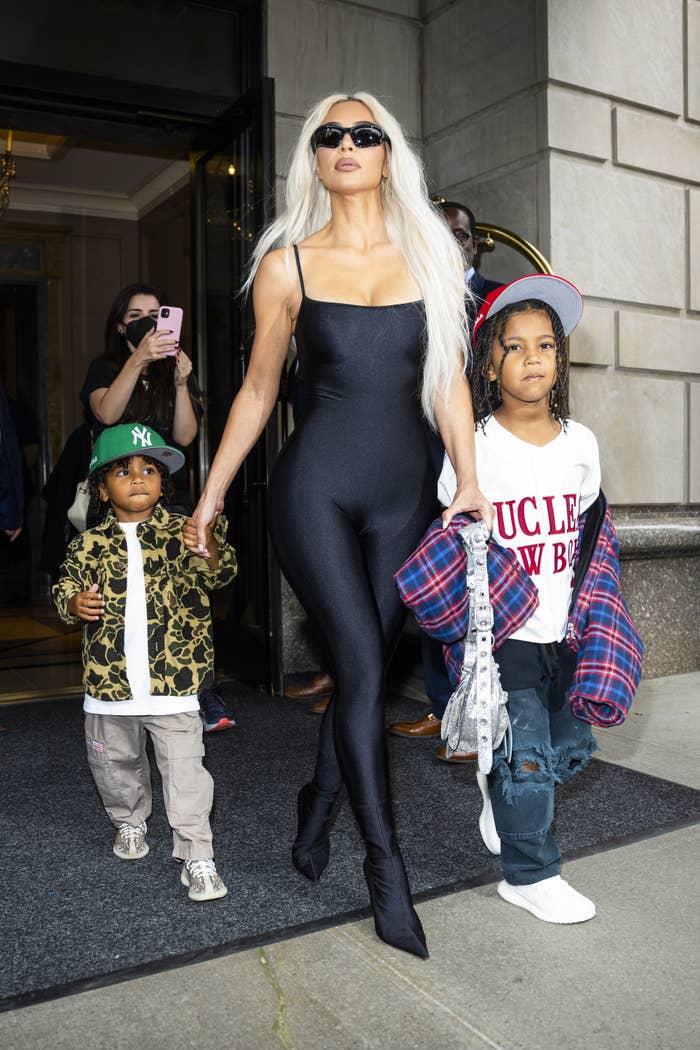 However, as many parents will know, bring-your-kid-to-work day can often present a number of challenges — even for A-listers.
So, on their trip, the trio stopped off at The Tonight Show on Tuesday evening, where 6-year-old Saint and 3-year-old Psalm got the pleasure of sitting in the front row for their mom's interview with Jimmy Fallon.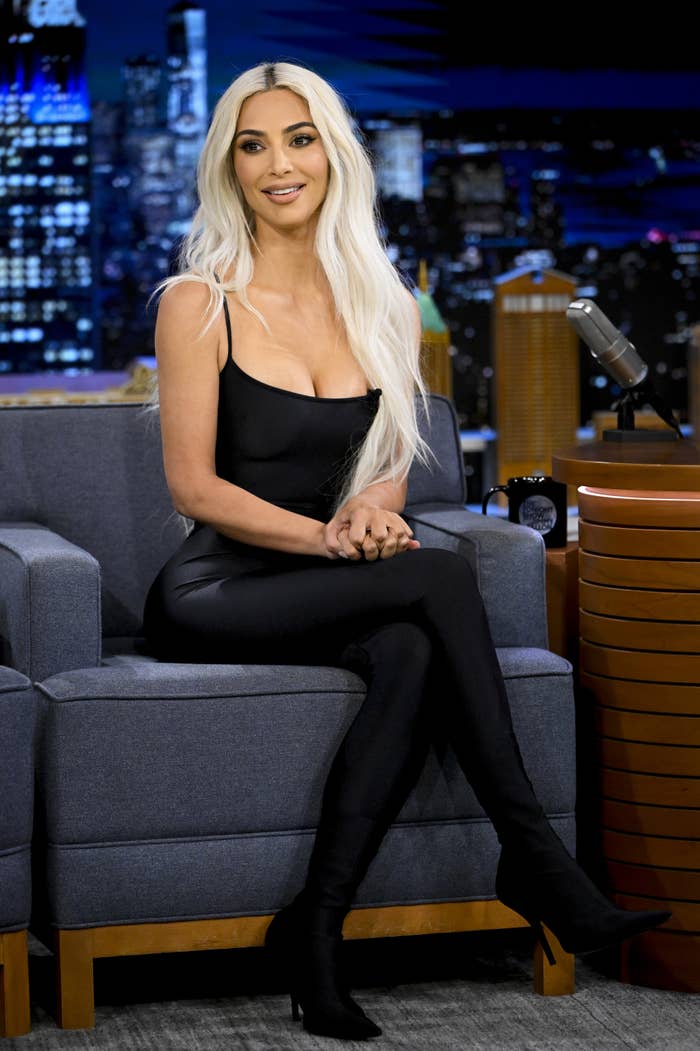 Though, at one point during the show, it looked like the excitement got a little overwhelming for little Psalm, and it certainly didn't go unnoticed.
Midway through their interview, while Kim was recounting an embarrassing dinner party experience with Will Ferrell, Jimmy's eyes darted into the audience after hearing a little yelp coming from the front row.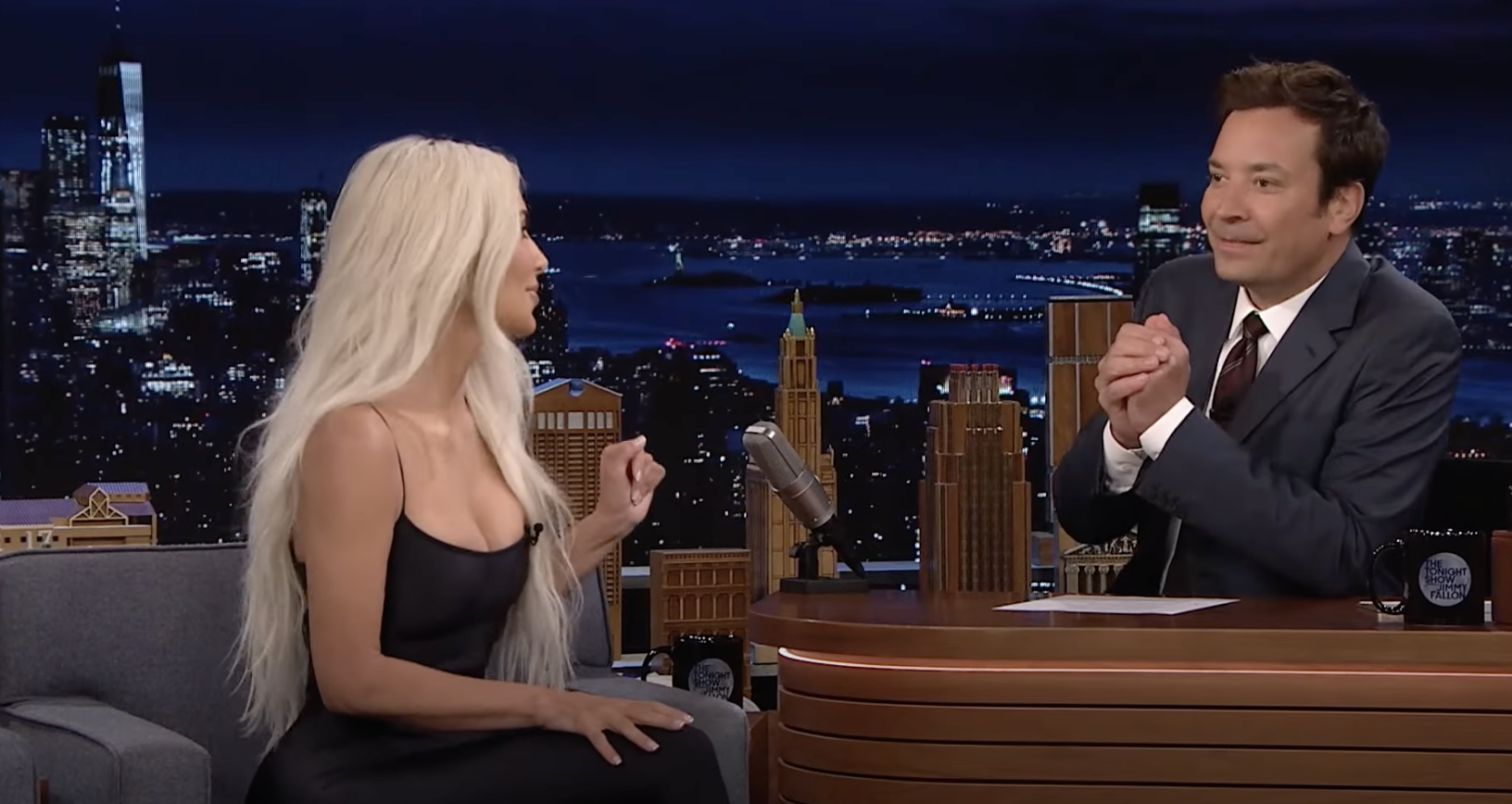 "Uh, I'm hearing kids," the host said, by which point Kim had been alerted to the commotion and slipped right into mom mode.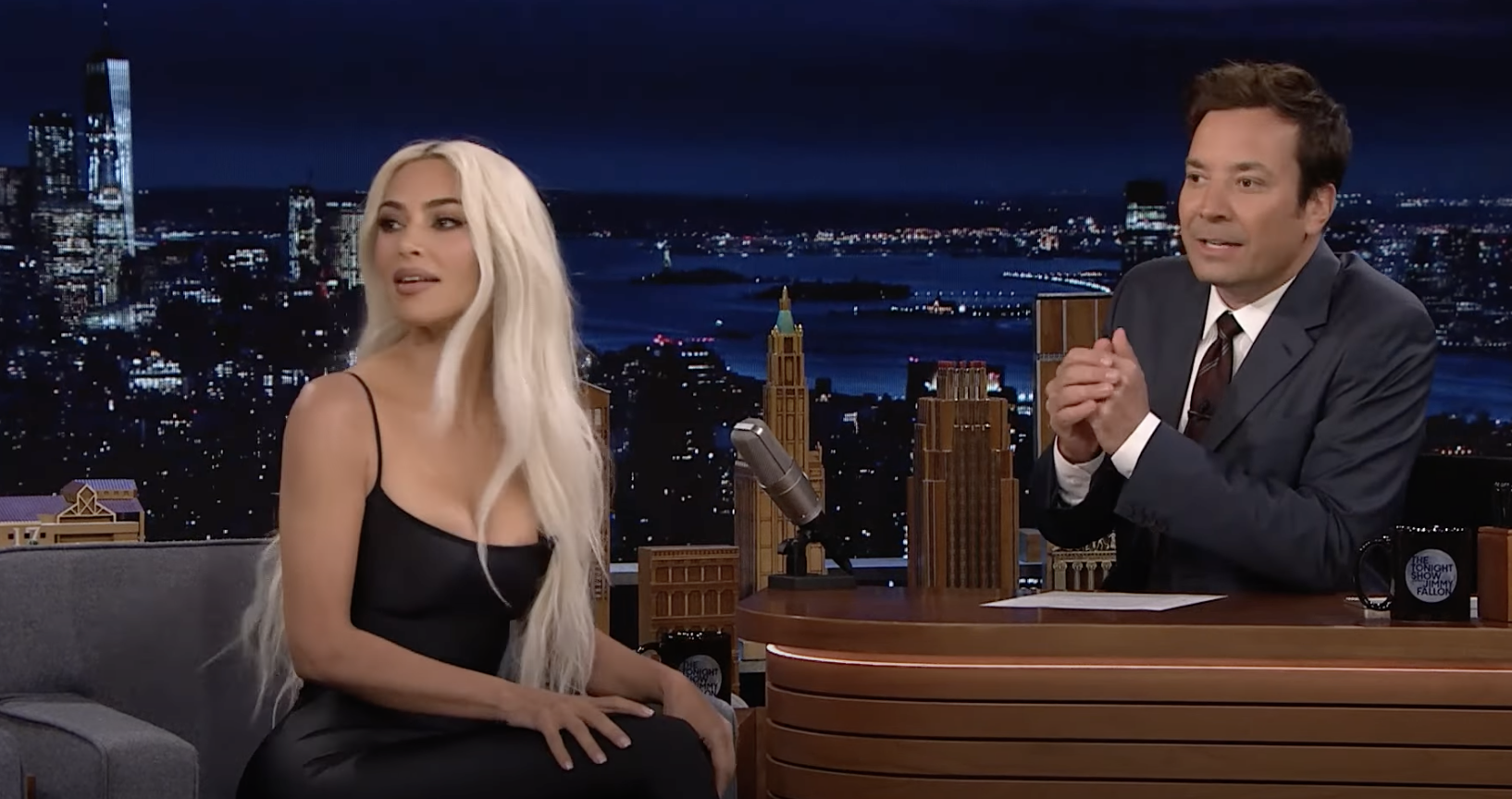 "Guys!" she said, whipping her blonde locks to face her sons in the audience. "Guys, can you stop?"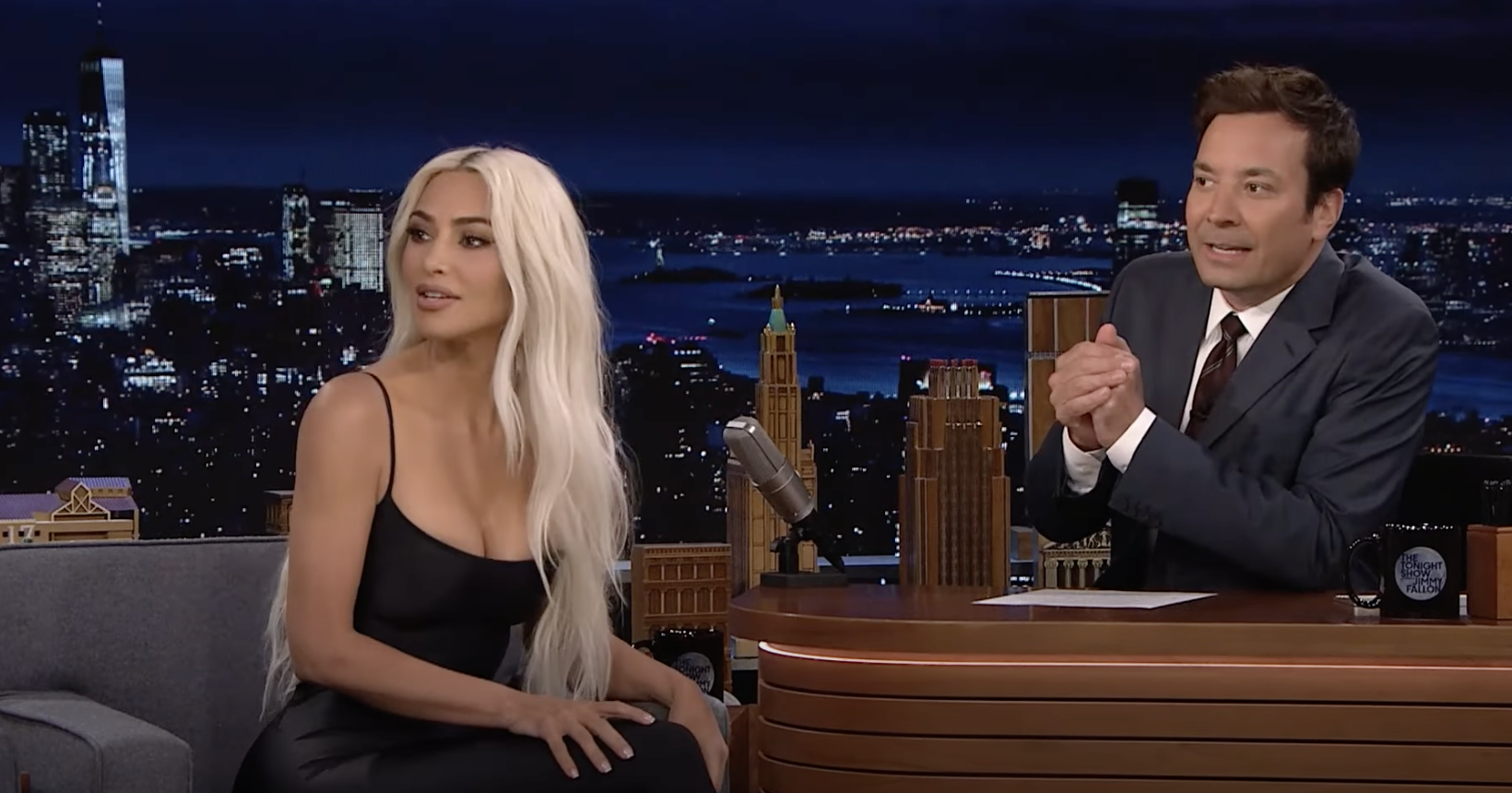 Then, embodying the spirit of her very own momager, Kim quickly reminded her kids that this is a professional environment and they should be on their best behavior.
"This is your first time at work with me, can you please?" she said, keeping her cool.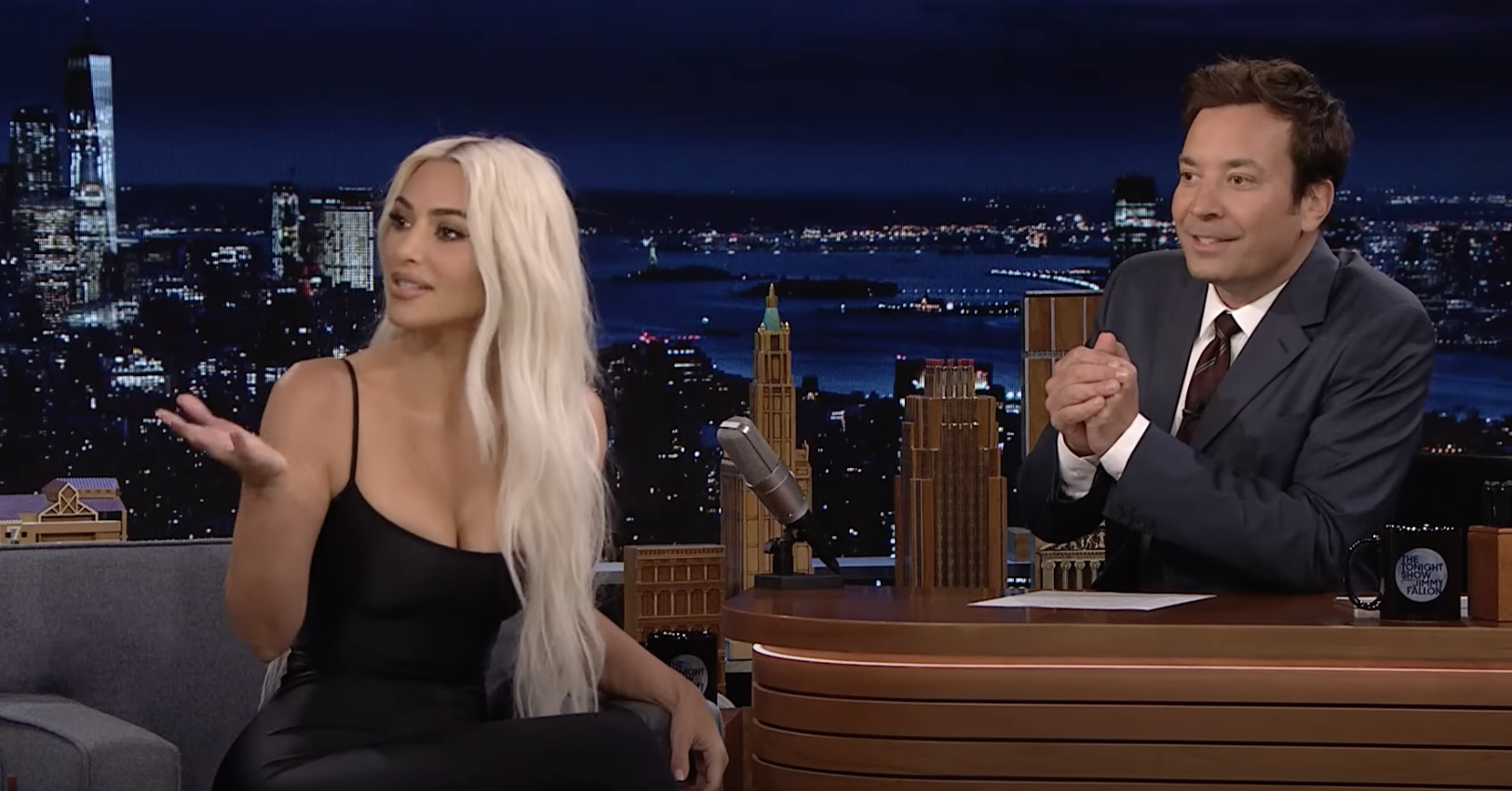 The camera switched to show Saint sitting proudly in the audience, a cheeky grin peeking out from beneath his mask and red hat. Seated beside him was his friend Remi, while Psalm sat behind them with a nanny.
"My two boys are here, and then my friend Tracy's daughter Remi is here with us," Kim explained. "I hear them making so much noise."
"Guys, this is your first time at work with me. Don't mess this up. Come on," she added, brushing off the kerfuffle with a laugh.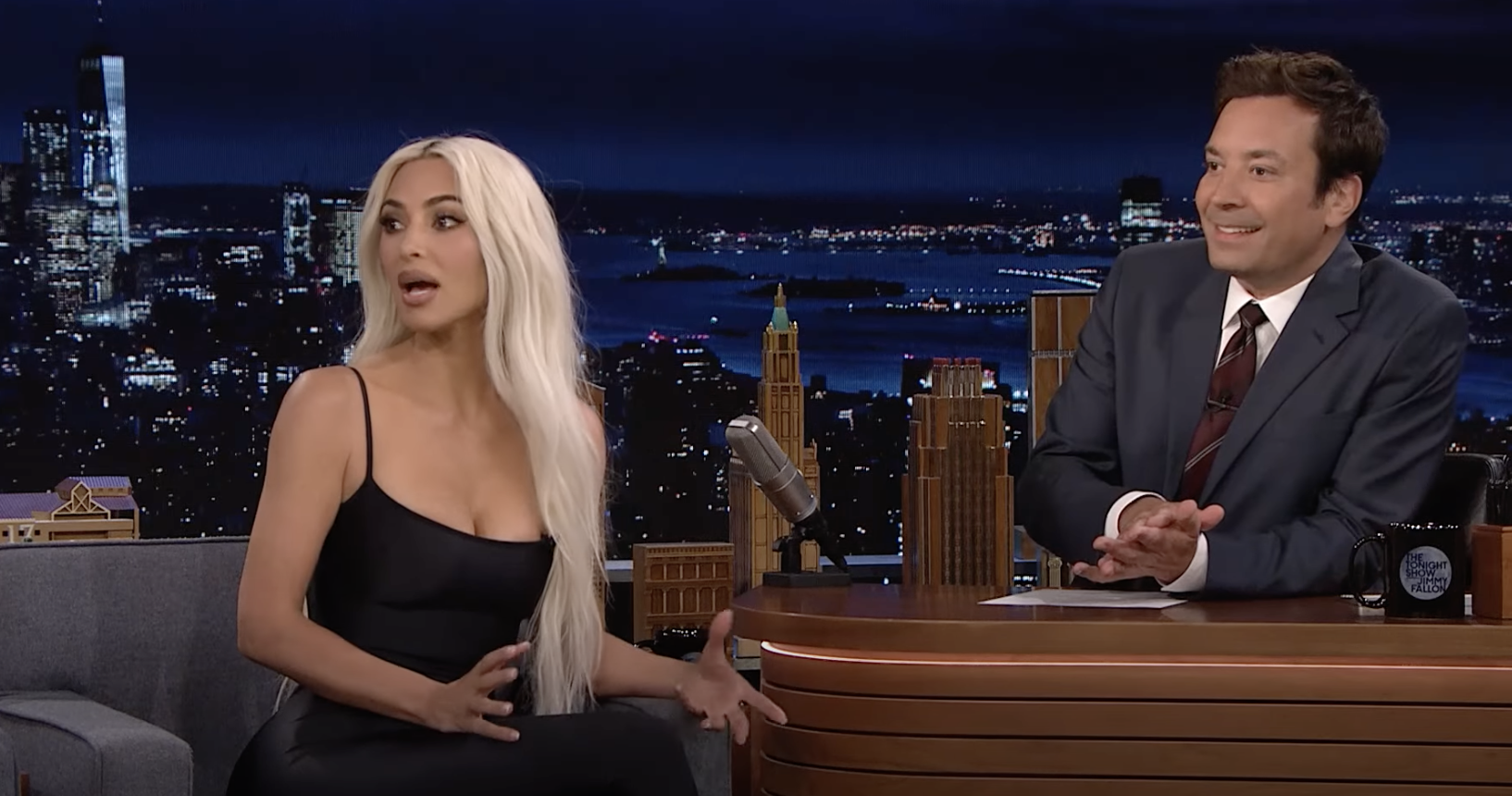 However, despite leaping right back into her conversation with Jimmy, it wasn't long before she was forced to intervene for a second time, taking a slightly more frustrated tone.
"Guys, seriously," she snapped, whipping her head to the side once again. "You gotta go."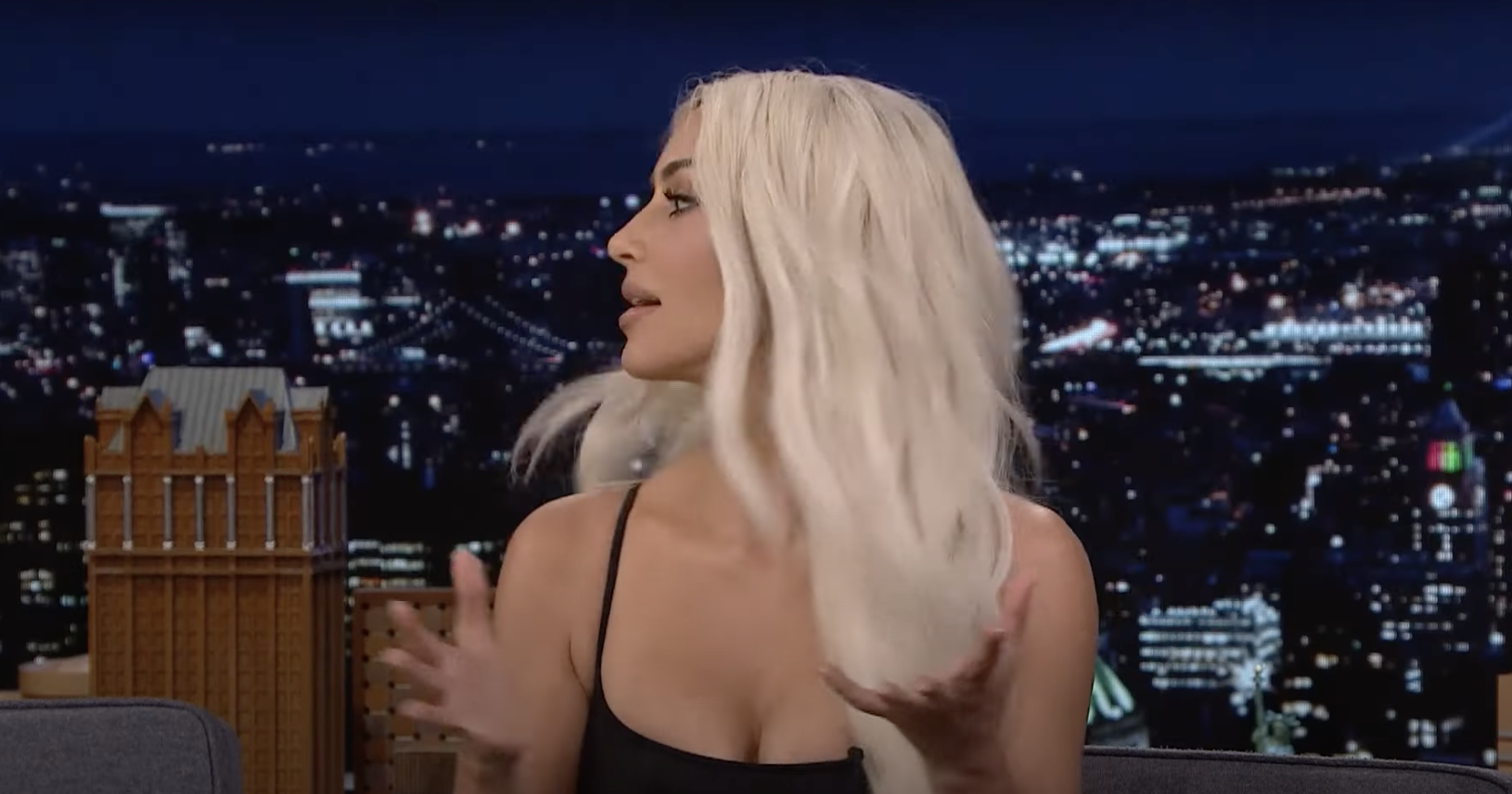 After the second interruption, Psalm — who was presumably the troublemaker — was swiftly taken backstage by his nanny.
"Psalmy left. Psalm went, he was being loud," Kim quipped, before returning to the interview yet again.
Funnily enough, the boys' impromptu Tonight Show cameo came just hours after they chaotically crashed Kim's Instagram livestream earlier in the day.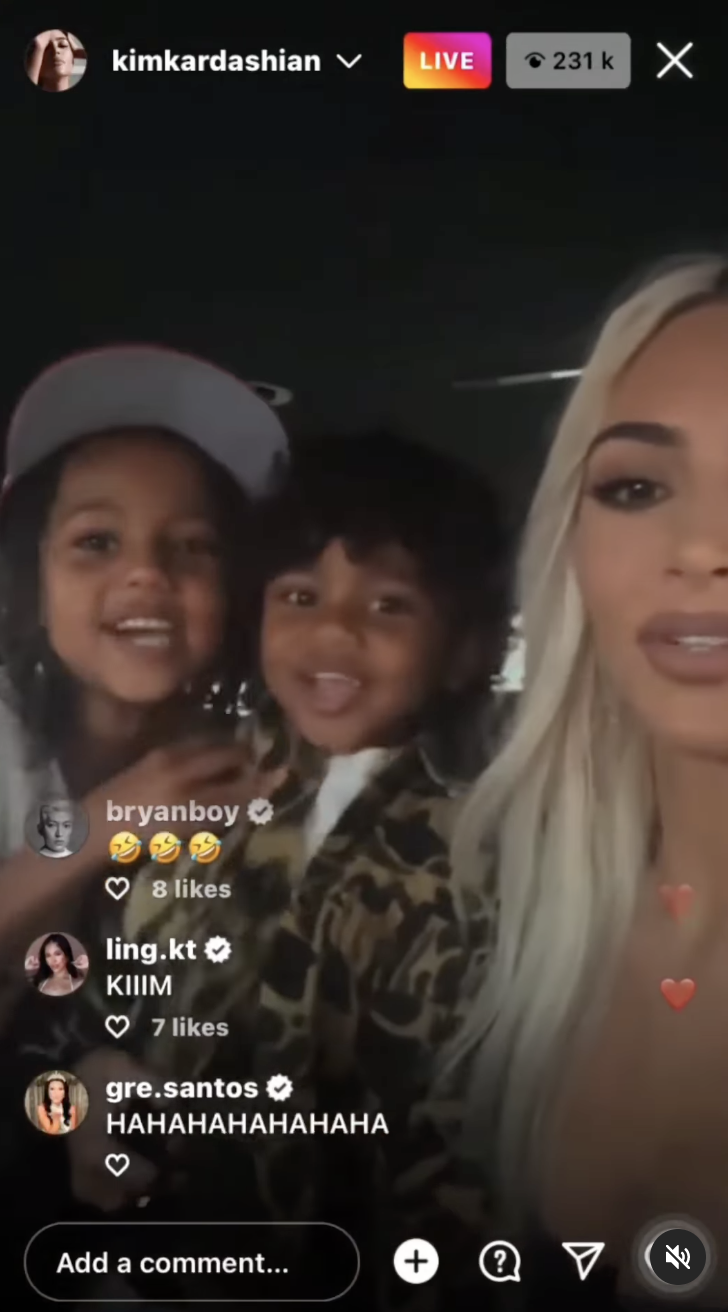 On the way to the studio, Kim started a live video on Instagram, only to be interrupted by her lively sons who burst onto the screen to introduce themselves to their mom's millions of followers.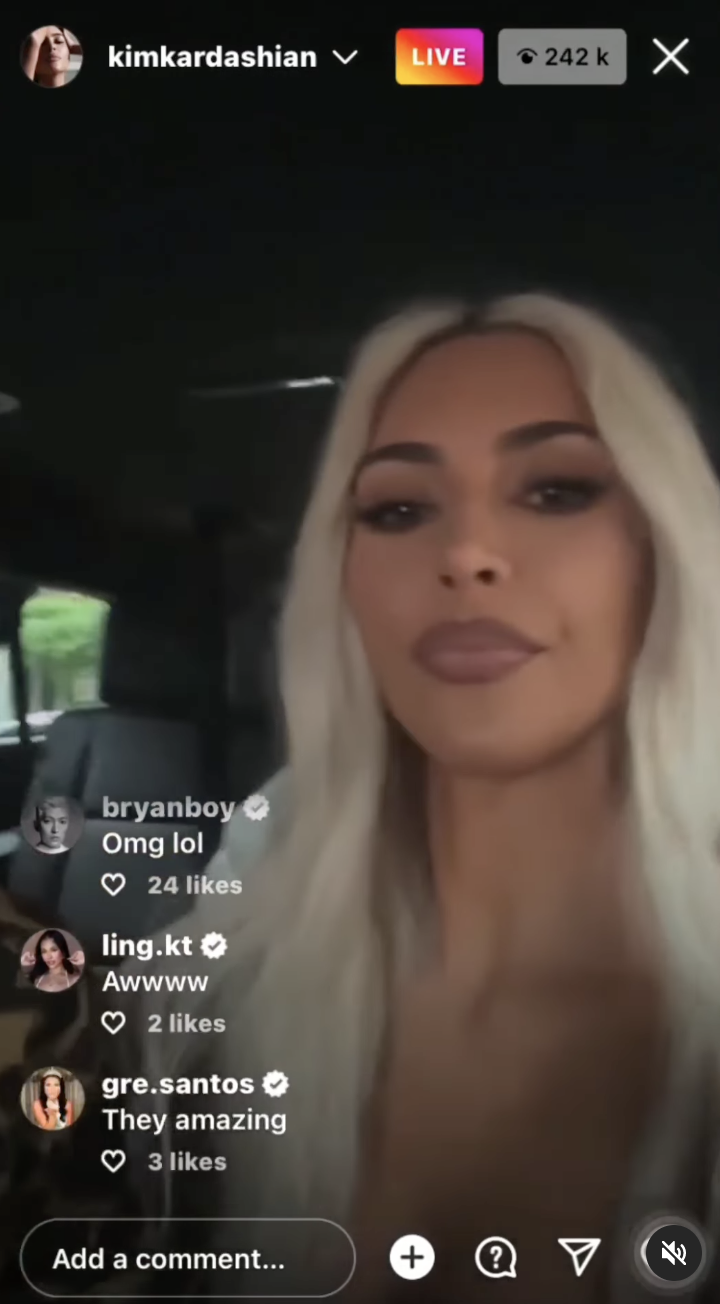 "Hi," Psalm said sweetly, before his brother emerged from above and greeted viewers by saying: "Hi, weirdos!"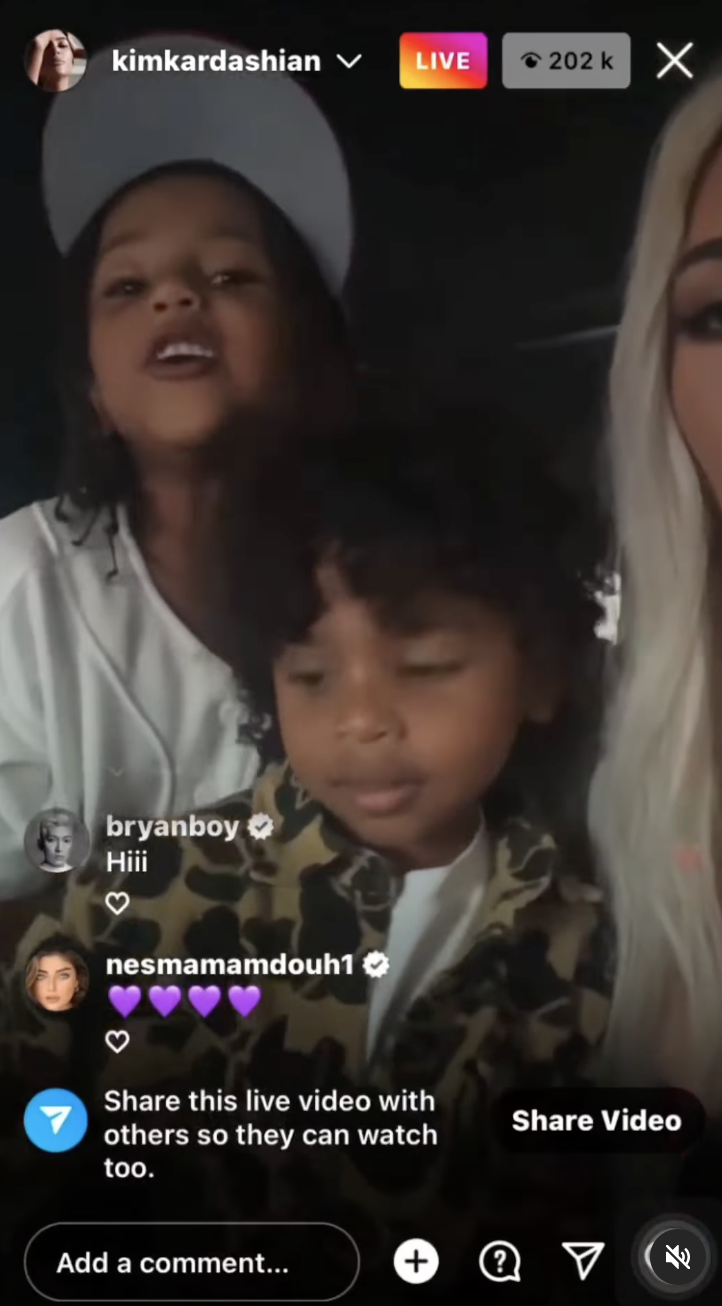 "Hey, stop it!" Kim said in response, though Saint seemingly didn't feel like complying, proceeding to tell the viewers he hates them.
"If you're watching this, I hate you!" he said with a giggle, sparking yet another scolding from his mom.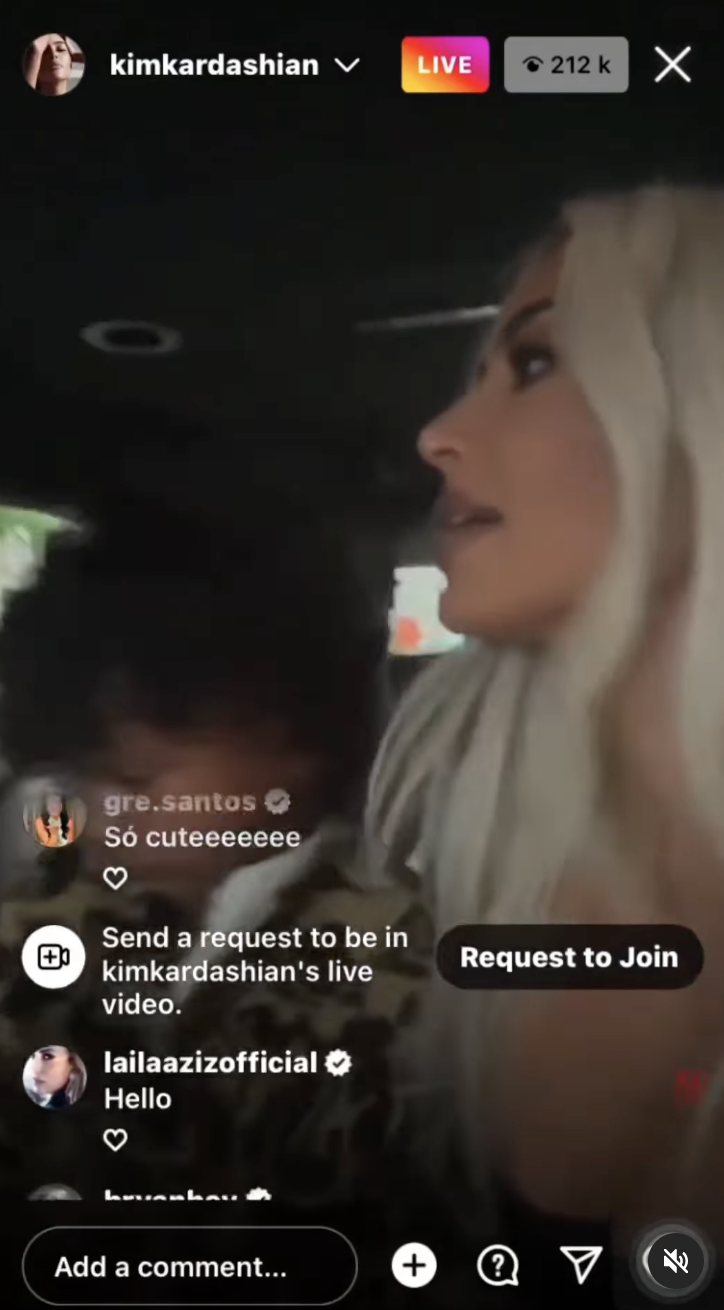 Of course, this isn't the first time Kim has had to reason with her kids on a livestream.
Last December, you might recall that Kim's eldest daughter, North West, actually went live on their joint TikTok account without permission.
After giving her 3.6 million followers a frantic tour of their home, the livestream came to an abrupt end after a then-8-year-old North burst into her mom's bedroom while Kim was relaxing in bed.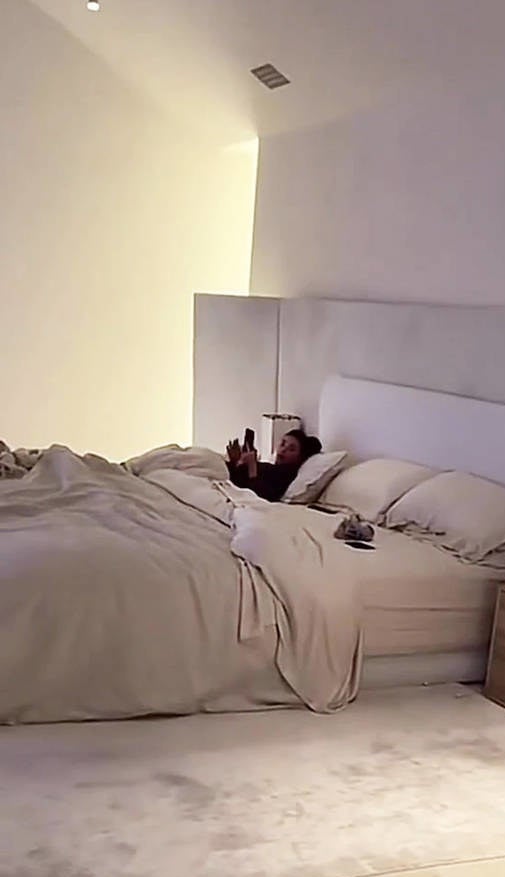 Luckily for Kim, she prides herself on her superhuman ability to keep calm in the midst of chaotic situations. And with four kids to keep her entertained, it seems like that trait must certainly come in handy.