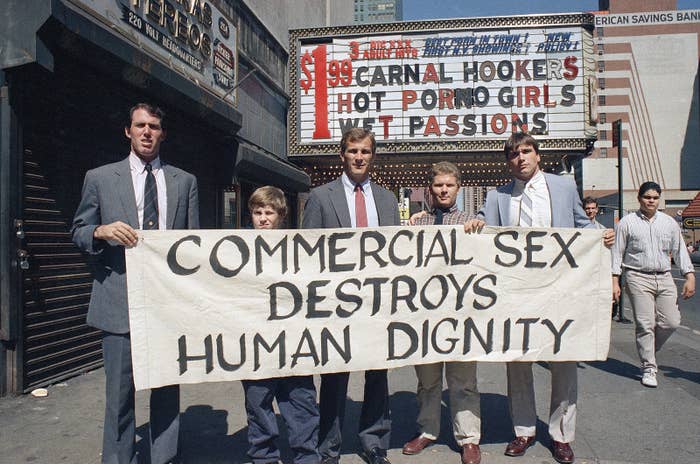 Evidence-free freakouts over erotica are a time-honored tradition, from fears about "pornographic" French novels in the 1890s to consternation over cable-TV porn in the 1980s. Modern history is littered with authoritarians of all stripes convinced that censoring sexual imagery was a necessary social good.
And with each iteration, what porn prohibitionists lack in actual facts to support their doomy view they make up for with warnings that this time it's different — that whatever new medium exists for producing or distributing porn is uniquely dangerous to the youth and degrading to good women.
For decades now, this supposed difference has been chalked up to the proliferation of online pornography. Though the 1970s and '80s panic over porn had begun to simmer down by the early '90s, the advent of the internet fueled its slow burn back into a full-scale boogeyman.
A 1997 op-ed from Cox News Services' fretted over "cybersmut" being easily accessible to teens on their home computers. "For the first time, collectors of deviant material" have a "free place to trade and barter," cautioned one activist. And the new wave of amateur porn was "especially dangerous for children."
Just as earlier fears that novels, nudie mags, and Skinemax would ruin our youth have proved unfounded, there's no evidence that internet porn has been destroying millennials — some of whom now have two decades of post-high-school (and first-porn-viewing) data to offer.
Sure, millennial adults might not be perfect poster-children for happy relationships and safe sex, but there's no indicator that we're doing any worse than previous generations. By several significant measures, we're doing much better. And so far, today's teens seem poised to take safe sex and sexual consent even more seriously than we did.
But this somehow isn't enough to stop 21st century worrywarts from indulging their porn paranoia anyway. With each new generation of aging pundits and politicians, we get a whole new round of delusional doomsaying about how teenagers are being uniquely messed up by the sex they're watching, having, and reading about.
Because actual evidence for this claim is hard to come by, proponents tend to focus on the supposedly-telling anecdotes they manage to collect. In a big New York Times feature last week, we were told about "Drew," an 11th grader who saw porn for the first time at age eight.
"Porn influenced how he thought about girls at school," the article said. "Were their breasts, he wondered, like the ones in porn? Would girls look at him the way women do in porn when they had sex?" Drew's classmate, meanwhile, says porn made him worry he's not muscular enough, or doesn't have a big enough penis to please a woman.
More anecdotes like this followed, each apparently showing that porn is warping the minds of young men. But what generation of young men hasn't wondered about their classmates' breasts? In what era were teen virgins not nervous about their sexual performance?
Porn isn't fueling these boys' fears. Adolescence is.
Noting that we've been here before would perhaps be less reassuring if modern youth were exhibiting drastically different or higher-risk sexual behaviors than previous generations. Or if there was evidence that, upon reaching adulthood, they're living lives of porn-fueled isolation.
But all the available evidence shows the exact opposite of this: teens today are starting sex later, and more likely than previous generations to use condoms when they do. Teen pregnancy rates are at their lowest levels in decades. And while young people are waiting longer to get married and start families, there's been little decrease in the desire to eventually do so, and the existing delay is better explained by economics and education than a mass addiction to Pornhub.
In addition, there's now a huge body of research showing that porn's perils are inflated. For instance, a 2009 meta-analysis from Chris Ferguson found that "evidence of a causal relationship between exposure to pornography and sexual aggression is slim" at best and it's "time to discard the hypothesis that pornography contributes to increased sexual assault behavior."
Some of this research goes back half a century. Research commissioned by the federal government in the late '60s concluded that family background was a bigger predictor of sexually deviant behavior than access to porn, and sexually well-adjusted adults "reported more experience with pornography as teenagers" than their maladjusted counterparts.
It's also worth noting that the porn landscape today offers a far more diverse range of content than in days of yore. This might mean more "rough" or kinky porn — not that there's anything wrong with that — but it also means more options made exclusively for feminist and queer audiences and others traditionally overlooked by the industry.
Plus, the average porn film today is quite explicit about the fact that women have sexual desires, have sexual agency, and deserve sexual pleasure. That alone is an improvement on generations of terrible ideas and myths taught to kids about courtship and sex.
Even the most mainstream porn today features a wider variety of performers than in decades past. Sure, there are still plenty of big-lipped and big-busted blondes — again, not that there's anything wrong with that — but also more actors of color, more performers who defy gender norms, more body-size diversity. In general, the average female porn star today is more likely to look like the hot neighbor girl than some sex-factory femmebot.
Most importantly, women in porn today are experiencing unprecedented control over their images and labor (and largely thanks to technology, not an overhaul in social attitudes).
What's ironic is that "porn literacy" — far from being some liberal indoctrination tool or tacit approval of libertinism — provides the perfect antidote to potential negative effects of porn, without introducing whole new categories of horror. The NYT's teen-porn piece shows it (even if its author doesn't notice).
The kids quoted may find porn confusing, but they also find sex in general confusing. Openly discussing the issues and fears that porn brings up allows them to stop and think critically about what they're watching (or not watching), instead of just tacitly accepting it as good or bad. Kids don't need another moral panic about porn — they need responsible people in their lives and in the media to help them process it.
Elizabeth Nolan Brown is an associate editor at Reason magazine, where she covers policy, culture, and current events from a libertarian and feminist perspective.