Taylor Swift made a rare late-night talk show appearance on Tuesday, joining Stephen Colbert for a conversation about her first rerecorded album, Fearless (Taylor's Version).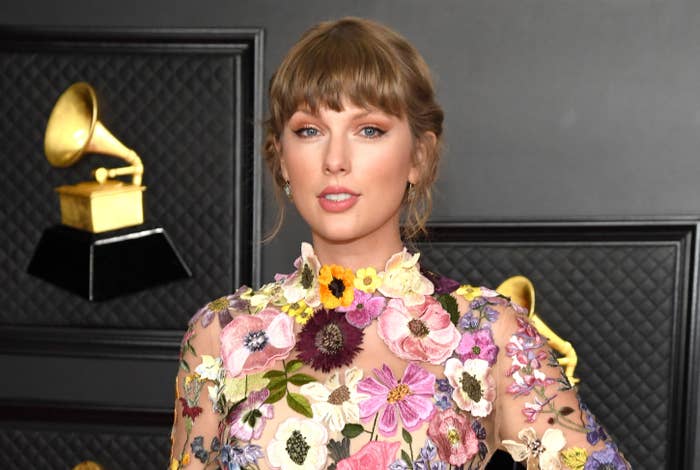 During the skit/interview segment, Taylor and Stephen joked about the origins of her Fearless-era song, "Hey Stephen," and it was all fun and games.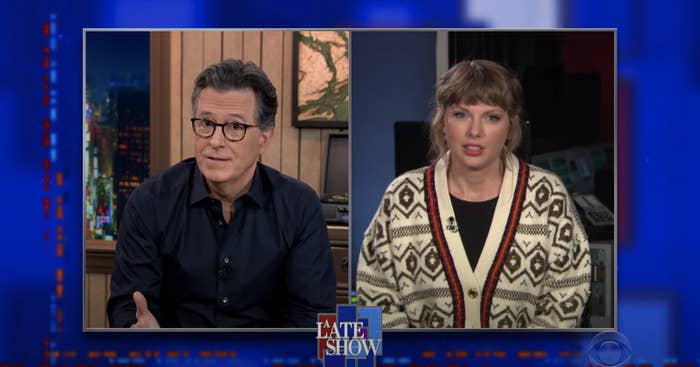 Except that it wasn't all fun and games. Because this is Taylor Swift. And so Swifties are convinced that the segment was packed full of Easter eggs that suggest one thing: 1989 (Taylor's Version) is coming next.
So, of course, as soon as Taylor's appearance on The Late Show was aired, Swifties began scouring it for any details that may be a hint towards ~something more~.
Let's start from the very beginning. Introducing Taylor for the segment, Stephen said: "Joining me now, from the studio where she's been rerecording her albums, Taylor Swift."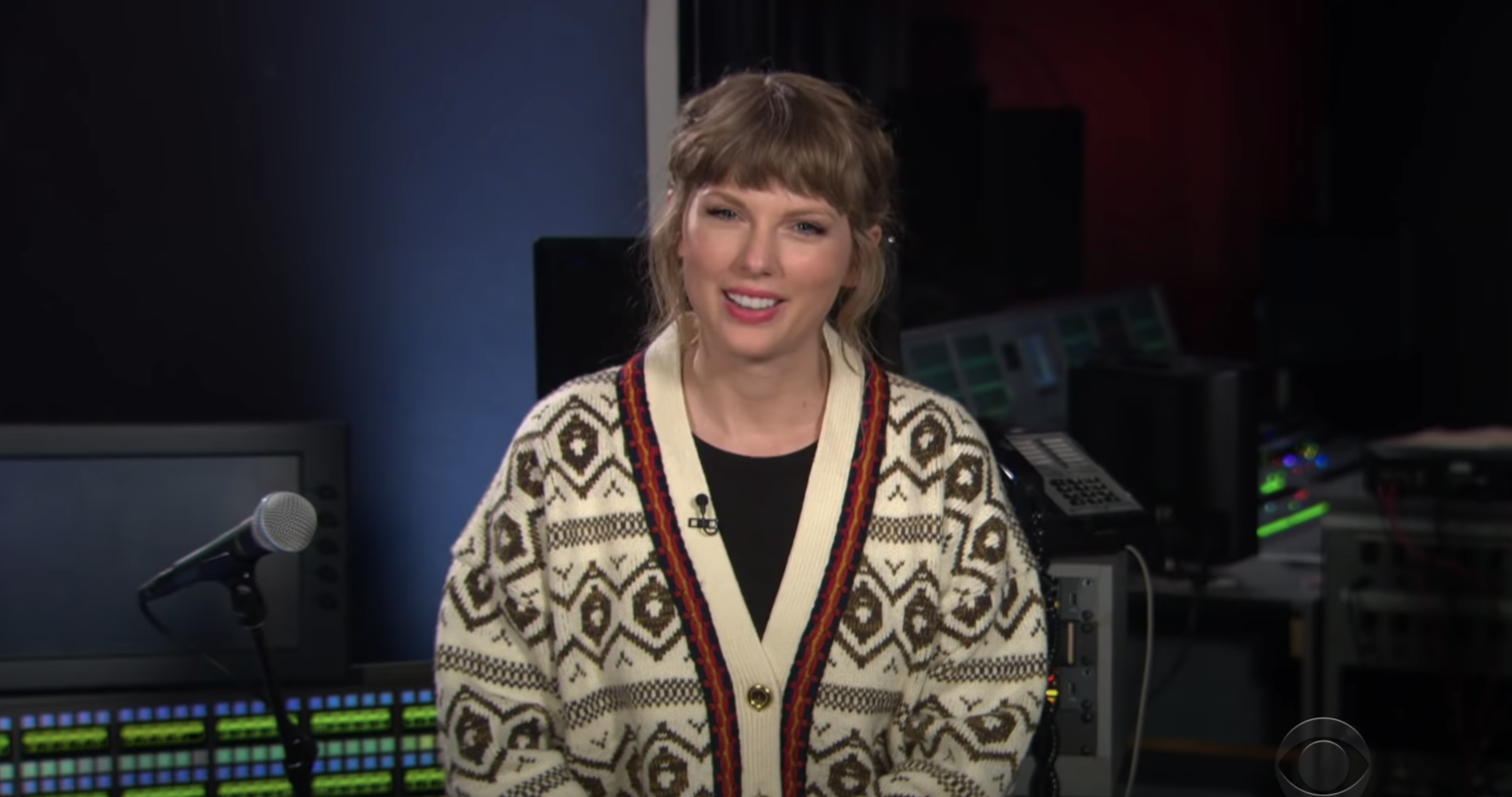 During the segment, Taylor joked that Stephen must have been "about 44 years, 179 days old, give or take" when she first recorded "Hey Stephen."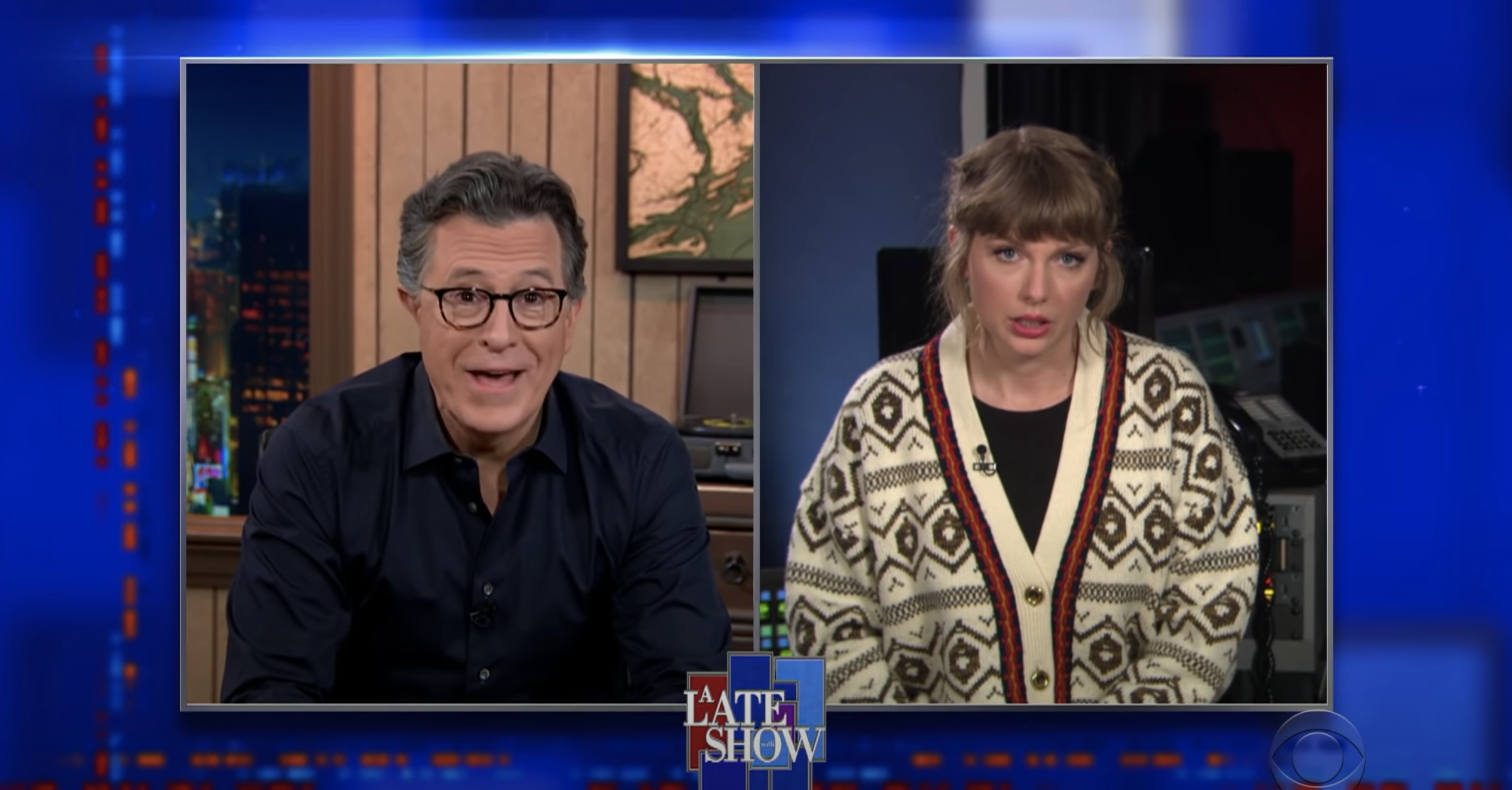 Some fans have also suggested that the reference to Stephen's age — plus later discussion of his Wikipedia page — might suggest that his birthday, May 13, plays an important part in all of this.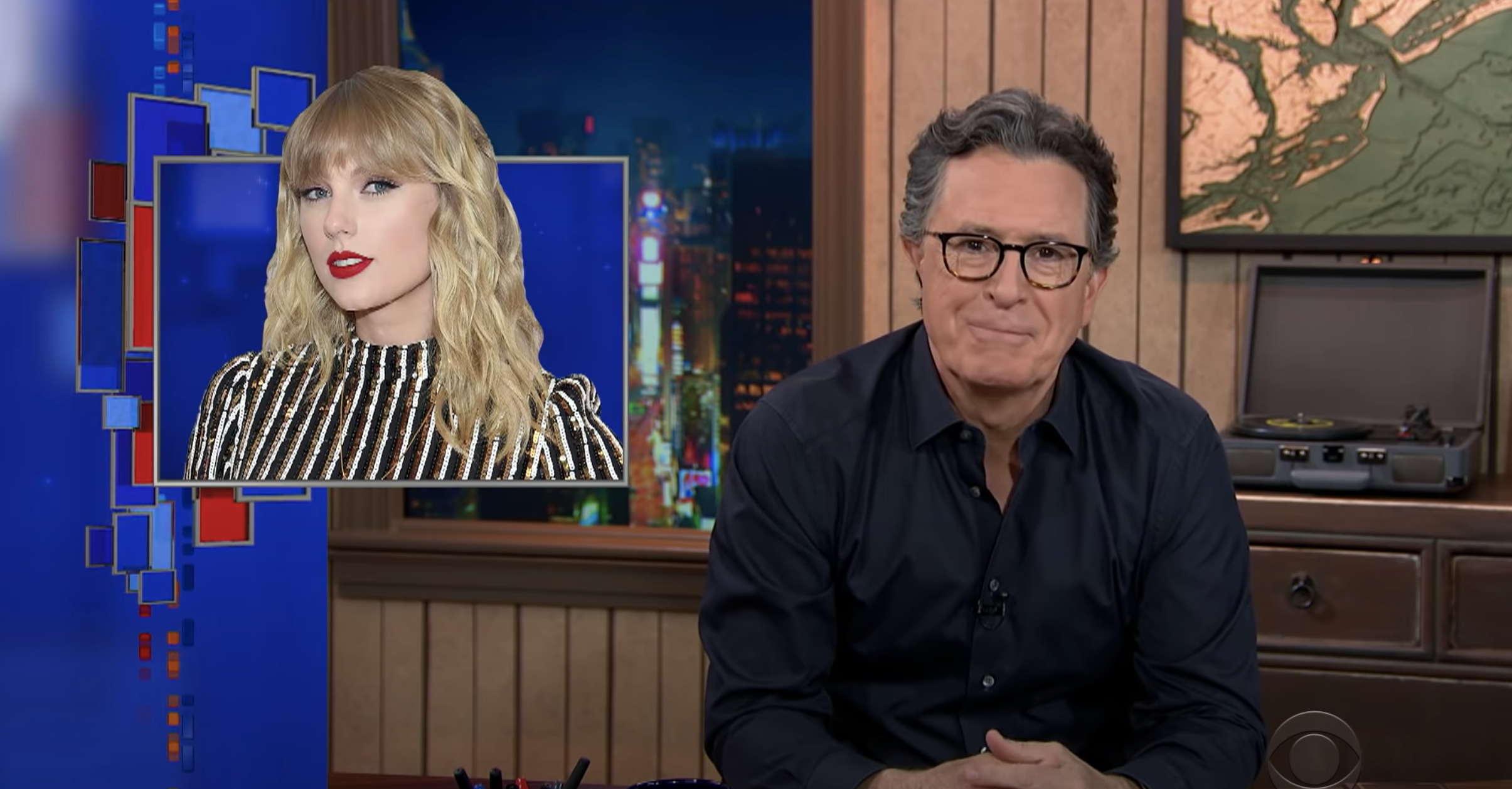 Then there were the jokes about Stephen's height — 5-foot-11, apparently — and social security number, which obviously Taylor does not know and couldn't say on national TV even if she did, so there must be a clue in there somewhere.
Fans have speculated both that 5+11+3+3+0+3+5 equals 30 — and 30 days from the interview is May 13 — and that 3+3+0+3+5 adds up to 14, leading to the following day, May 14.
May 14 is a Friday, which is when new music is released, so it's more likely that something would drop that day. But we ~could~ get an announcement the day before, on the 13th, which is how Taylor announced "Love Story (Taylor's Version)" back in February.
In that instance, the date was 2/11 — and 2+11 is, of course, 13.
And the fact that Taylor seemingly randomly mentioned "You Need to Calm Down," which is the 14th track on Lover, during her Late Show appearance.
But what exactly is coming on May 13th/14th? Swifties are convinced that all signs point toward 1989.
Going back to the "44 years, 179 days" joke, one eagle-eyed fan discovered that (not accounting for leap years) 44 years and 179 days before the interview air date was Oct. 27 — the day 1989 was released.
There was also an ongoing joke about Stephen King. In the segment, Taylor said his short stories are "absolutely luminescent," and one fan noticed that Stephen King had several short stories published in 1989.
And, most convincingly, the picture in the top corner of Taylor's "Hey Stephen" mood board is one of the first that comes up when you google "Stephen Colbert 1989."
Now, this won't come as much of a surprise for those who keep up to date with every detail of Taylor's career, because she recently teased that her rerecorded version of "Wildest Dreams" would appear in the animated movie Spirit Untamed.
The song was included in the movie's trailer, which dropped last month — and, if Taylor is in fact rerecording full albums at a time, that would suggest 1989 is coming next.
That would also make sense from a business perspective, since so many of the songs from 1989 — "Shake It Off," "Blank Space," and, of course, "Wildest Dreams" — are hugely in demand for use in movies, TV shows, and ads. The sooner she can license her own versions of those songs for use, the better.
Spirit Untamed is scheduled for release in the US on June 4, so "Wildest Dreams (Taylor's Version)" could drop either on that date or before.
Maybe on May 14? Or maybe we'll get "Shake It Off (Taylor's Version)" on that date, and "Wildest Dreams" in June? Perhaps — hear me out — followed by the full 1989 (Taylor's Version) on June 25, which not only fits my earlier theory about the 44 years and 179 days, but is also a Friday?
Maybe I'm just a clown. It wouldn't be the first time. But I am a Swiftie — and 6/25 does add up to 13.
Whether we're right or wrong, there's no doubt that all this theorizing is a lot of fun — and we can't wait to see what Taylor gets up to next.