Trump told Syria and Russia to "get ready" for a missile strike, but...
The White House says it has not decided how to respond to a recent suspected chemical weapons attack in Syria. All the White House will say is "We have a number of options and all of those options are still on the table."
Our national security reporter Vera Bergengruen explains why a US decision on what to do in Syria is taking so long. Here are some of the reasons why:
The military options do too little or too much. Last year the US retaliated with a limited, punitive strike when the US Navy fired 59 Tomahawk missiles. Given the very minimal damage inflicted by those missiles, it may not be a credible option this time, analysts say, even if the US strikes more than one Syrian base.
The US is wrangling an international coalition. The US has been working on coordinating "a strong, joint response" to the attack, according to the White House. That means involving the UK and France.
The Pentagon's worst fear is accidentally killing Russians. The Pentagon has worked intensely for years to avoid direct conflict with Russia on an increasingly crowded battlefield. Pentagon officials notified Russia ahead of the 2017 strikes on a Syrian airbase in 2017.
Quick brief:
Mark Zuckerberg made it through congressional hearings with no major gaffes
Mark Zuckerberg concluded his hearings on Capitol Hill yesterday — a second day of a mostly apologetic performance, with no major gaffes. Three stories that drew my attention:
How Facebook tracks you when you're not on Facebook: Zuckerberg seemed uncomfortable answering questions about how Facebook can track your online activity if you aren't signed in to Facebook. So we went to Facebook's website to find out answers.
Facebook tracks your browsing activity around the web with the "like" button. Facebook also knows when you've visited an advertiser's page, thanks to a piece of code called the "Facebook pixel." You're gonna wanna read this.
Leaning too much on AI: Zuckerberg promised that Facebook will develop new AI tools to address the platform's content problems. It's an attractive idea. But it will never fully work.
Here's how one researcher put it to us: "Proposing AI as the solution leaves a very long time period where the issue is not being addressed, during which Facebook's answer to what is being done is, 'We are working on it.'"
Facebook crossed the creepy line and can't go back: Facebook says it wants to be less creepy collecting our personal information. Charlie Warzel asks the question no one wants to ask: How do you become less creepy when the creepiness is baked in?
It's the end of the Paul Ryan era in Republican politics
House Speaker Paul Ryan is not running for reelection in November. This is huge.
As Henry Gomez writes for us, "The tributes pouring in for Paul Ryan sound a lot like eulogies … for the conservative vision he and his allies have long championed."
It would be no overstatement to credit Ryan with the development of the ideology that has guided Republicans over much of the last decade. Here's Henry again: "There is mourning for the fiscal conservatism Ryan proposed, or at least doubts about whether that movement can survive."
One national Republican operative told us: "Not only is he a great speaker and respected leader … but it's got to scare the donor world. Who on Earth is going to fill this void?"
Quick brief:
This teacher says she can't afford to stay on the job
"I don't even make a living wage. I don't make enough money to cover my bills."
Mallory Heath is in her fifth year of teaching, a career that has left her $18,000 below the national median household income, with little room to advance.
Thing is: She's not the only one frustrated. Now more than ever, teachers around the country, via strikes, protests, and fiery social media posts, are announcing they're at a breaking point.
The number of teachers leaving the profession has been increasing over the last decade — the rate is twice of what's typical in countries like Canada or Australia.
I highly recommend this piece, which is such a good window into the crisis facing teachers across the US.
A woman was randomly threatened by a girlfriend to block her guy on Instagram after he creeped
It's one of those "only in 2018" stories. Tajea-Jasmine Walton, an Instagram model, received a DM from a woman asking her to block the man she is dating on the app.
He'd apparently been saving photos of Walton and setting them as his phone and computer backgrounds.
Walton shared the strangely threatening message, and people have some feelings about it.
Meanwhile, here's the message she received: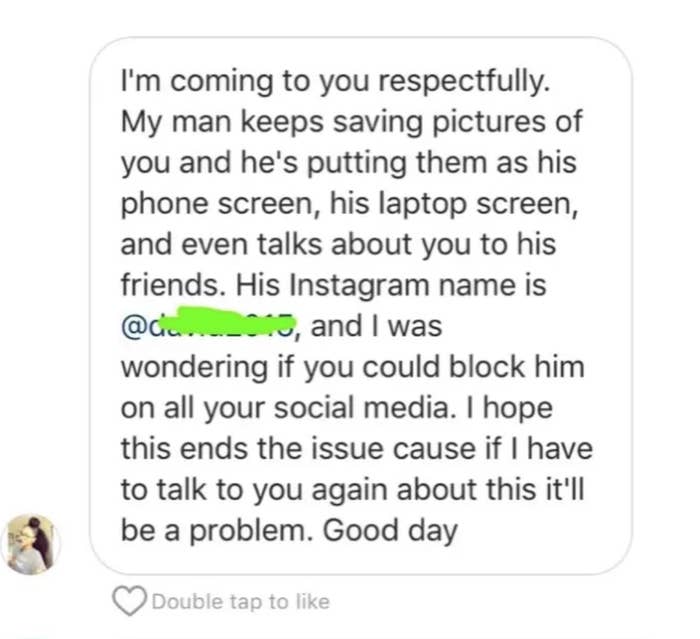 Enter your email below to sign up for the BuzzFeed News newsletter: